Part 1: Off to join the traveling circus
My friend Mark (nicknamed Wheatie, as he is from Wheaton, IL), was finally riding his motorcycle to California. His first ever visit to California on a motorcycle. After spending some time in South and Central California, Wheatie's motorcade had rolled into

San

Jose on Friday May 20th, a few of my Sacramento riding brethren had taken the day off to join the traveling circus which was meandering it's way to

San

Jose for Friday night. Despite the obvious temptation to run away and join the traveling circus myself, I remained bound to work on Friday instead. From what I am hearing I missed some good times and opportunities for embarrassing photo ops to be used as blackmail fodder on the forum for years to come. On the flip side I might have been spared some blackmail myself, at least I haven't received any anonymous notes in the mail yet.


My adventure began on Saturday morning May 21st at dawn, I was riding out to meet the traveling circus for Breakfast at the famed Alice's Restaurant. As I was leaving Sacramento on I-80, I could already tell it was going to be a very beautiful day. The sky with it's scattering of clouds diffusing the morning sunlight was giving me quite the show. It also made me think of the "Rapture", which was supposedly going to happen this beautiful day, anyone who was home cowering in fear that the world was going to end, deserved to miss out on a beautiful day!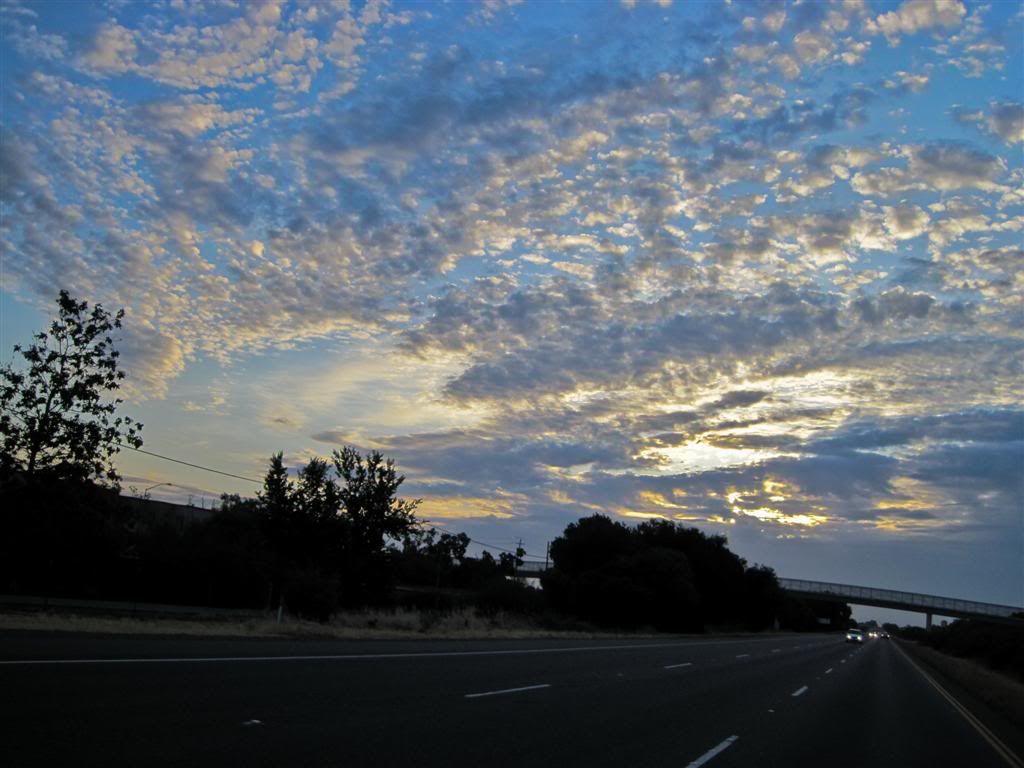 To get across the expanse which is the Bay area to make it to the hills and mountains on it's south side - I shamefully resorted to the "quickest way of road travel without actually seeing anything" - the network of Super-Slab slog which is known as the Interstate Highway system. There was very light traffic through the Bay area as was expected early on a Saturday morning and I was soon exiting the Santa Cruz Hwy to head towards Skyline Blvd.

At the beginning of Black Road, I stopped to stretch by this very peaceful reservoir. I believe this is a portion of the Lexington Reservoir south of Los Gatos.




Black Road turned out to be a surprising trail alternating between smooth and goaty pavement with plenty of twists and turns to keep me interested and I didn't regret turning off here to permit me enough time for goof off photography stops and still make it to Breakfast in time, instead of riding all the way down to Summit Rd to catch the mouth of Skyline Blvd and then back up again..I was also hoping to run into the rolling circus as I had a very strong suspicion they would be riding up Skyline Blvd on their way to Alice's from Santa Clara.

..and goof off I did. The rolling fog blanket on the hills, for once didn't look threatening. There was some slight morning haze as I found out at an overlook further along on Skyline, but this was going to be a day which would refuse to surrender to the obfuscating fog.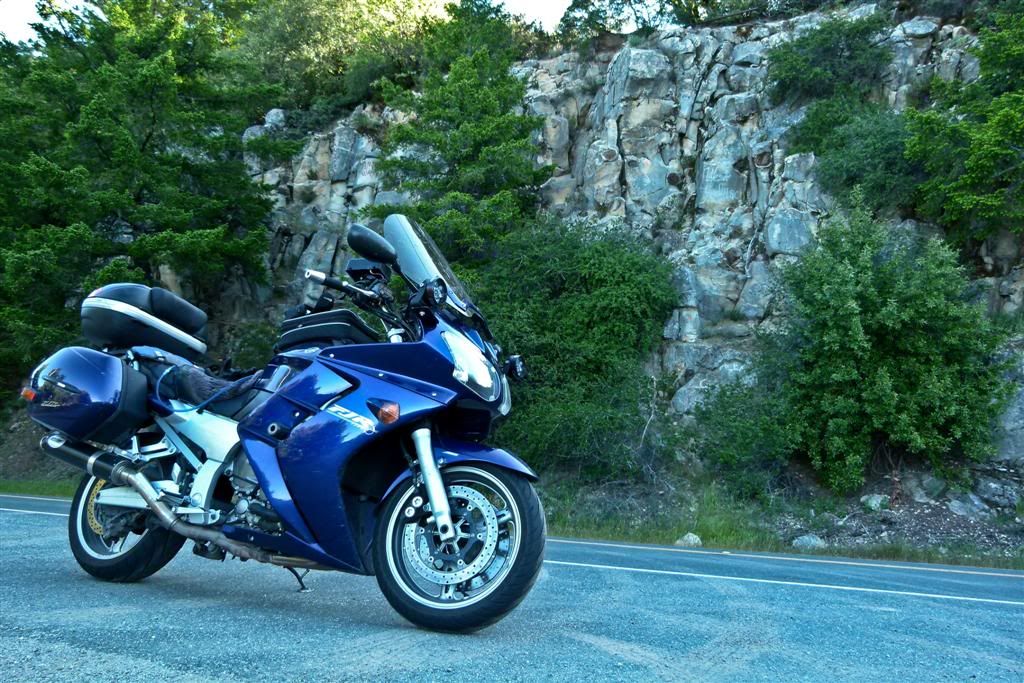 There was still enough morning fog casting a veil on Palo Alto and Stanford at this overlook. I tried to do the best I could, but the far flung sceneries remained out of reach of my lens this morning.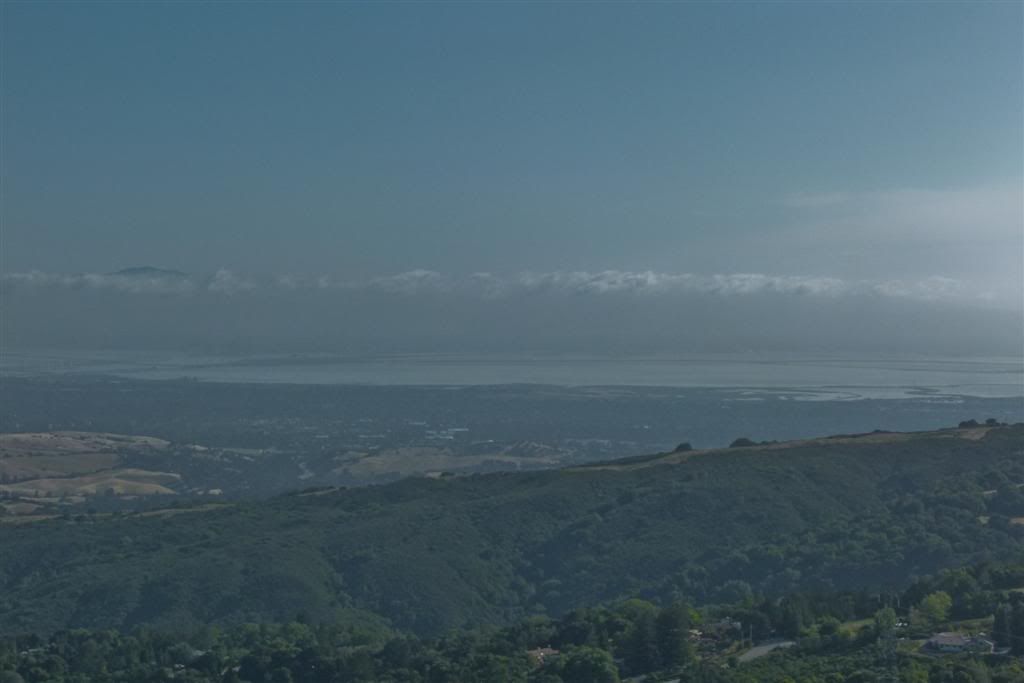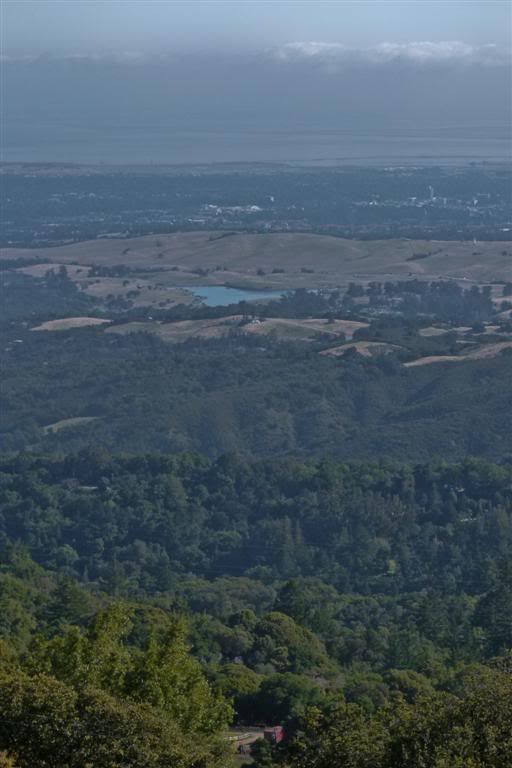 However, what was within reach, as I turned around when I heard their approach - was the thundering herd galloping into the overlook, expertly shepherded by Tyler.




Wheatie was getting a "kick" out of all the California sceneries he was getting deluged with.




It was a scene of joyful chaos as the circus rolled into Alice's, hands being shook, embraces exchanged, eyes twinkling and smiles sparkling with the excitement of seeing and being with friends!

Alice's Restaurant, one of the places of pilgrimage for a motorcyclist!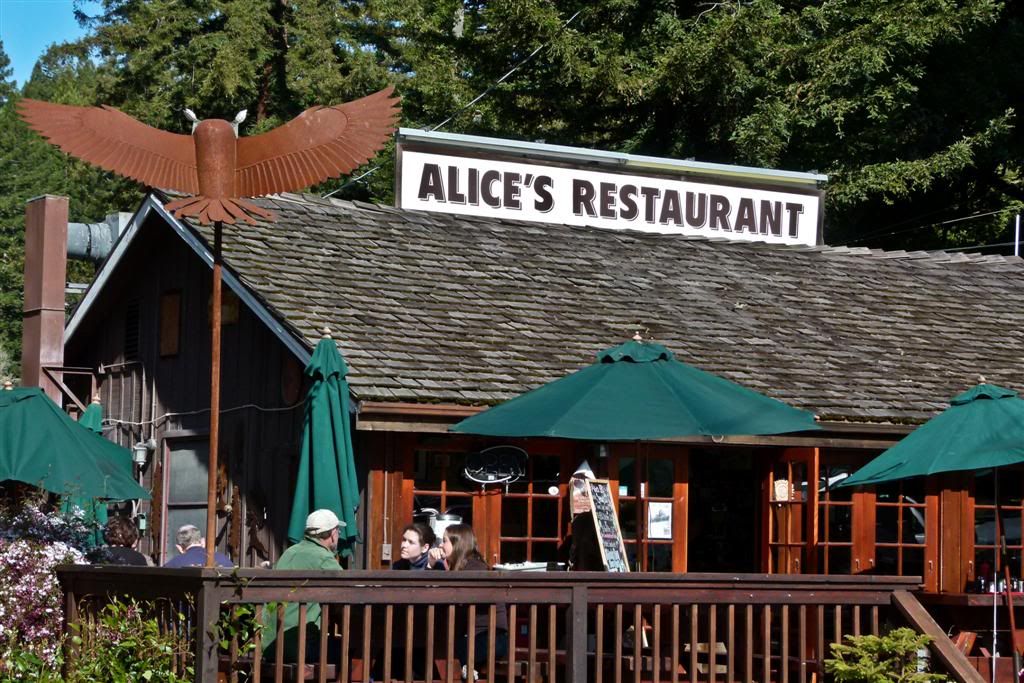 Wheatie gets some love from Tyler!




When the party moved indoors around the breakfast table, I sneaked around the parking lot for a little longer..

This gathering was going to be a hoot!




Quintessential Alice's - don't you think? Those Cobras sounded even better than they looked (if that's even possible)!




Couldn't hear this one at all (electric). Visually still striking with oodles of performance, but no aural orgasms from this one!




After a scrumptious breakfast the voices in our (well, maybe just mine) head were screaming "Beach!!". Who were we to refuse?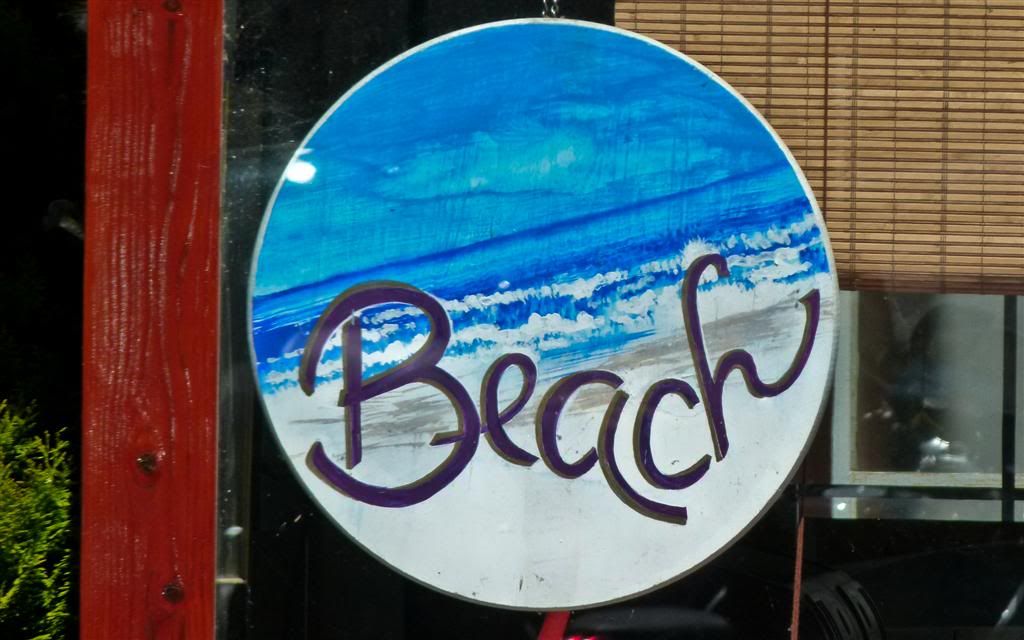 Part 2: The Beach.


There were several groups heading out of Alice's after Breakfast. Forum Brit Fairlaner was leading the performance group, my friends Tom, Mike, Don and others followed. I decided to stick with Tyler and Wheatie's motorcade, which eventually got stuck behind a very slow moving car, which was oblivious or didn't care about the pile-up it was gathering behind it, we followed this idiot for miles before finally getting around the slowpoke and made our way to Pescadero Beach.

My first sight of Pescadero Beach. Don't you just love a clear, haze free day by the beach?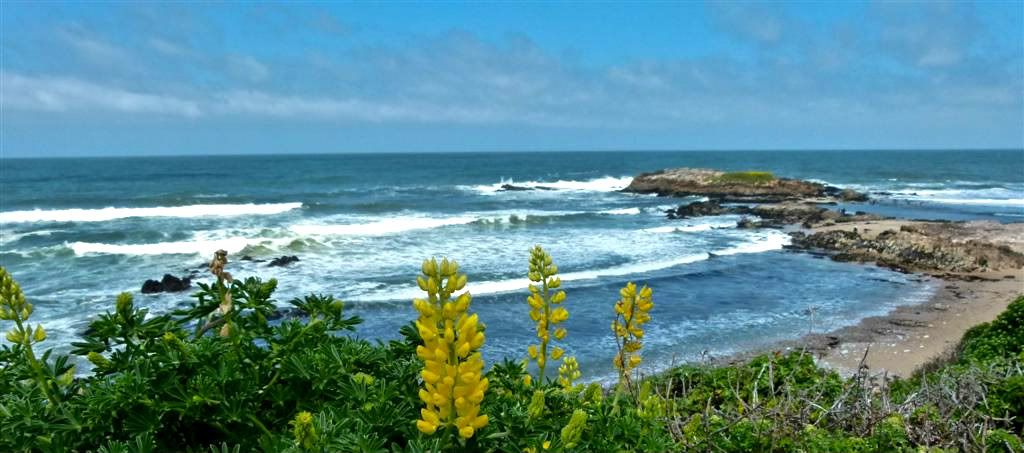 Tyler at Pescadero Beach.




Wheatie decides to head for a dip..




Although, we had the good fortune of a day lacking fog, there was plenty of wind to make up for that. The wind was tremendous, however it also made for some spectacular surf along the coast!

Splash! Roar!




Practicing running away from Tsunami's? Hey, wasn't this the day of the supposed Rapture? Maybe people don't disappear, they just get swept away into the sea?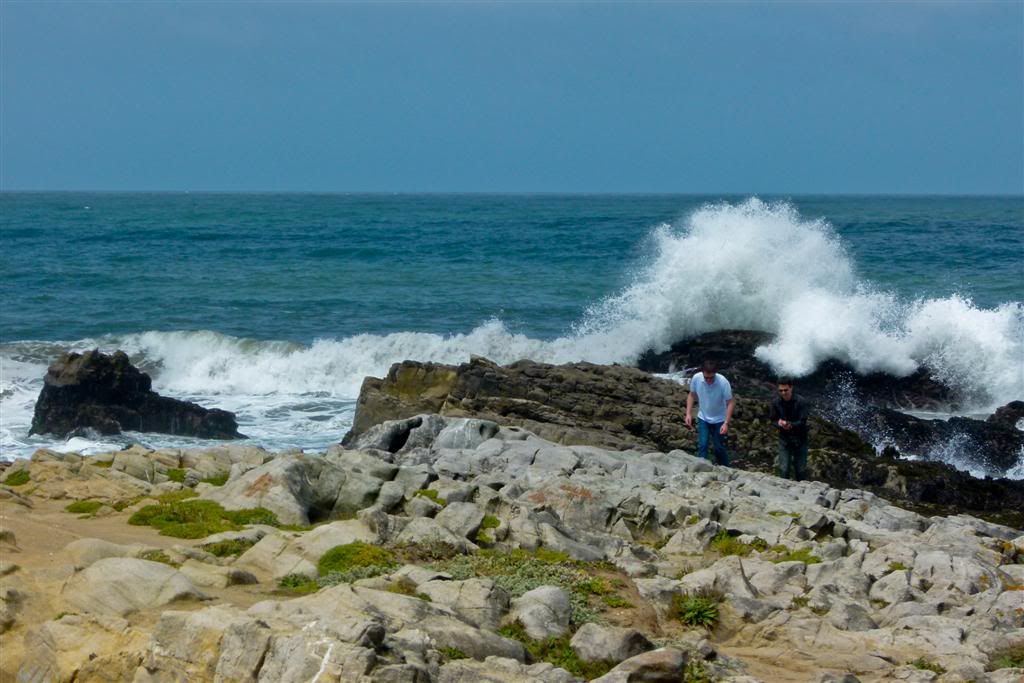 It was more peaceful waters in the little cove where Wheatie went for a dip.




I observed this older couple, enjoying their day, patiently stacking totem poles of rounded rocks by the beach.




Their finished handiwork.




The beach bums were amused there was some new stuff for them to poop on..




The rest of the group had left while I was wandering around snapping away, it was all good because Tyler had told me which way they were headed next. I took one last parting shot at the surf and raced away to catch up with them again.

My point and shoot, shoots just as well as my other "fancy" camera...sigh!


I stopped for a bit at the Pescadero church, hoping to see some rapture hopefuls, but there was not a "soul" in sight..




Caught up with the group on Stage Road and we headed to Half Moon Bay for a gas stop and where I and others witnessed Tyler molesting my FJR! Sorry, no pictures - you had to be there!

No trip to California is complete without a picture of you next to a beach bum hippie mobile. Here you go Wheatie - Mission Accompli!


Part 3: The Golden Gate & a Slice of

San

Francisco

.

I followed Tyler and the motorcade around from Half Moon Bay as Tyler led us into the outskirts of

San

Francisco

, the fastest possible way, dodging cars as we kept the group together on the highways. We were all still together when we exited on the Great Highway and Tyler started herding the group towards the Presidio.

Being the rebel that I am, I split off from the group again, hoping to catch up back with the group at the Marin Headlands. I had just passed by some photo ops, that I couldn't resist. I pulled up next to Brodie as we were stopped for a bit and told him that I was heading off towards the Cliff House and will catch up to them again, so they don't think they lost the puppy in the city somewhere.

I headed back towards the Cliff House and by the time I reached the beach parking lot, I was getting sand blasted by the wind kicking up a sand storm. I was hoping it would let up for just a bit so I could take some pictures of the para-surfers playing near the beach, but to no avail, so I headed towards the next photo op that I had sighted..

The Dutch Windmills in

San

Francisco

.




Here is a closer look, just in case you got distracted by the cute butts in tight jeans in the earlier photograph..I know I did!






From here I made a beeline to the Golden Gate bridge. I avoided the cluster f*** at the Visitor's center and found a vantage point at Battery Cranston instead. These were abandoned gun batteries built to protect the entrance to the Bay and

San

Francisco

during the Civil War.

From here I could get uninterrupted and unrestricted views of the entrance to the Bay and the Bridge.

The view of the Golden Gate from Battery Cranston.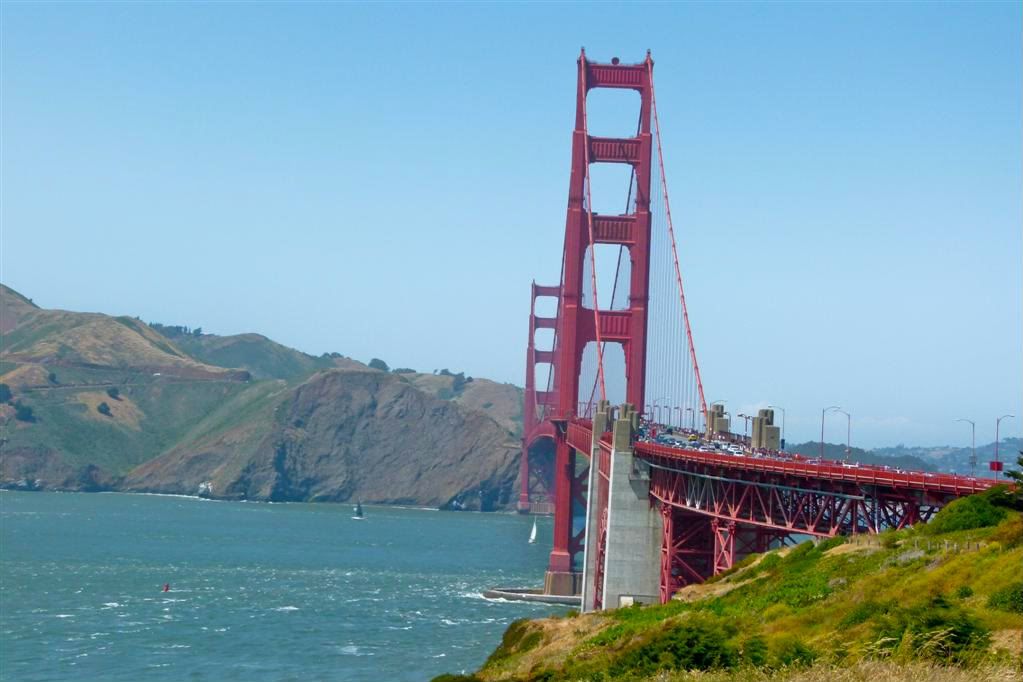 Another angle with a view of the bustling traffic on the bridge.




Battery Cranston is also a good vantage point for a zoomed in view of the Point Bonita Lighthouse at the mouth of the

San

Francisco

Bay. I had planned to head over to the lighthouse while I was at Marin Headlands, but still decided to go for a zoomed in shot, as I would find out later, I will be glad that I did.




Supposedly, there is a wooden staircase which leads you to the north end of Baker Beach from Battery Cranston, I tried my best to find it, but laden in my motorcycle gear, I wasn't up to hiking very far to find the access to the stairs which would lead me down the rocky cliffs - so I compromised and just rode to Baker Beach parking lot instead.


The View from Baker Beach.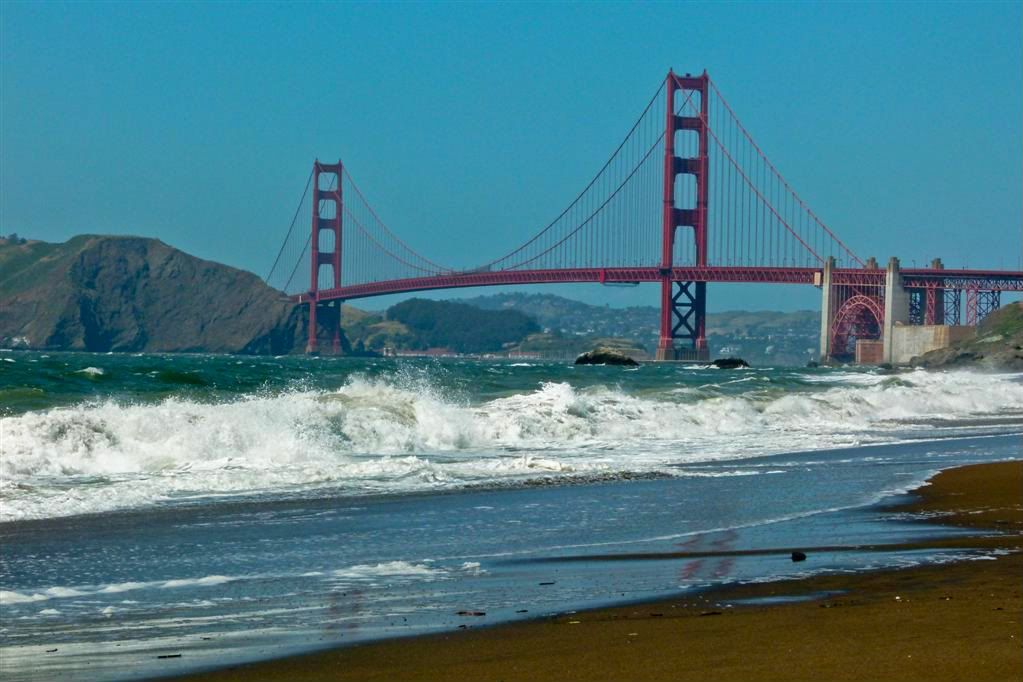 Decided to try some artistic shots while I was here, it was fun, including the part where I ended up in sea water almost to my knees. Having waterproof riding gear on helped me stay dry but I think it would have been worth it, even if I had gotten wet.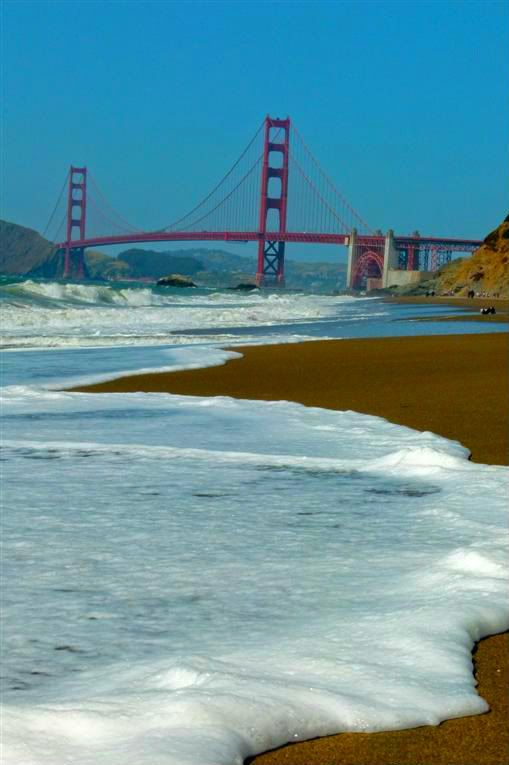 Headed straight to Fort Point from here, others from the performance group had been here as I learned later, but I was a couple hours behind them, so there was no chance of ever catching them till the end of the day.

The wind was brutal at Fort Point, but this meant - yes you guessed it. More splash and roar with a great backdrop!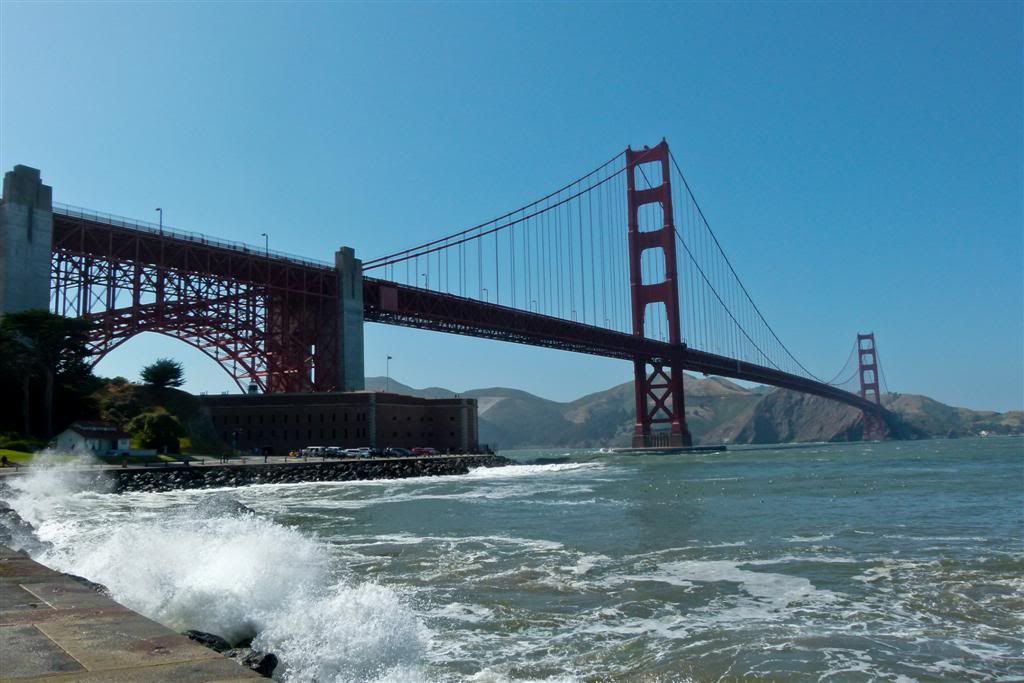 It was time to head to the Marin Headlands, I was hoping to catch the motorcade here, as I believed I was not too far behind them. But alas, it was not to be.


Crossing the Golden Gate.




I reach Marin Headlands and find construction workers had taped off the entrance to the headlands. There was road construction going on, but as I sat there planning my next move, I noticed that they were "selectively" letting some people pass through, so I headed over to talk to the fellow manning the post, he really liked the FJR (who wouldn't) and was checking it out, so I used it to my advantage and asked if he would let me sneak through. He says "Yes, but only to the very first overlook". He didn't have to repeat himself!

I park at the first overlook, which is Battery Spencer I believe and as I am heading over to the overlook I spy this C-130 about to buzz the Golden Gate bridge, I couldn't run fast enough to be able to frame that perfect shot, but I did the best I could in the split second I had to capture the moment.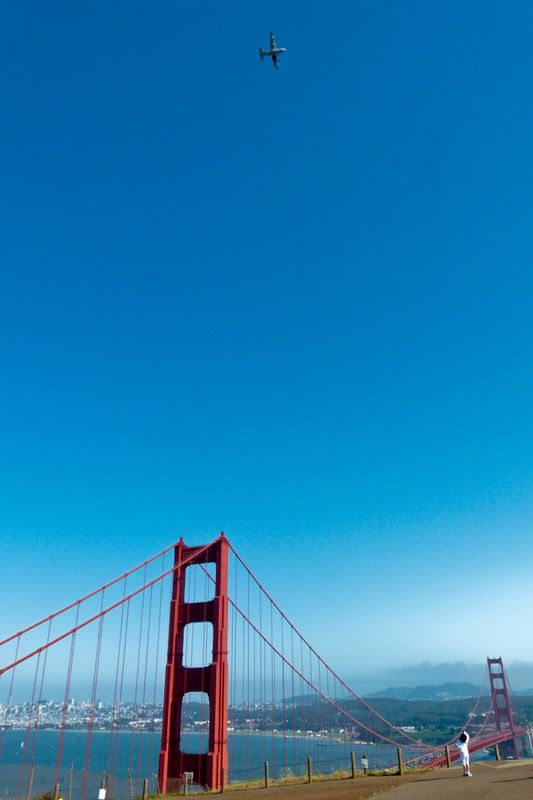 I spotted something else too. Talk about being at the right place at the right time! This was turning out to be freaking awesome!!





There it is passing under the bridge, fog horn blaring full blast - I was giggling like a schoolboy!




..and it's through, fog horn blaring it's entire length as it crossed under! It was a sight and sound to behold!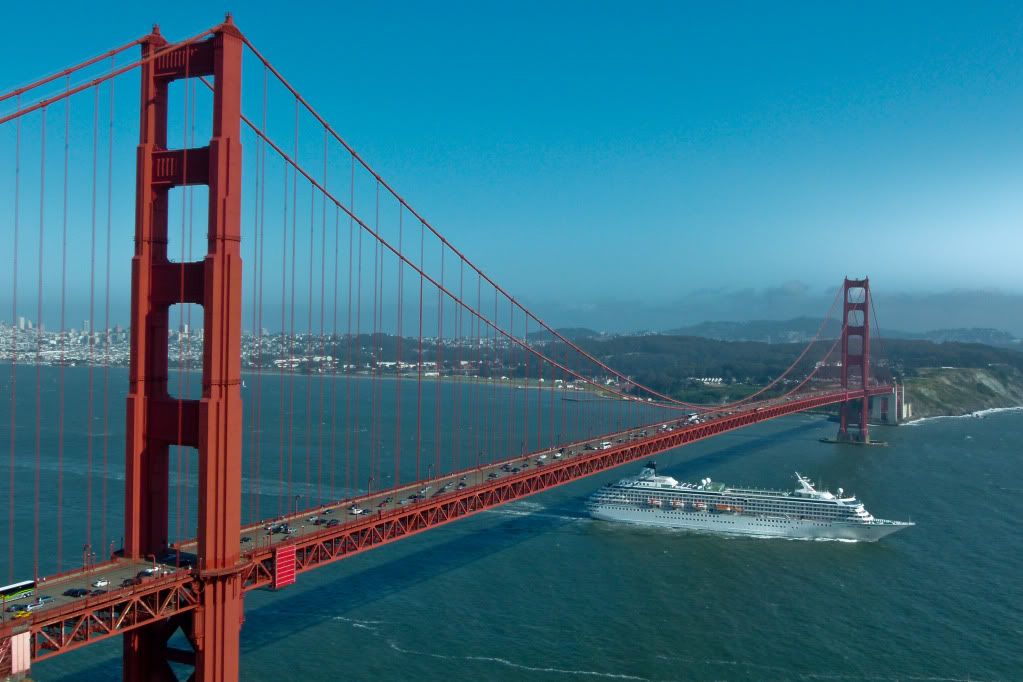 Since, it was a rare clear day in

San

Francisco

, I took advantage of it to frame/slice the TransAmerica building in between the bridge cables..




.. followed by the Bay Bridge and Coit Tower..




A parting shot at Alcatraz Island and I was ready to leave for Bodega Bay.




In all my excitement in the city - I had skipped lunch. Now, I found myself racing towards Bodega Bay and Dinner via Novato Blvd and Petaluma - Point Reyes Road. I did stop once at Tomales Bay, because it appeared that the late afternoon sun had turned the water in the bay into liquid mercury..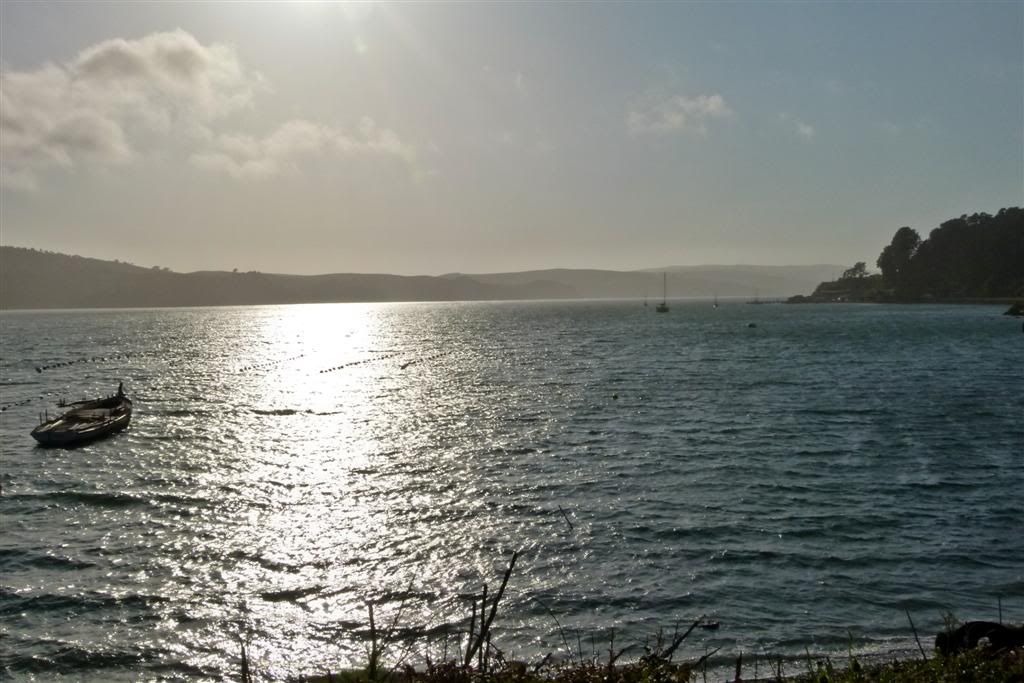 I reached Bodega Bay and re-connected with the group. After a quick shower, I made it to Dinner - I was famished and I was so focused on wolfing down the servings of Lasagna and Minestrone Soup that I forgot all about wanting to watch the sunset..

The best I could do later was to take a shot of the ebbing sky after the sun had already disappeared into the ocean.


Part 4: The Journey Home.

Woke up early the next morning to see what the sunrise had to offer at the Bodega Coast Inn, where we were staying. The verdict was that the sunsets from the Coast Inn are much more spectacular than the sunrises. Still, I wandered around the parking lot looking for interesting subjects to photograph. John was out as well at this early hour, scouting for shots like I was.

This is Russ' bike I believe, I noticed how the windshield was glowing in the rising sun, so I decided to take a shot of that.




I was tired this morning - always have some trouble sleeping in hotel beds, nothing wrong with Bodega Coast Inn beds or rooms, it's just is still a strange bed to me. So, I was a little zombie like in the morning and was contemplating what the plan should be for today.


The "big baby" was saying go home!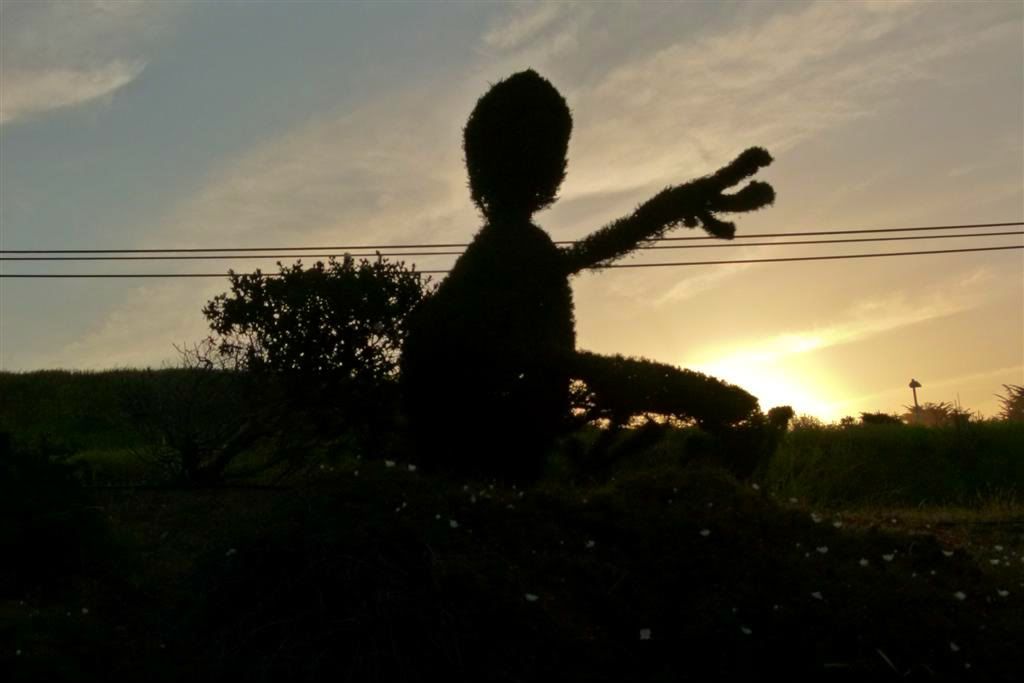 But, I was saying, screw that! Let's decide after breakfast and a couple cups of hot coffee. Mike was heading straight home, talked to Tom for a bit and he said something to the effect of "I will tag along with you, and we can find our path back home, however long or short."
Works for me and the coffee helped, so Tom and I embarked on a meandering trail up the coast for a bit.

First stop was in the town of Bodega, where Hitchcock filmed some scenes from his movie "The Birds" in 1963. Tom had mentioned that he had been looking all over Bodega Bay for the Bodega schoolhouse and the St. Teresa of Avila church featured in the movie, but he never thought of checking the town of Bodega instead. As many roads and places as Tom knows, I was glad I could show him something new.

The Bodega Schoolhouse, featured in the movie "The Birds" as it looked in 1963. Snapshot borrowed from the movie.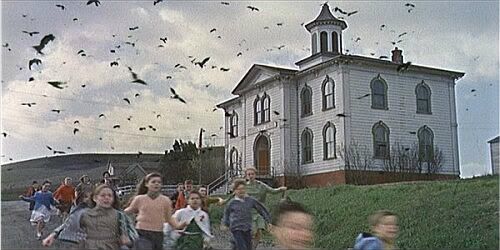 The formerly Bodega Schoolhouse as it appears now. It is no longer a schoolhouse, it is a private residence these days.




This is St. Teresa of Avila church in Bodega. This is where the school kids ran to after their schoolhouse got attacked by birds in the movie. In this particular shot there is actually a dove sitting on the cross atop the church - that gave me a chuckle!




We rode the Bohemian Highway from here through Occidental and then rode Hwy 116 back to Jenner along the coast. We stopped at the mouth of the Russian River for a bit.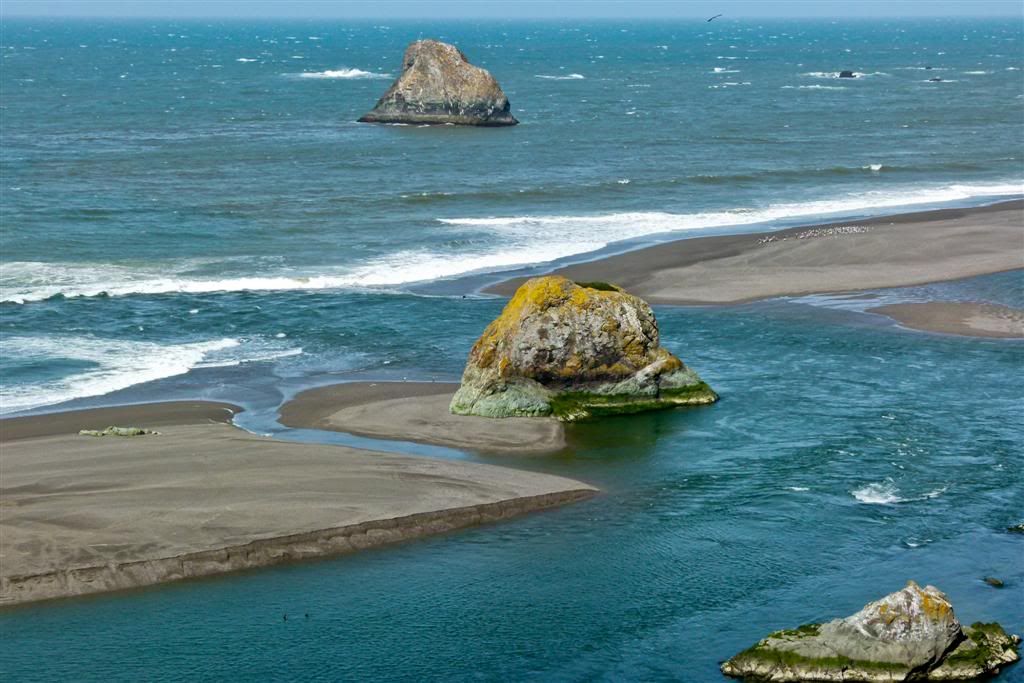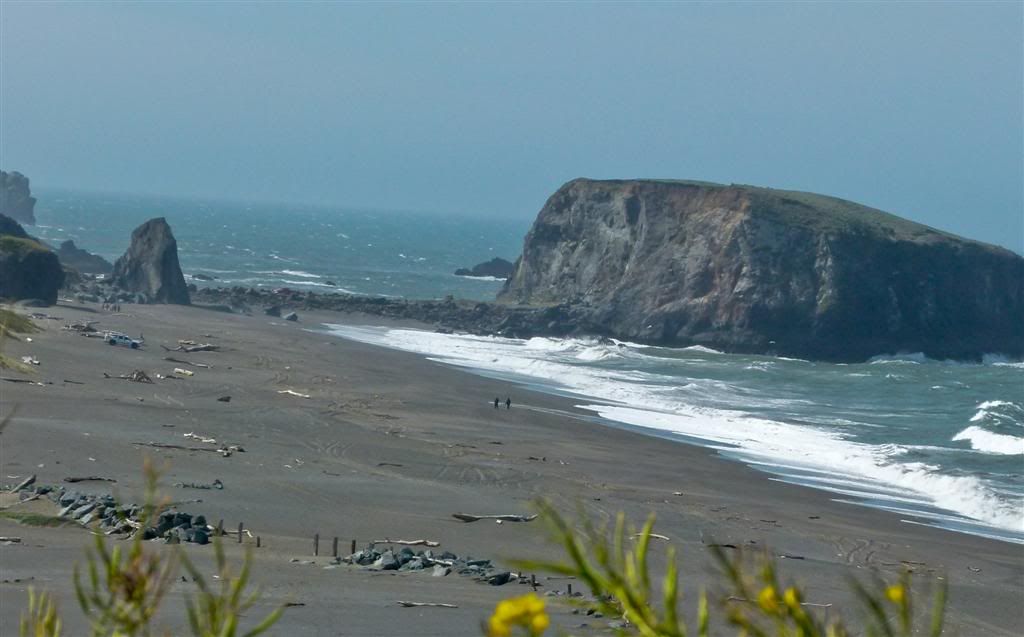 A little further up the road is a great overlook of this particular windy portion of Hwy 1. I had passed through here several times in the past and have always wanted to stop, so this time we did.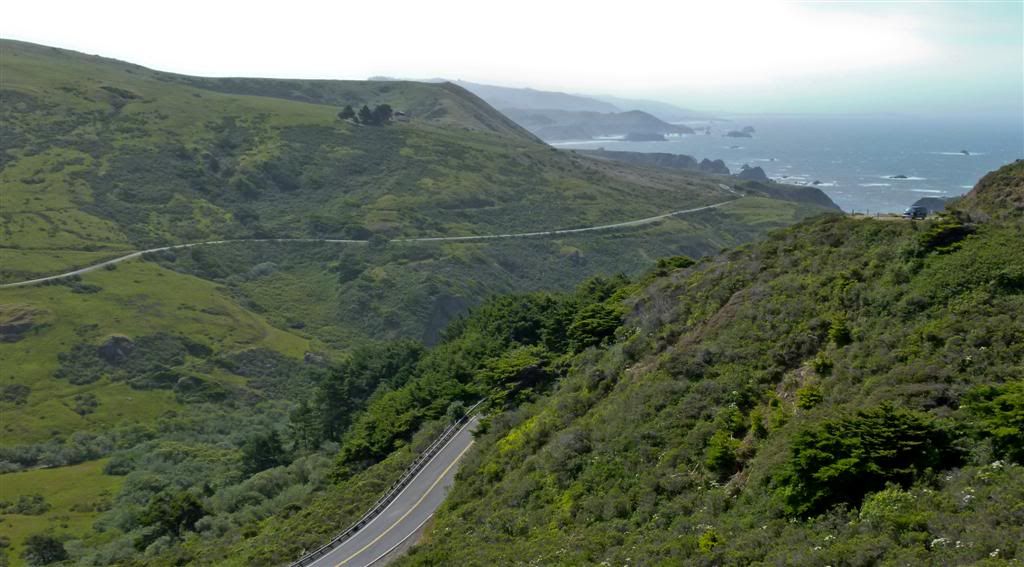 There was construction on Hwy 1 leading to Fort Ross on this Sunday and we wanted to avoid that, since we weren't going to Fort Ross this day. It being a Sunday all state parks were closed including this one, which was a bummer because I would have liked to play around there for a bit. Tom showed me why he is the road captain of a local group here in Sacramento, by finding us a bypass around the construction. I believe we took Meyers grade Road off of Hwy 1 and headed into the mountains along the coast.

Riding along some cow pastures, there are a lot of these along the California Coast. Happy cows indeed!




My camera taking a look back as we climbed up Meyers Grade into the coastal mountains.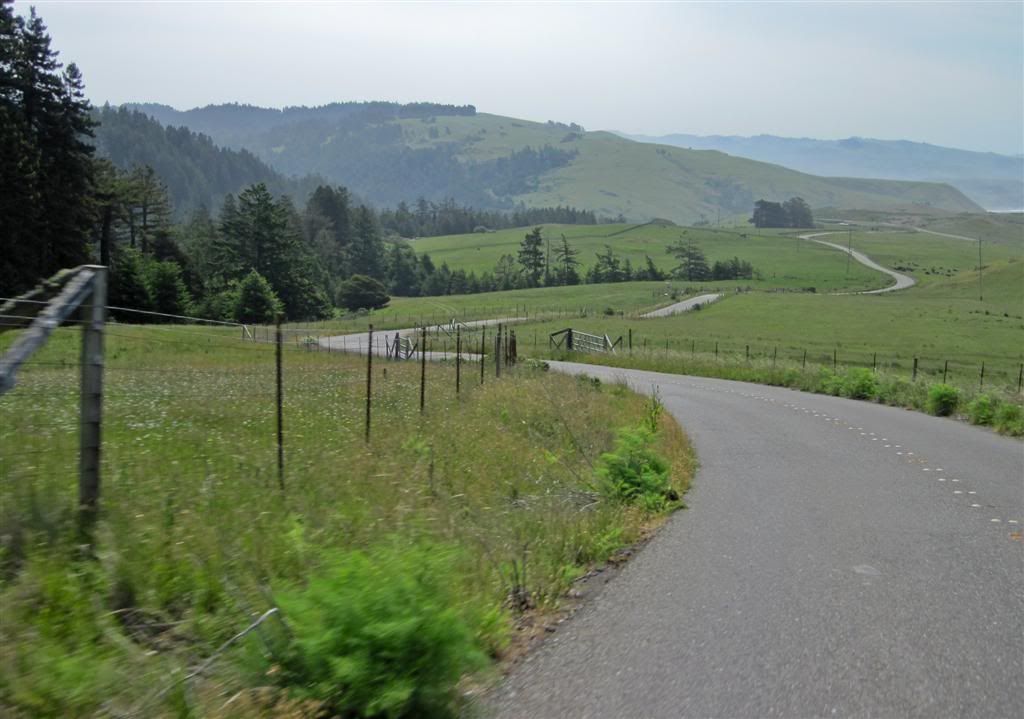 From Meyers Grade we caught Seaview Road and dropped back onto the coast and made a beeline for Sea Ranch for Brunch at this Roadhouse, before heading off for Point Arena lighthouse.

This lighthouse was first built in 1870, but was destroyed in an earthquake in 1906 and rebuilt the following year. It is now privately owned and operated.

The first view of the Point Arena Lighthouse (on this trip).




Tom posing by the cliff side. I made him do it!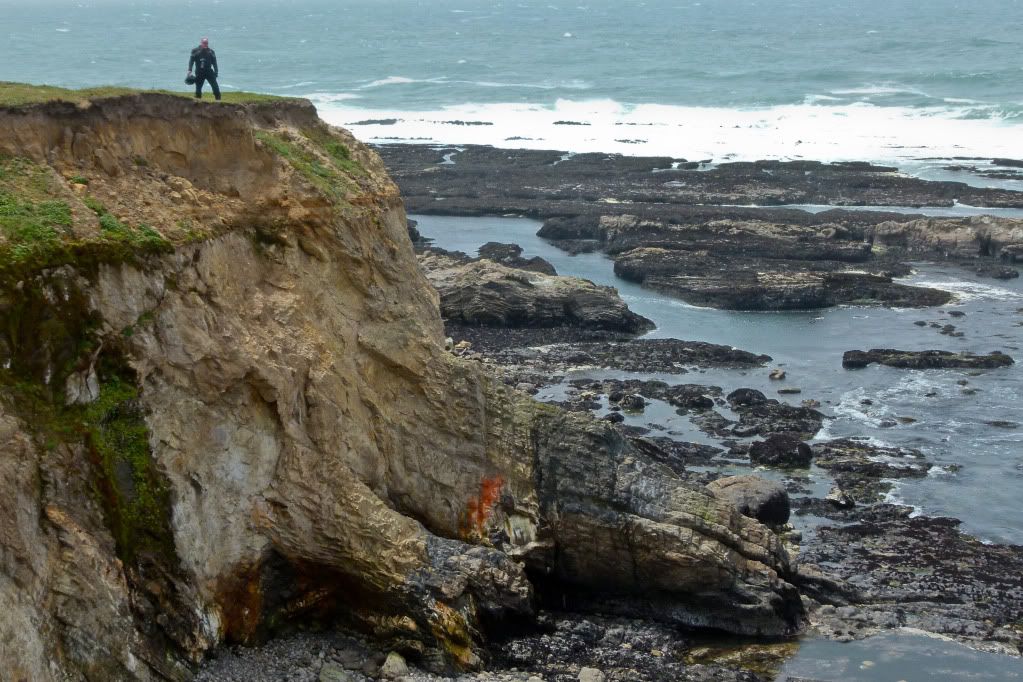 Point Arena lighthouse up close.




I liked this little cove and small tunnel that the tides had carved over the eons.




The view of the cove from the edge of the precipice.




One last look at Point Arena Lighthouse before we headed inland.




The latter part of this day was some serious enjoyment of the twistiest (is that a word?) roads we could find between Point Arena and Sacramento, with no photo stops. We took Mountain View Road into Boonville, and paused and looked at our GPS'es for the twistiest road we could find from here, we found Hwy 253 (what a blast!) to Hwy 101 and slabbed south for a little bit, then we found Hwy 175 and Hopland Grade, set a waypoint there and had some serious boot scraping fun! From Hwy 175 we set a waypoint for Bottle Rock Road, then to Butts Canyon Road, to Pope Valley Road, before finally merging with Hwy 128 and I-80 East to head home.

Thanks for a fun Sunday ride home Tom! You are a very good riding partner!


Of course somewhere along our trip back home, I took a picture of an old barn, as is the forum tradition, in honor of a wise man that I never had the chance to meet who once said and I quote:

"I love old barns. They always make me think that the owners had great hope and optimism for the future." - OrangevaleFJR.




Thank you very much for reading! Till next time!