February was a Big Money month. Big Money Rally that is, maybe it's called that because it causes you to spend Big Money on tires, maintenance, fuel and lodging as you crisscross the countryside on a scavenger hunt for points, scored by finding and photo-documenting certain bonus locations, which fall into several themes, different each year it has been run. This year's themes include libraries, Whole Foods stores, post offices, certain monuments and a 'Been Everywhere' theme which takes inspiration from and creatively interprets the Johnny Cash song into bonuses scattered across the country. Since the rally is mainly structured as a touring rally and the bonuses more often than not lead you off the beaten path, the Big Money Rally also brings big rewards, in the form of big fun and big smiles and discovering new roads and new places, one may not visit otherwise.
Points fever started the very first day of February. A zigzag trip down central California, visiting the heart of the farm lands of California (which feeds the rest of the state, yet is largely ignored and forgotten in the cesspool of the State Capitol), ending up in Bakersfield by sun down - for the last bonus of the day.
I am not going to bore you by posting every single bonus picture I took along the way, but I will post a few which deserve special mention because of some friends that I met there along the way.
Beginning with my bonus stop in Snelling, CA. I discovered a couple of great new roads on my ride there, roads I will be visiting again soon. The best part of my stop in Snelling was of course happening upon my friends John and Kathy who were visiting family nearby and happened to spot me as they drove past while I was taking my bonus picture. Always good to see John and Kathy!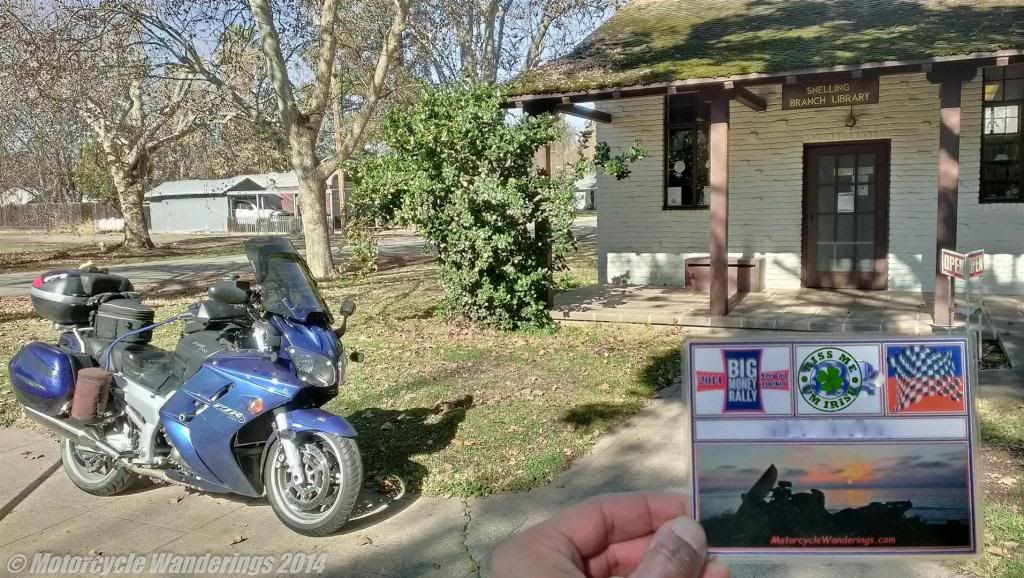 Snelling Library.
The fertile valley of Central California is not the most beautiful or scenic place to ride, but it had to be done. Zip code bonuses are the meatiest bonuses to be found in California. Each valid only for one day, keying off the last 3 digits of the zip code. It was up to the riders to research these on their own. The only one for this day (Feb 1st) was to be found in the middle of nowhere in Alpaugh, CA 93201. Where the heck is Alpaugh, CA? Well, now I can tell you! It is in the middle of @#$%!~* nowhere!
Middle of nowhere.
The day, as I mentioned before, ended in Bakersfield. More riding was to come the next day, detouring and back-tracking to pick up bonuses before getting on the most fun portion on the always impeccable Hwy 58 between McKittrick and Creston, despite the GPS attempting to mislead me onto a dirt road short-cut to get to Simmler, amidst a raging dust-storm. Fortunately, knowledge of the area came in handy, have to ignore the GPS sometimes.
Creston is usually of note for several reasons. It is at the confluence of some great riding in the area and home to Hwy 229, also referred to as Rossi's drive-way. More importantly, I also happen to have some friends who live nearby. One of them - Don, couldn't make it out to meet me for lunch. It was raining pretty good, about 3/4 of an inch that day, and he might have melted, :P ;-) , but my friends Tim and Mary came out to meet me for lunch at The Loading Chute in Creston. Always good eats here and always a fantastic time seeing Tim and Mary. :)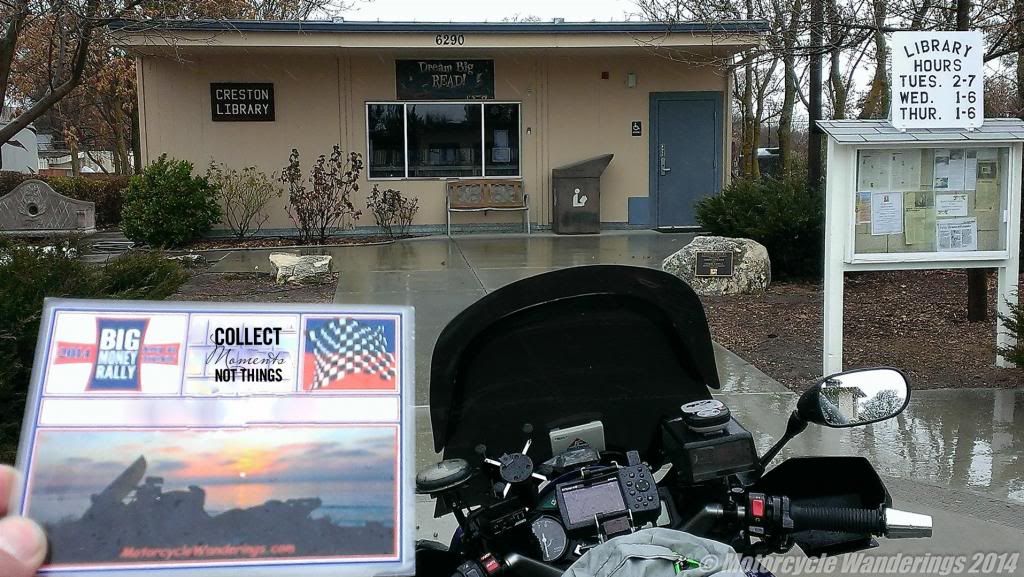 Where is El Presidente CBA?
The fun in Creston was followed by another trek through California's central valley to get home, with a small detour to Armona, CA 93202, which is right next to the middle of bum@#$% nowhere! ;)
Next to the middle of nowhere.
The affair with the post offices continued throughout February with several trips to the crime-free utopian paradise known as Stockton, CA. Although, the most 'interesting' one was a flanking maneuver at midnight 02/06 in Stockton. Grab the zip code valid that day before midnight and ride to the next one on 02/07, after midnight a few miles away. Stockton at midnight was an 'experience', and I saw a few "creatures of the night" milling about, but I kept my wits about me, and my situation awareness high and it was OK.
FYI. Bike clock an hour ahead.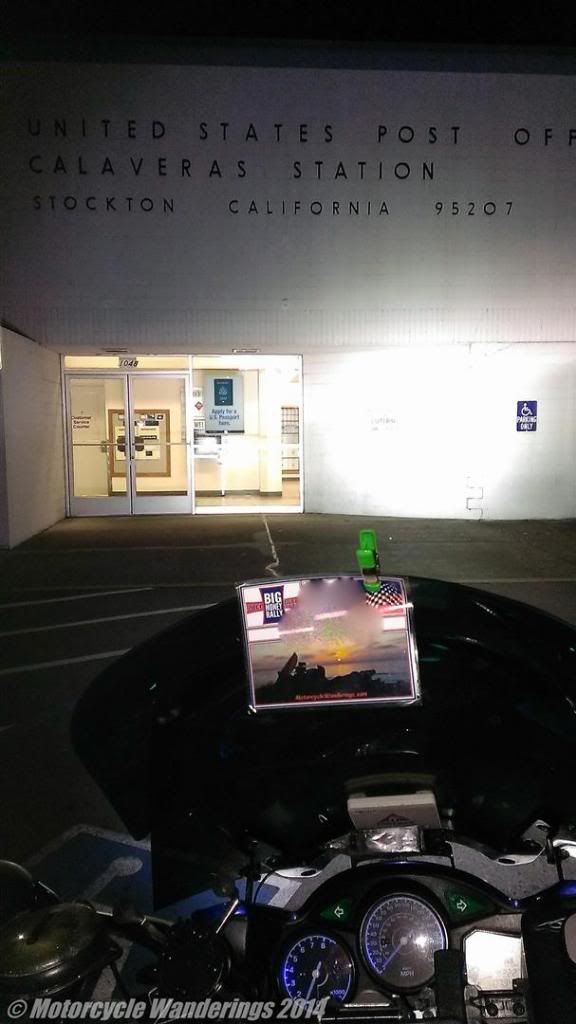 Stockton zip code hunting at midnight
Then one more the next day on 02/08. My friend Jerry was riding back home from Southern California picking off BMR bonuses along the way. It was a wet, wet day, the water seemed to fall in sheets on the way back home, but it was still a fun ride out to pick off a zip code and have breakfast and share stories! See you on more BMR rides Jerry!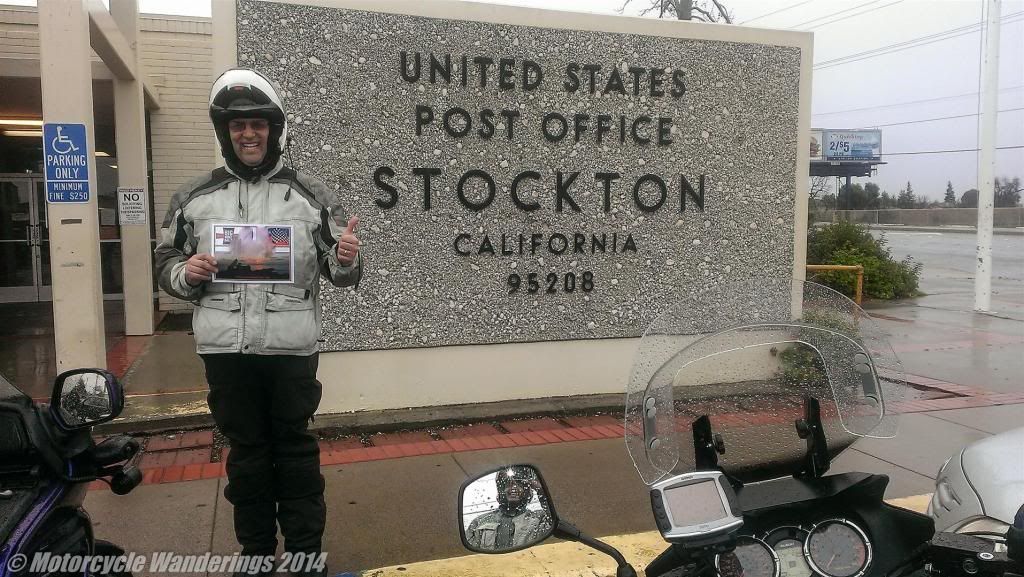 Where's Waldo?
I rode to San Diego the next weekend, taking my time to do so and taking the scenic route, the long way down, almost riding halfway south before back-tracking almost all the way back up north, before heading south again, all in the name of silly points. It is an affliction, I tell you!
I had not rode Hwy 198 west of Coalinga to the Hwy 25 junction before, it was a fun ride, I also discovered for myself a road called Laurele's Grade dropping into Carmel Valley, another stellar find.
Pacific Grove had a library bonus, but I also stopped to take another picture, reminiscing of the good time I had staying at this B and B in January. :-)
Gosby House Inn, Pacific Grove
Heading into Big Sur from here, I stopped for lunch at the Big Sur River Inn. This place has always been hit and miss for me. Good sometimes and mediocre at best other times. Today was a mixed bag, off season means the quality of servers is also off, the food was all right, but then they surprised me with the Apple Pie served A-la-mode for 36 cents. They are celebrating 80 years in business and pie was the same price it was 80 years ago - 26 cents for just the pie, 10 cents more for a-la-mode! Yumm!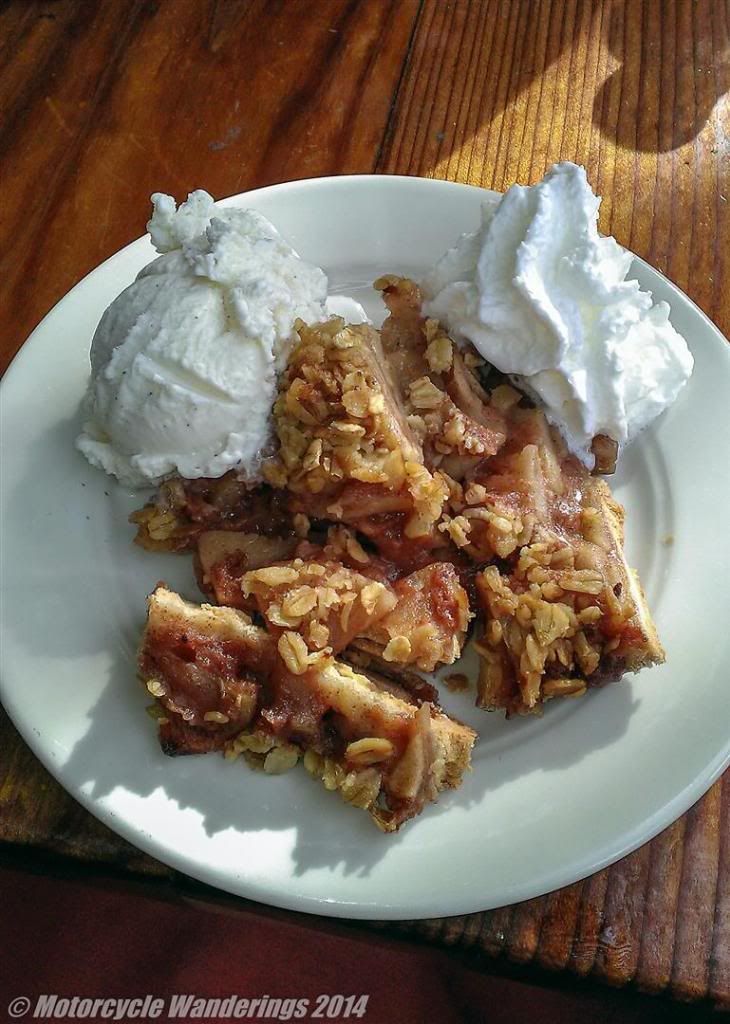 Apple pie, Big Sur River Inn
Familiar landmarks along the way on the ride south along the Big Sur coastline. The area was covered in heavy fog, the last time I was here in January. It was bright sunshine today. :-)

Bixby Bridge. Cell phone picture.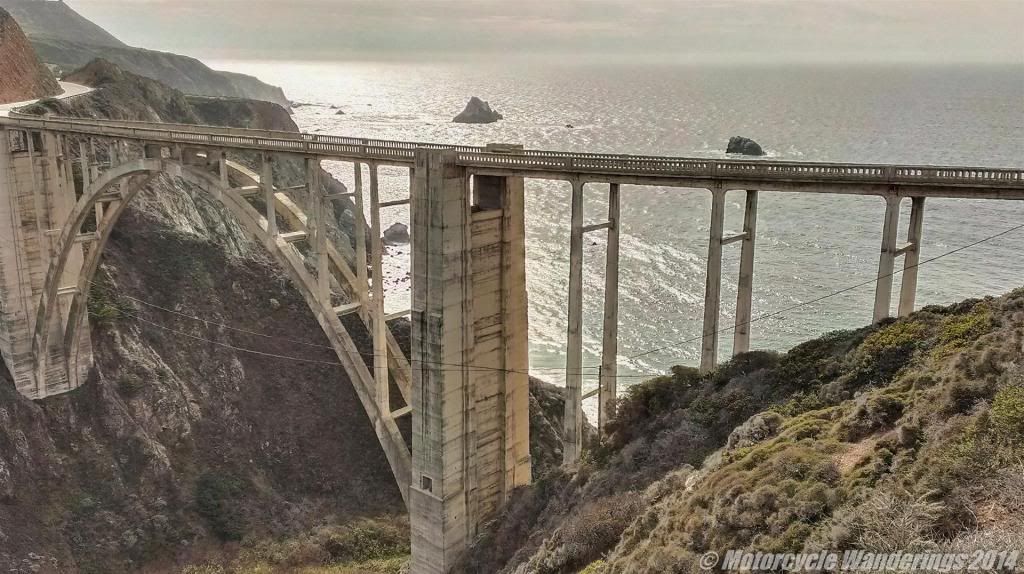 Bixby Bridge. Cell phone picture.
I was not stopping for pictures much and making quick time of the ride, despite the best efforts of a couple of RVs who refused to use the pull-outs. It was a clear day so I decided to take a chance and ride up to the first lookout on Nacimiento-Fergusson Road.
Nacimiento-Fergusson lookout. Cell phone picture.
I was making haste to catch the sunset in Morro Bay. One of my favorite towns along the California Pacific coast. I love watching the sunsets along the harbor here. One of my favorite seafood restaurant is also in Morro Bay. Tognazzini's Dockside - full of locals who love good food. The best places to eat in any town are usually the ones packed with locals.
Morro Bay docks.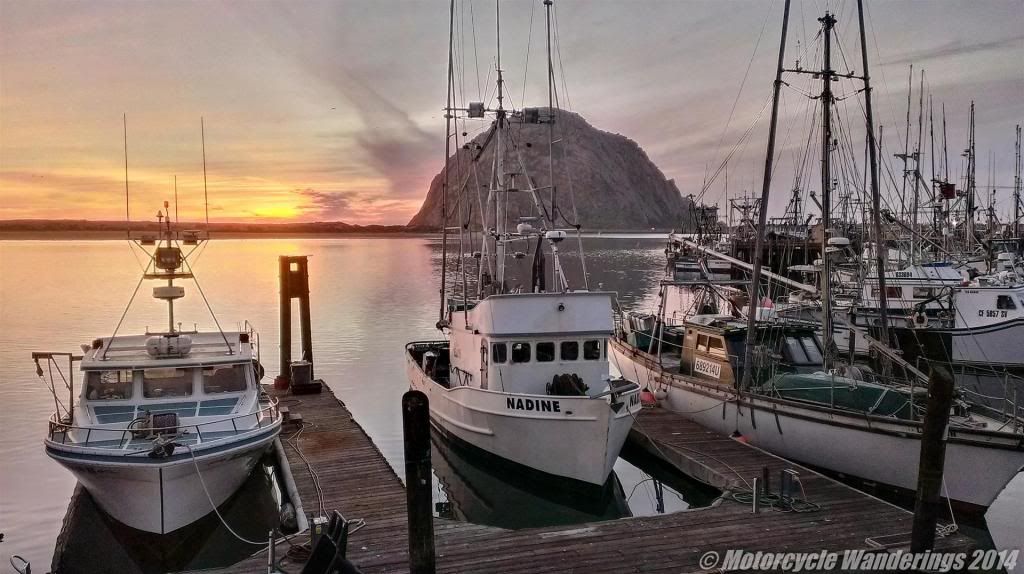 Morro Bay docks.
On the plate next was urban warfare in the concrete jungles of Los Angeles and vicinity. What a drag, people here spend a good 1/4th of their lives stuck in traffic and/or commuting. Such a shame and a waste of a good life, at least the motorcyclists can split lanes and save some precious time, but I personally wouldn't live in the madness of LA or anywhere near it in a million years. It gets a lot better and a whole lot more fun when you get out of the concrete/slab madness and into the mountains around LA and east of San Diego, but then again only on weekdays I hear. On weekends it's just another mad house. Maybe the only saving grace LA has is that Lisa lives in a beautiful house in Orange county. Great company, great hospitality and a steak dinner done to perfection! Thanks Lisa! Can't wait to see you again! :-)
The desert hills and mountains east of San Diego offer some riding which attempts and sometimes succeeds in rivaling that offered by Northern California. On a weekday I found traffic to be non-existent and the fun-o-meter was swinging way past full! County road Sr-22 into Borrego Springs being my favorite of the day, such beautiful curves! Hubba Hubba!!
Something for everyone in Julian.
I stopped in Julian for a quick bite to eat. Mmmm more Apple pie, not 36 cents like in Big Sur, but ohhh so much more tastier! Julian seems to have something for everyone. Pies, Pistols and Petticoats! Oh yes, Liquor too! ;-)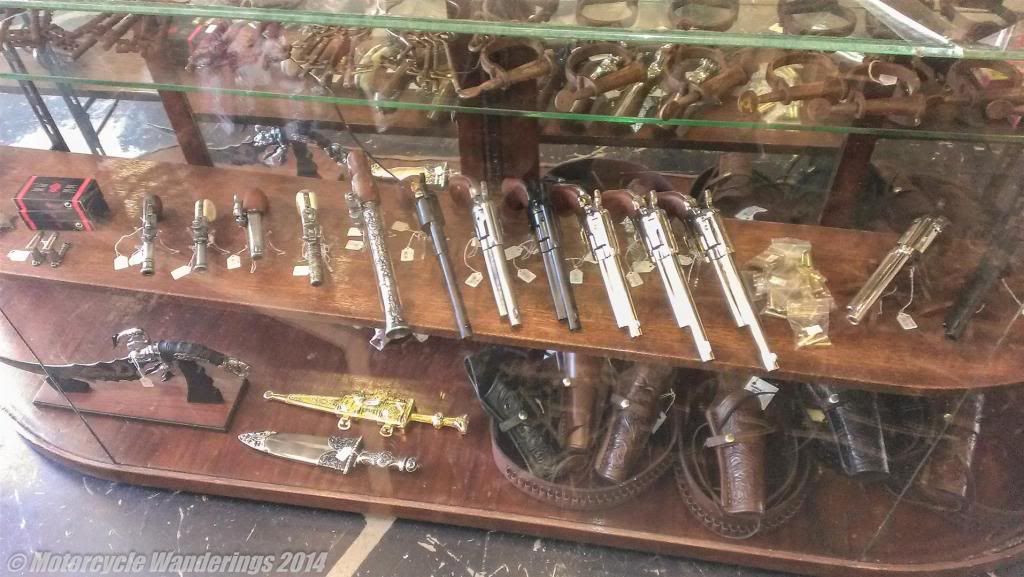 The quick and the dead?
My other favored destination for sunsets is San Diego. Many great locations to watch the sunset here, but the ones I seem to visit most often are San Elijo beach and La Jolla. It was an overcast and fogged in sunset at San Elijo, but this is such a beautiful beach, and a delight to walk it's length, watching and listening to the surf, watching the surfers play, the sandpipers dig with their beaks looking for food and people watching of all sorts.
San Elijo sunset.
I explored the art galleries in La Jolla the next day. Peter Lik, one of the most if not the most renowned landscape photographer in the world has a gallery in La Jolla. His work is intense, I don't have the words to describe it, it is not for the casual viewer, and puts most other photographers to shame, it had my head spinning! Check out some of his work at Peter Lik Photography.
Once I came to grips with and had accepted the fact that there is dabbling in amateur photography like I do, and then there are works of art like in the Lik gallery, I headed to Scripps Park in La Jolla to watch the sunset, and yes photograph it also. It still brings me great joy even if the results are not all that they can be! :)
La Jolla
The show was about to begin, the setting sun was coloring the skies in it's last hurrah before retiring for the day.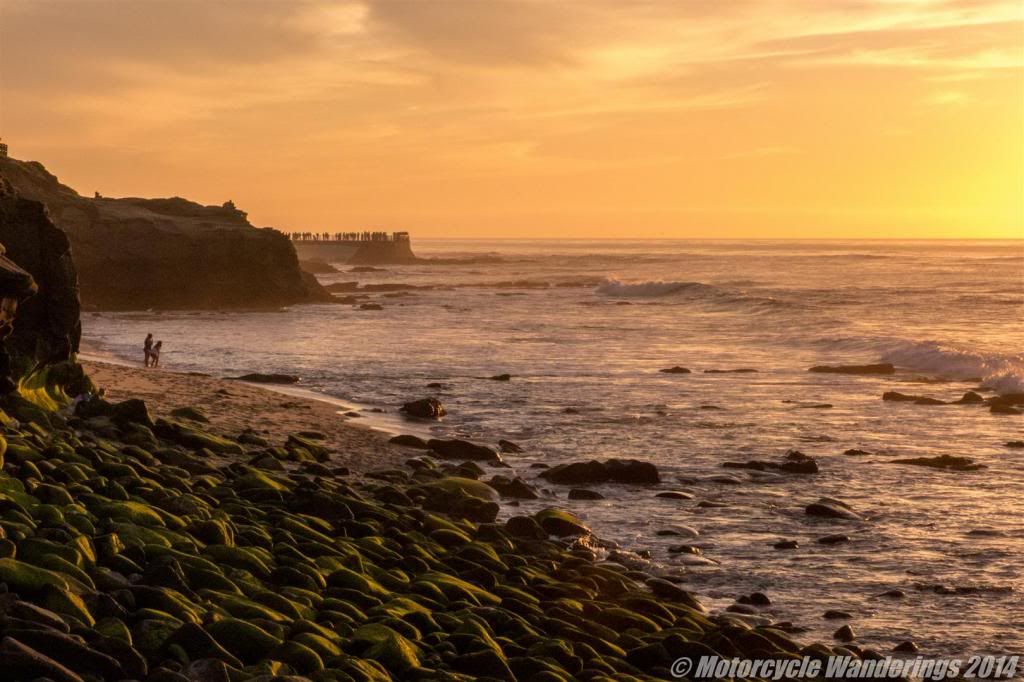 La Jolla
There it goes, kissing the horizon, lingering if only for a moment before being engulfed by it.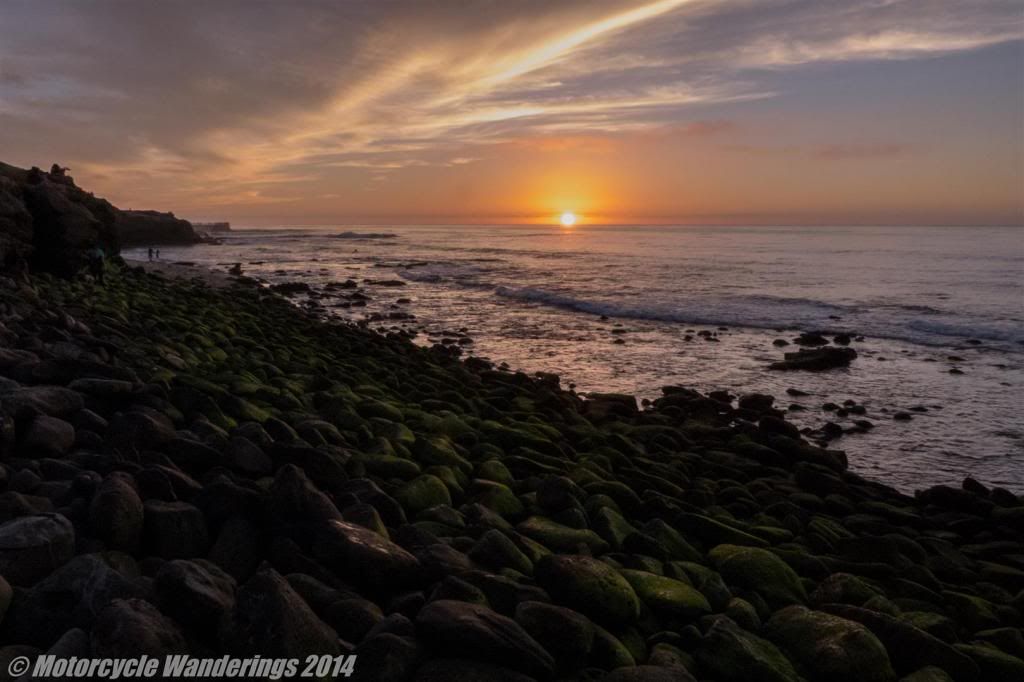 La Jolla Sunset.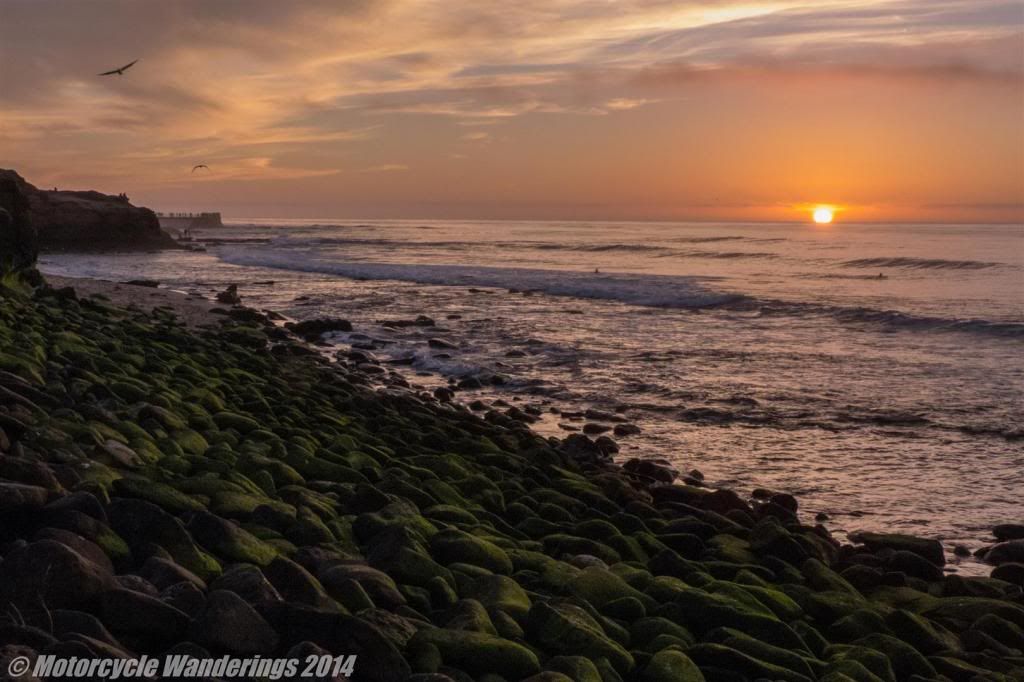 La Jolla sunset.
I was joined by my friends Mar and Kevin who found me after the sun had set. We had a good time visiting over dinner at the Brockton Villa in La Jolla - world famous for it's coast toast. If you haven't tried it, you need to! Good to see you Mar and Kevin, till next time! :-)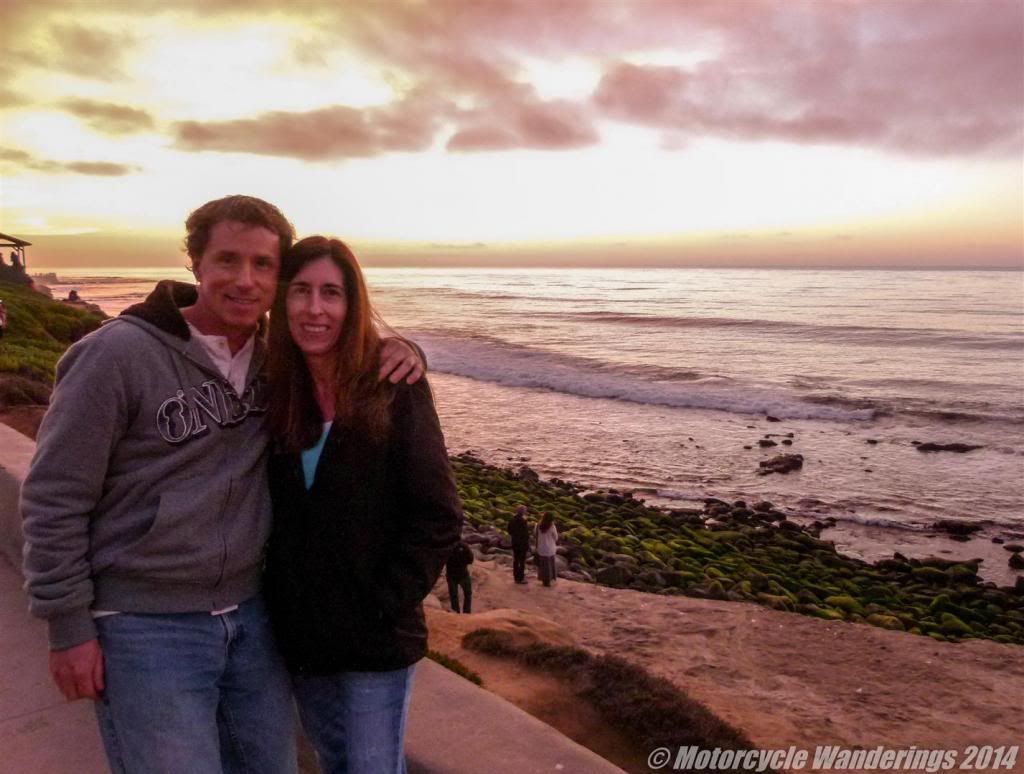 Mar and Kevin in La Jolla.
My February vacationing was coming to an end. It was time to head home soon, but I was going to ride the long way home again, extract some more fun from the desert east of San Diego and the mountains north of the urban and suburban sprawl east of LA.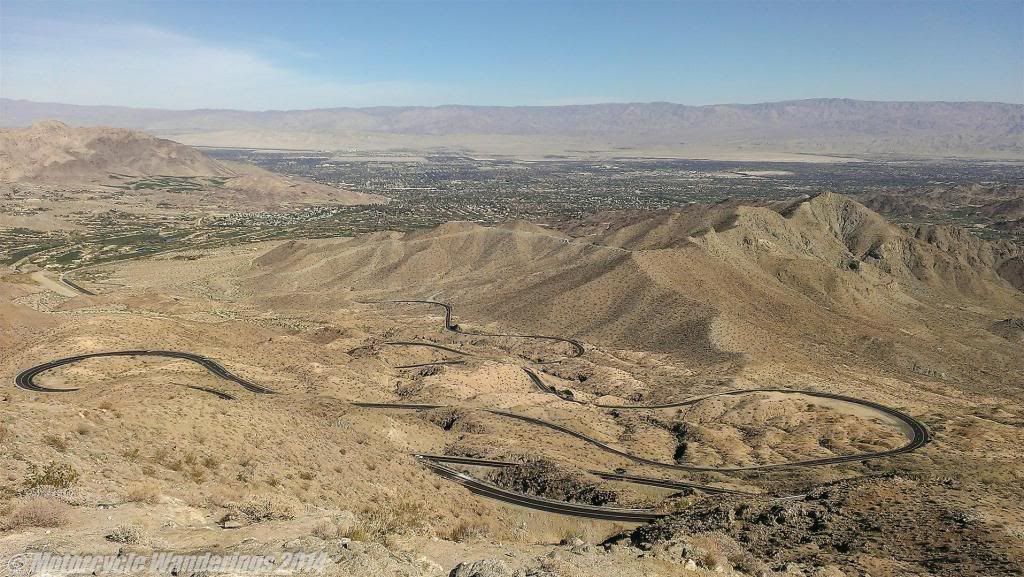 Pines to Palms Highway. So much fun!!
View from Hwy 138 north of Crestline.
It was a long ride, the most fun in the beginning before giving way to slab for the last drive northwards and to home. I was going to try to do it in one day, but I ran out of steam and stopped near Delano for the night, before continuing on the next day. Good to be home! :-)
Thank you for reading! :-)