It was time for the

WFO

(Western FJR Owners) meet, Version 9 in 2010. This was going to be my first FJR Owners meet since I bought my new to me FJR in December 2009. I had been looking forward to this event all year and we were going to party it up in Eureka from Thursday July 22nd to Saturday July 24th.
With the good times to be had in mind, I headed up to Eureka on Thursday morning. I decided to take the Coastal route to enjoy the cooler temperatures and nature's air conditioning, while it burned hot on the roads inland.
It was a foggy and cold ride up Hwy 1 to Eureka on Thursday!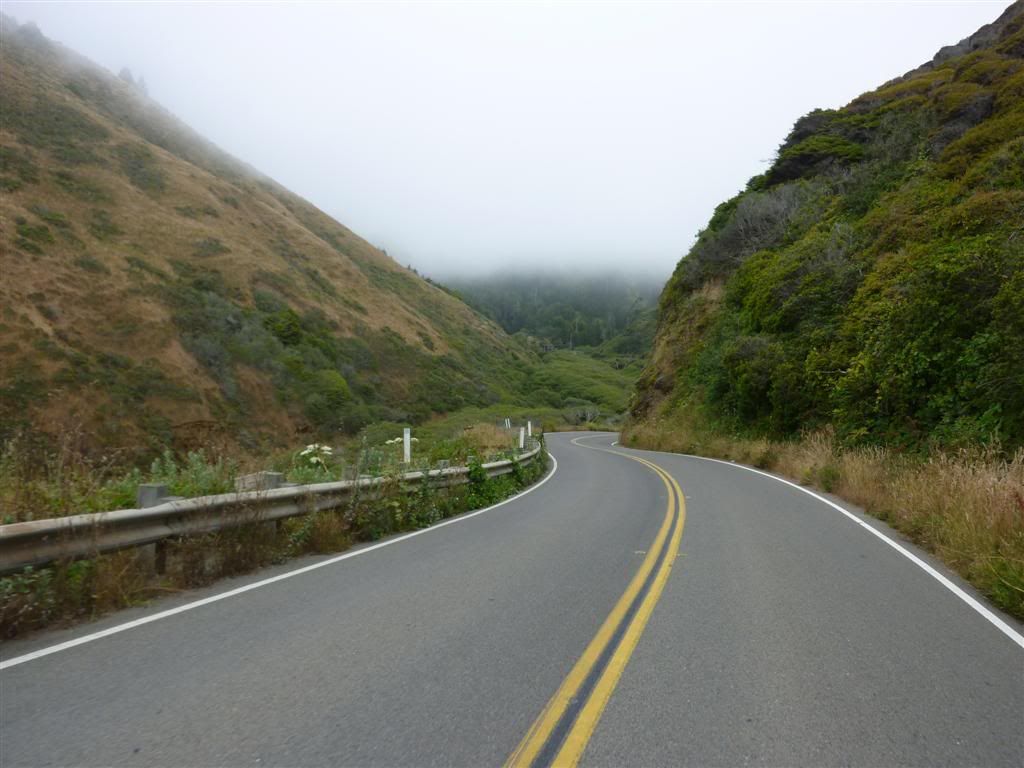 Didn't see much of the coast due to heavy fog.
I met up with Tobie and Lisa in Eureka, it was such a nice surprise both for them and for me, we hadn't seen each other in 2 years and I think we definitely bonded in Eureka.
I was planning a ride on Friday morning and happened to meet Lisa and Tobie in the parking lot, they asked me where I was headed and I told them of all the research I had done on the internet the previous night and that I was going to hit all the touristy spots along the coast on the way to Crescent City and maybe beyond. My plan sounded better to them than theirs (winging it) so they decided to fall in behind me and let me lead them on a tour - at this point Matt Watkins and Doug Barrett also came out and decided to join us. So here I be, leading these seasoned Iron Butt guys and gal on a ride up the coast - YIKES!!!
Pre-ride preparations! Uncle Tobie saying "I want you!", or maybe he is saying "Pull my Finger!"
Sam and Lisa puckering up...
Eventually we stopped goofing around and got on the road...
I was having trouble with my GPS developing way-point amnesia and since I was leading the ride, I had to keep programming it back in.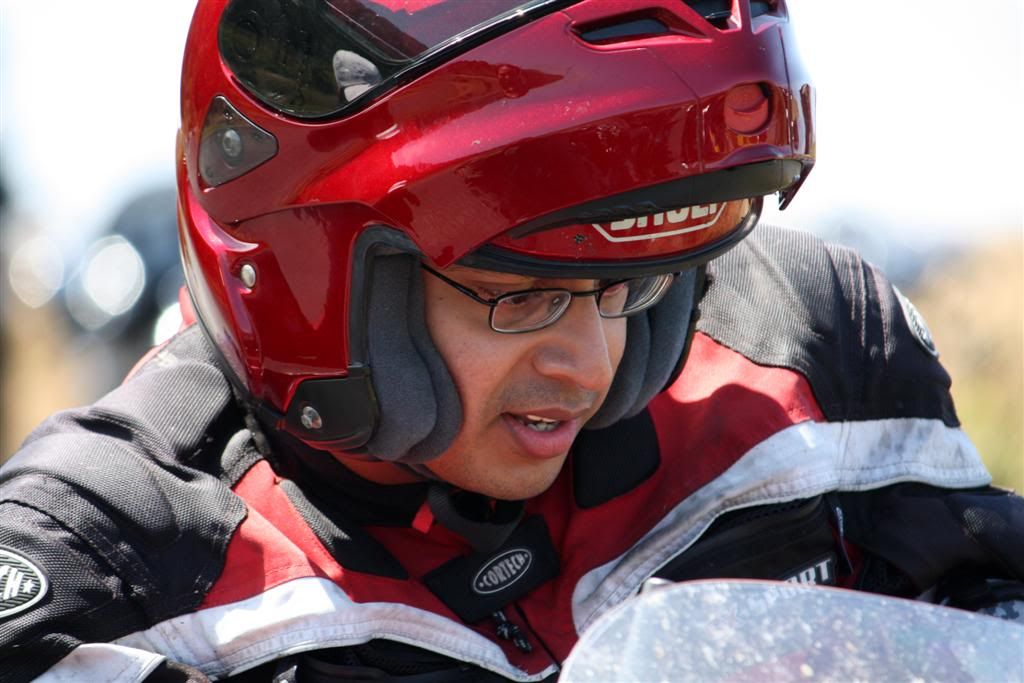 We were running wild and free...(or as free as the GPS would allow).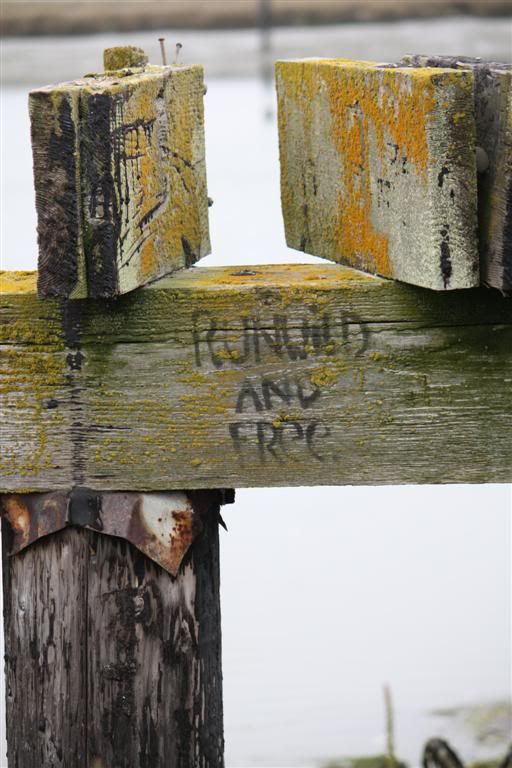 Lisa enjoying the coastal view!
Is that a stick or was I happy to see...
Matt was showing off some Karate Kid moves...(if you could see how dirty his bike was, he could have used some wax on and wax off moves!)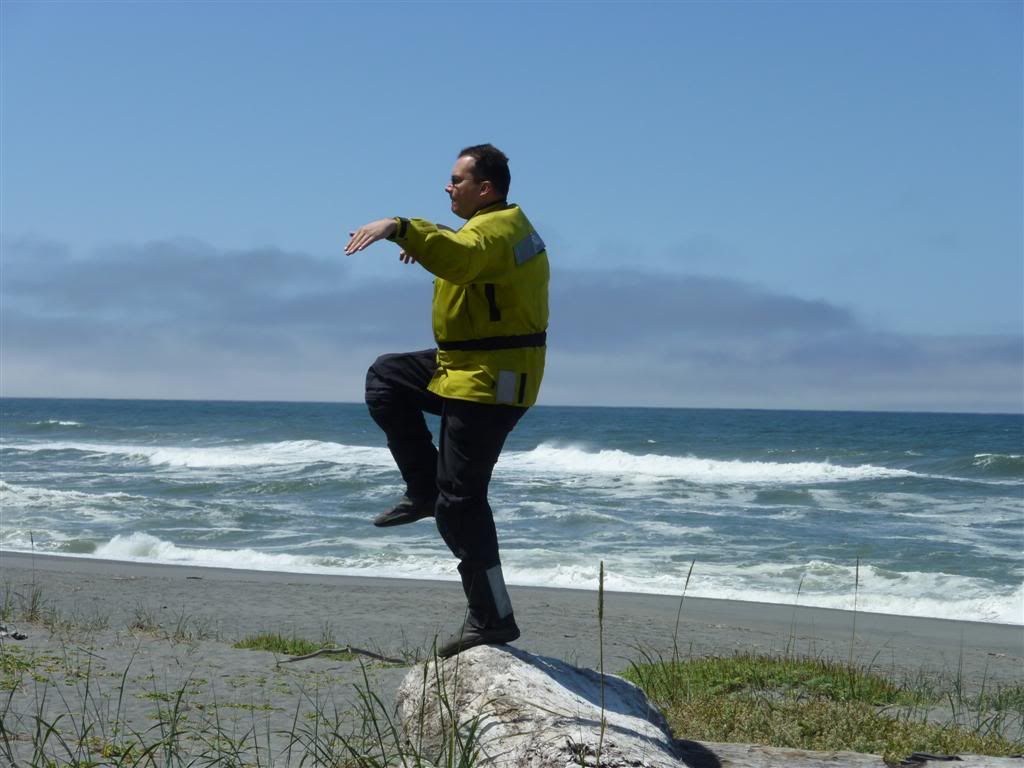 Some beautiful coastal views...
Tobie says "Mine is bigger than yours! HAHAHA!!"
Matt is having some lens envy issues...
Tomfoolery aside, we soon found our way to the Redwoods...
We stopped and decided to find some adventure in the woods...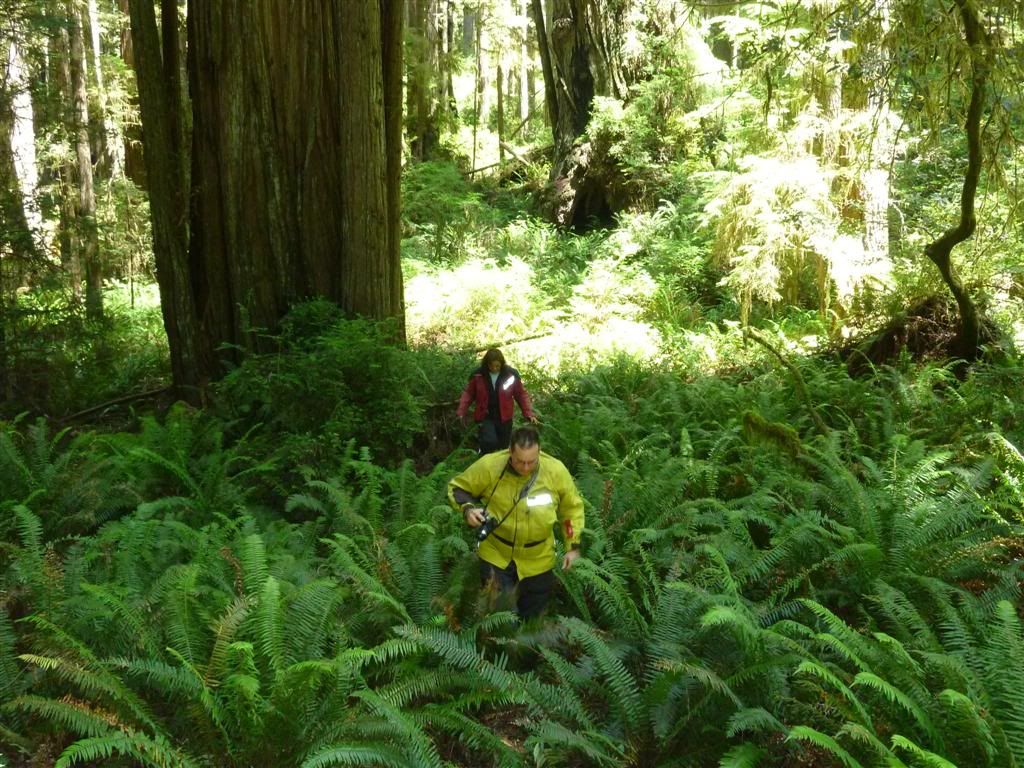 Then it was action shot time. Matt took this picture of me running through the redwoods. This picture below also won in the "Best Action Shot" category at

WFO

-9! YAY ME! (Although, I didn't win anything, Matt did.)
Soon we were looking at some more gorgeous vista's at the Klamath River lookout where the Klamath River meets the ocean.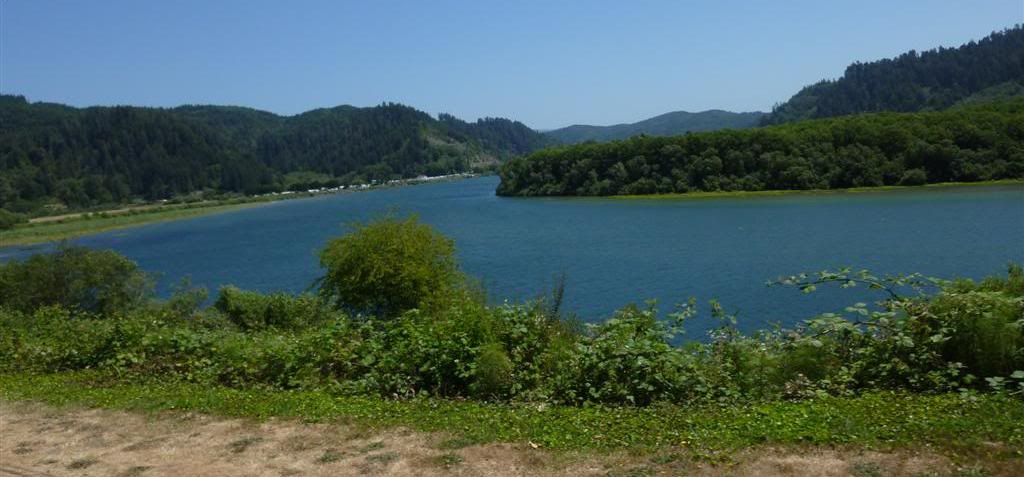 The Klamath River meets the Pacific Ocean.
The Wild Bunch! See if you can spot Sam with the goofy hat!
Lisa taking in the view...
...and then some Tourist Traps along the way...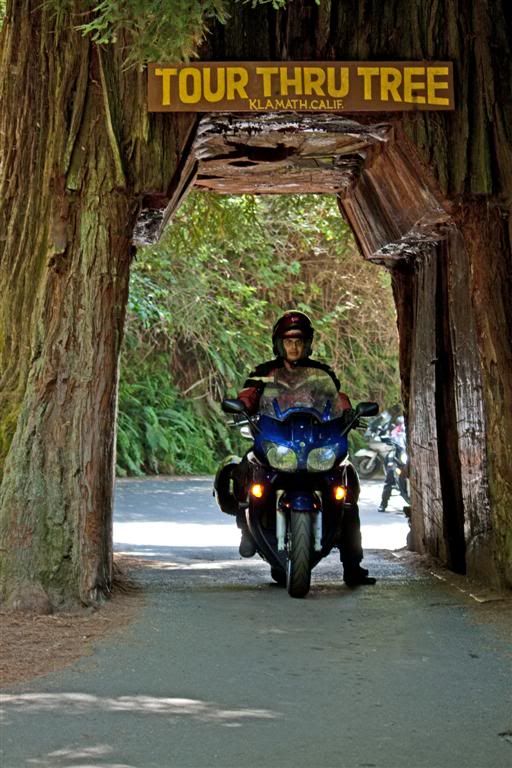 We tried to fit all 5 bikes in there!
Then off to see Paul Bunyan and his blue ox Babe.
There was some molestation of Babe which occurred here, although all pictures, accounts and evidence of said event has been removed from the records to protect the guilty! Paul was noticeably upset!
Of course Lisa and I then had to climb up on top of Paul's big boot.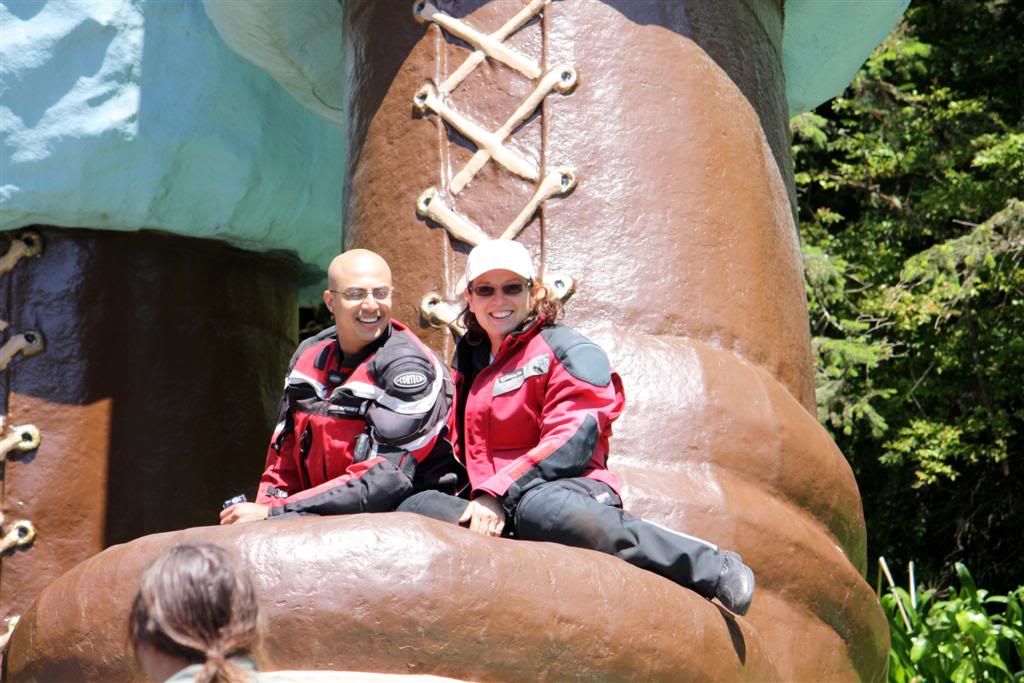 After getting acquainted with Paul's boot and getting to know Babe intimately, we went in search of the Battery Point Lighthouse near Crescent City.
Tobie insisted he knew the way, but then he started floundering around, so Matt took the lead and led us astray (got us lost) and by this time Tobie had split from the group - we eventually found our way to the lighthouse to see Tobie waiting with the camera on the ready!
Matt isn't too happy Tobie beat us to the lighthouse!
Don't shoot - I surrender!!
The Battery Point Lighthouse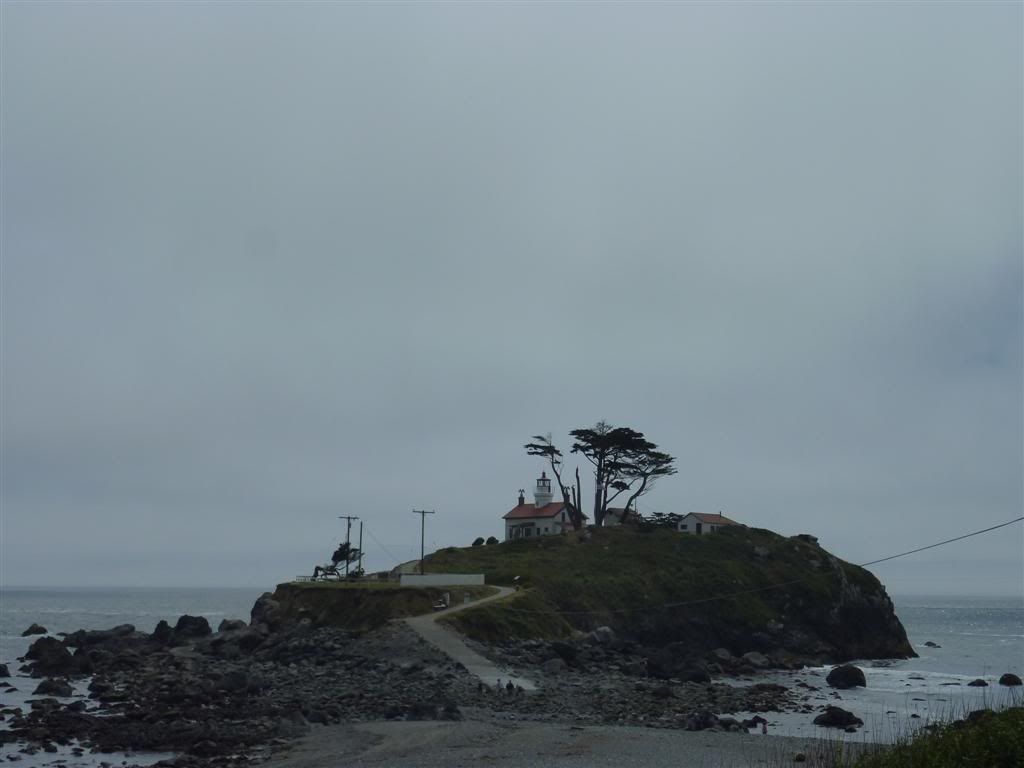 Can only walk to it at low tide...and there was some pretty scenery on either side when walking to it.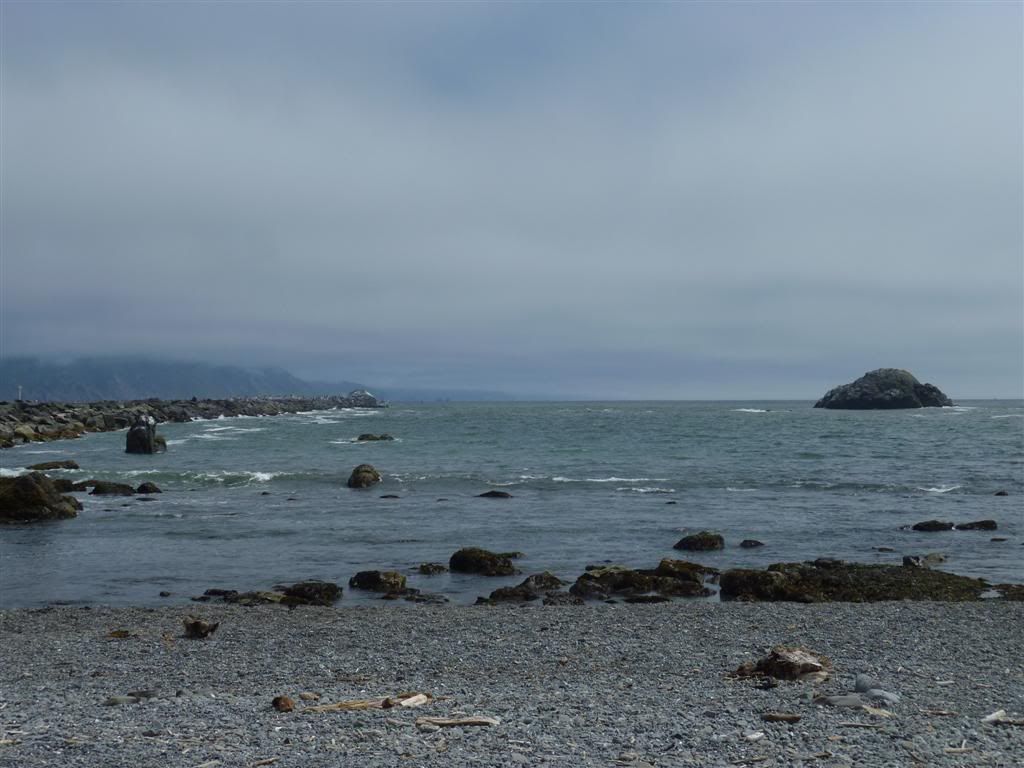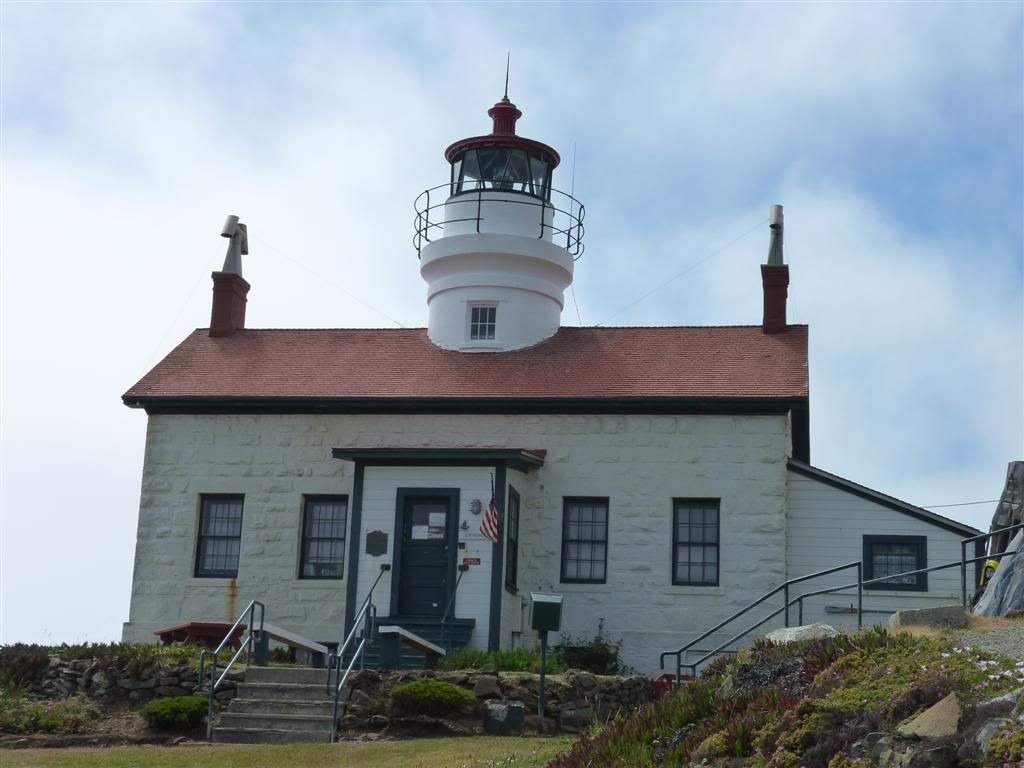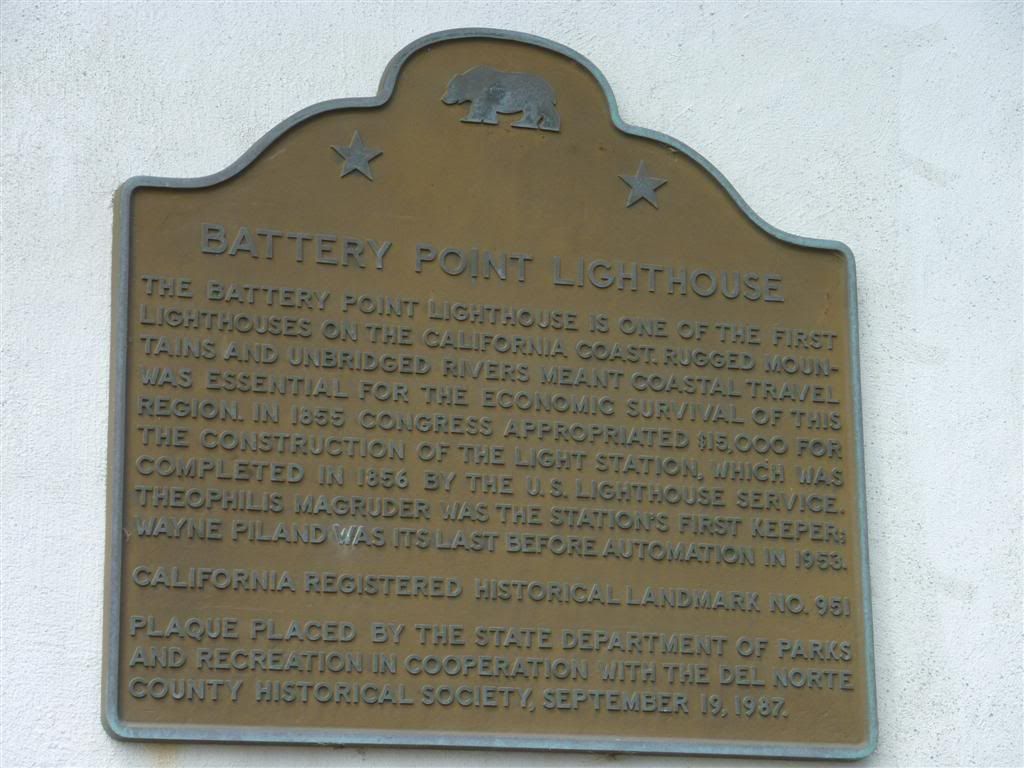 We were getting late to setup for the riders banquet (one of the downfalls of riding with the event staff) so we turned around at this point and found our way back to Eureka in a hurry...
Some more coastal shots on our way back...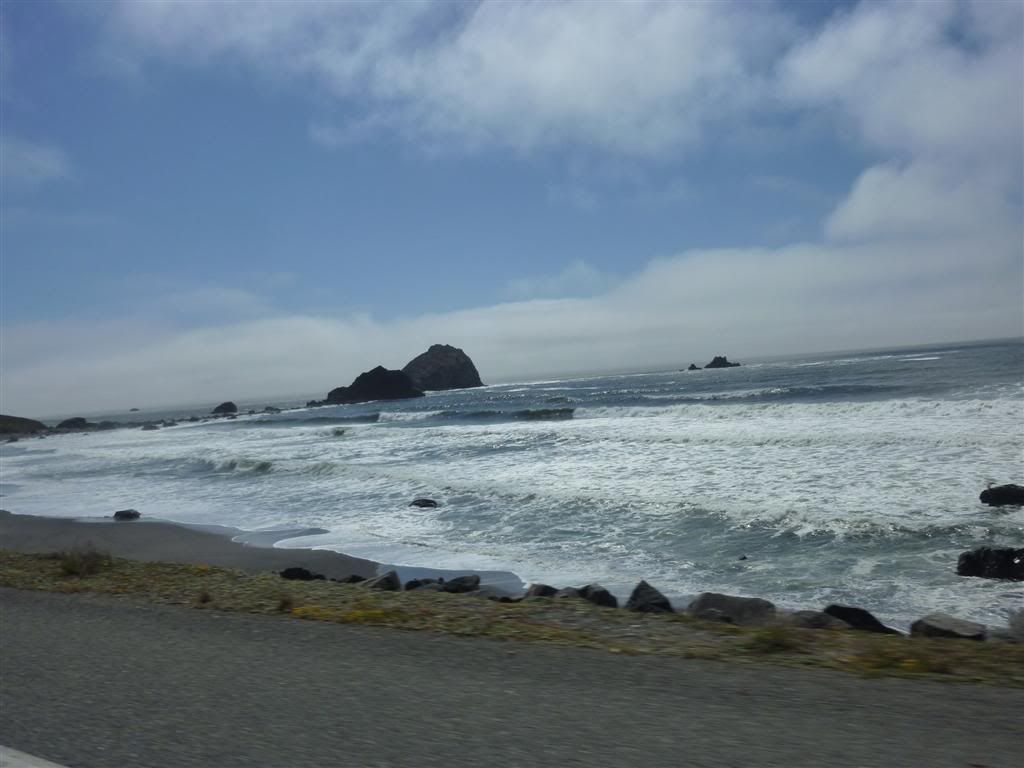 Matt leading the charge, better him than me to flirt with CHP radar...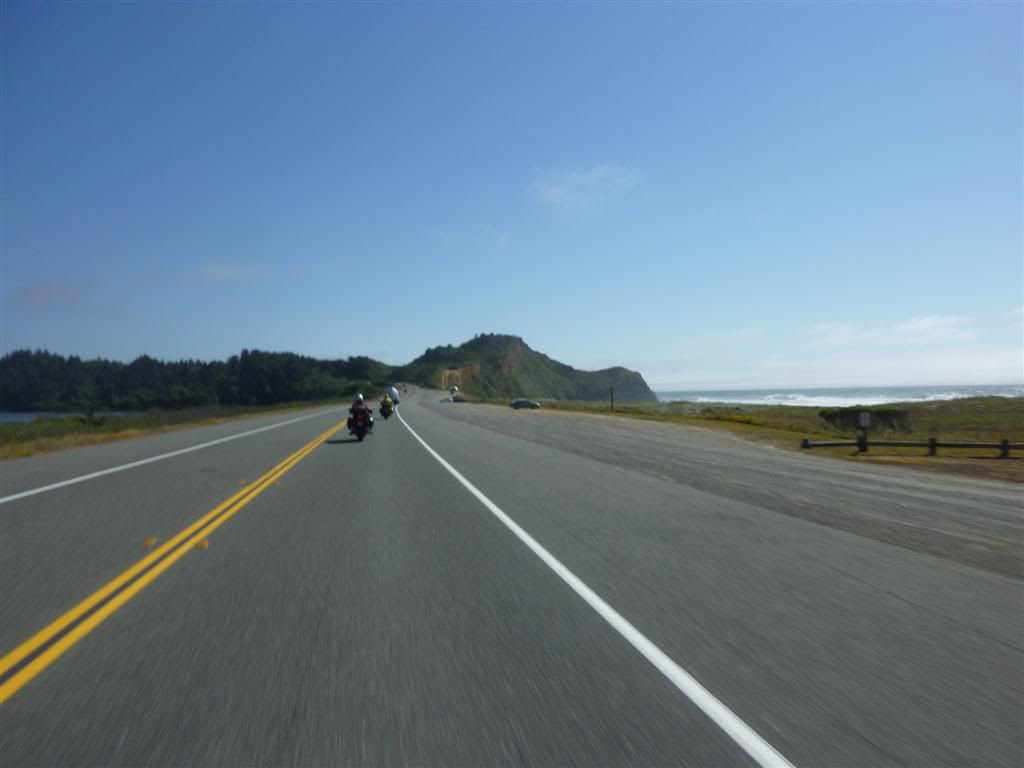 The Banquet was fun with some good food and a long and winding presentation/talk by my good friend Hans. I think he managed to offend just about everyone in the room, so full marks to him on such a great performance! There was also some fun with Dolly who is the FJRForum mascot and also Greg Marbach's (SkooterG) girlfriend, but most of those pictures have been censored...
After the festivities and drinking games of Friday night, I got up to a very late start for Saturday's ride. The plan was to ride to Happy Camp and then up into Orgeon on this desolate road to O'Brien and then back to the coast at Crescent City and then Eureka...
I had a great ride on Hwy 96 to Happy Camp. I got behind a Harley rider riding two-up in the very twisty and blind turns part of Hwy 96, who refused to let me pass and instead tried to run from me - bad move buddy, he almost planted his bike into the cliff and after a hard smack on his helmet by his passenger (presumably his wife), he pulled over and let me by - didn't see them the rest of the way.
It was hot in Happy Camp, OK that was an understatement it was freaking hot in Happy Camp. 107 degrees! I am glad I had the Cooling vest Lisa Landry was letting me borrow.
Here is the big bike being dwarfed by Bigfoot.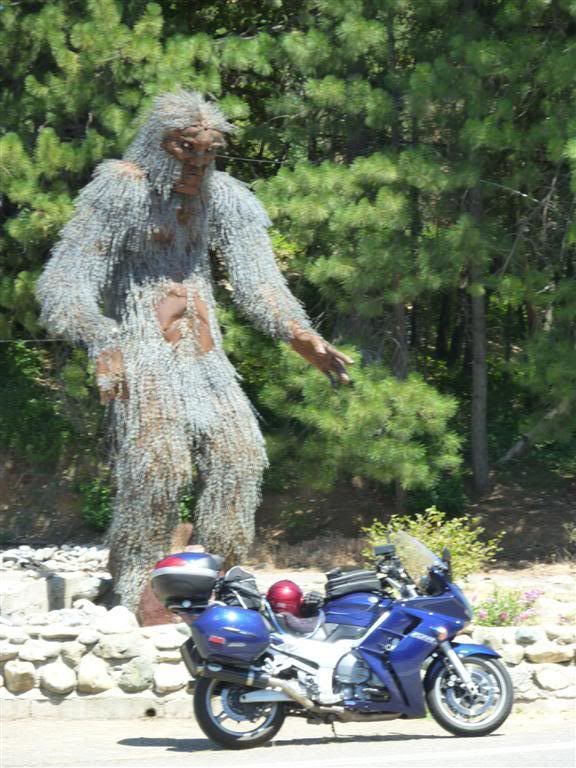 Big Turd, Sam and Bigfoot.
Dropped into O'Brien, OR from Happy Camp, CA only to go head to head with O'Brien police!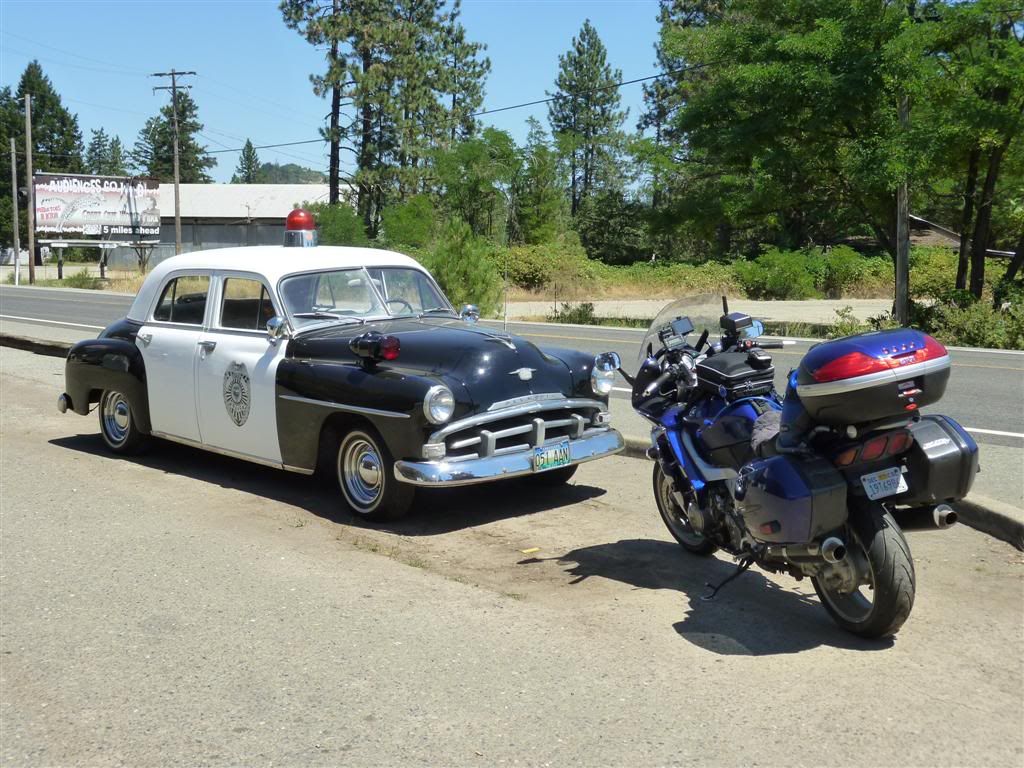 Here is another shot of the big bike staring down the O'Brien Revenue Department.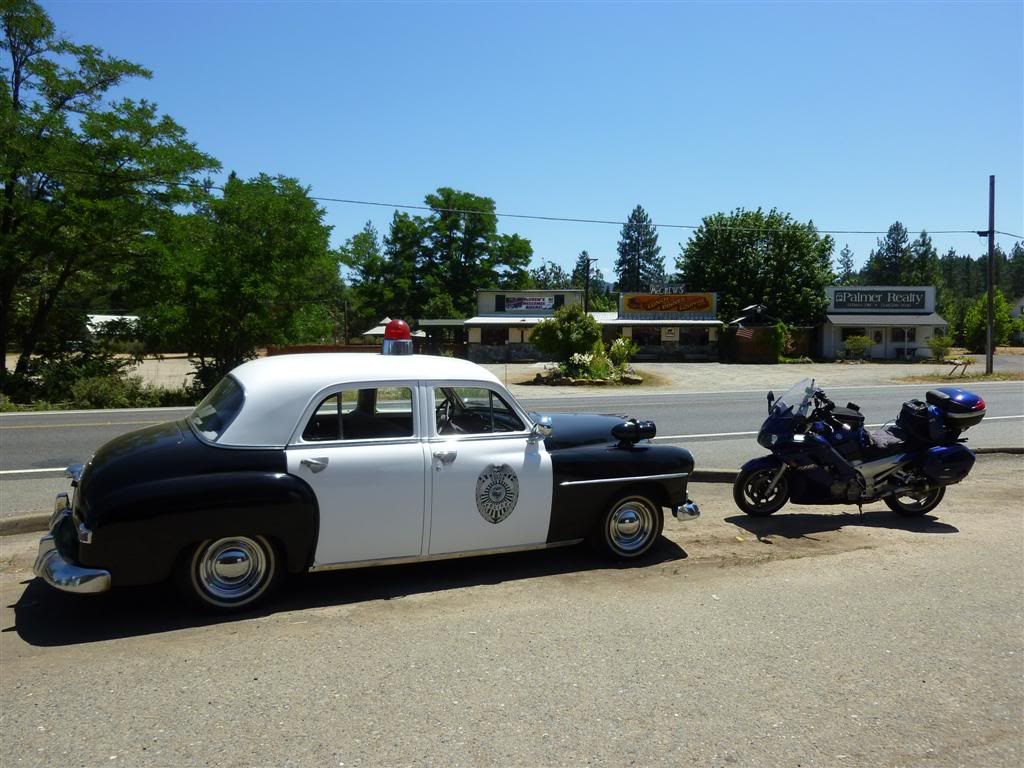 This was a nice stop, with shade and ice cream to cool off. It was still hot here in O'Brien, the owner of the market told me it was 102 degrees, thank heavens for ample shade, cold water and yummy ice cream!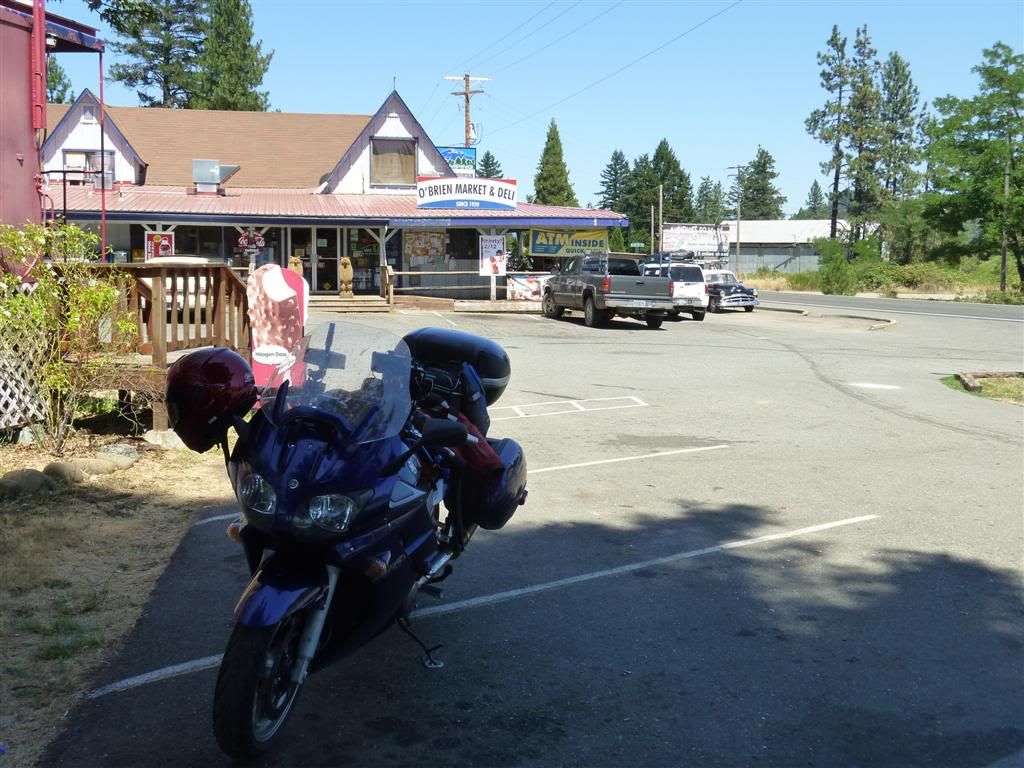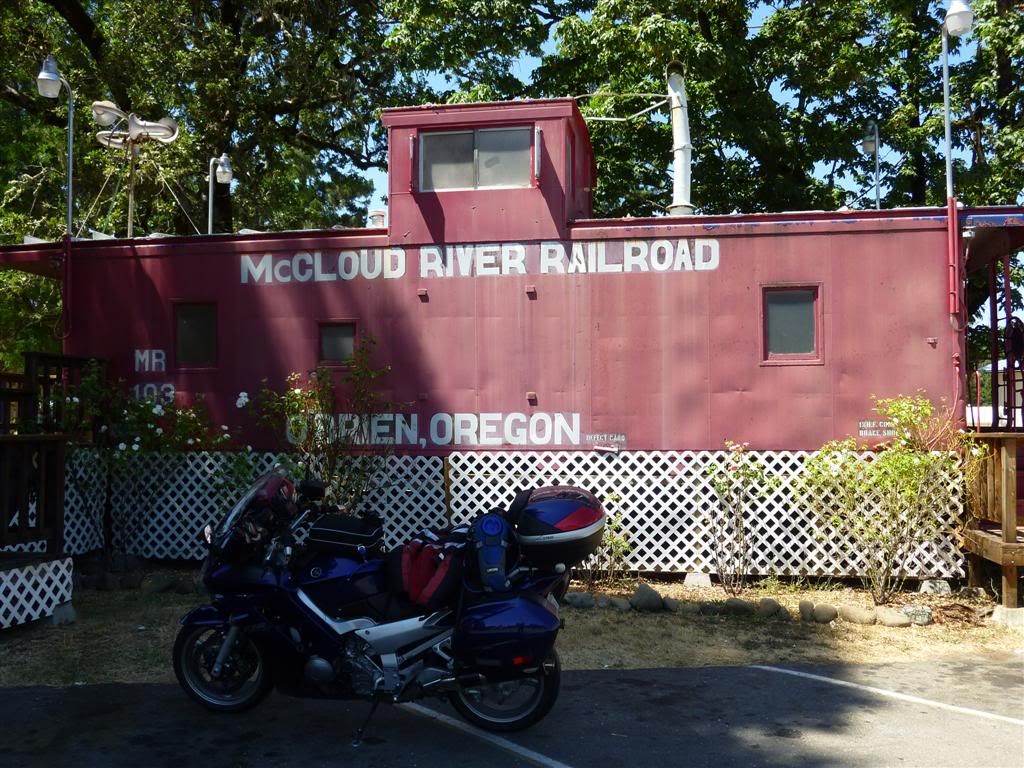 I also availed myself of using the stinky place, which attracted some very big flies...
After my return to Eureka it was group hug time before the ending banquet, we got our bikes all stacked together...
It was more fun at the ending Banquet on Saturday night, I had a very good buzz going this night thanks to Lisa plying me with half a bottle of tequila and margarita mix. So my memory of this nights events are a bit hazy at best. However, I "think" I sat through Dean Tanji's Iron Butt Rally presenation without undue interruptions. He gave us a sneak preview of the "Hard Miles 2" DVD chronicling the 2009 Iron Butt Rally. It was a fun watch (as far as I remember).
There were also some other shows going on afterwards - here is Doug showing off his Picasso Tattoo!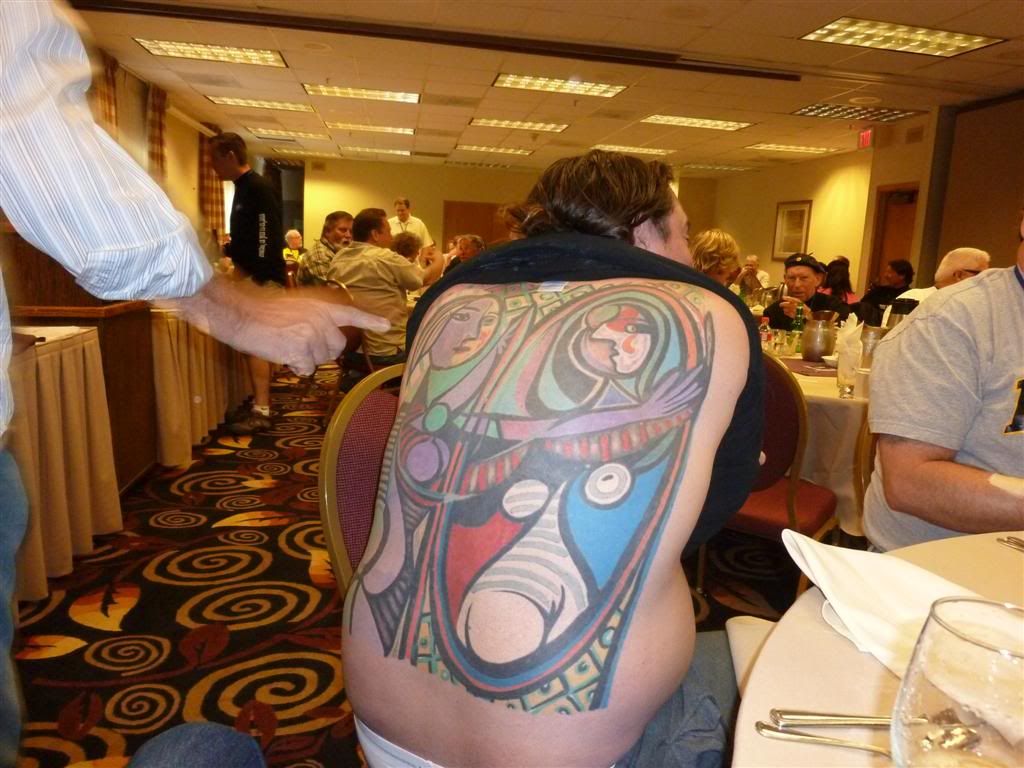 He was also making quite the fashion statement, Doug is a great sport and he was not fazed by all the hazing he received...I think Old Man Socks is like an Iron Butt Association secret handshake, even Tobie was sporting these...It reminded me of the "I like your socks" episode in Boise, Idaho.
Talking about Iron Butt - check these babies out!!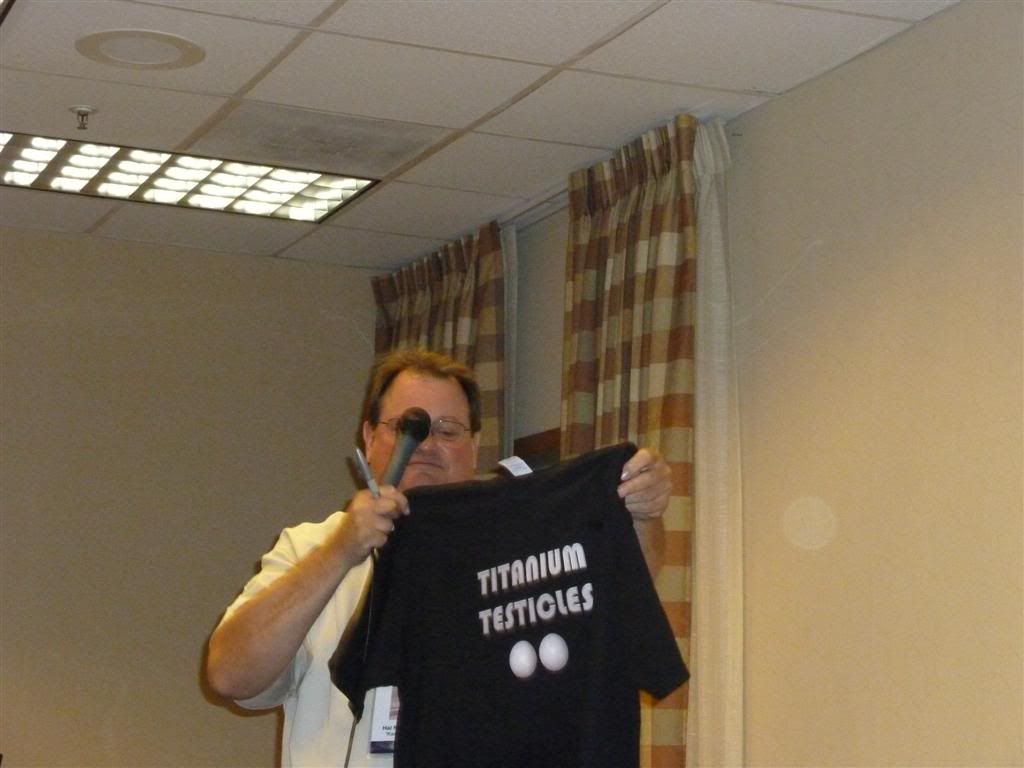 It was sad to see the

WFO

festivities draw to a close, it was an incredible time with incredible people and it was sad to part ways Sunday morning and each head home their separate ways. I rode Hwy 36 inland, it was a fun and gorgeous ride. Hwy 36 is a lot of fun!
...found some Moo's along the side of the road...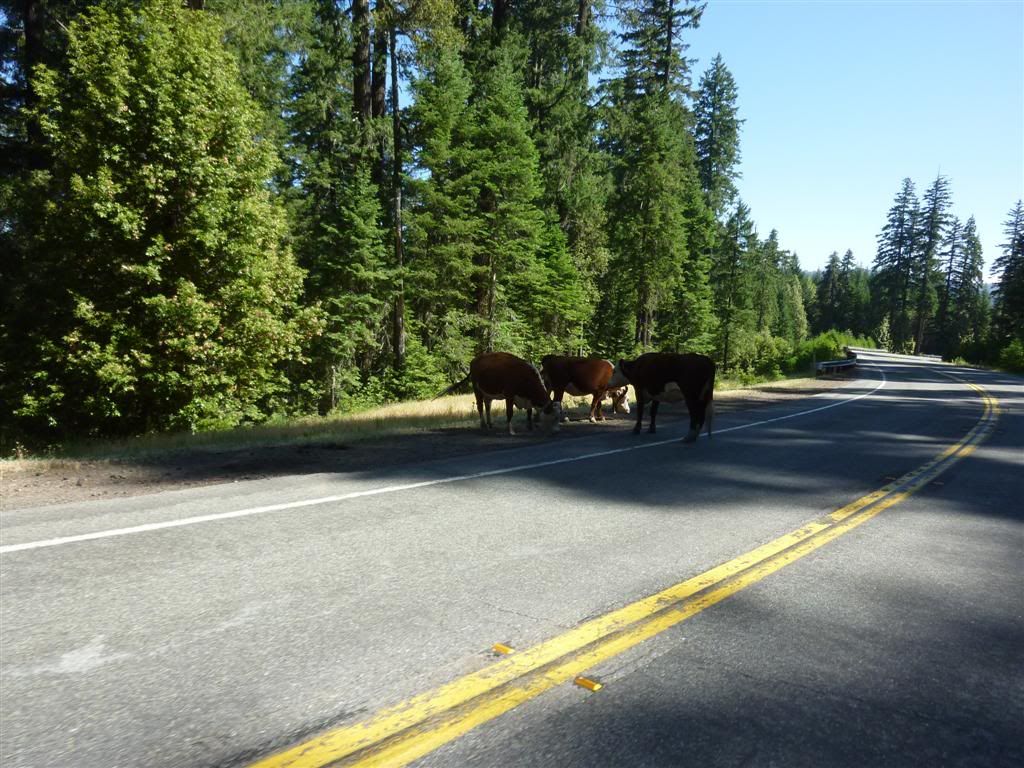 Also found some classic cars on Hwy 36, I think these were heading back from the classic car show in Fortuna, CA that weekend.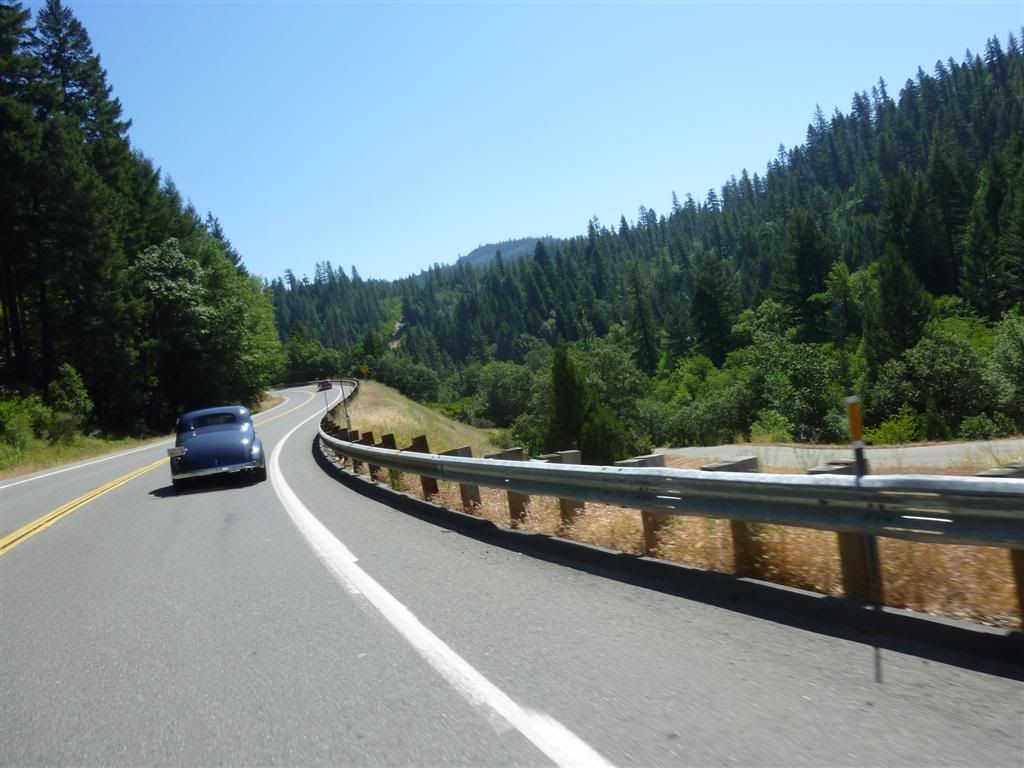 It was a straight shot home after Hwy 36, I was tired and a bit worn out from partying and riding hard all weekend long and it was good to be home safe and sound!
Thank you for reading along, I had fun recollecting and writing this ride report and photo tour of my

WFO

in Eureka adventure. I hope you had a good time reading it as well!