Chapter 1:
I had been planning this trip all year. Almost 3 weeks off in August to go play in the southwest U.S. and a perfect tool for the job - my FJR to tour on!
The first leg of my journey was a solo trip to SoCal to see some of my friends. I wanted to make good time so I headed down Hwy 25 to Hwy 101. Hwy 25 is always a ton of fun, Hwy 101 not so much. I was tired of Hwy 101 soon and at Paso Robles, got off at Hwy 46 to head to Hwy 1 and the ocean. As it would turn out, albeit boring, it was smart to stay on Hwy 101, as the Pacific coast was fogged

in

pretty dense, and Hwy 1 packed with tourists

in

cages (cars)...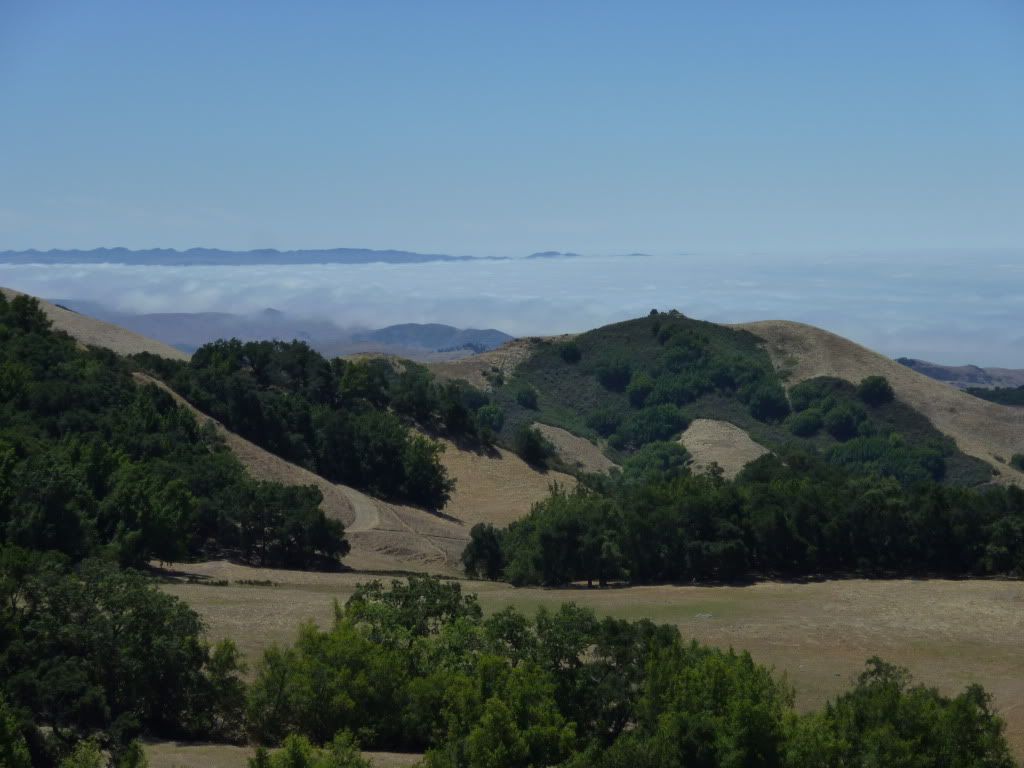 The FJR still looking pretty clean, it was going to become a dirty dirty girl as the days wore on....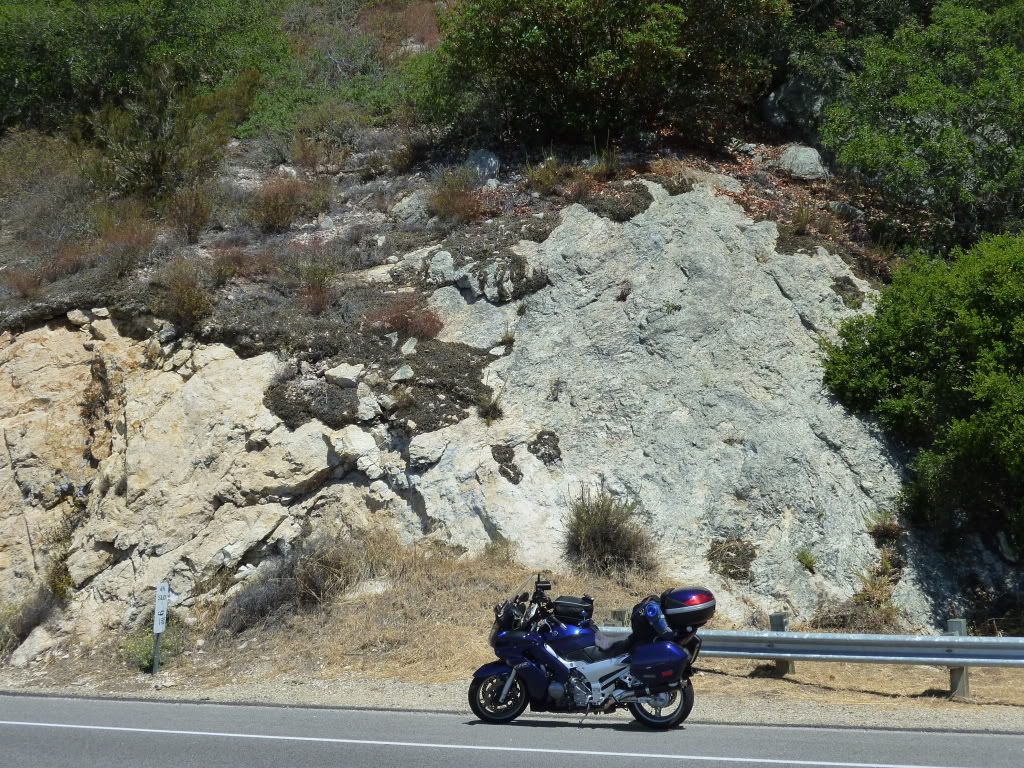 You could barely see Morro Rock and the three chimneys. It was such a different sight from back

in

April when I rode through here last (some you might remember seeing those shots from that ride report)...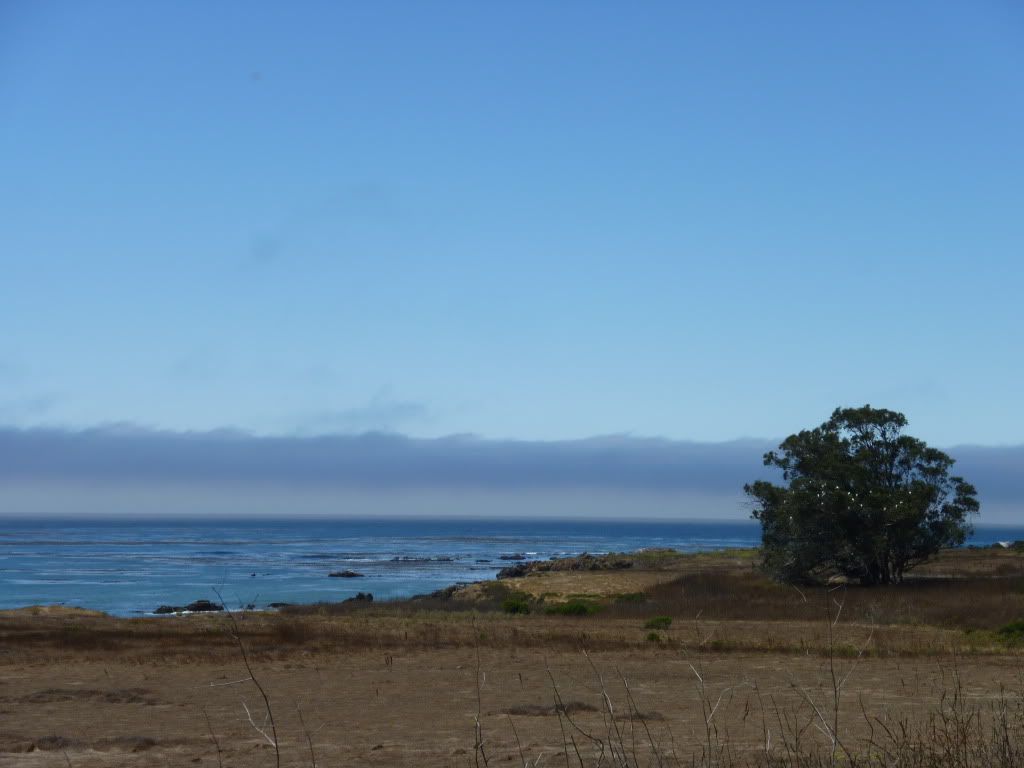 I was hoping to see a friend for lunch along the way, but he was on his way to Yosemite and I missed seeing him, but his lunch recommendation was awesome. Chapala Market and Restaurant for some authentic Mexican food! Great views, despite the fog...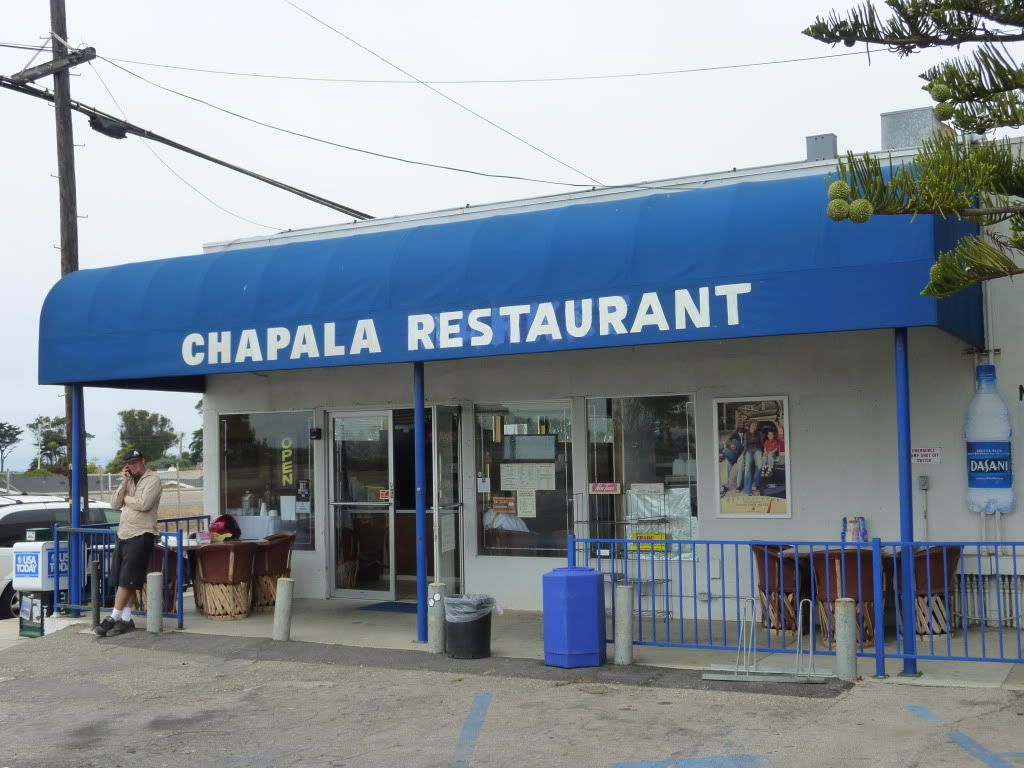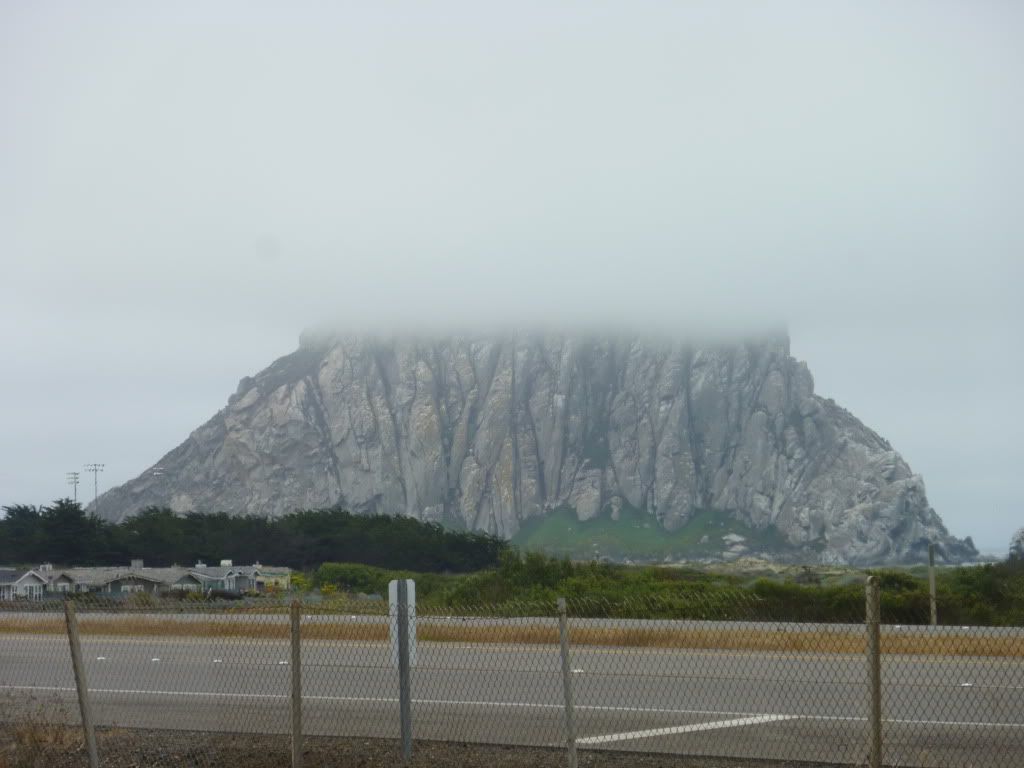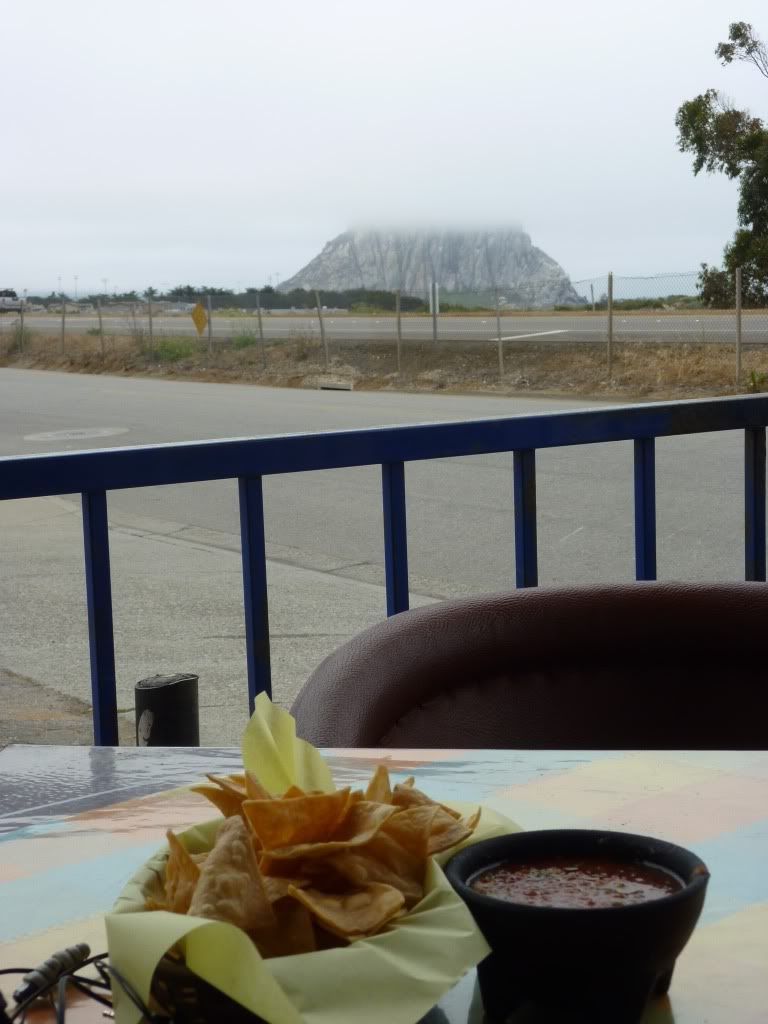 and yummy food!!
I stopped at Lake Cachuma this time, but couldn't find a good spot to take a panoramic shot of the lake. I did however get a shot of the Lake Cachuma Dam.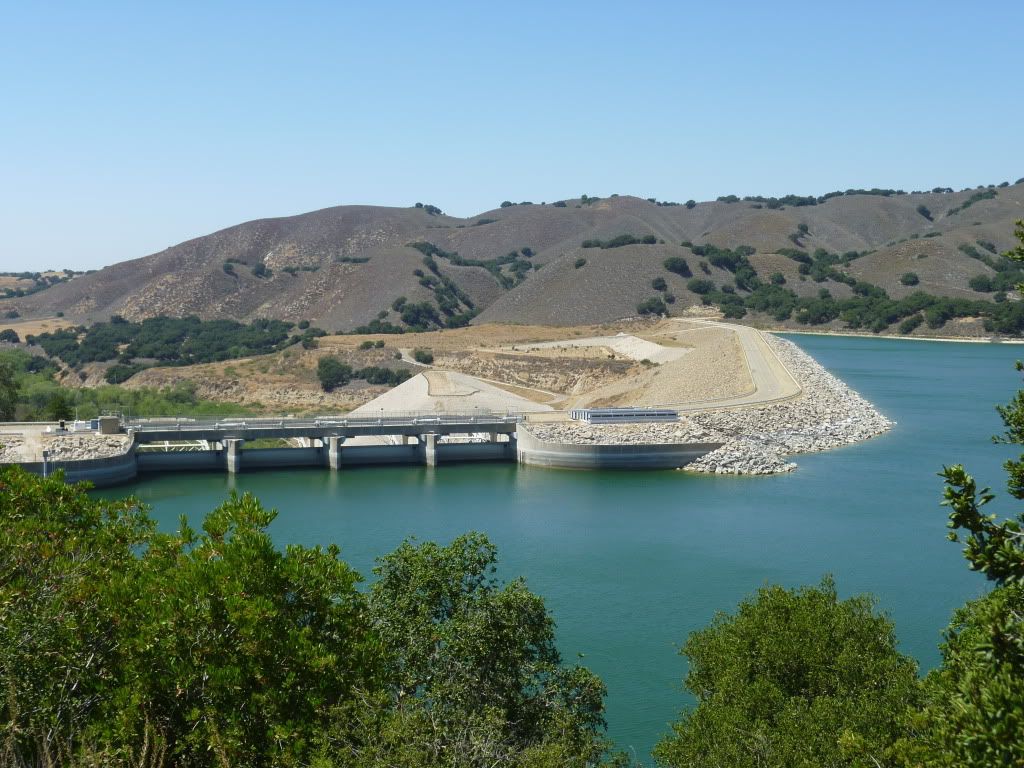 I hit Santa Barbara and beyond at peak rush hour, it was a painful crawl being stuck

in

rush hour traffic for almost 2-1/2 hours (despite lane splitting, when I could), including being pulled over by a motorcycle cop for guess what?
I was figuring it might have been for possibly unsafe lane splitting, but he was a friendly fellow and he pointed out that both my headlights were out! I knew I should have changed out those suckers when the high beams went out a few weeks ago, now during the course of the day both the low beams had decided to die on me - so I had no headlights. He sent me on my way, telling me to get wherever I was planning to go before nightfall. Needless to say I did not lane split from this point on that day, but made it to my friend's with daylight fading away...
The next day after I performed eye surgery on the bike. I took some time to relax on my friend's deck and took a refreshing dive into the pool. He has a gorgeous place...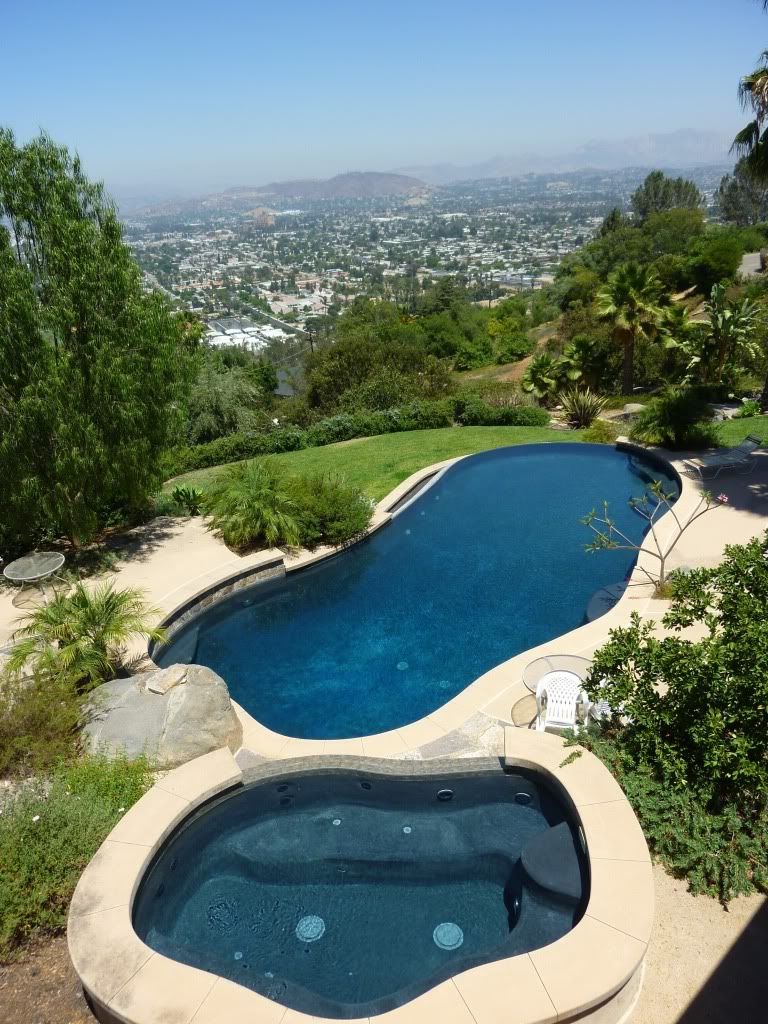 and then we hit the tourist spots...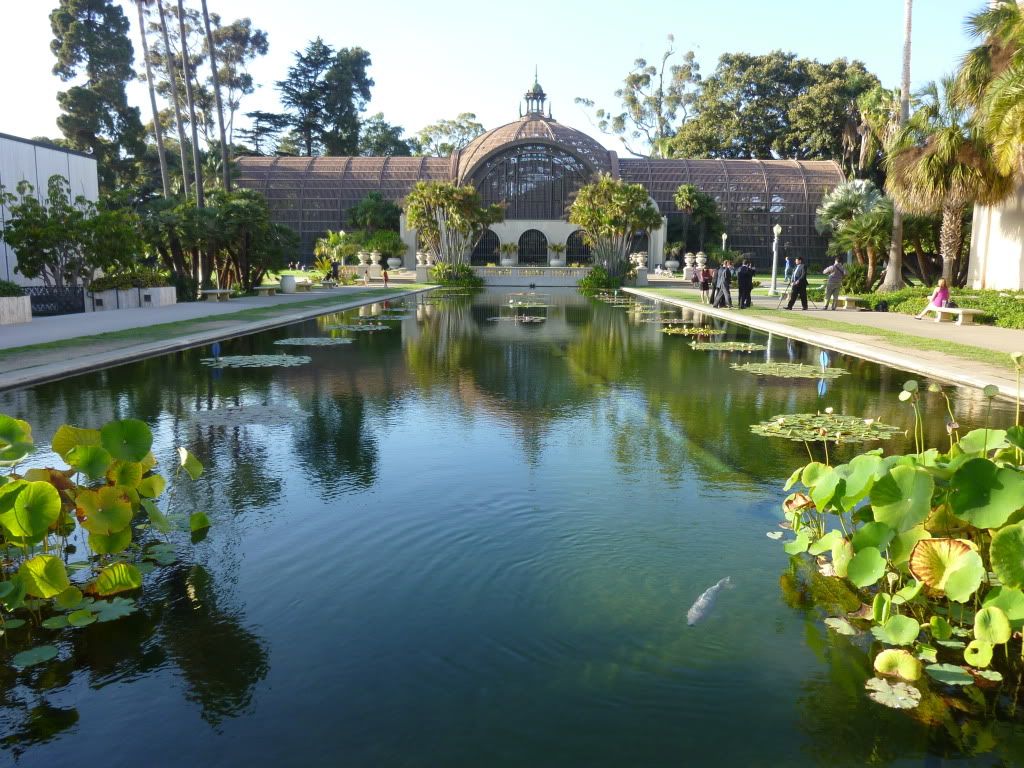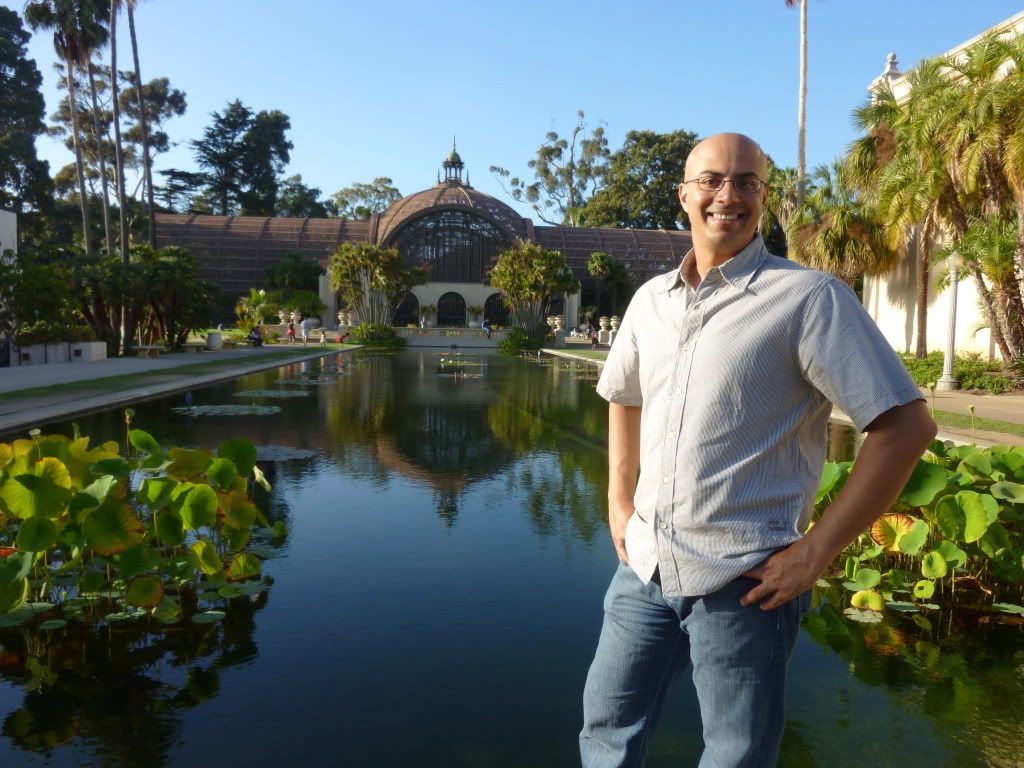 Those do look like shower-heads...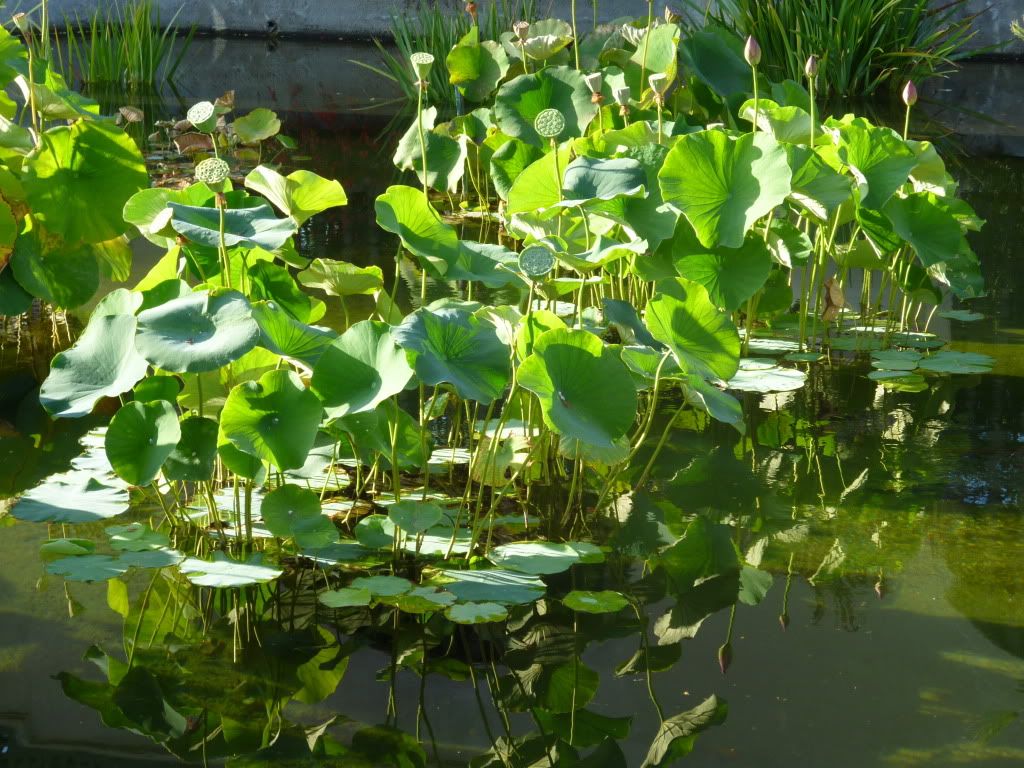 Is that an angel I see....?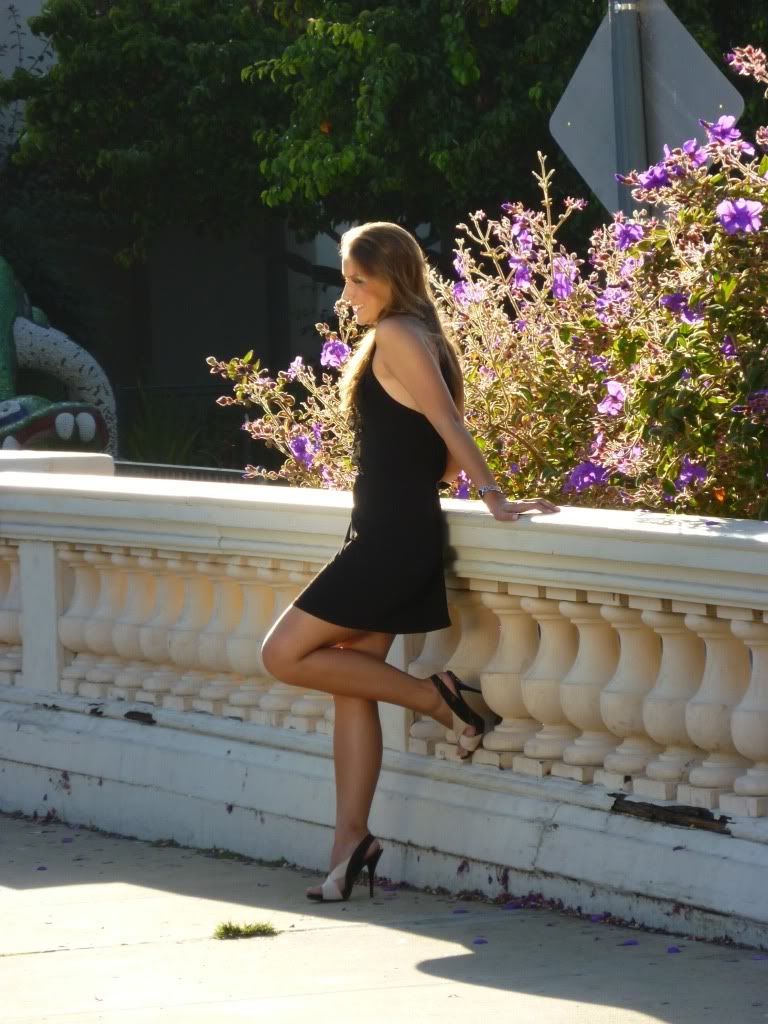 Couldn't get rid of that purple artifact for this against the light shot....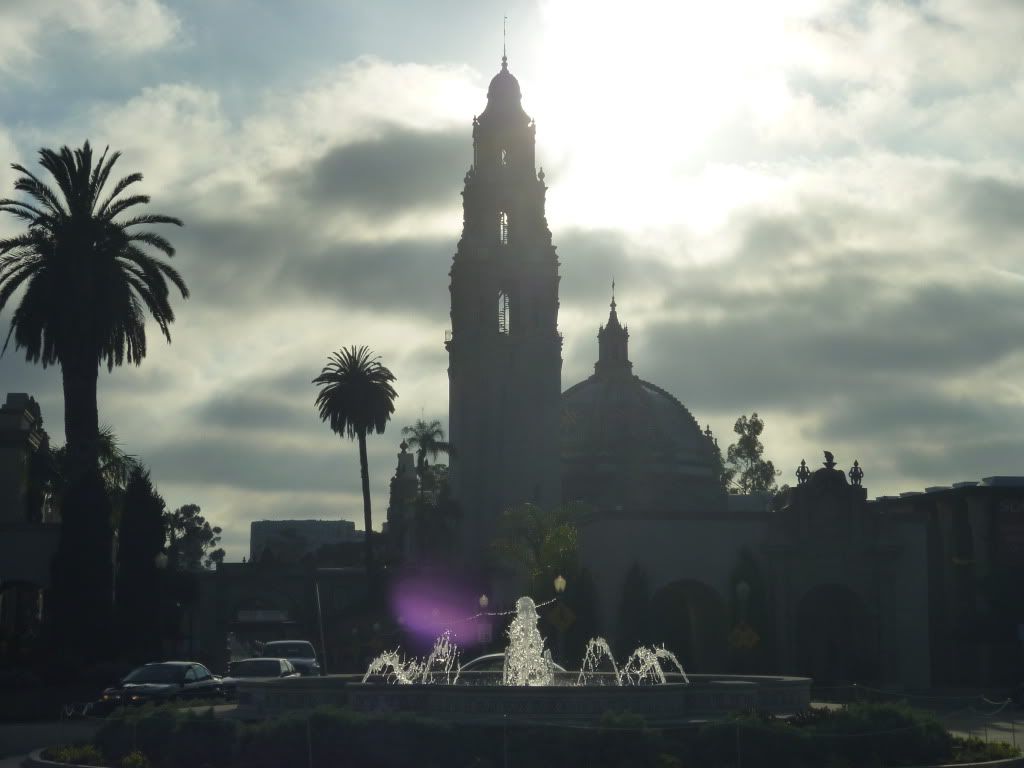 Great Pizza here

in

Little Italy, we came back another night..and roamed around here.
We ended the day at this great Argentinian Restaurant...the food was incredible!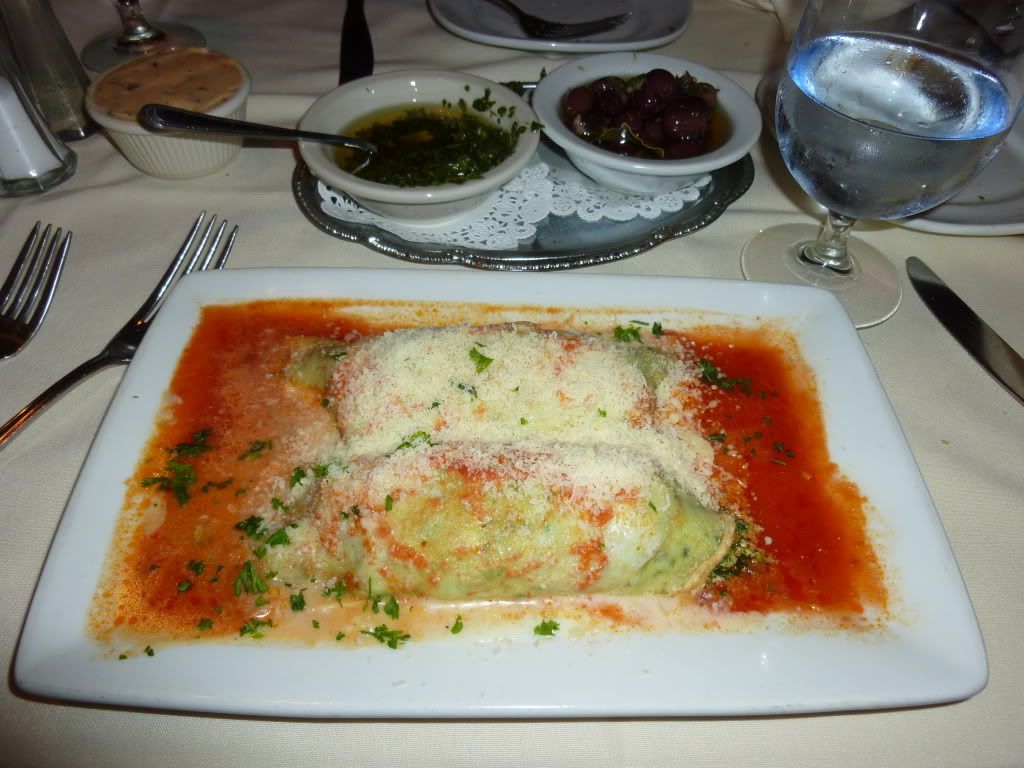 The next day was outstanding! My friend said it was a perfect day to go sailing

in

the ocean! WOOHOO!!
Here we are, hoisting his Catamaran into the water at the Yacht Club docks.
Sailing out of the Bay towards the ocean... My first time sailing and my friend lets me steer, I think he likes to live dangerously!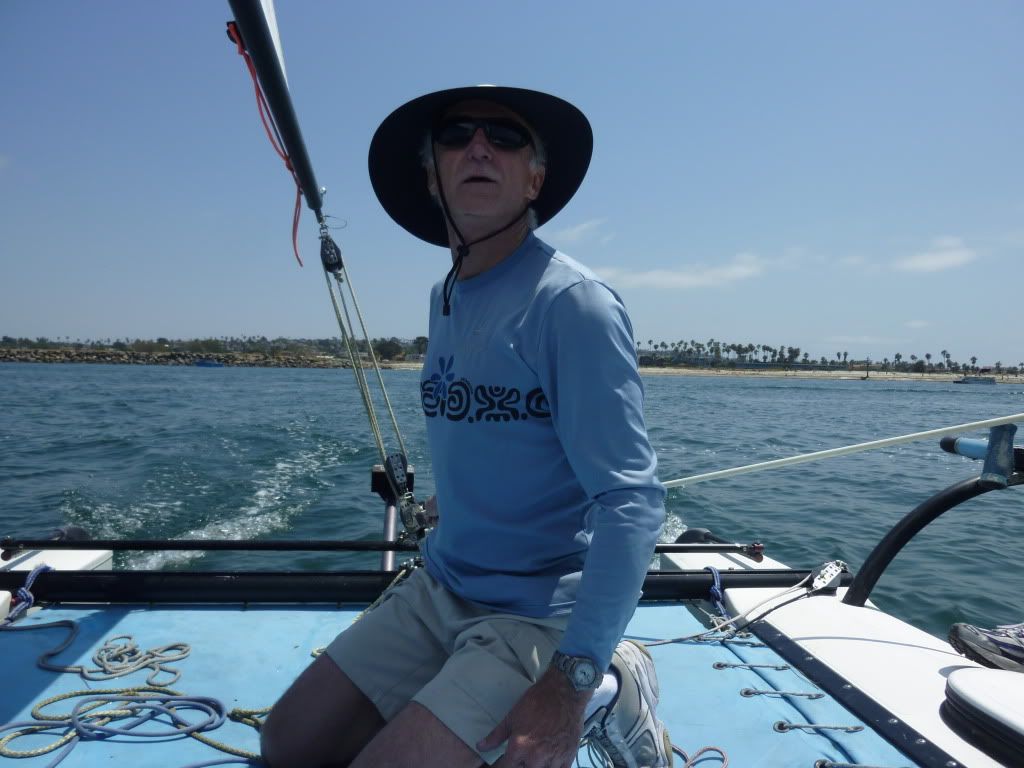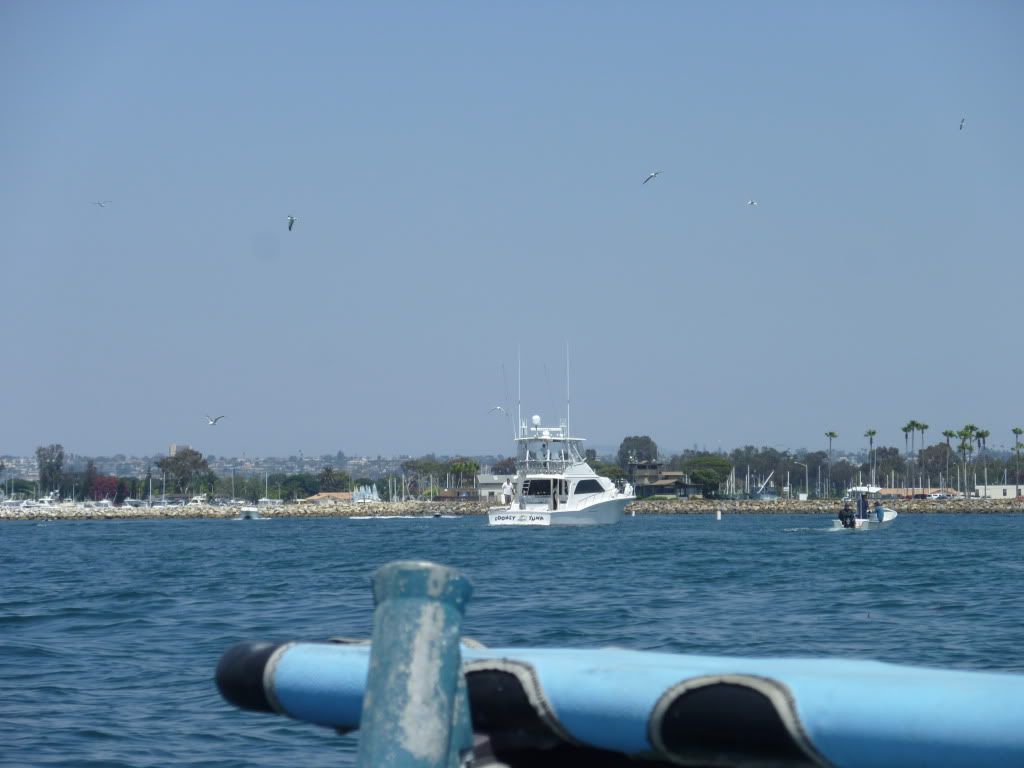 And then out into the ocean to sail along the coastline...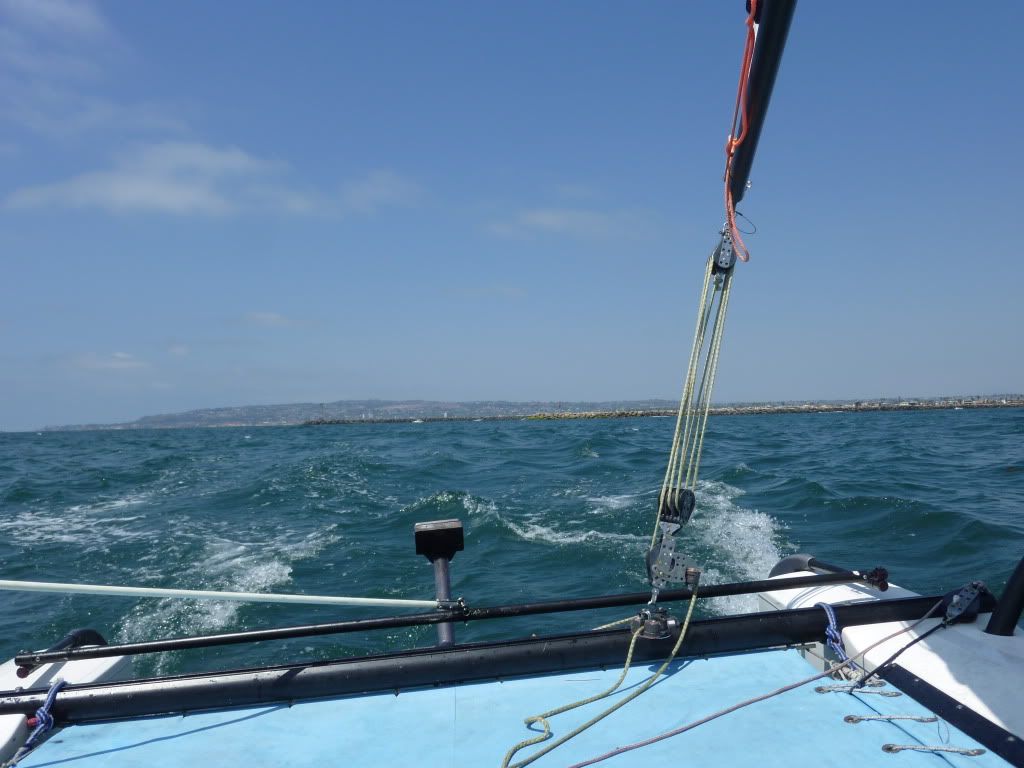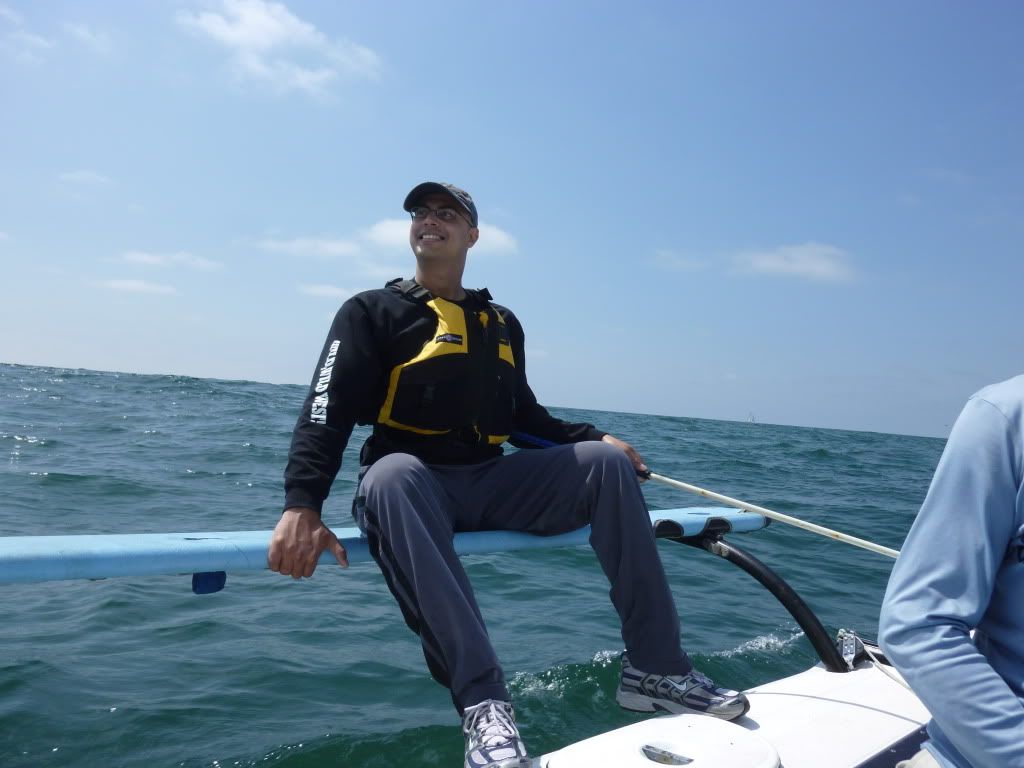 Goofing around...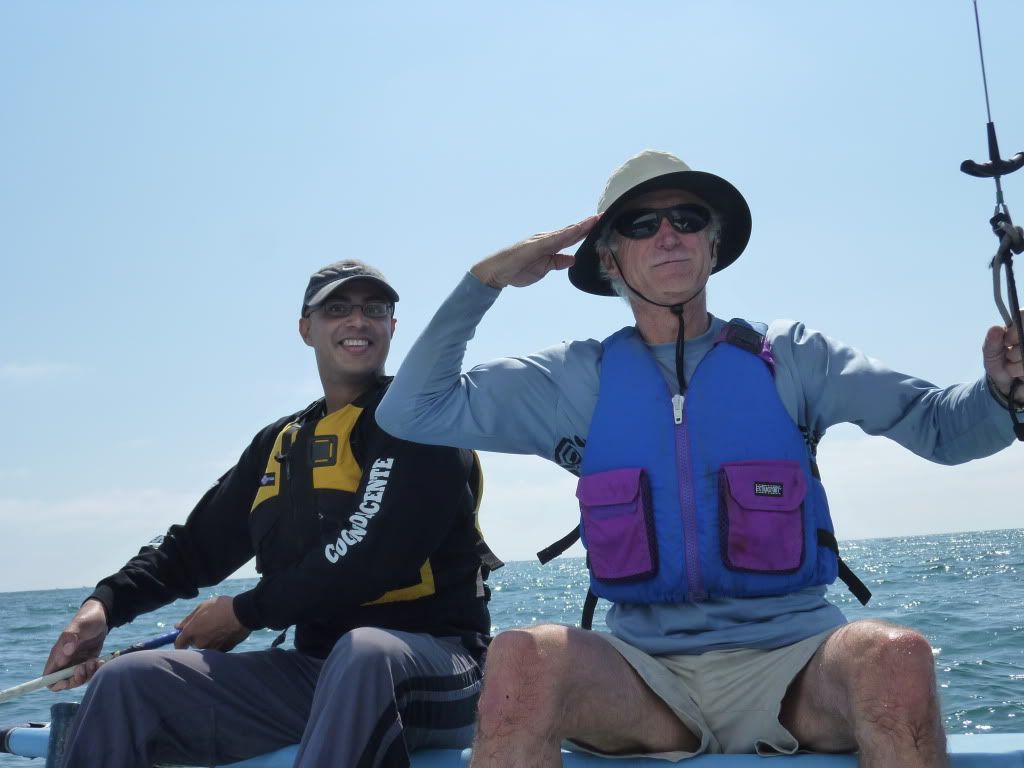 It was a great stay

in

So Cal, we stayed out late that night taking

in

the sights and sounds of the city and I caught a couple of shots of the ocean and the surfers at dusk....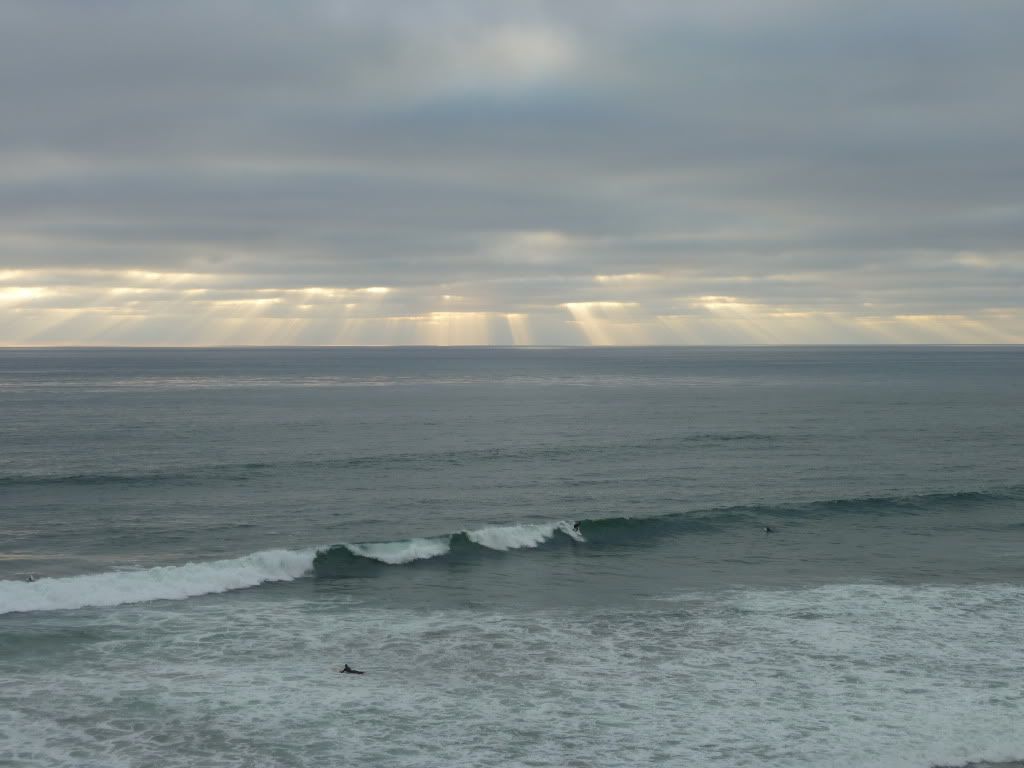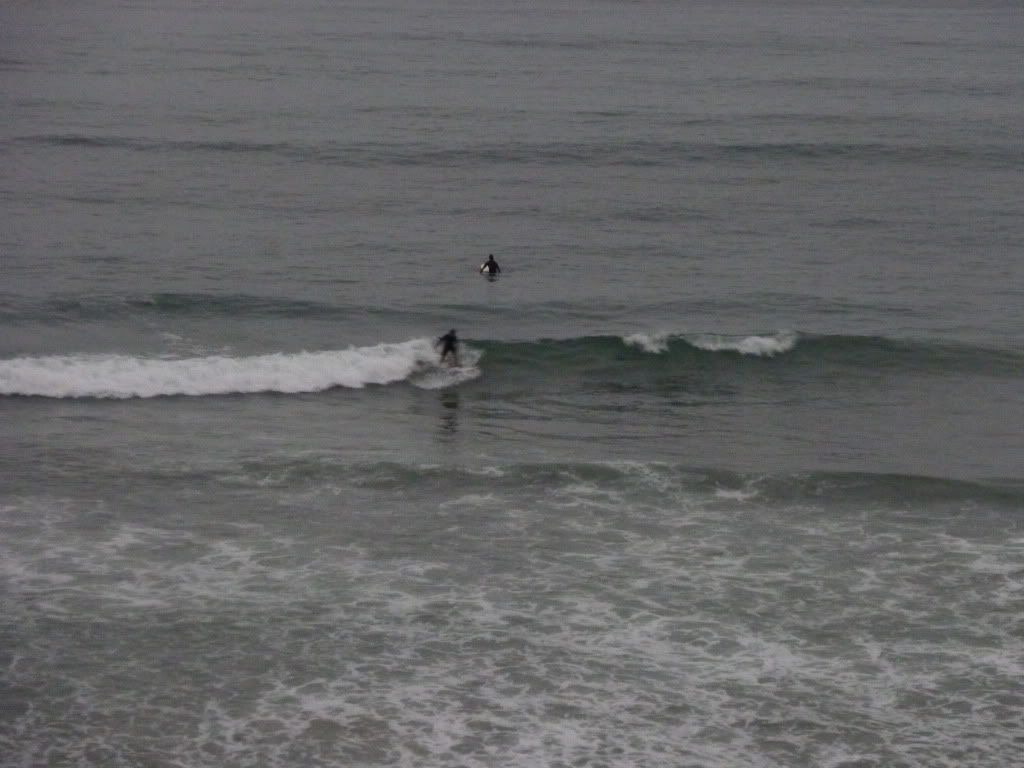 After a fun stay

in

So Cal. I got a very late start on the day I was leaving and shamefully slabbed it all the way home, so I could change the oil

in

the bike for the run to Denver. I then left for Fernley that evening to meet my usual suspect Brian for these longer distance runs
Here are the bikes the next morning, still looking clean...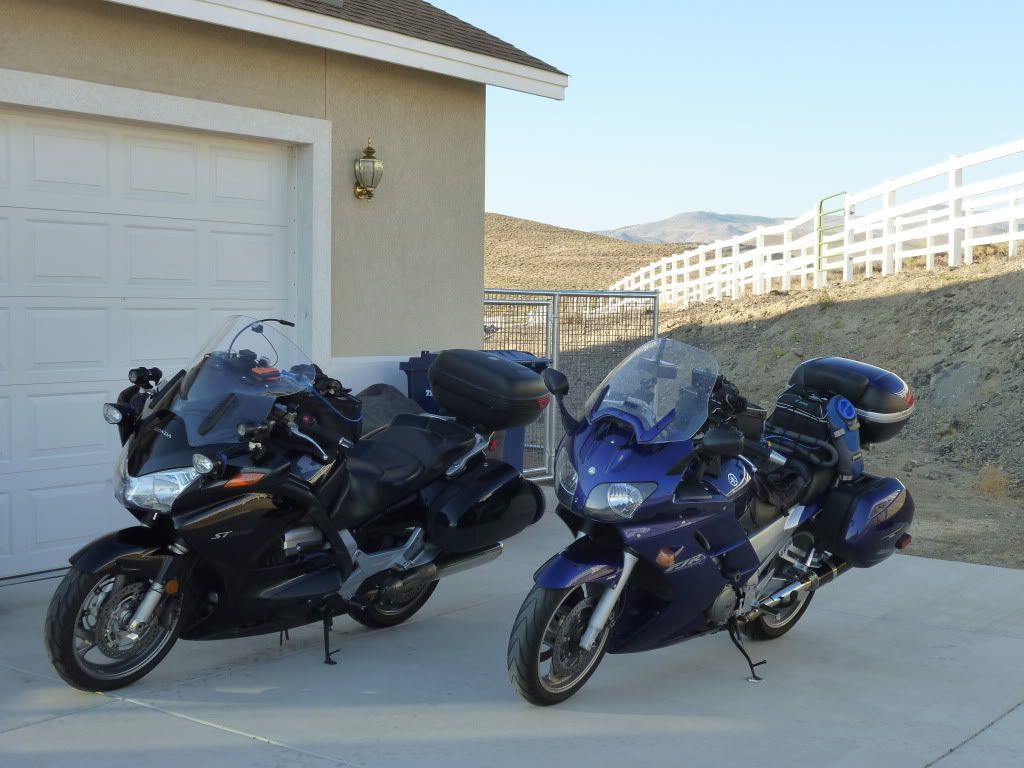 We rode through Fallon, NV. It's a navy town and I hear the Navy TopGun school is now here

in

Fallon, NV.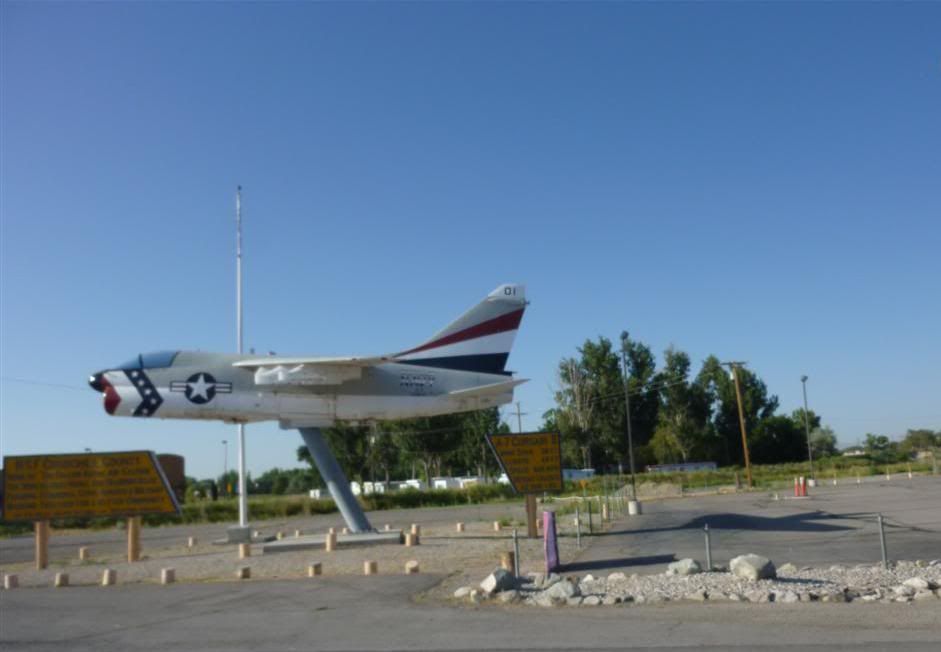 We made a beeline to our favorite breakfast destination

in

the middle of nowhere. Old Middlegate Station.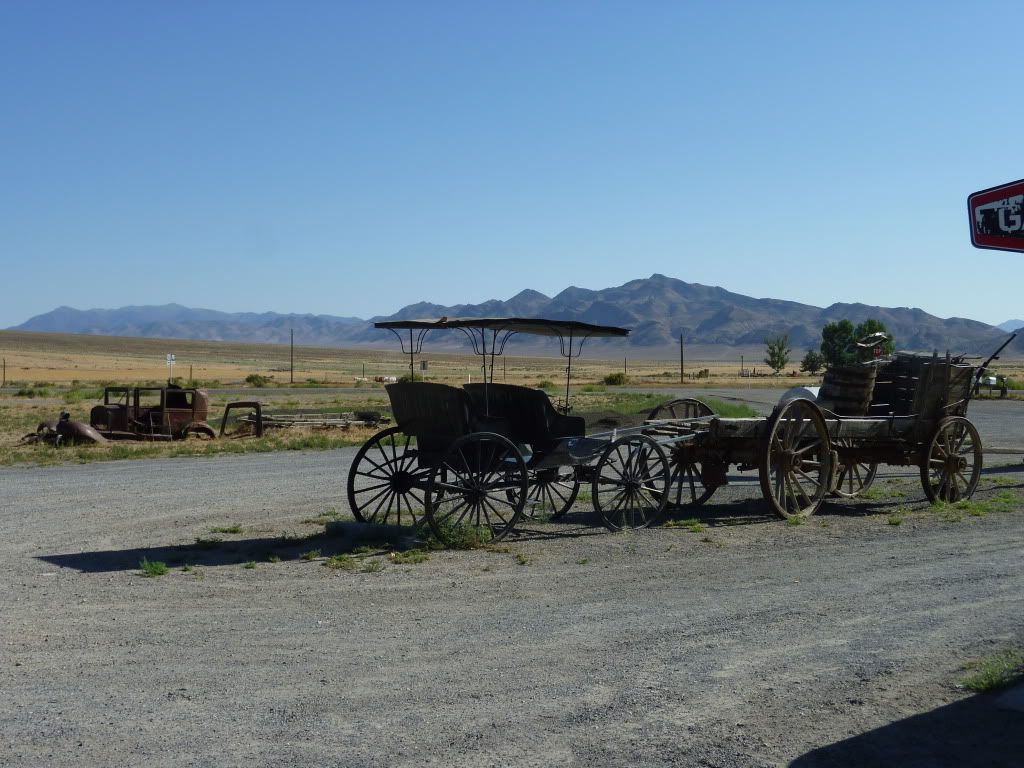 I like that philosophy!
Anyone heard of the Virginia City Beards before?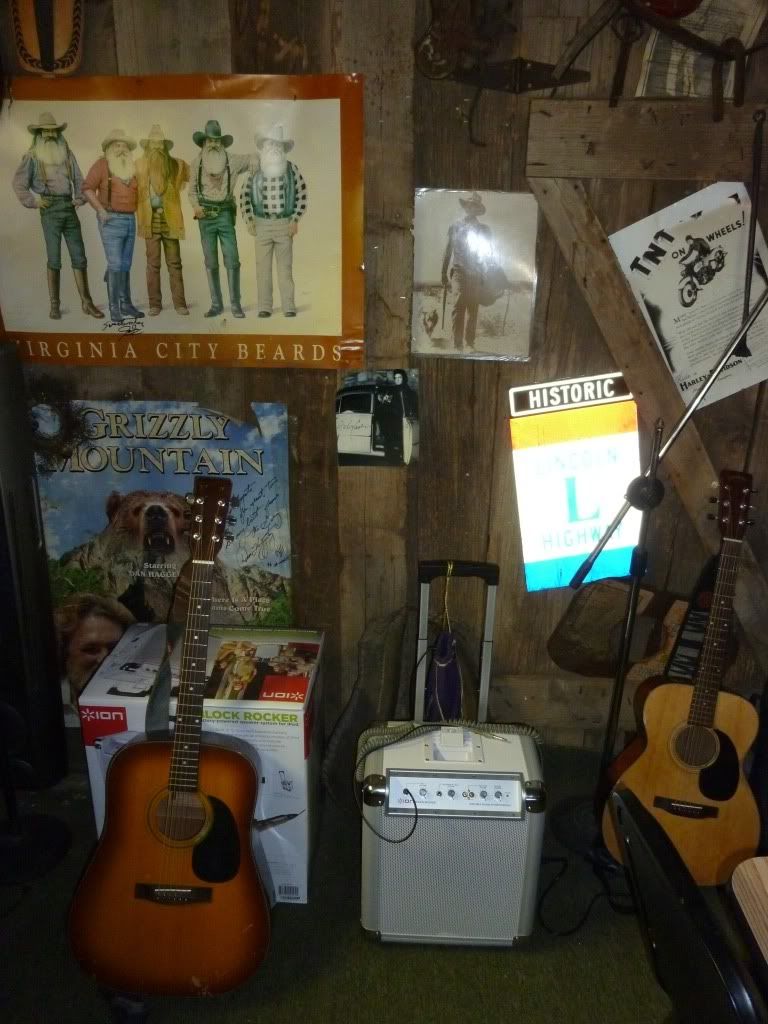 So, are you a cow or a bull? Pretty flattering for the men, but somewhat insulting to the women folk, don't you think? Although, this is Nevada - I see a lot of women

in

Nevada who fit the description
When this woman is at the grill at Old Middlegate Station. Culinary wonders appear on your plate...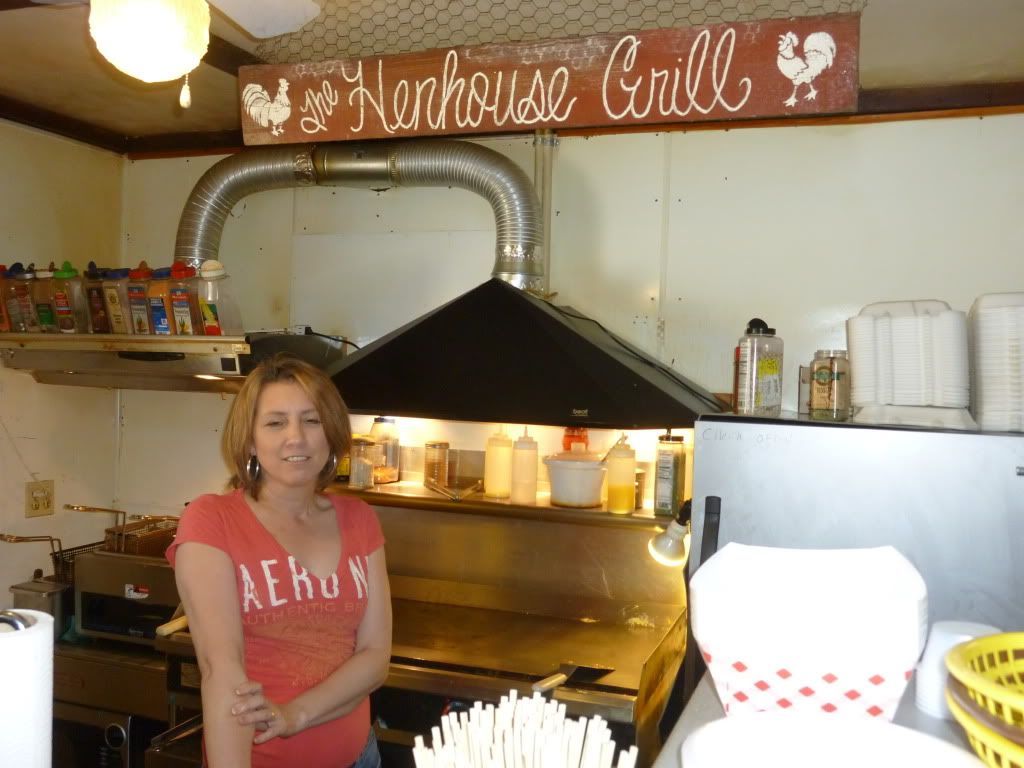 That about hit the spot!!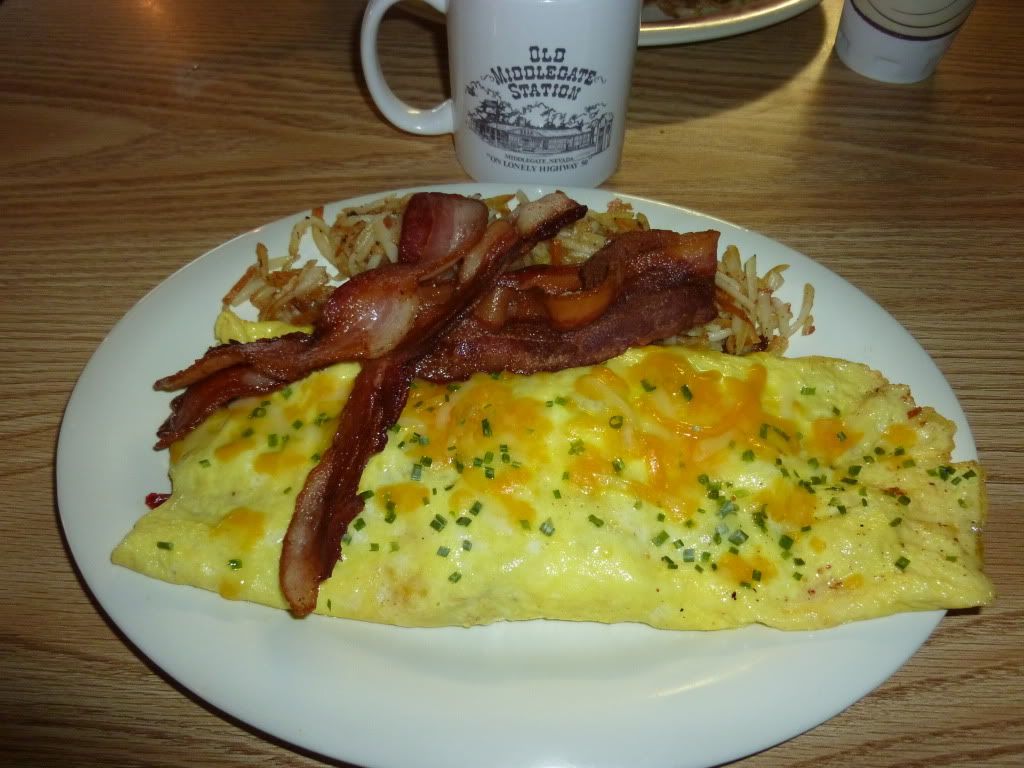 One of the guys who works there, rides an old decrepit BMW with a Harley Davidson top box. The bike is not currently registered, he mainly rides it around the property. I like his bumper sticker - Biker by choice!!
Saw this

in

Mina, NV. Fish

in

the desert?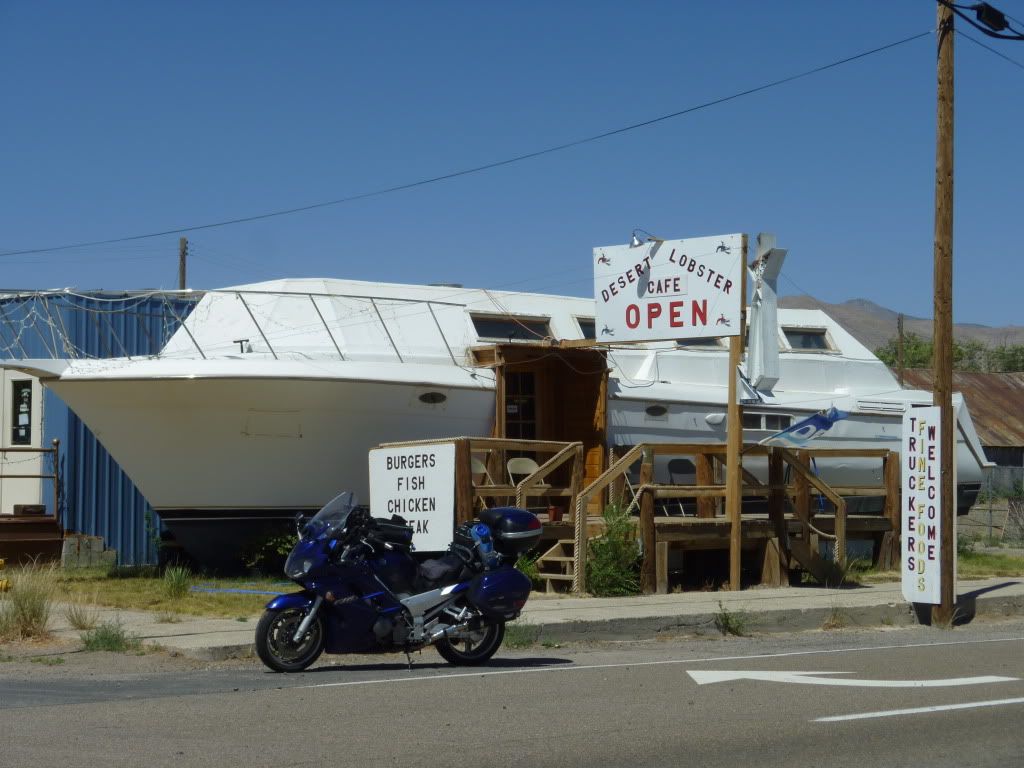 Then on to some E.T. Highway fun.
I couldn't figure out what the hell this is. I couldn't see a way to approach/enter this building with a giant alien at it's entrance. Anyone know what this is and what do they do

in

there?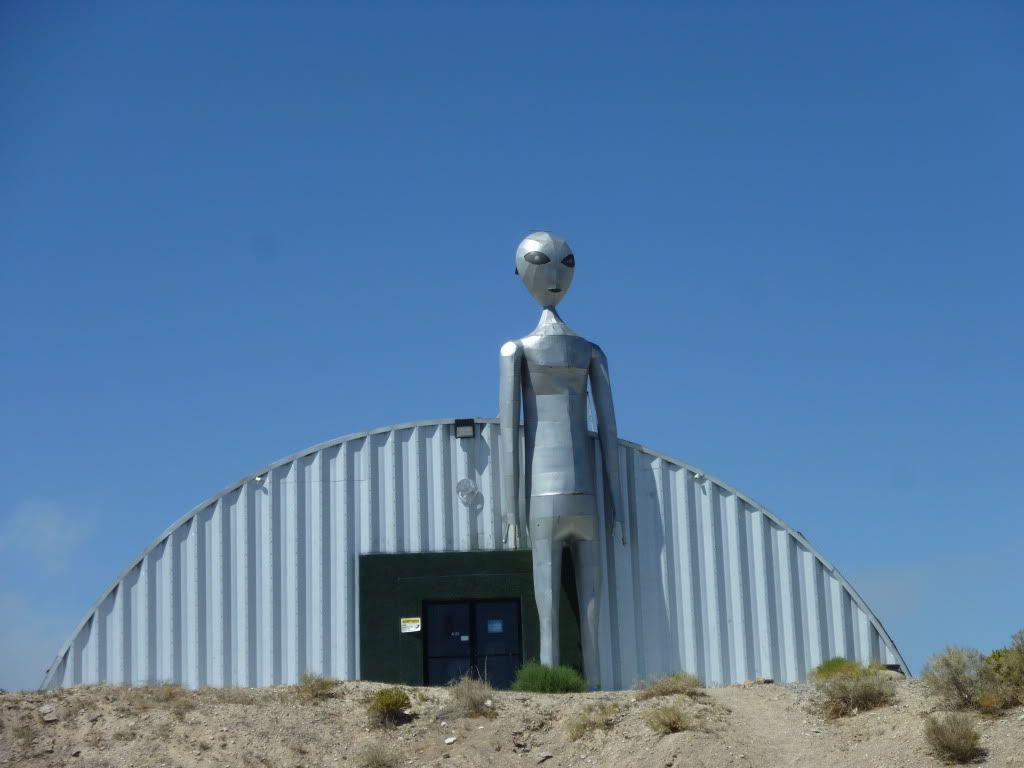 Gratuitous shot with the bike.
Finally an alien encounter. (I mean legal aliens, of course!).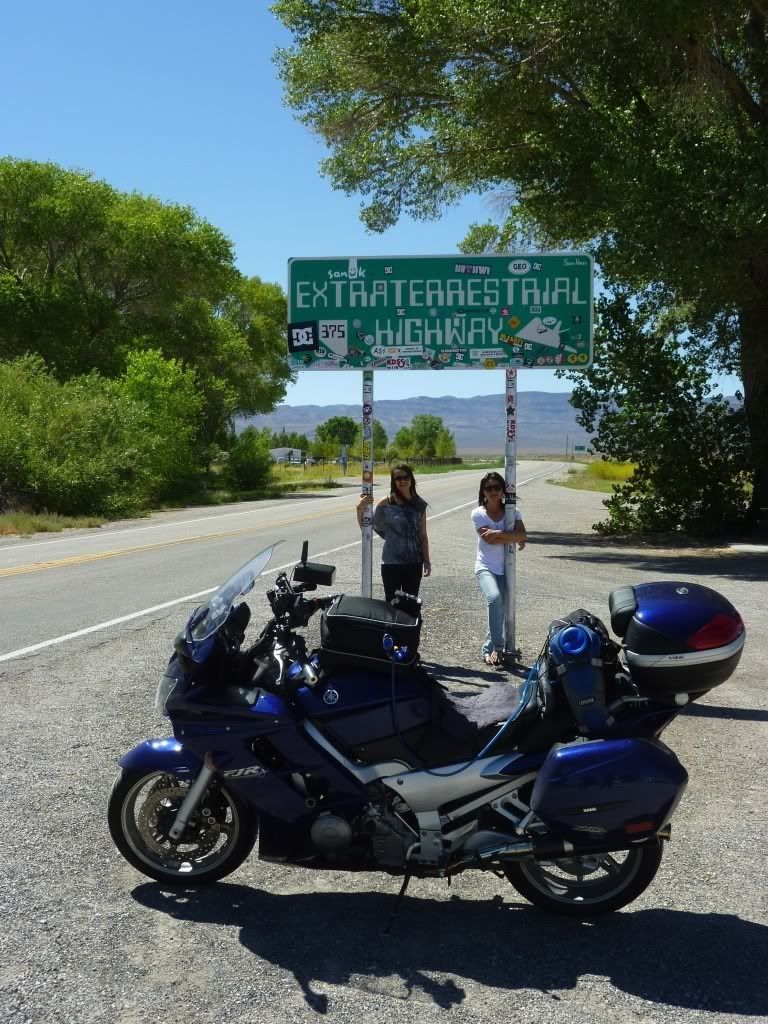 We headed towards Caliente through Rainbow Canyon. I have no idea why it is called Rainbow Canyon, it's definitely not very colorful.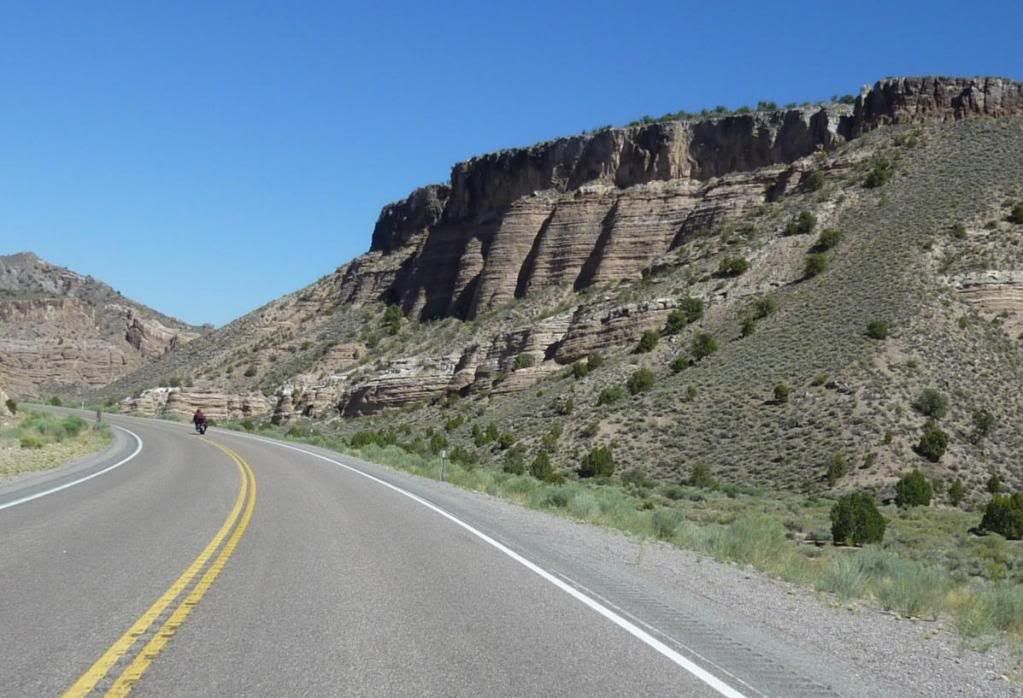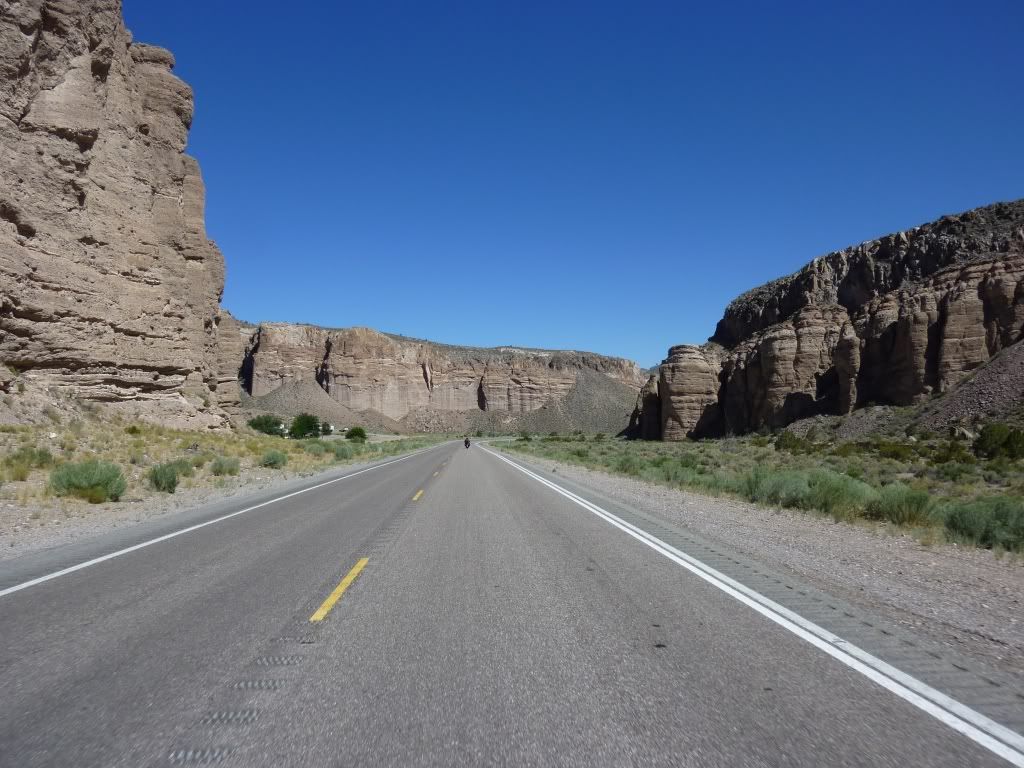 Here we are approaching Caliente and our radar detectors go off. Brian is signaling me to slow down...NHP on the prowl! Also, notice the freight train passing through Caliente. We will be catching up to it after lunch for some fun...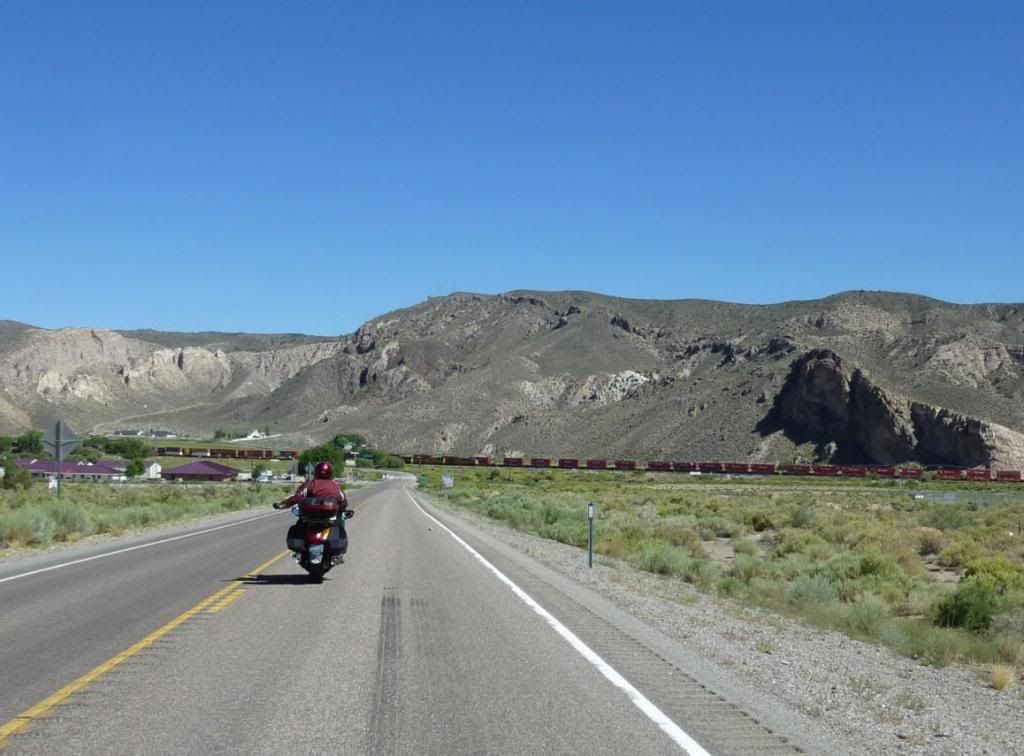 Someone was stealing Shamoo!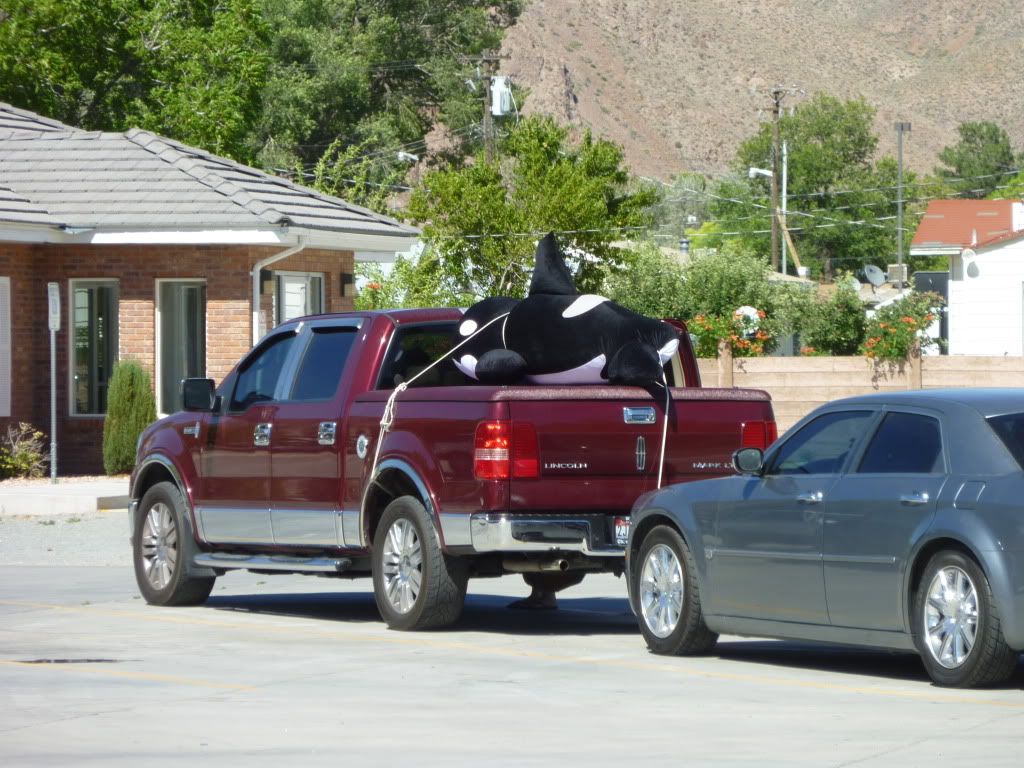 The historic Railway Station

in

Caliente. It is no longer open for business, but it is well maintained and such a throwback to the Wild West days!
People here seem to have such a sunny disposition. Hippie art

in

Nevada? What is this state coming to?
We ate a very quick lunch at a bar

in

Caliente, good Burgers and then on the road again..... we once again caught up to the train which we had seen passing through Caliente.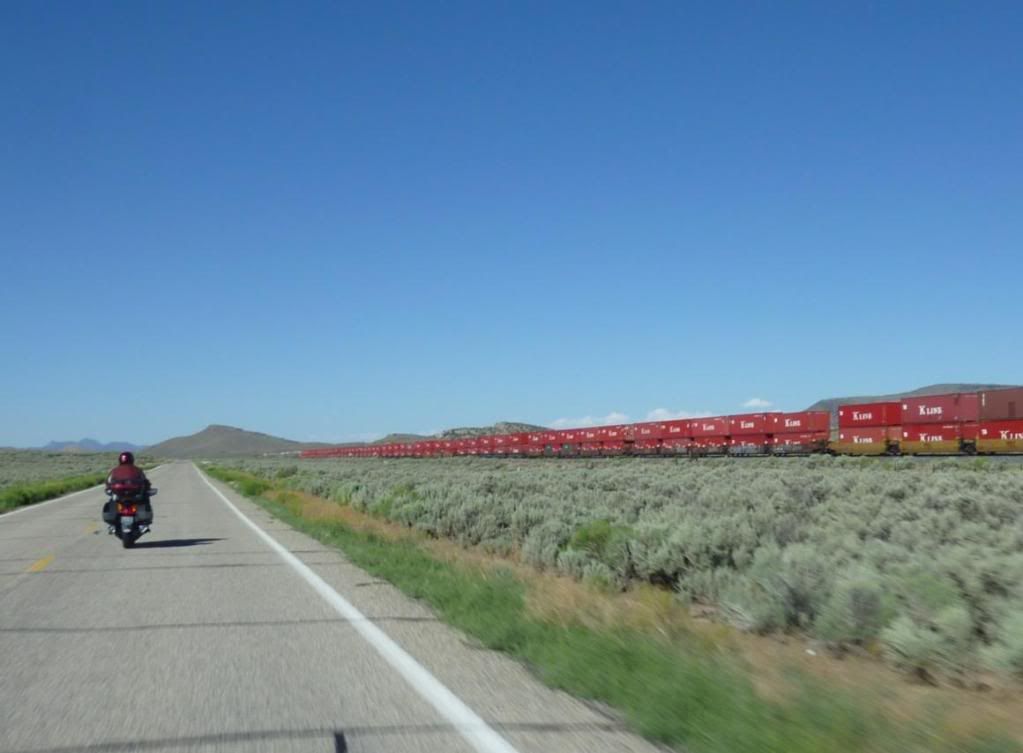 The tracks run right alongside the road and we chased it wanting to catch up to the engine car. Then at a crest

in

the road we could see that the road and the tracks were going to intersect at this bridge going over the tracks and the race was ON!! Brian wanted to cross the bridge before the engine car did and he raced away with me

in

tow...Brian won! He zipped across the bridge pumping his fist

in

the air, who says you can't have some juvenile fun even though you are pushing 50+ years? The engine came a close second and I a distant third...
We made it to Utah...Life Elevated, as I was to find out the next day...
... and finally to Cedar City, Utah for the night...
The next morning and day for me was a spectacular introduction to "Life Elevated". This was a very long day and very picture heavy, so I am going to split it up into two parts.

We were now at Mountain Time, so we had lost an hour, but we still managed an early enough start. Although it did get very cold riding on Hwy 14 through Cedar Canyon that morning. My heated grips were on high...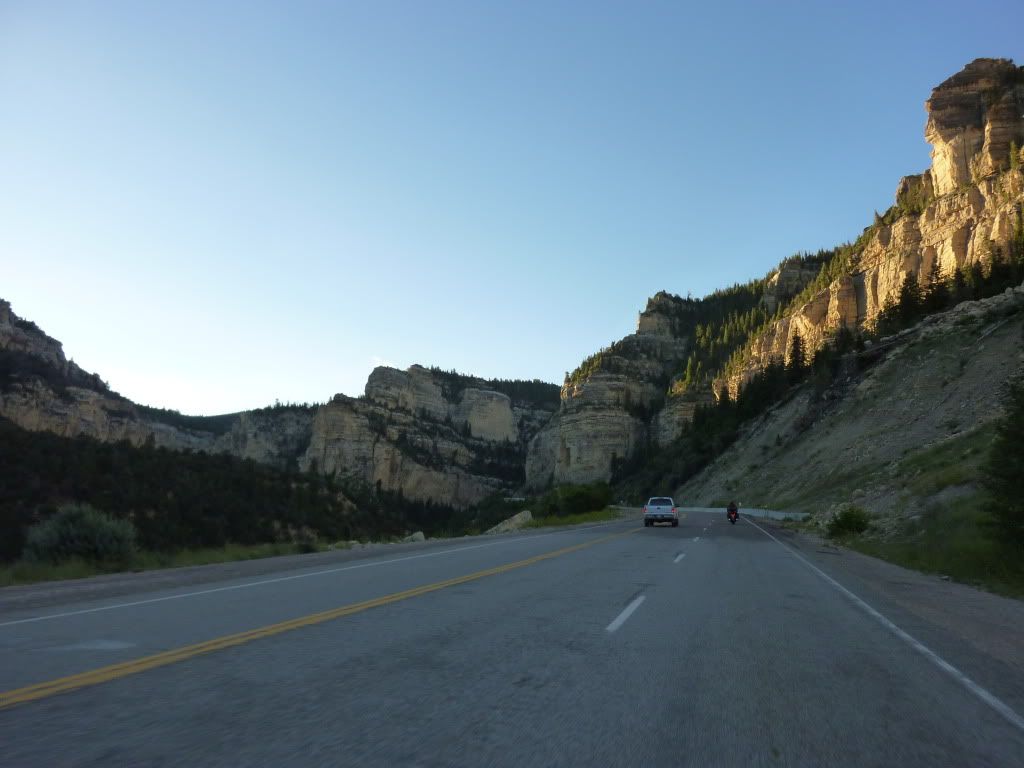 and we started to see early examples of some wind and rain carved stone...these would get progressively spectacular as the day wore on...




There was more traffic than we had anticipated this morning on Hwy 14. Brian and I got separated as we maneuvered around slow cars. We were also being very cautious because we had seen a Utah State Patrol truck pull on to the highway behind us on Hwy 14. These Utah State patrol trucks look just like your regular white trucks and it was very difficult to keep an eye out for him/them

in

the rear view mirror or to spot them up ahead

in

the distance unless they had their radar guns turned on.

Brian was so focused on getting around everybody that he missed the Zion overlook pull off. Spectacular views from here.




What is what....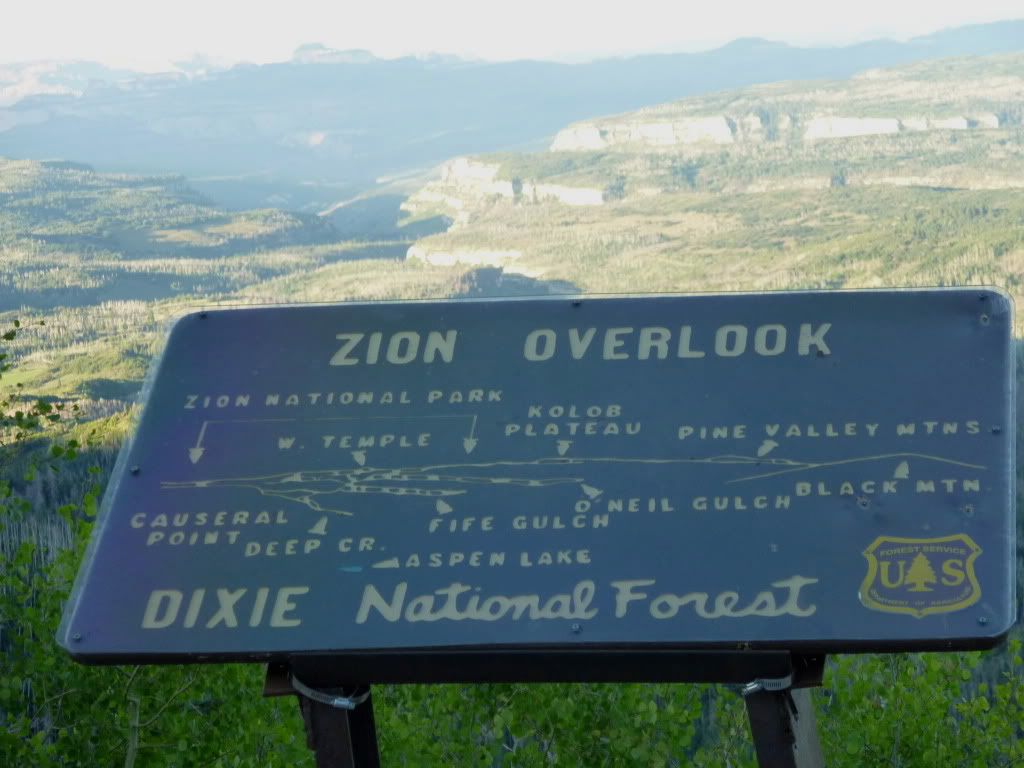 Let's take a closer look...




We pulled off somewhere along Hwy 89 for breakfast. I no longer recall the name of the town, this was a nice place to stop and the staff very friendly. The food was all right too. I liked the potatoes the best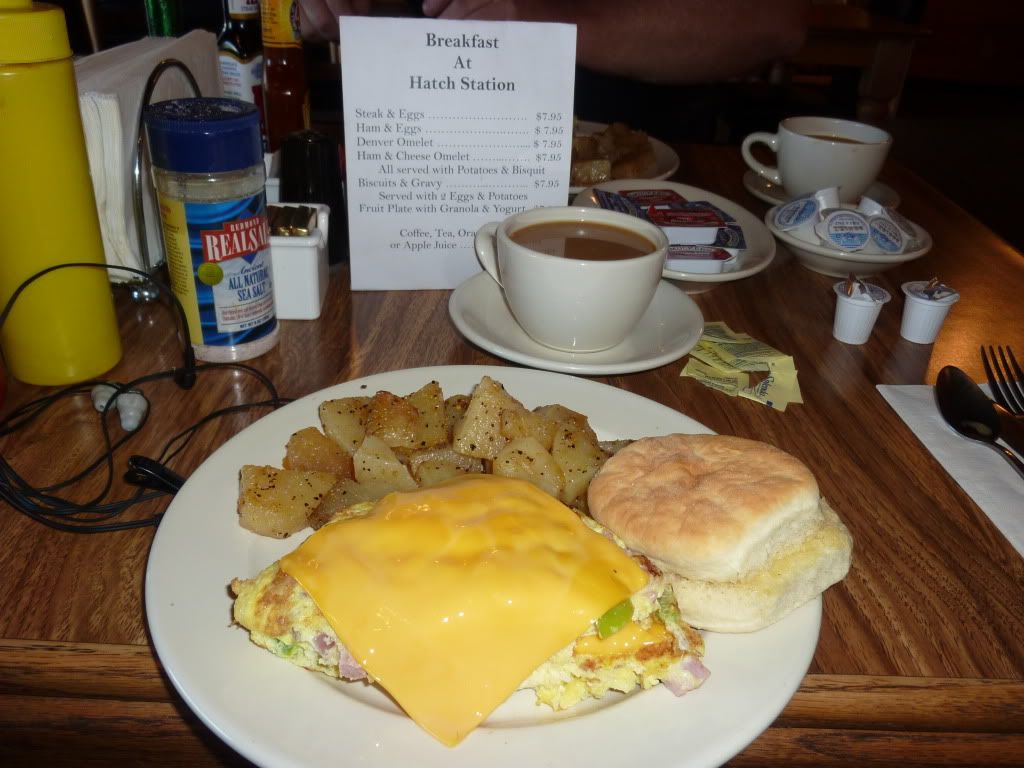 Here is Brian adjusting his playlist...I tried to make him pose

in

front of the stag on the wall so I can take his picture with horns sticking out his head, but he wouldn't oblige!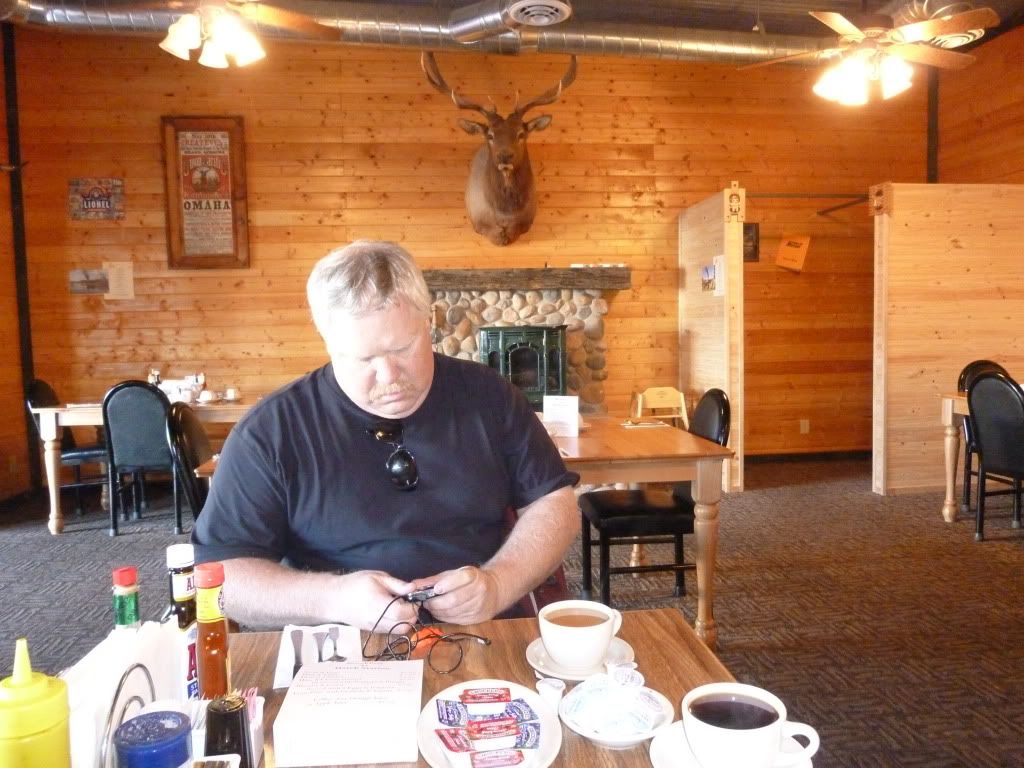 That looks like a nice RV. This was across from the Hatch Station.




We caught Hwy 12 "The Escalante Staircase" from here, this was my favorite portion of the journey...the most spectacular portion being when you climb the staircase and ride along what I called the "spine" a very beautiful narrow road with panaromic scenery all around you, but with tourists and sheer drops on either side of the road which kept both my hands on the bars....(translation no pictures of that portion of the road
)

Sculptures

in

granite, carved over millennia by wind and rain....




We dived into the Red Canyon from here.




A tunnel bored through beautiful red rock...




and back to more ridges sharpened by the wind and rain...




We rode out into the sun to a land which I would dub fortresses

in

the sky....




Does look like a fortress....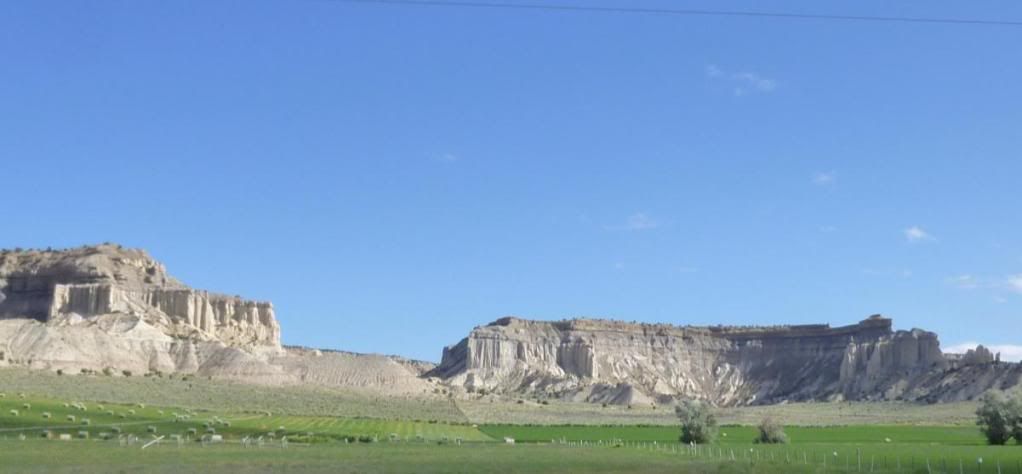 This one is crumbling...




Then through more canyons into a land time had forgotten....there was treasure

in

these hills....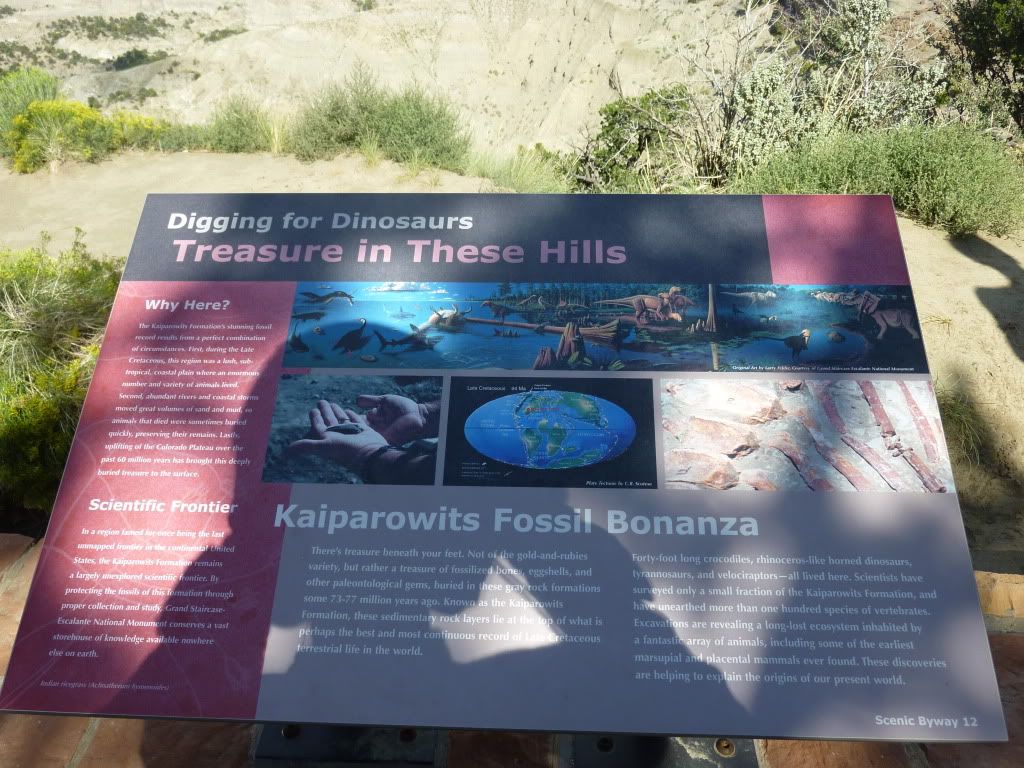 Let's take a closer look.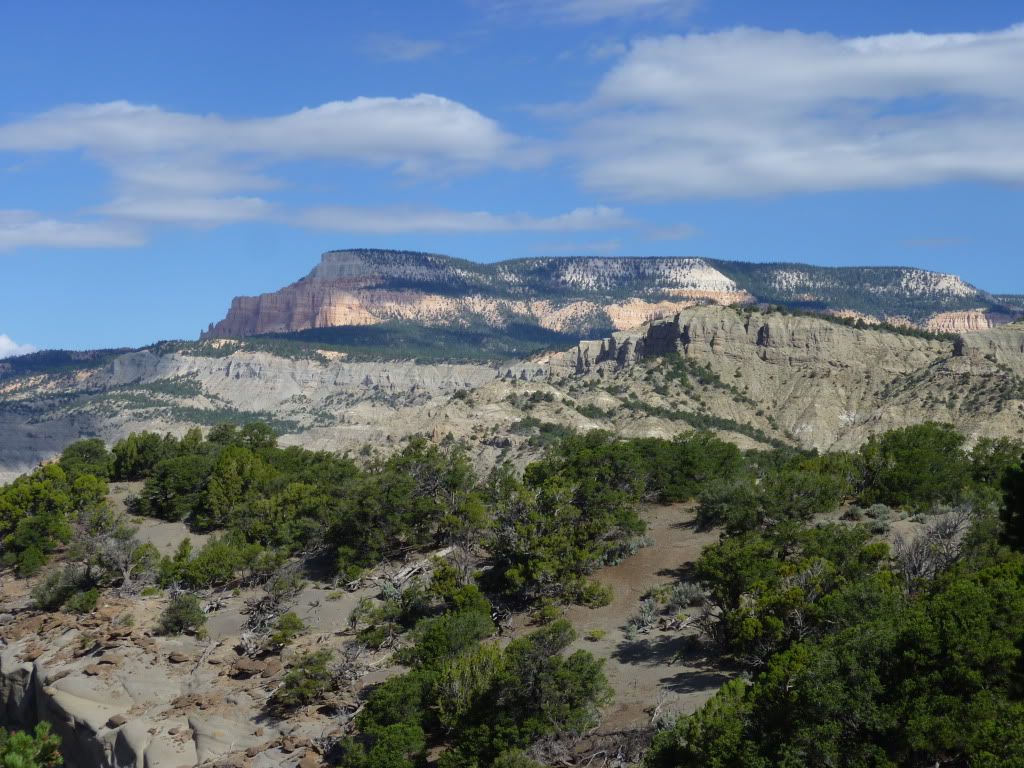 We found our way to the million dollar road...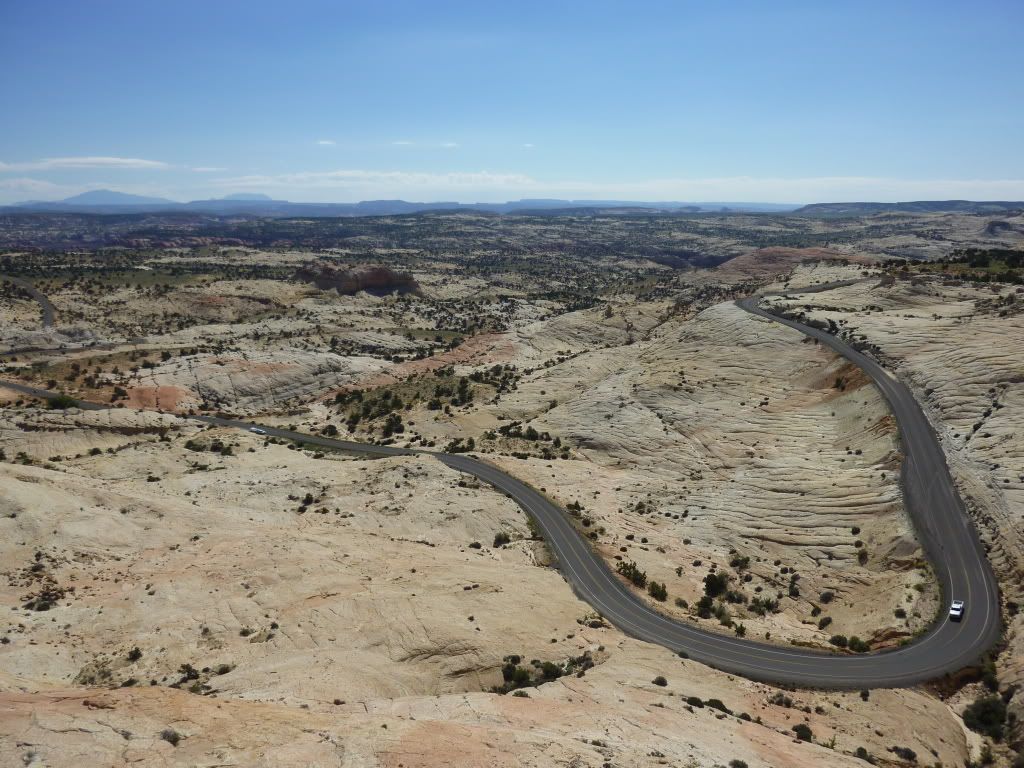 and then rode through Capitol Reef National park to what appeared to be Mars for part deux of the day.....that report later...




An interesting snippet. Capitol Reef for a very long time was a major obstacle to westward migration for the pioneers, for the longest time they could not find a way around this massive reef.
Chapter 4:
We were riding into a Mars like topography, but first we encountered some of the cows abducted by the Martians.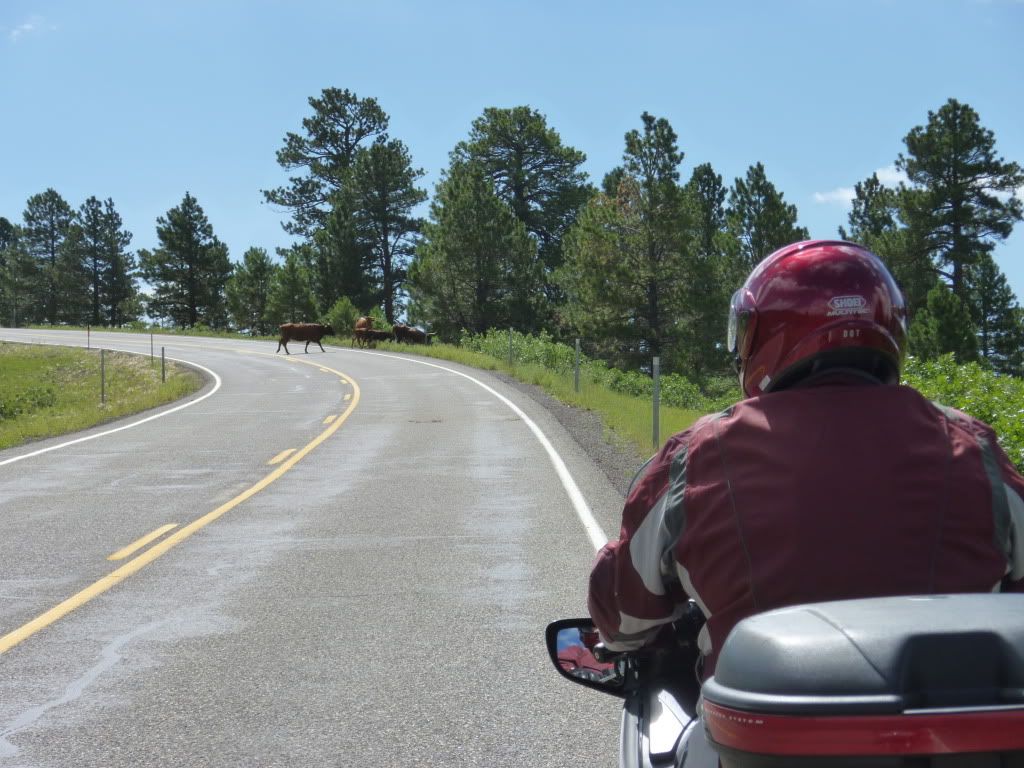 Then onwards to Mars, no little green men sighted, but lot's of beautiful red rock.




This one was breathtaking, I took some short hikes to get better pictures of Chimney Rock.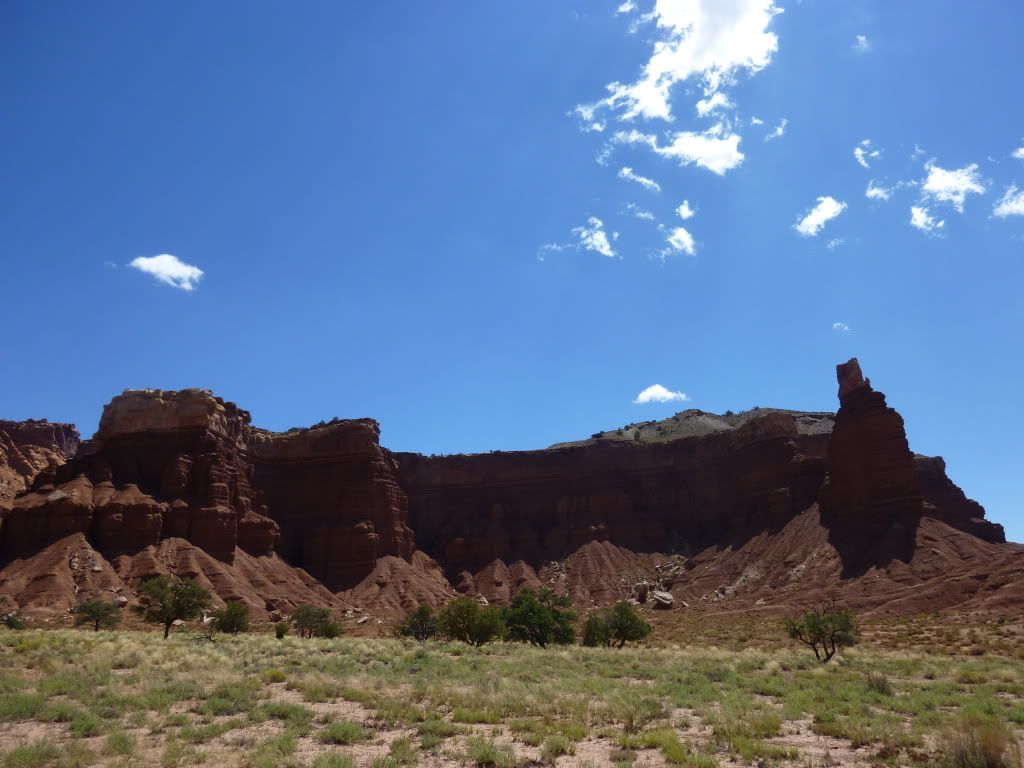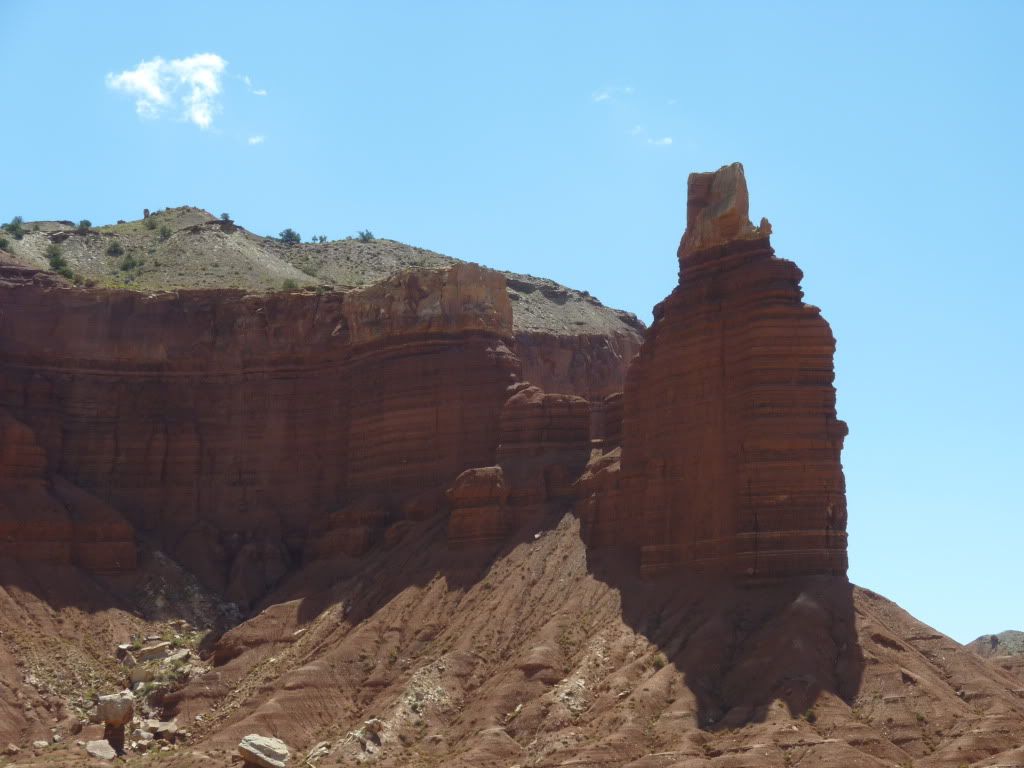 The view from the other side...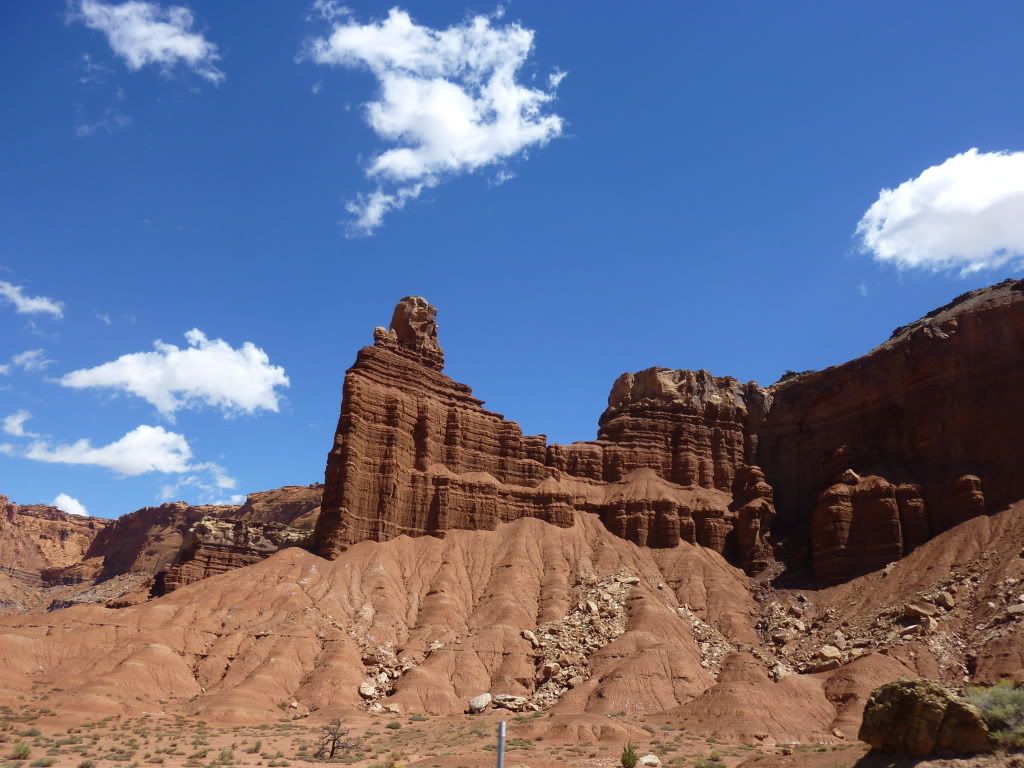 Some Martian kids Petroglyphs.




Do you see it?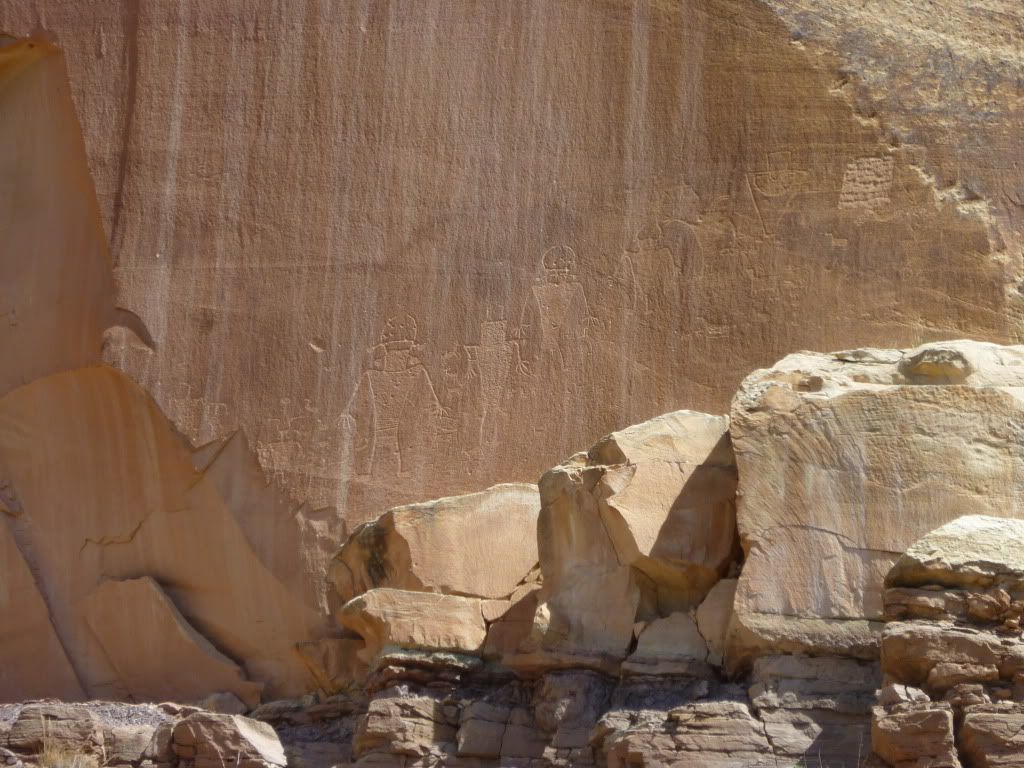 This is not chimney rock, or at least not quite as pretty.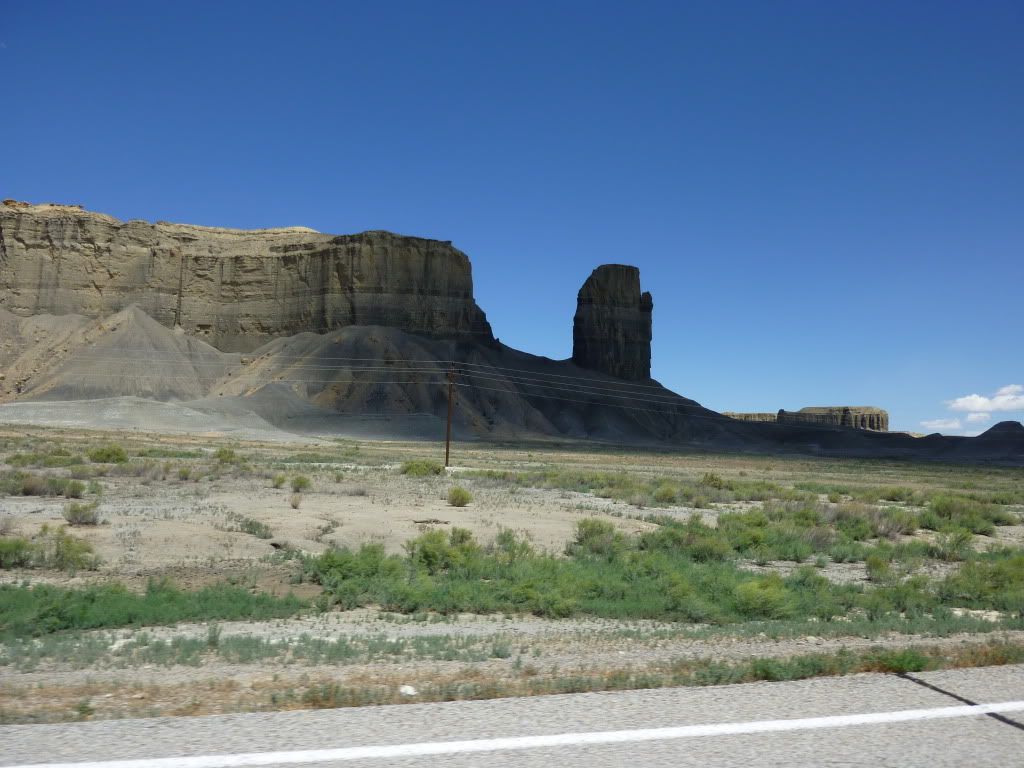 More Martian canyons to run through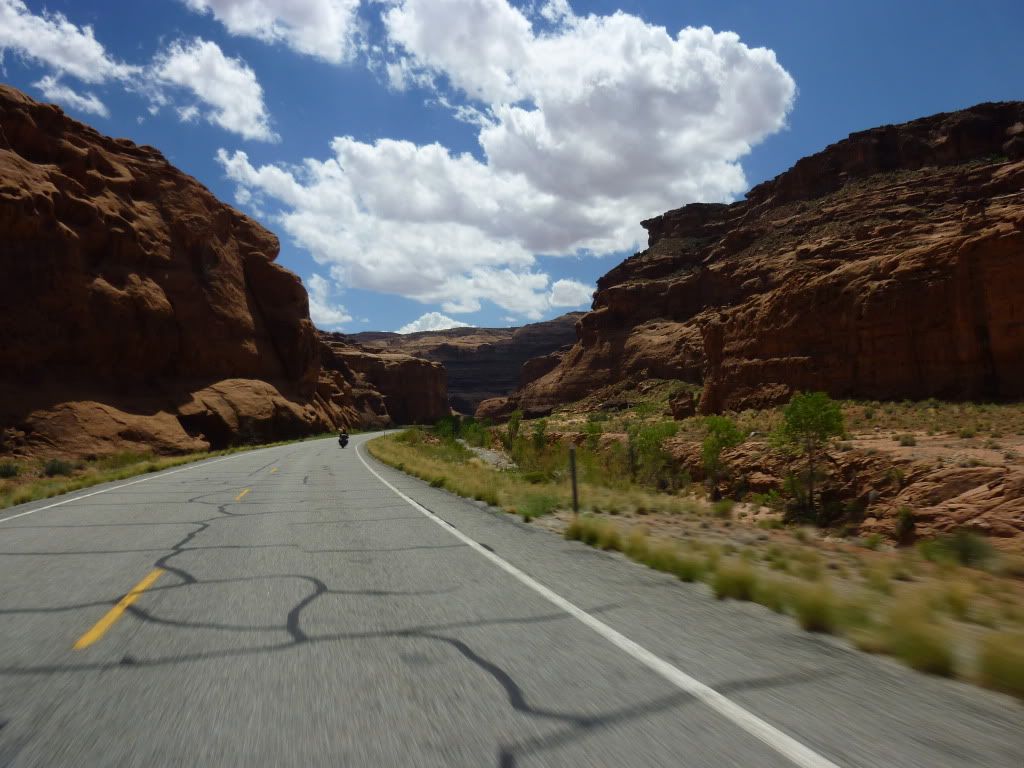 We made our way to Glen Canyon Recreational Area. We pulled off at this overlook and were greeted by some gorgeous views!




Lets take a closer look.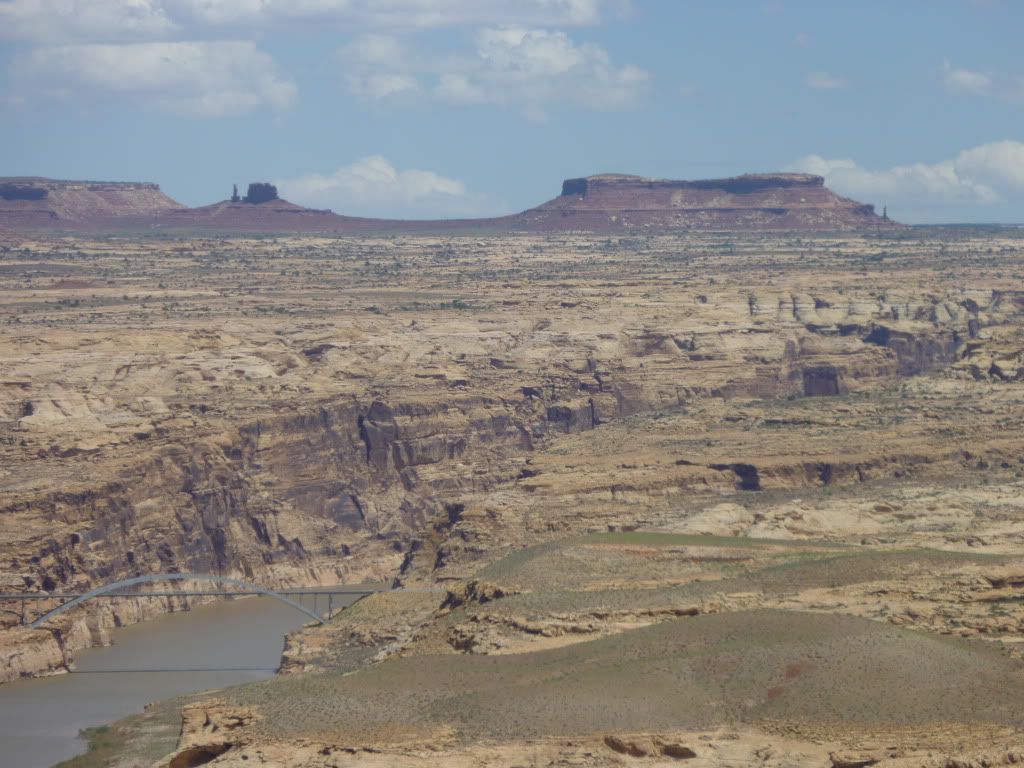 Beautiful scenery all around us.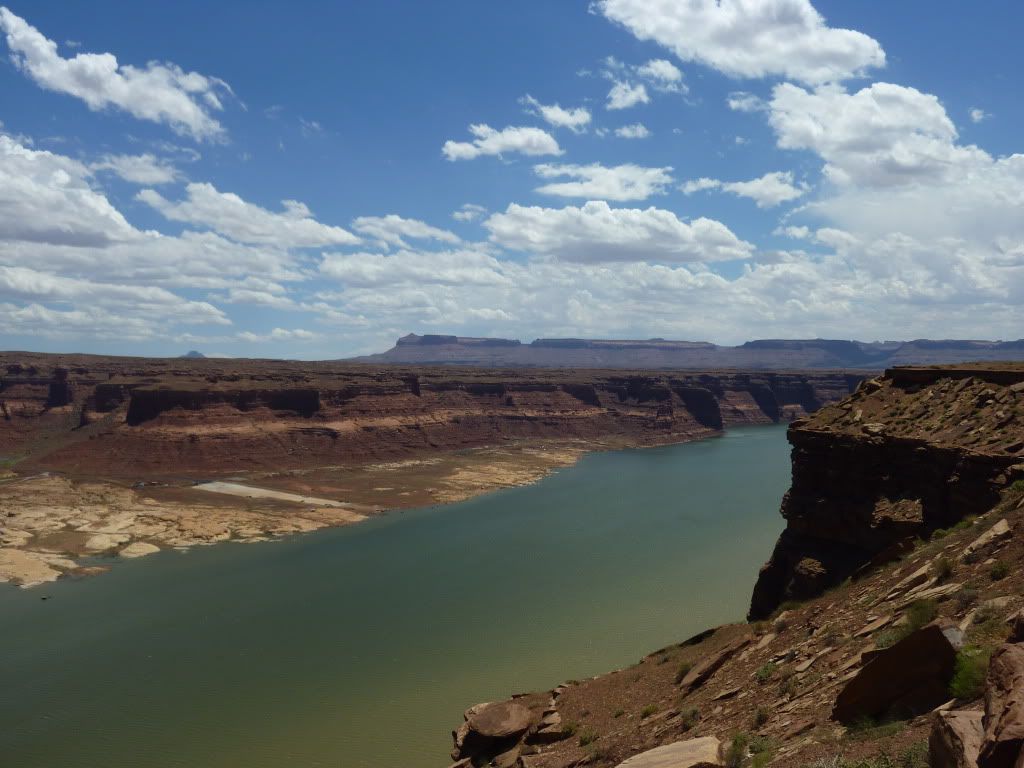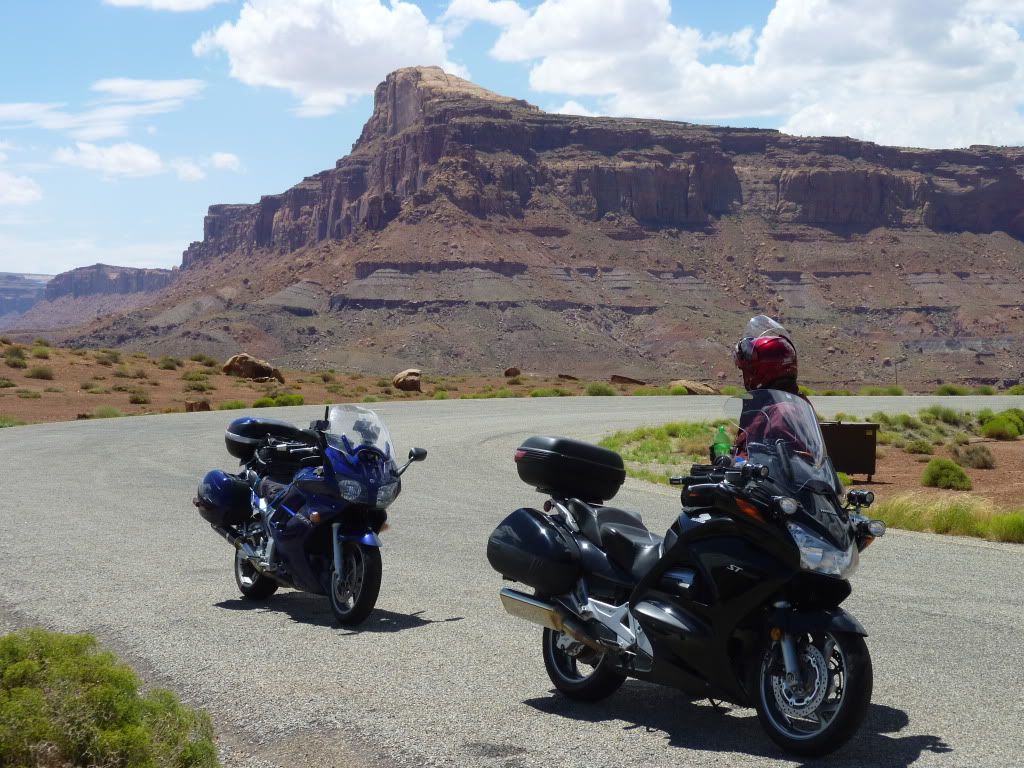 Then on our way again, riding down to the Colorado River.




The bridge over the River Colorado.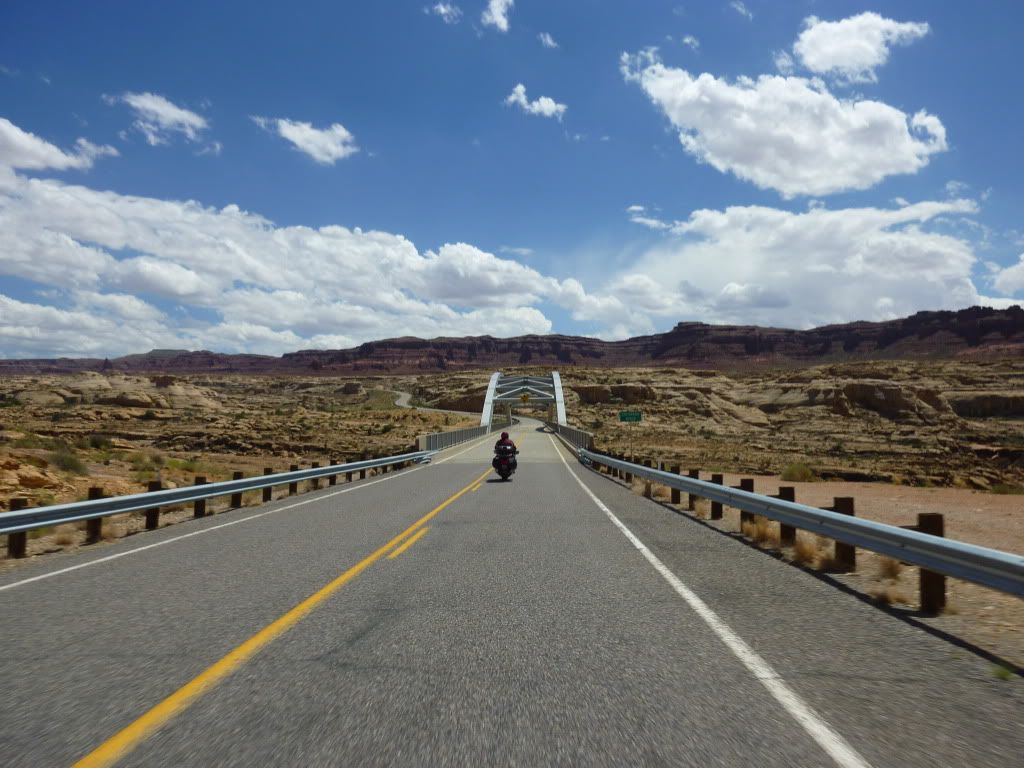 Looking back, we were over there a few minutes ago...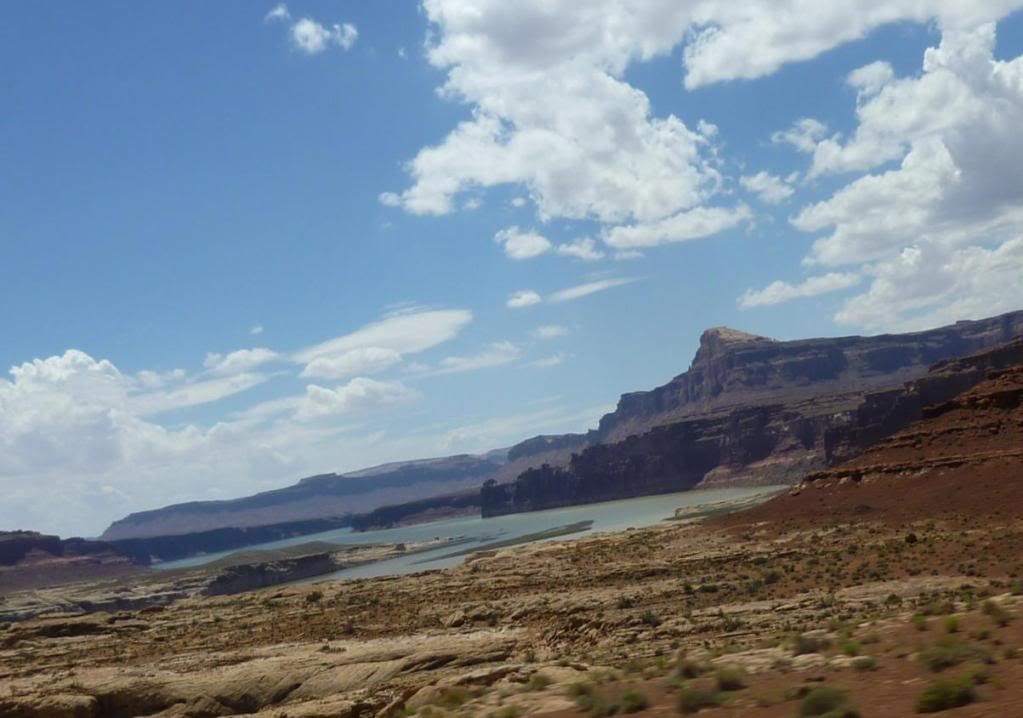 Racing towards the Colorado Rockies, you can see that the heavens were waiting to open up on us here soon.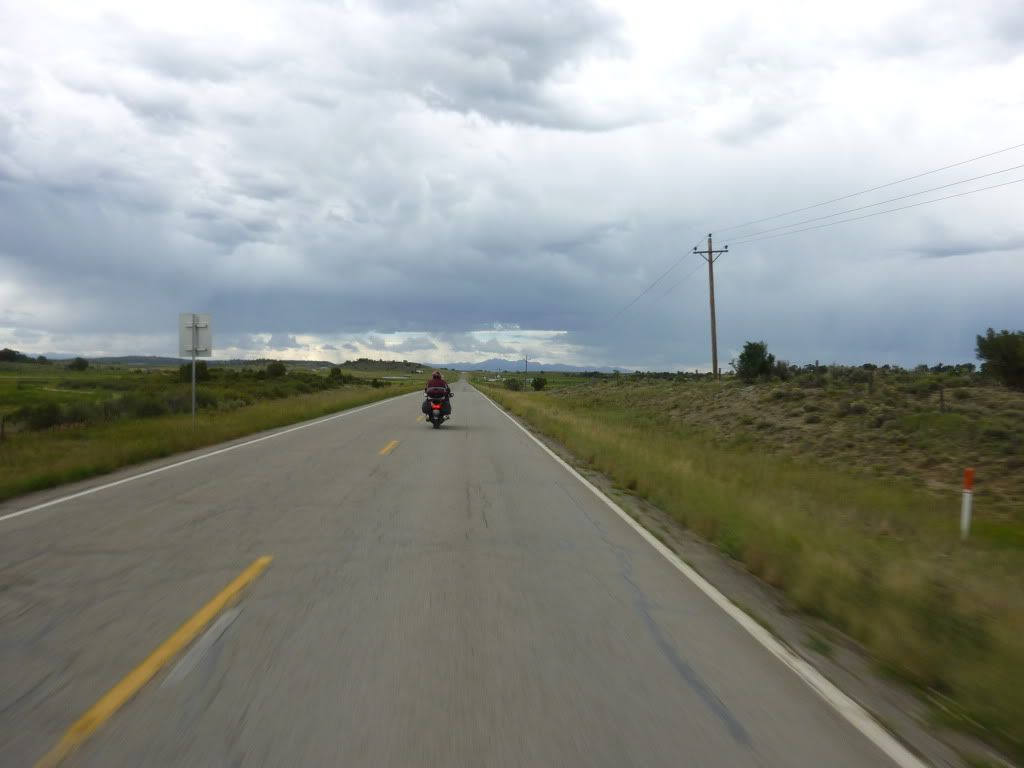 Chapter 5:
We took Hwy 145 into Colorado and rode into some crappy weather. We would hit slapping rain and then find our way to drier regions only to run into more rain soon after, this went on pretty much the entire ride through Colorado. The camera was hiding from the rain a lot, so there were many vista's that I passed by without being able to capture them.

The ones that I did have the chance to shoot, I am posting here.

The Rockies can be much so more dramatic than my beloved Sierra's!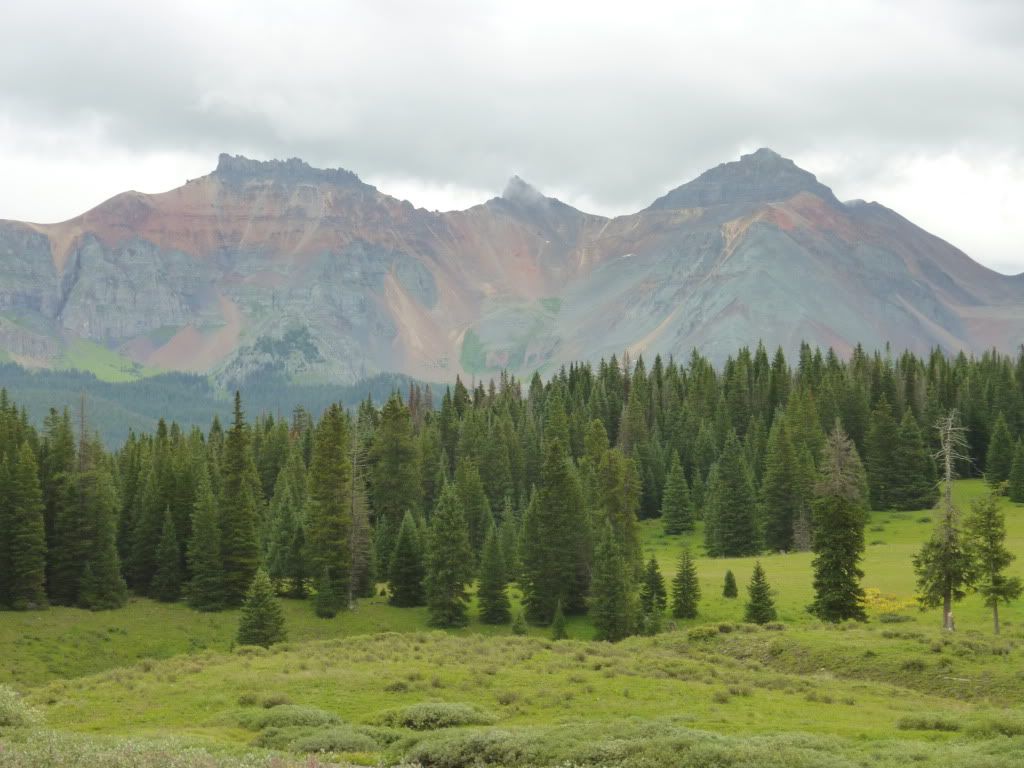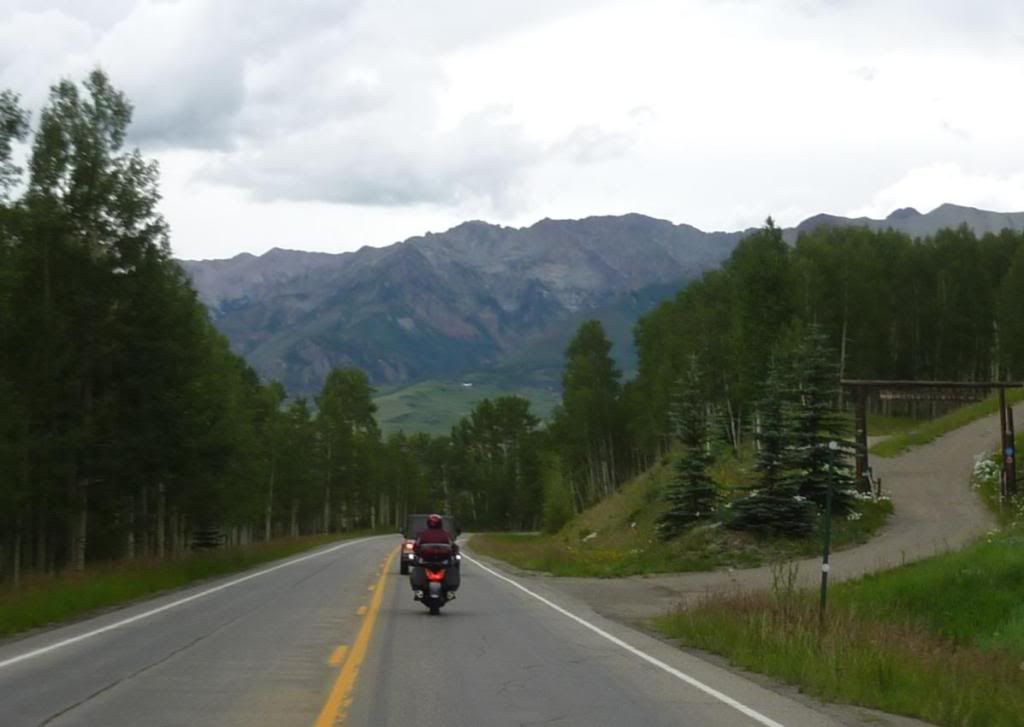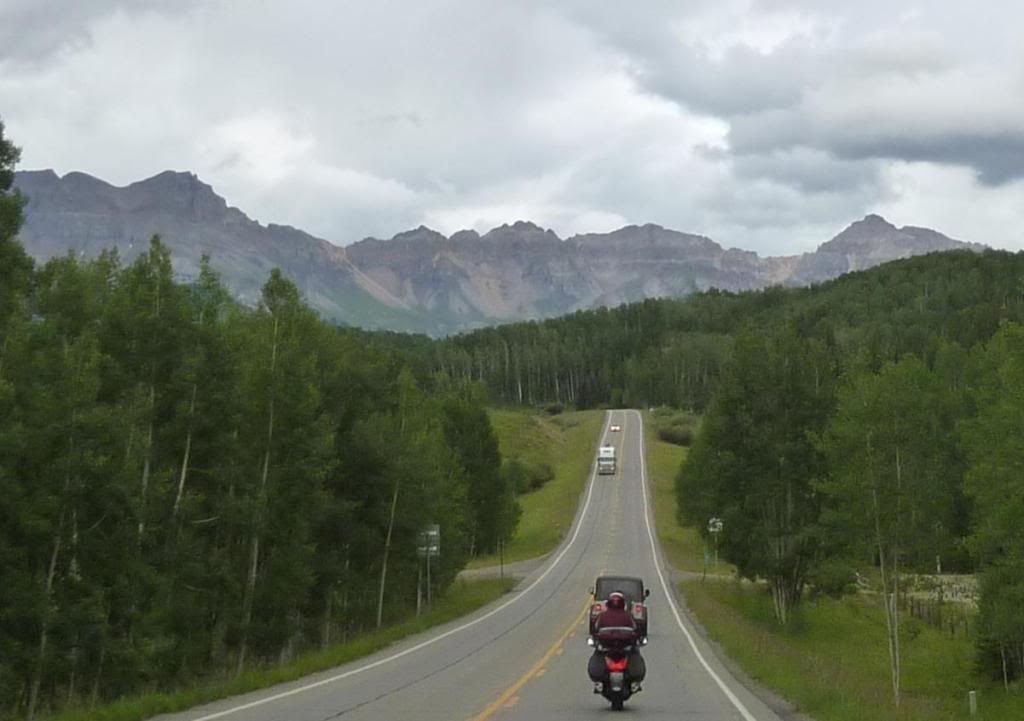 We made our way to Telluride and took a detour from our route to ride into town for a bit. The speed limit is a retarded 30mph or something...but it was worth going

in

nonetheless.




There is the famous Telluride view. I had to sneak the FJR

in

to at least one pic here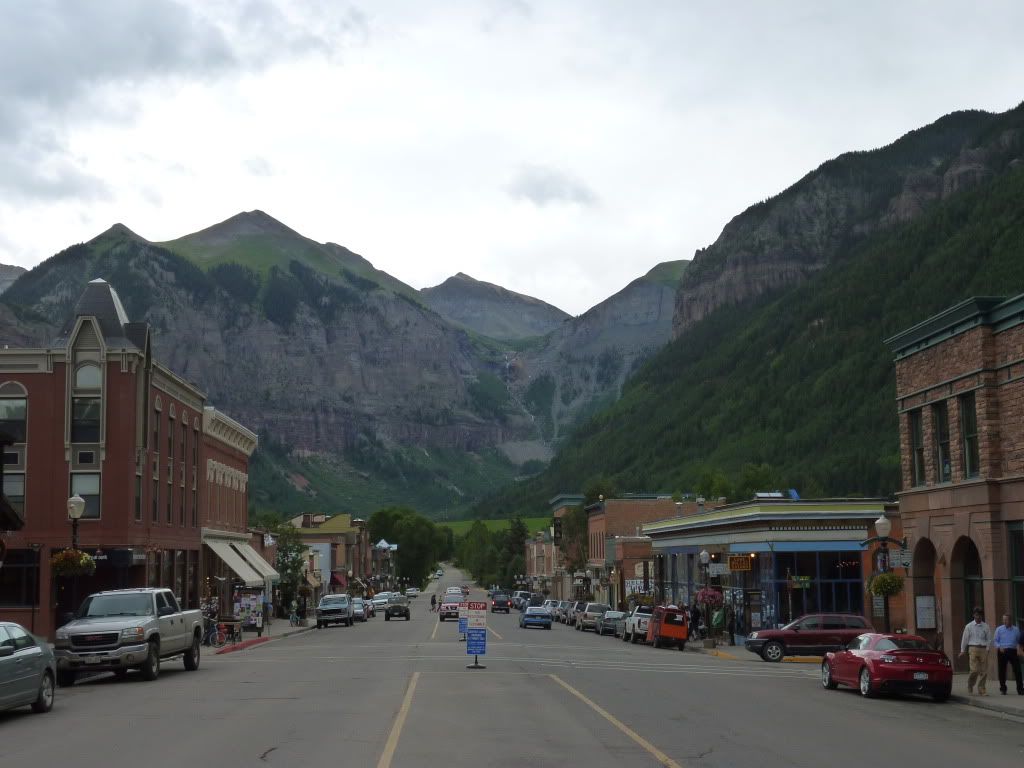 Ski runs right into their backyard. Ohh to be rich and/or famous!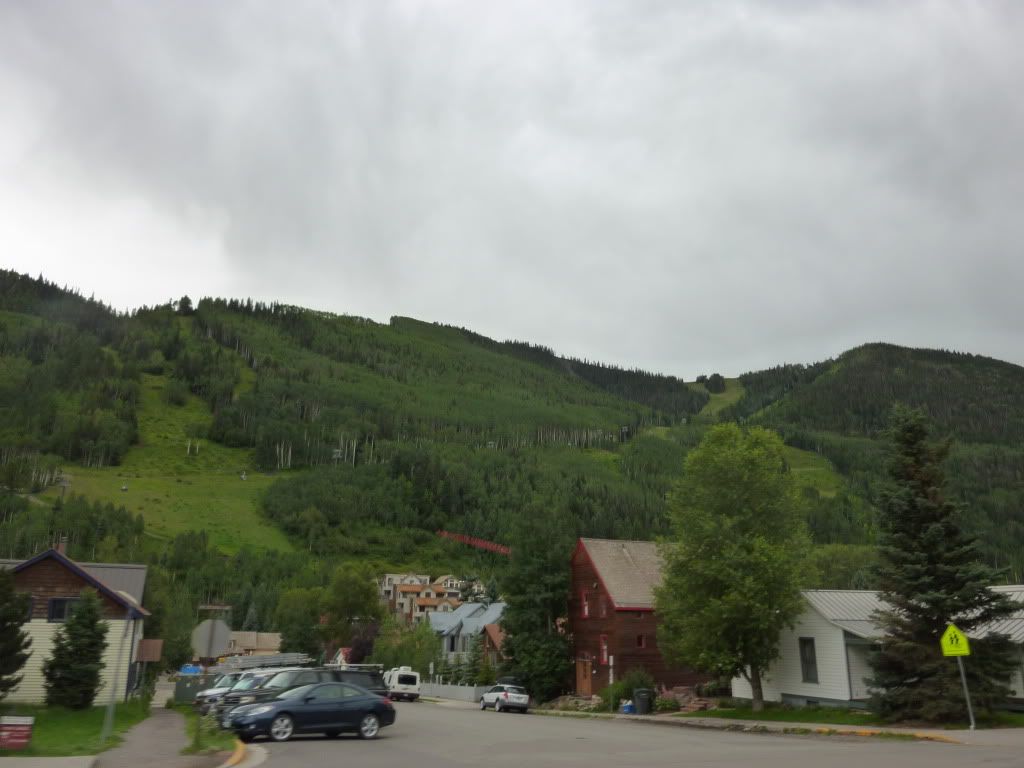 We rode into Ridgway and caught Hwy 550 from here.




Ouray is that-a-way and it looks wet wet wet! Have to do this some other time! We weren't planning on going that way anyway, the plan was to head north to Hwy 50 and head towards Denver.




It was a wet and nasty ride into Denver, a lot of the time stuck behind trucks which were spraying all kinds of road grime, passing opportunities

in

these wet conditions were very few and far far between. Still I managed to sneak

in

a few shots during the very short dry spells of the ride.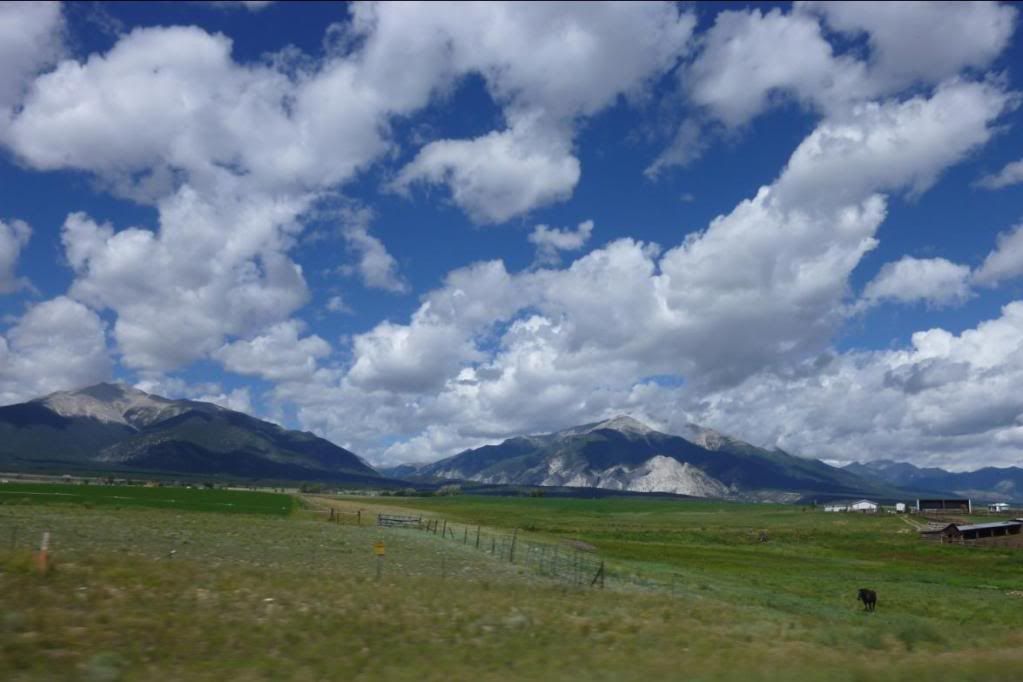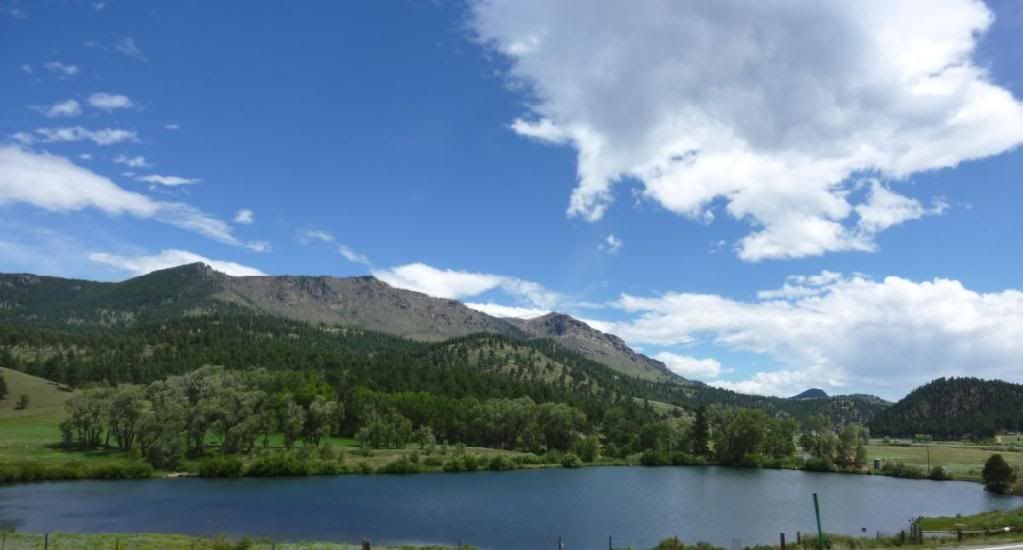 We were

in

Denver for the IBA Nationals. I am still waiting for Warchild to send me the picture of yours truly

in

the midst of a puppy pile of lovely ladies! Knowing Warchild, that will probably never see the light of day - because he wasn't in it! I guess what happens

in

Denver stays

in

Denver? Might be for the best...
Chapter 6:
Time to finally wrap up the story - last installment!


It was a fun stay

in

Denver and great to see some old friends and some new friends and to sit at the bar and drink a little and talk a lot! Maybe it should have been the other way around, but "someone" (you know who you are) at WFO9

in

July had got me drunk even before the ending banquet and I was trying to not do a repeat.

Here is Brian and I getting ready to leave for home from the Denver Marriott.

Father and son shot..




Flashing a victory sign at Jan (who was taking the picture), before we rode off.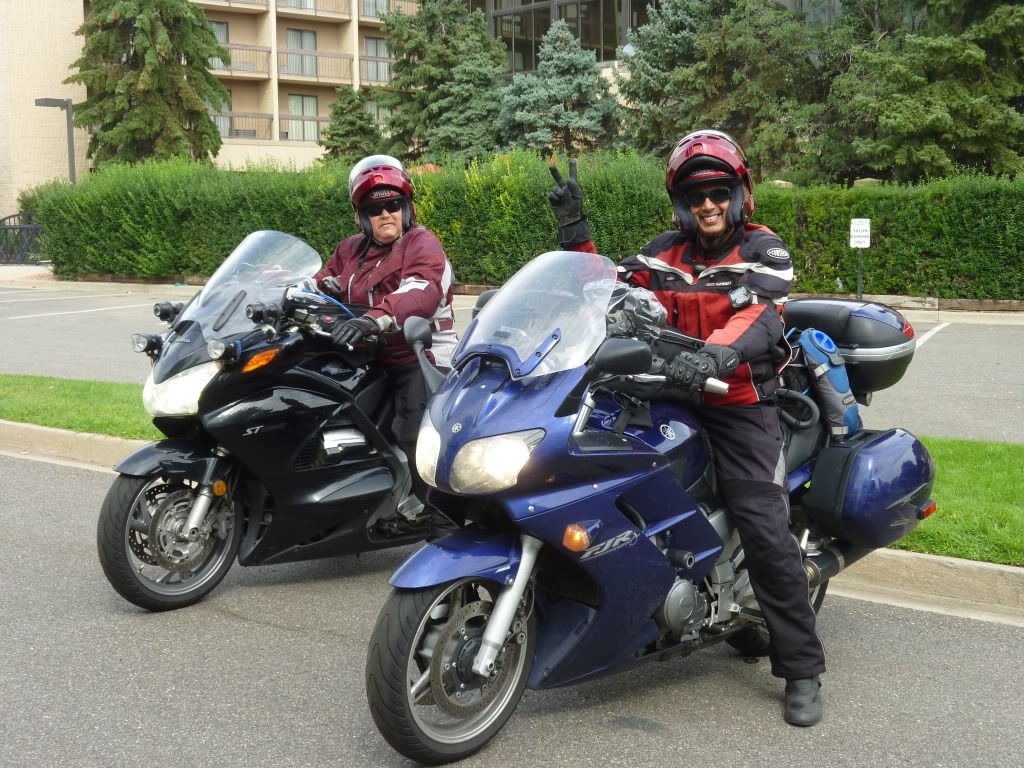 We had mapped out a northern route through the Rocky mountains, through Kremmling to Steamboat Springs on Hwy 40 and continuing into Utah.

The weather

in

Denver was overcast, but everyone kept telling us that it is just the smog backing up against the Rockies and it will clear up when you gain some elevation.
Boy! were they ever wrong! What a mess this portion of the ride would turn out to be. Not counting the traffic snarls due to a couple of cagers having driven into the cliff sides. It was quite a downpour, including hail at the mountain passes, clearing up at Steamboat Springs, I was planning on stopping and screwing around

in

Steamboat Springs but we were already way behind schedule and Brian wanted to press on with minimal stops!

I only got one picture at Steamboat Springs, a picture of a speed limit sign depicting both mph and kmph speeds.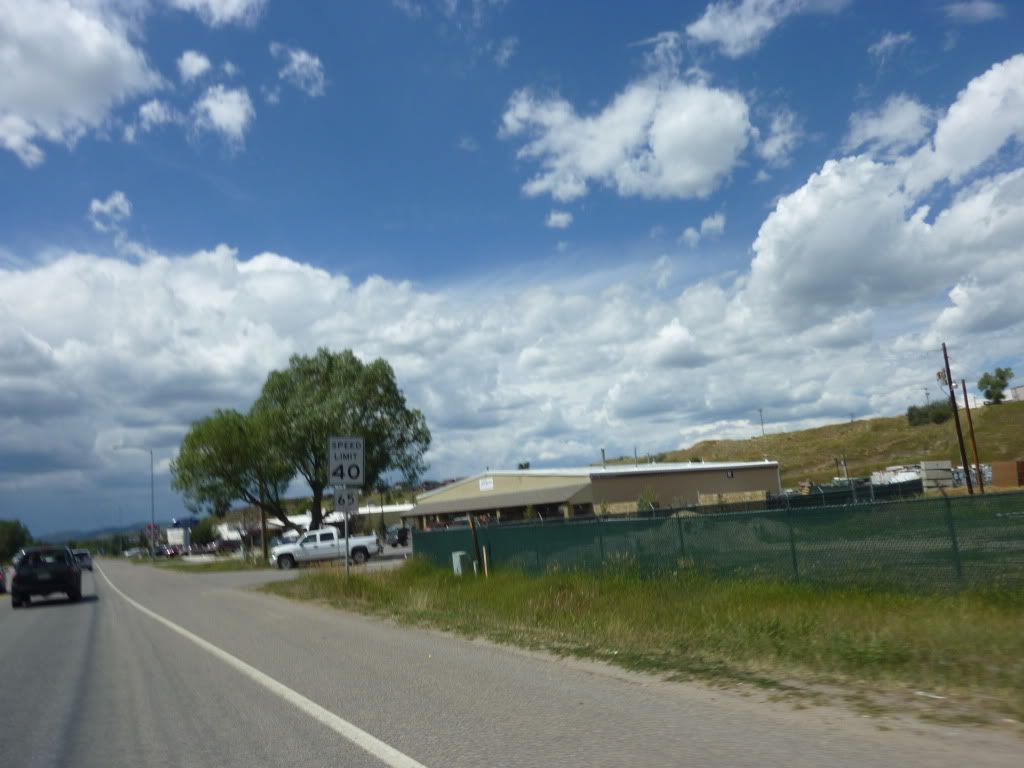 Then we raced away back to Utah on Hwy 40, but signs of inclement weather were looming just up ahead.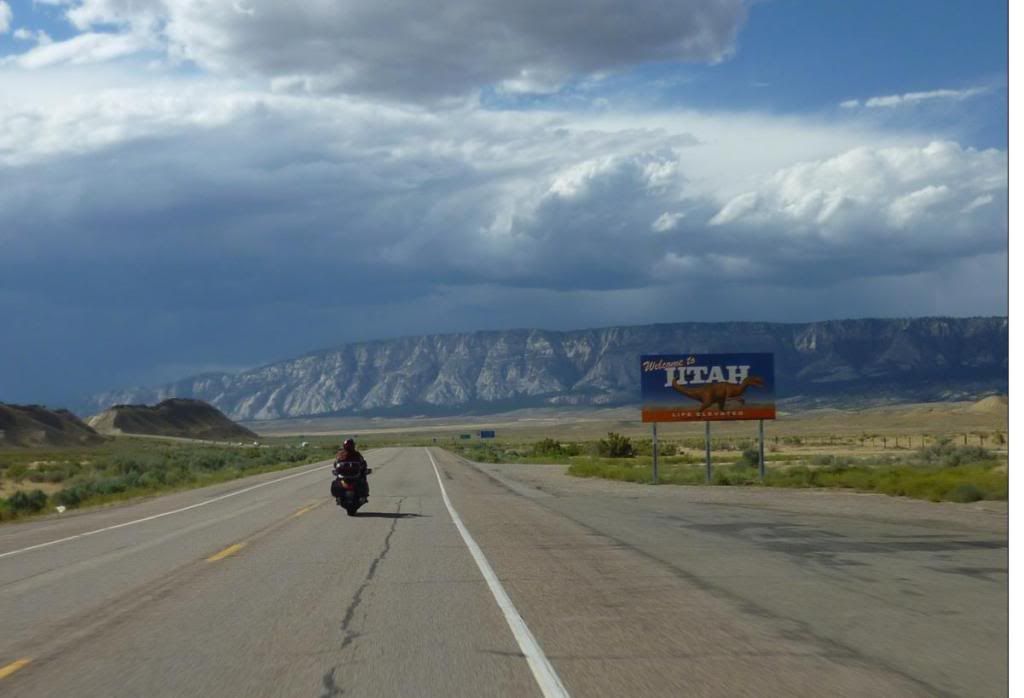 Blew past Vernal, UT but didn't have the time to take a shot of the pink dinosaur, just this fly-by shot of some other dino's.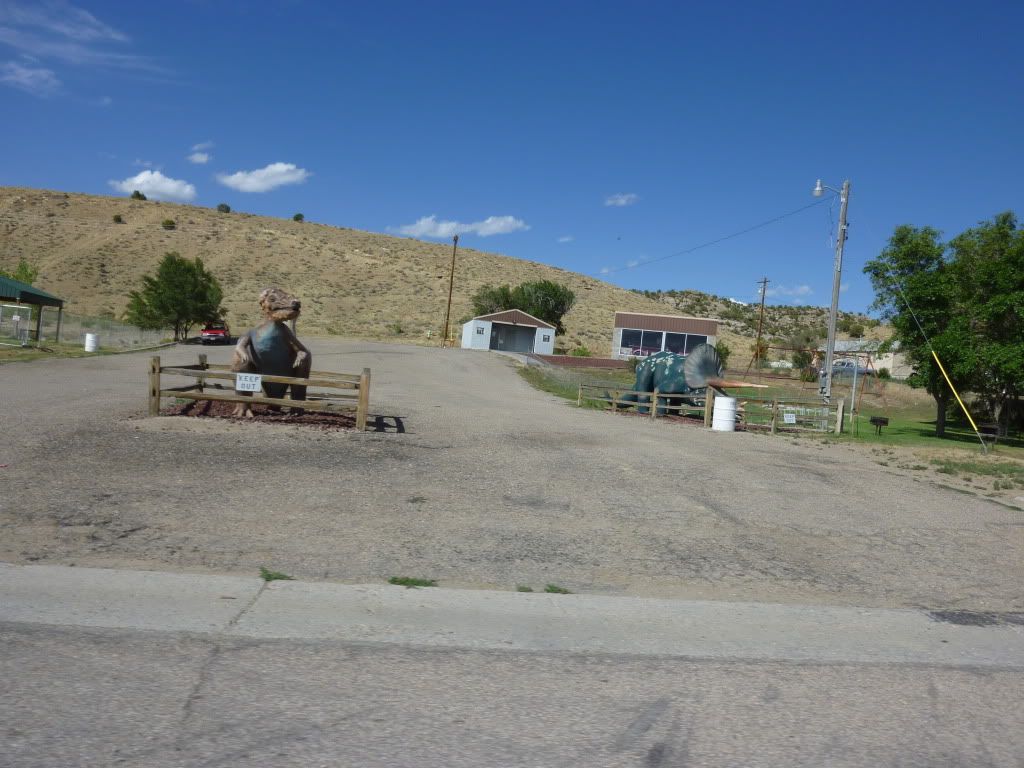 At Duchesne, UT we split off from Hwy 40 to Hwy 191. This was the favorite part of my ride back home. Hwy 191 is loads of fun!




But, you have to be careful, right at the summit of Hwy 191, there was a predator waiting to pounce. Fortunately for us, he was already busy feeding on a motorist he had just picked off.




Then on to Hwy 6 towards Provo.




It was along here that we passed a Coal power plant and what a surprise, it was actually generating power!


Then we passed some examples of the legendary wind power, but the damn things weren't spinning! Just sitting there having a good laugh at us...




We headed south and stopped for the night at Nephi, UT and ate at JC Mickelson's. I was hungry and I finished the biggest burger I have encountered to date...




It was the home stretch the next morning. Apparently it had not been raining

in

Provo and it was still fire season.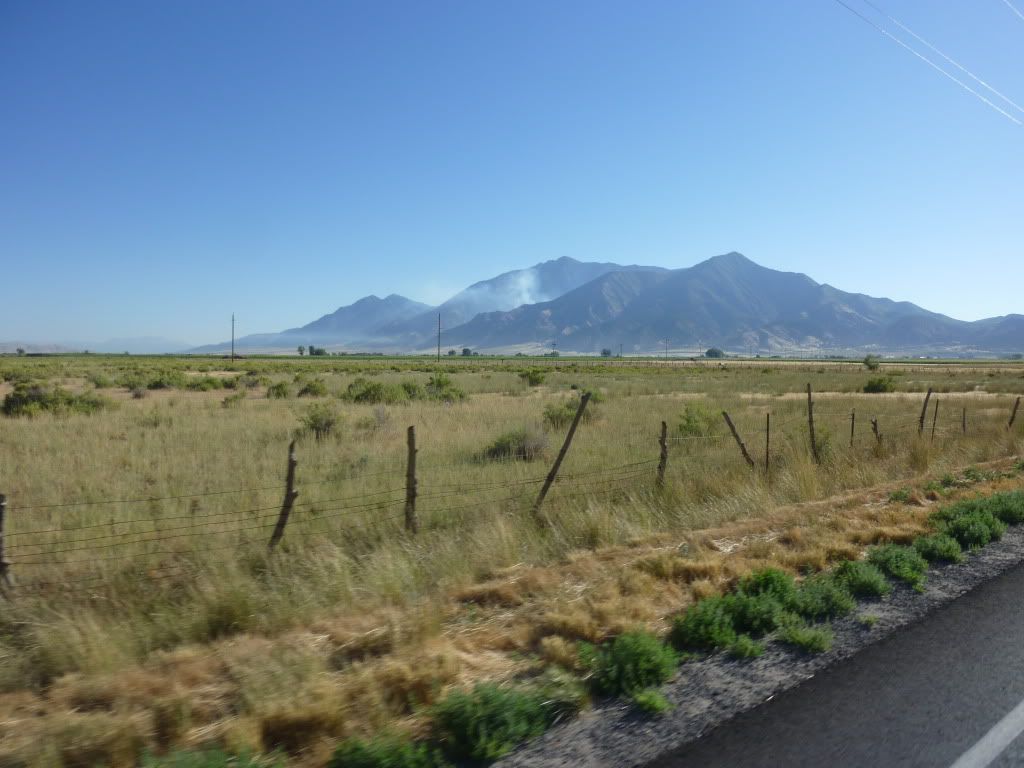 Then Brian remembers there were some historic charcoal ovens along our route, which was a bonus location on some previous rallies. So we start to head there...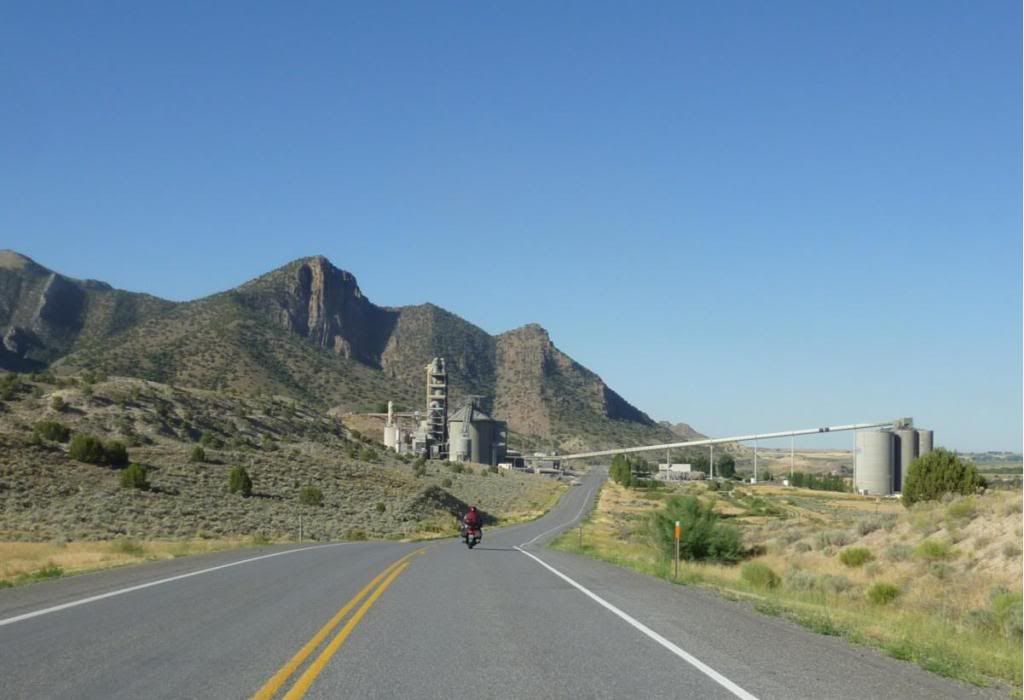 Here we are. This was an interesting read and a testament to the enterprising spirit which built our great nation and made it the power that it is today.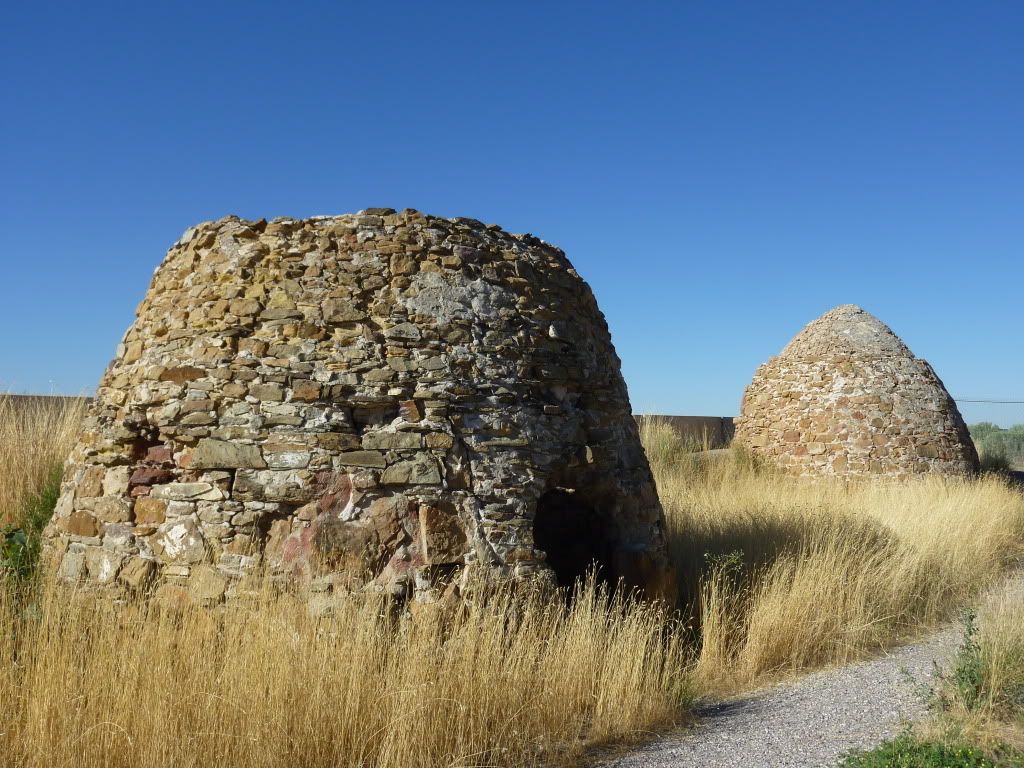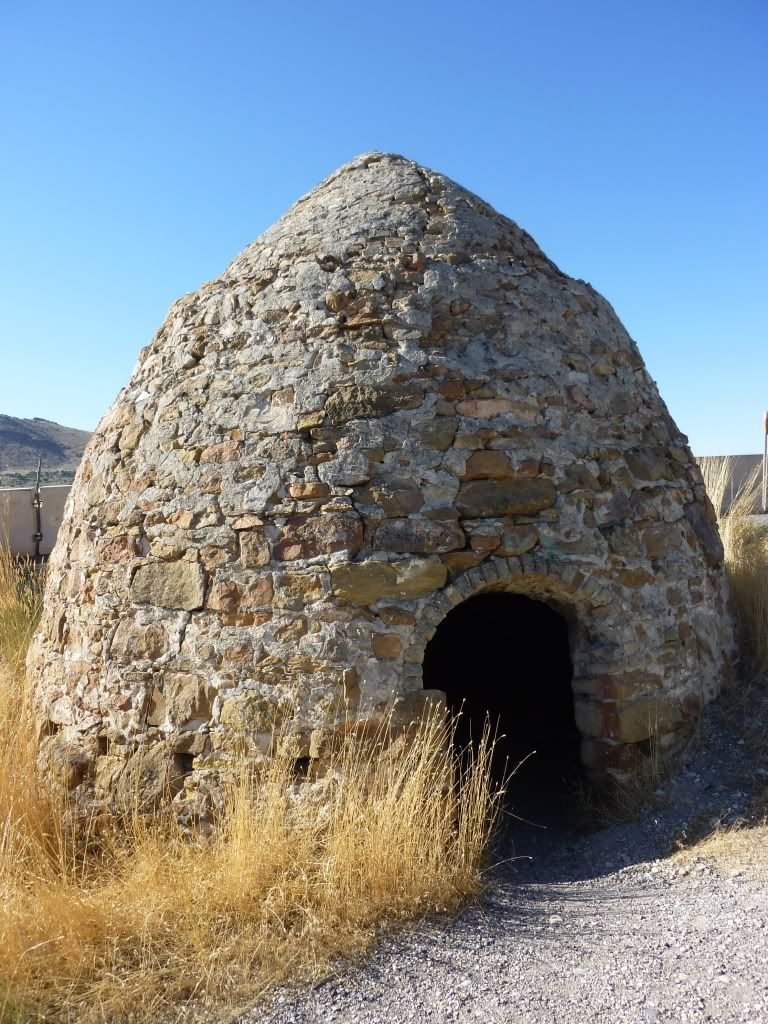 We stopped at Major's place at the junction of Hwy 50 and Hwy 93, hoping for some good burgers - but alas the cooks had the day off.


Interesting place...




This one is for Bustanut Joker! Daisy the long lost cousin of Dolly. Probably locked up

in

Bust's basement somewhere (Forum insider joke!), Javier misses her!




Deprived of the yummy Major's junction burgers, we decied to stop at Hotel Nevada

in

Ely for a quick lunch.




This is also where we saw this fine specimen from Beautiful British Columbia...Nitrous booster on that thing? I hope he can control it well enough by those ape hangers of a handlebars.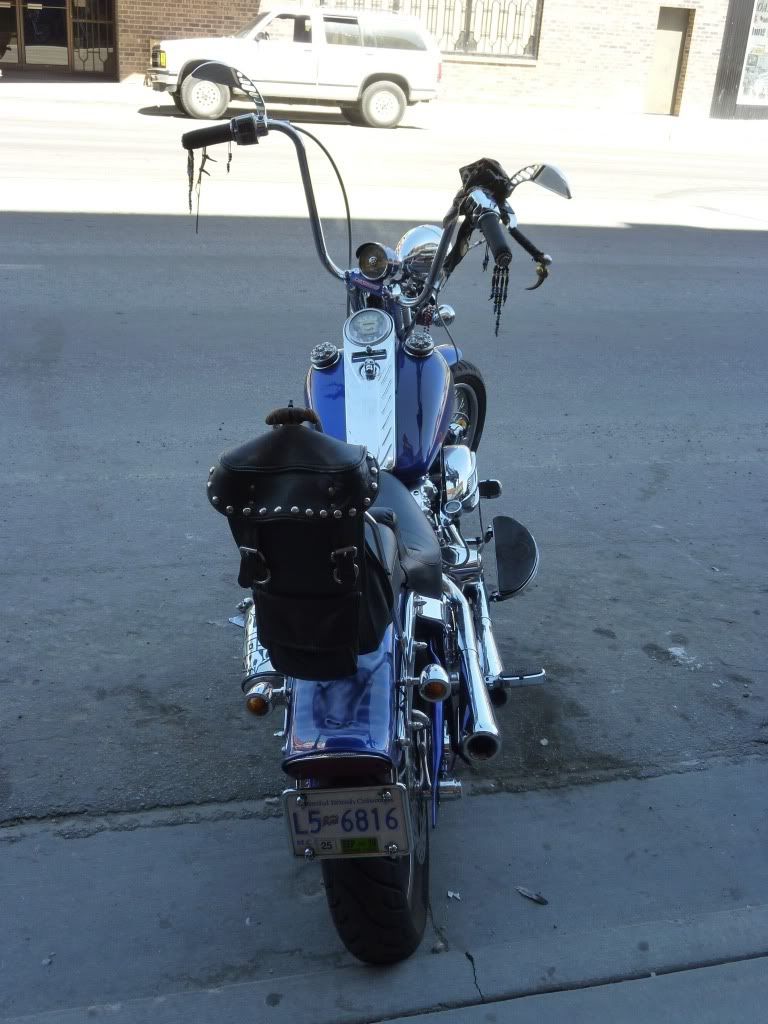 It was a beeline for home from this point. Thanks for reading along folks, it has been a pleasure!