What's a single guy to do? Well, let me rephrase that question. What's a single guy, whose bike is broken, to do? That's correct, fix his bike! Women will leave you, yes, even the good ones, but a man's motorcycle is forever (or can be repaired, improved or replaced, hopefully with something better - somewhat easily!). ;-)
So, what's a single guy to do, but to relearn, reacquaint and rekindle the romance and the passion which rises, when astride 1298 cc's of raw, sonorous power for hundreds upon hundreds of gorgeous miles!
This year, Valentine's day was to be for me a celebration of some of my loves. Motorcycling, photography and photography while motorcycling, among a few other things. It was only mid February, in the dead of Winter, but the weather gods had changed their mind and decided to let Spring in, if only for a few days. No better day and no better weather to be on (you guessed it) the California coast at Big Sur.
There are times when I look back with some remorse that for the first 6 years I lived in California, I never visited Big Sur. It seems I always had other important things to do, such as work. I didn't ride a motorcycle then either, although I rode one in college. Priorities had changed in and after graduate school. I don't know what I was thinking.
My desire for motorcycles was re-awakened almost 7 years ago and I haven't looked back since. Started back into the sport on a little street fighter SV650. A gorgeous red-head. Candy Apple Red to be exact. It sure was the Apple of my eyes for the first three years that I owned it. However, as it sometimes happens, you tend to outgrow some things and I started outgrowing my beloved SV. Although I still loved it, I just wasn't riding it often enough to justify keeping it. It just wasn't built for touring long distances like I wanted to and was soon usurped by a big blue fire breathing monster. My FJR.
Hopefully I haven't bored you to death with my life story, and hopefully kept you semi-interested by interspersing pictures of the astonishing California coast. So, continuing on, here are a couple more pictures of the historic Bixby Bridge. It was built in 1932 to connect Big Sur to the rest of the world, without having to traverse the Old Coast Road, which is often impassable in Winter.
Another view of the Bixby Bridge from a few miles south.
Of the few other things that I love, food is definitely very high on the list. I have always maintained that good food tastes even better with a great view. Now, that view could be a hot date in that sexy dress sitting across from me, that works for sure! It could also be a gorgeous view of the Pacific Coast at the Nepenthe Restaurant in Big Sur. It is a lovely place, no doubt! Built in 1947, Nepenthe translates to "isle of no care".
The views are breathtaking, and the food...well let me say that a great view also makes mediocre food taste palatable, and I will leave it at that. :-)
The Phoenix bird is their (Nepenthe's) emblem. However, with an hour long wait in the middle of February just so I could get seated, it also afforded me ample time to spot a few other impressive birds as they glided the coast, looking for prey. Can anyone ID this one from the shot below? I was inclined to think Red Tail, because as it's tail caught the sun, it turned red. However, I could very well be mistaken. Still, it reminded me of my buddy from the forums, who calls himself RedTail as well.
It wasn't just the birds (and me) who were enjoying the glorious sun on this day. Those look like some very happy and lucky horses indeed.
Leaving Nepenthe, I headed towards McWay Falls a short distance away. Just before you get to the Falls, there is an overlook and if you look hard enough, in the distance you can spot the entrance to the cove which houses McWay Falls, but you can't see Mcway Falls itself from this vantage.
There she is. That big blue fire breathing dragon that I was telling you about. In many ways a Phoenix itself, back from the (nearly) dead. I know, this angle makes her butt look big, but I love her anyway! ;-)
McWay Falls. 80 ft tall and it flows year around. I have visited several different times in the year and the flow of the Falls never seems to ebb. There are some who speculate that the current cascade was not the natural flow of the creek channel, but was instead a result of re-routing the creek many decades ago to the current Fall site. Nevertheless, it is the most beautiful and the most photographed 'tide falls' along the California coast.
I had some company admiring the falls from this location, a paved pull out area, just off the highway, which offers great views without having to venture on the trail. Just like the soaring Red Tail reminded me of my buddy Richard, the artist below reminded me of my bud Hans. :-)
I do love and appreciate good art, I have ever since I was a kid. My mom was an accomplished artist. Oil on canvas was her medium, a talent she passed on to my sister. Unfortunately, I didn't get that creative gene, but you don't need to have it to be able to appreciate it. Being on the California coast always makes me imagine what it would look like on canvas, imagine, because I don't have the talent to grab a brush and a palette and make it materialize, but I can point the camera and push the shutter button very well!
Some other bridge along the California coastal highway. I am not sure what this one is called. Do you know?
Morro Bay was my destination for the day. It was getting late as I approached the two most visually striking landmarks of Morro Bay. The three chimneys of the now almost defunct power plant and Morro Rock. There is a beach just north of Morro Rock. I hadn't ventured here before, so today I did. Beautiful, peaceful, and great views! I debated just staying on this beach and watch the sun sink into the Pacific, but then decided to head into Morro Bay harbor instead.
The reason being that I wanted to capture Morro Bay for what it is, in addition to being a coastal tourist attraction. A sleepy fishing village, an industry which developed here in the 1940s and although dwindling in recent years, still keeps chugging along.
The scene below reminded me of my buddy Mike, or Mad Mike 2 as he likes to call himself. Can you spot the reference in the picture below?
I was being constantly reminded of my motorcycle buddies on this trip. The fishing boats also reminded me of my great buddy Tim, unlike whom, I don't think it costs these guys 90 bucks a pound to go catch some fish!
There are a lot of people I love, who were in my thoughts today. Some mentioned here and many not mentioned, but only because I couldn't find the photographic material to tie them into the narrative. :-)
I hope you enjoyed this Valentine's Day's journey. I know I loved every single moment of it. It was an amazing day, very well spent for me. I topped off the day with some good food at a local Morro Bay restaurant, right beside the docks, where they haul in fresh fish every day! Nothing fancy this place, this isn't where the tourists eat, this where the locals eat. Just the way I like it when I travel.
Thank you very much for reading and I hope you enjoyed many things that you loved on Valentine's Day as well!
EPILOGUE:

I had some fun the next couple of days on my journey home, I also had the chance to rendezvous with some friends and enjoy their company while sharing a bite to eat, and catching up.
The morning after Valentine's I got to see Tim. We had kept missing each other due to varied schedules for almost the past year and a half. It was good to finally see him again and spend some good quality time over breakfast exchanging stories. By the way, Tim makes the best breakfast, hands down. No debate the best breakfast spot in the entire area!
Next on the plate was a meet with Richard and Richard in Malibu, they were going to show me some fun roads in the Santa Monica Mountains. I had rode some of these roads with one of the Richards before, I was a lot faster then and he still got away from me, I am maybe overly cautious these days. Both the Richards are extremely fast, but they took pity on me and weren't trying to get away from me, but that happened anyway. Capt Slow here was just too damn slow. The videos below are courtesy of Richard (Fairlaner) who is riding in the middle. Richard (RedTail) is the lead.
Richard says F U Capt. Slow..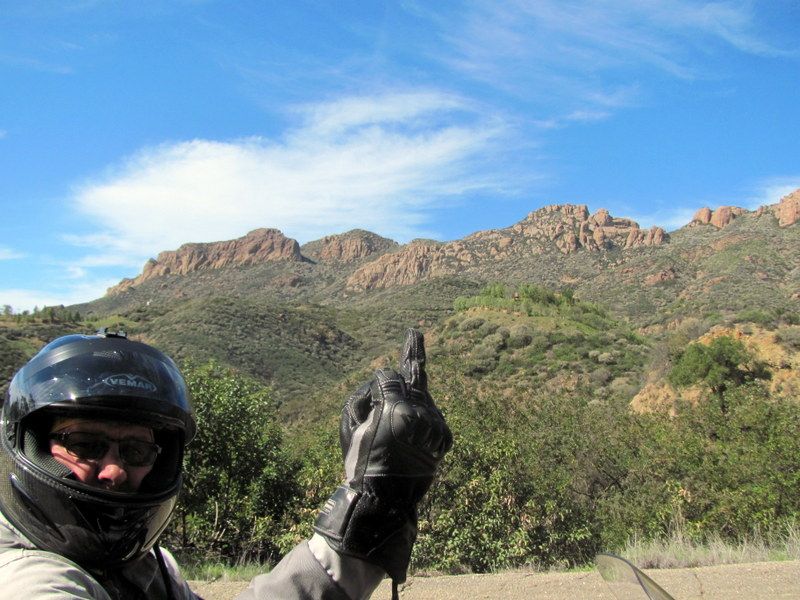 Photo Courtesy of RedTail.
I had a great time. Thank you Richards!!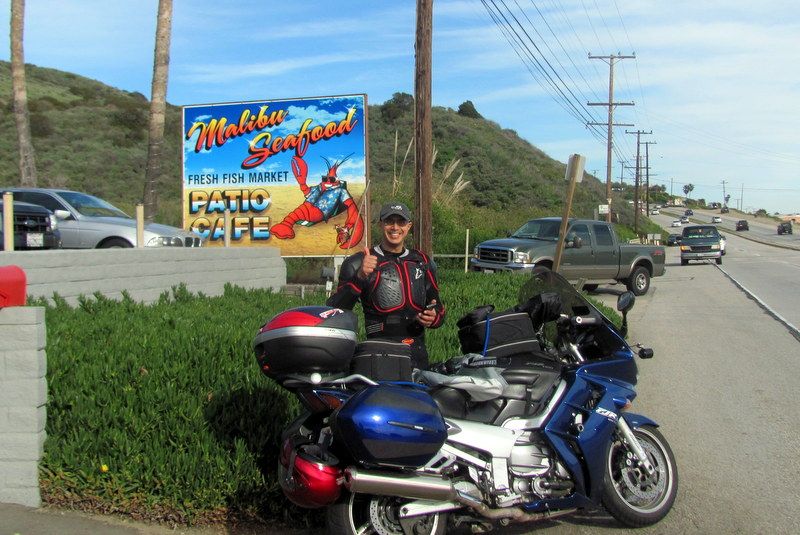 Photo Courtesy of RedTail.
The ride home consisted of a lot of slabbing, before diverting for some fun on Hwy 58. I have passed through here several times and every pass this dilapidated structure becomes more so. I have never stopped before to take a picture and freeze it in time, so this time I did. I am not sure how long this structure will continue to weather the time. The new Solar farms are coming up all around it, it may not be long before it is razed to the ground. One more reason to capture it while I still could.
Followed by Rossi's driveway (Hwy 229). It had become foggy and overcast as I trekked West. Rossi's driveway, however, is always a bright spot in any motorcycle itinerary.
Rossi's driveway is one of the regular haunts of my bud Don. Our friendship forged on a motorcycle forum. He is good peeps. It's true what they say. You meet the nicest people on an FJR.
Found the sun again on Hwy 25 (Airline Hwy). Home was within sight. It had been a great journey, I had made good memories. I was happy!! :-)
Thank you once again for reading along!