Well.. actually, mostly just one. :)
I went for a ride this weekend, the V-Strom needed a new set of chain and sprockets. It's a 2006 V-Strom, and I bought it in Nov of 2013 as a companion bike to the FJR, which had been giving me some trouble in the latter part of 2013. This V-Strom had mostly been a garage queen when it was living with it's previous owner. It barely had about 5000 miles on it when I bought it. A 7 year old bike with that little mileage obviously meant it mostly just sat in the garage a lot, so when I bought it I replaced all the fluids in the bike, put new tires on, new plugs, new filters, basically did ALL the requisite maintenance and tune-up except for the chain and sprockets. I have put another 8000 miles on it since then, but despite regular cleaning and oiling, the chain was getting in pretty bad shape and had just started spitting O-rings, which is a death knell for a chain, but understandable since this bike previously just sat around for so long.
Long story short! I rode up to see my motorcycle guru in Fernley for some chain-work and took the slightly longer but much more fun way over Carson and Monitor passes. I am still looking through those pictures at the moment, and when they are ready - so will I be, to do another trilogy (hopefully) of 'Road Reports' in the Sierra mountains.
Till then, I thought maybe you would like to take a look at some old classic cars that I found along the way in Markleeville, CA. This was on Mother's Day and a couple of them were out for a Mother's Day drive together.
First up was a pristine restored/maintained 1950s (I forget which year exactly) Hudson Hornet. This is the only picture I took of it, before I caught sight of the car that I fell in love with..
1950s Hudson Hornet.
This one stole my heart, and monopolized all my attention as I crushed on it massively. This is a 1932 Packard 8 in exquisite condition. A 1932! Can you imagine that? This car is 83 years old. My parents weren't even born in 1932!
The attention to detail that went into both of these cars, and this one in particular is mind blowing. There hasn't been a mirror more polished..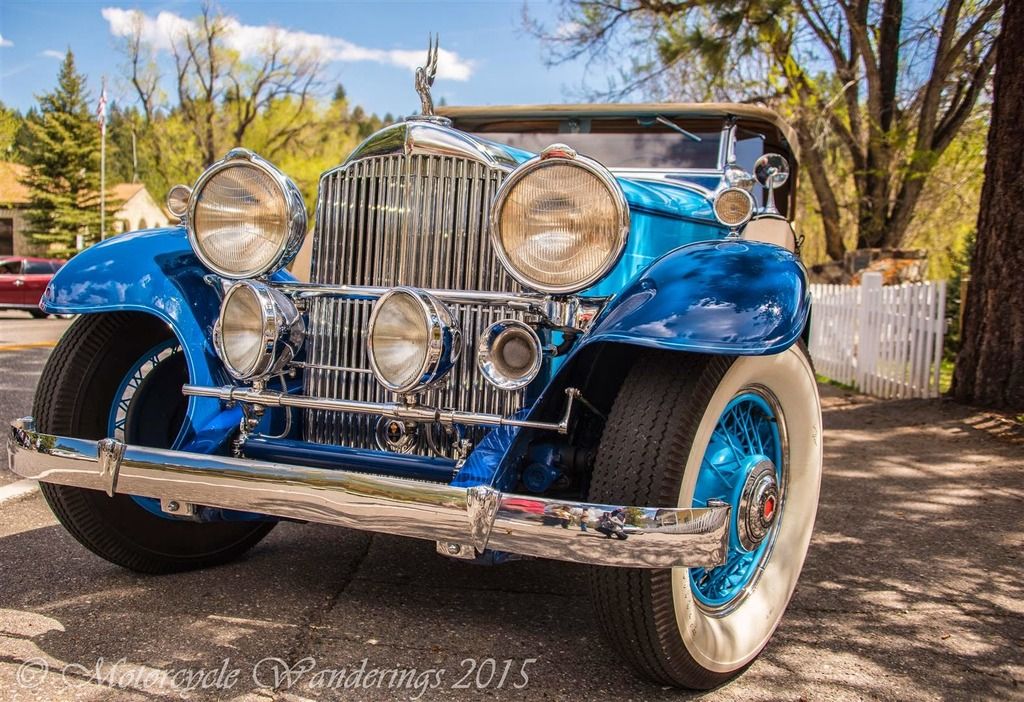 A 1932 Packard 8.
A big engine to serenade you with it's symphony, to rumble and reverberate in your heart, and to put an ear to ear grin on your face. Size has always mattered!
Size Matters.
Swiveling headlights. Eat your heart out unreliable Mercedes/BMWs of this world. A simple mechanical solution to see where you are going..
Swiveling headlights.
This is no ugly duckling. It's an impeccable swan song of perfection lost..
Packard's Swan Song.
I am still getting used to my new camera and messed up the framing of this shot. This car is a haunting throwback to when Detroit was...Detroit!!
Packard Motor Car Co. Detroit, Mich. U.S.A.
Wouldn't you just love a ride in that? I know I would...Ohhh if money were no object..and if wishes were horses, then beggars would ride..
If wishes were horses..
Thank you for coveting along with me, and thank you for reading! :)