Picking up from where I had left off in Part 1 (clickable link).
If you haven't read part 1 yet, please click on the link and read that first. :)
Also, fair warning. Part 2 is even longer than Part 1. I had a request from a reader, asking me to make Part 2 as long as I wanted to. Request granted. :D
As voiced in Part 1 - Brian and I were having a disagreement with our riding styles. The ride plan now in effect was that Brian leads and we curtail our picture stops. I still have route suggestions and we attempt to strike compromises on the routes. Brian just wants to get to Albuquerque, he has his tall blonde 'girlfriend' to look forward to there, and to lighting up cigars and telling tall tales in the IBR parking lot with all his IBA buddies. He lives for moments like these, and I don't blame him. They are all very lovely people, some of the best that I have come to know, but we will be there all weekend long, and I am in no hurry to get there right away.
Brian wants to take the most direct and efficient route there. As you would, perhaps, if you were in a competitive rally. Why dilly-dally, when there are points to be accumulated, and points per mile statistics to stack in your favor.
I am on the other side of the spectrum, for me the journey is the destination. I want to enjoy the journey, and linger, and soak up as much as I can. The destination is secondary and it can wait.
I also wonder if "Been there, done that, got the T-shirt" has a role to play here. In his 57+ years on this earth, Brian has criss-crossed the country many times over. I on the other hand, have not enjoyed these vistas as often as I would like to, I still marvel at the sights, they still take my breath away, I still want to sit and stare at them. Will I still do that 20 years from now? Oh God - I sure hope so!
To his credit, Brian is taking what scenic route we are taking, and the resultant torture - for me. If it weren't for me, he would have run across I-40 to Albuquerque, interstate freeway riding is his thing anyway. For all intents and purposes, for him, he is dragging an anchor, and I am holding him back.
Crossing into Colorado from Utah, we route on CO Hwy 141 to Hwy 62. Hwy 141 is in the rain shadow and a high desert at the start, a fun twisty ride in the beginning, eventually giving way to valleys and high farm country. Not quite as scenic as Hwy 145 through the San Juan Mountains and Telluride, but then again, not as busy either, and Hwy 141 is the most direct route to Ouray. It's obvious I am not the one routing today, if I was riding by myself, I would have taken the longer but more scenic route. Riding separately is unmistakably the solution, but it isn't happening just yet.
My first view in almost 5 years, of the rugged and jagged peaks of the San Juan Mountains looms ahead. Brian is in no mood to stop, but I am, and I am not letting it pass by. I wouldn't do this on a remote back road, but we are on thoroughfare highways, if we get separated, we can pull over and wait for the other, or just link up with each other along the way. We both have SPOT and GPS devices and we know exactly where we are going.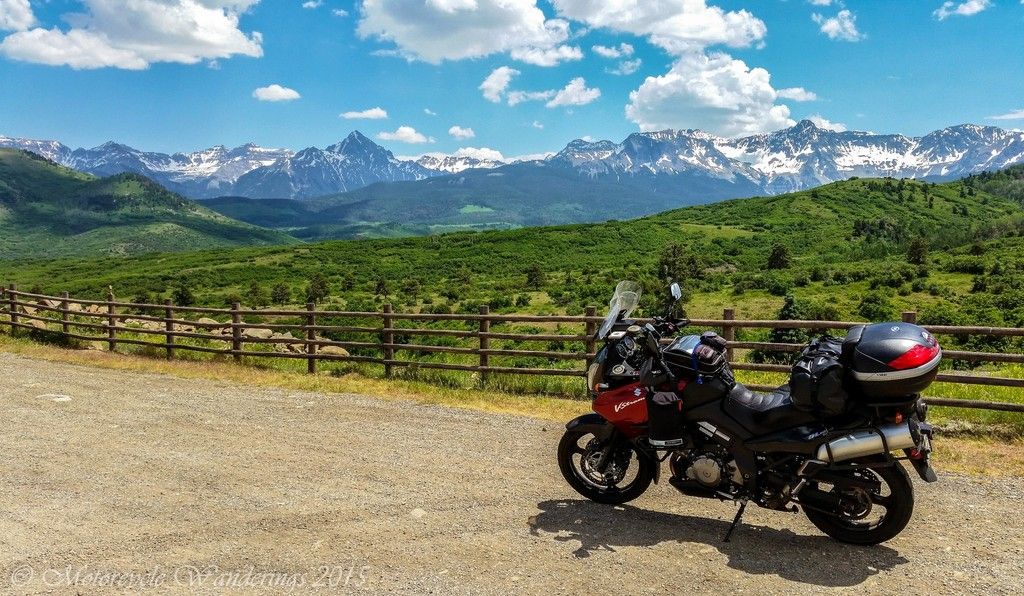 San Juan Mountains from CO Hwy62.
The San Juan Mountains are the largest mountain range in the Rocky Mountains, covering over 12,000 sq. miles and spanning the continental divide with more than a hundred volcanic peaks over 13,000 feet, thirteen of which rise over 14,000 feet. These peaks are considered the harshest and the most perilous mountain peaks in the Colorado Rockies.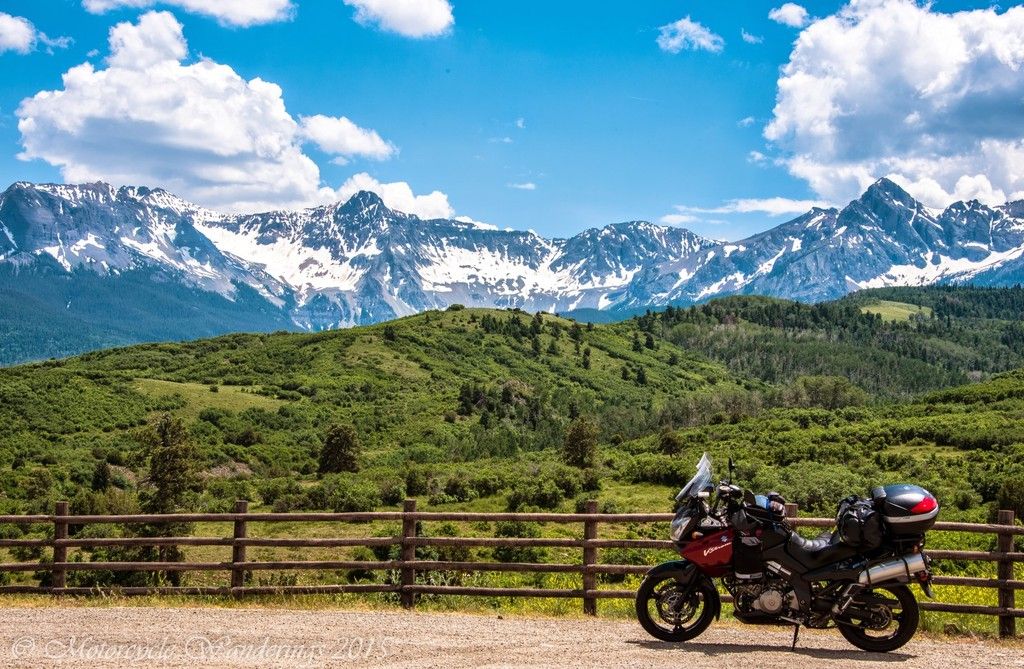 San Juan Mountains in Colorado.
Ouray, a small town nestled in the rugged San Juan Mountains at roughly 7800 feet was our gas and rest break stop. An old silver and gold mining town, it was established in 1875. Almost all of downtown Ouray is registered as a National Historic District. We don't have time to stop and explore the town, so we just ride through. Great mountains and great views surround the residents and the visitors to this mountain town.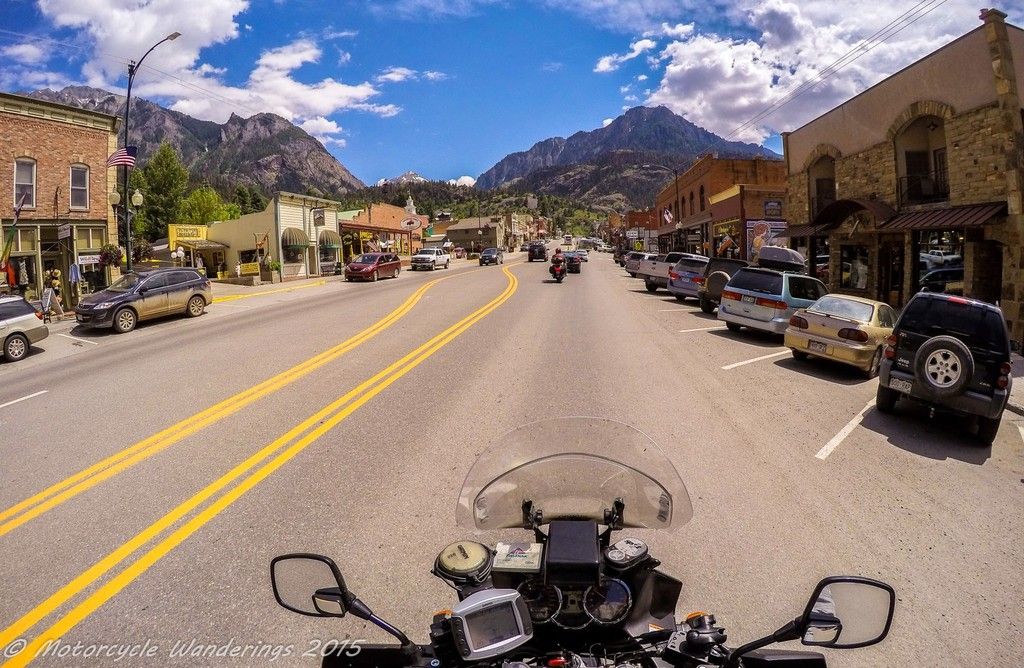 Ouray, Colorado
.. or one can live up in the mountains and enjoy a view of the scattered gems in the valley, when the town lights up at night. I know the pictures suck, it's the whole not stopping for pictures thing..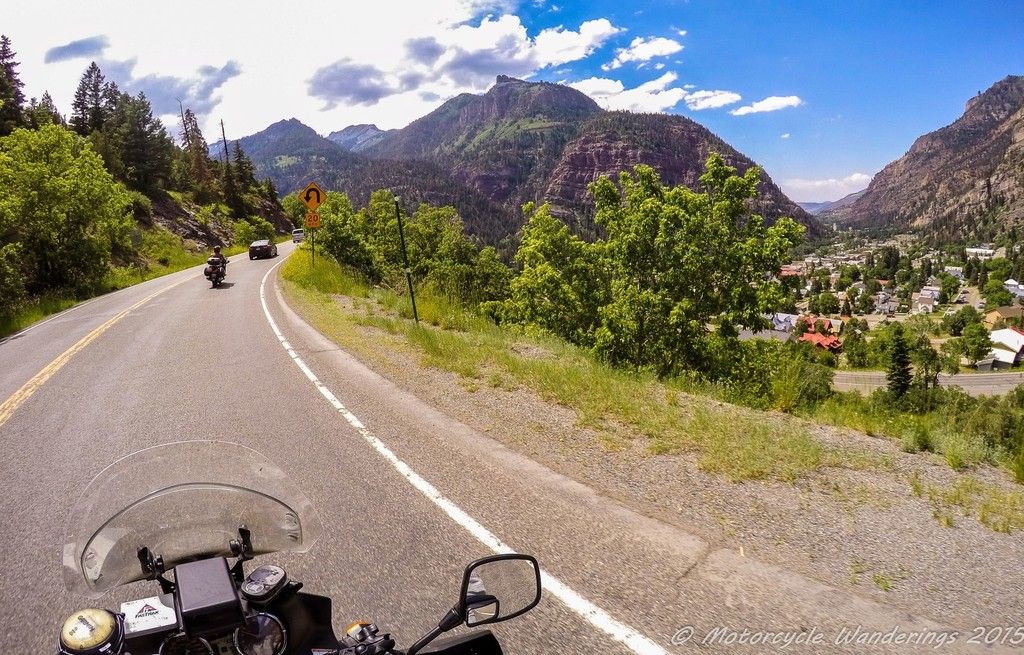 Looking down at Ouray, Colorado.
Ouray marks the beginning of the Million Dollar Highway. The origins of the name are disputed. Some think that the entire stretch of US Hwy 550 between Ouray and Durango is the Million Dollar Highway, but in reality it is only the 12 mile stretch from Ouray to the Red Mountain Pass which gives the highway it's name. This stretch of the highway is marked by hairpin turns, precipitous cliffs, narrow lanes, and lack of guardrails, but it's not much of an issue if you know how to drive or ride.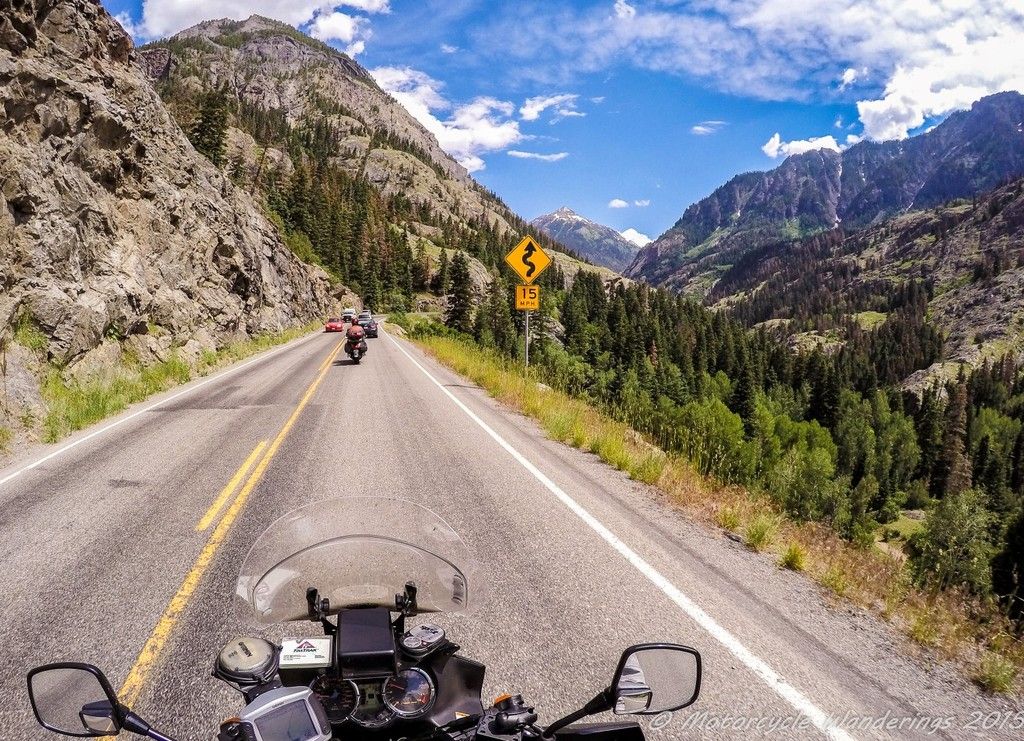 US Hwy 550, Mt. Abrams in the the distance.
For some reason, riding this highway didn't make me the slightest bit nervous, quite unlike the feeling when riding the top of the ridge (called a Hogback) on the Escalante Grand Staircase. The views nevertheless, are breathtaking!
Mt. Abrams, US Hwy 550.
Soon the highway starts to coil it's way up to the pass, beginning the climb till it tops off at 11,000 feet at Red Mountain Pass.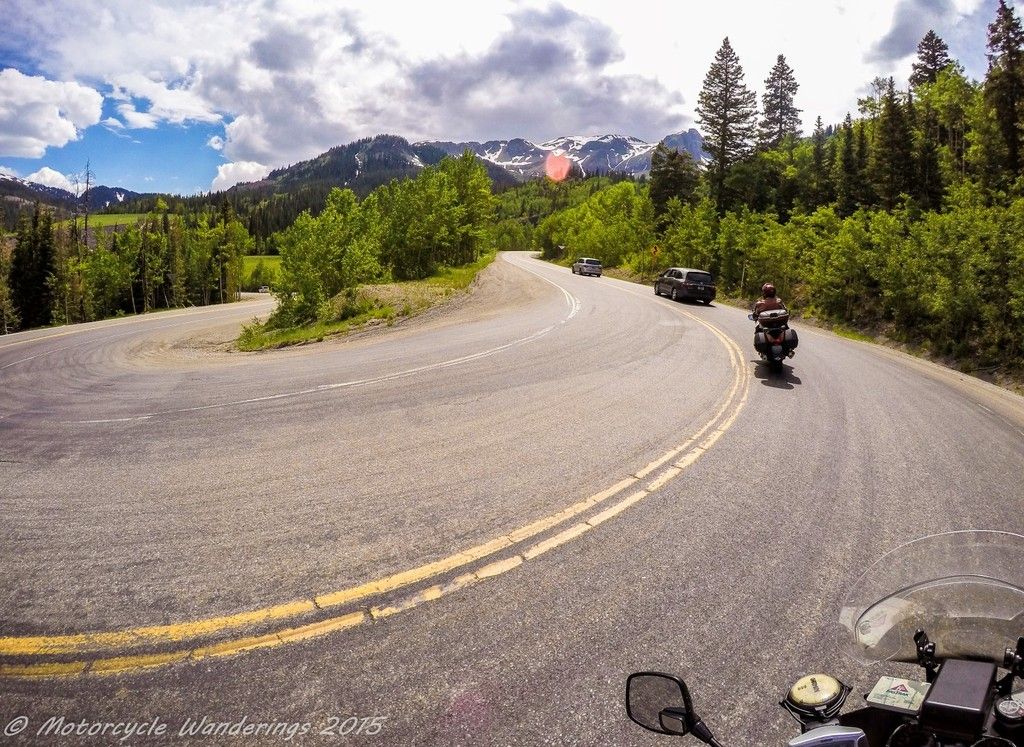 Tightly coiled, Million Dollar Highway.
It wouldn't surprise anyone where the pass gets it's name from. Red Mountain completely commands the scene, appearing and disappearing from view as you maneuver the switchbacks, and every time it appears, it tempts your gaze and draws it in. It would bode you well not to give in too much to that temptation. I keep my eyes on the road.
Red Mountain, Million Dollar Highway.
Remnants of old mines line the highway. As we ascend, my camera captures what I believe are some of the ramshackle structures of the Idarado gold mine. Several tunnels have been bored into the mountains by the miners. Some extend 5 miles into the mountains, and appear on the other side near Telluride. As the crow flies, Telluride is only 5 miles away on the other side of these mountains, a trip which would take 60 miles by highway.
Abandoned Idarado Mines, Million Dollar Highway.
Brian finally relents and grants a picture stop. The snow melt is in full swing, evident by the verve of the gushing, burbling, streams of alabaster.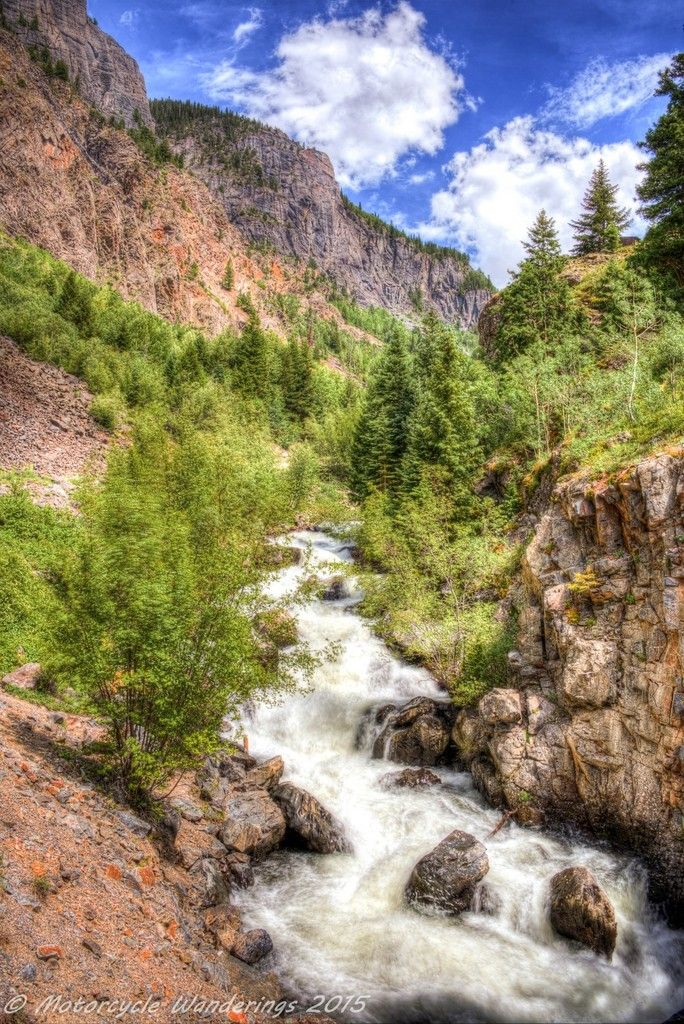 Burbling, surging brooks. Million Dollar Highway.
It's a slow grind to the top, stuck behind cars as Red Mountain Pass apexes at 11,000 feet. We finally break free from those moors, but it lasts only a little while before we catch up to the batch up ahead.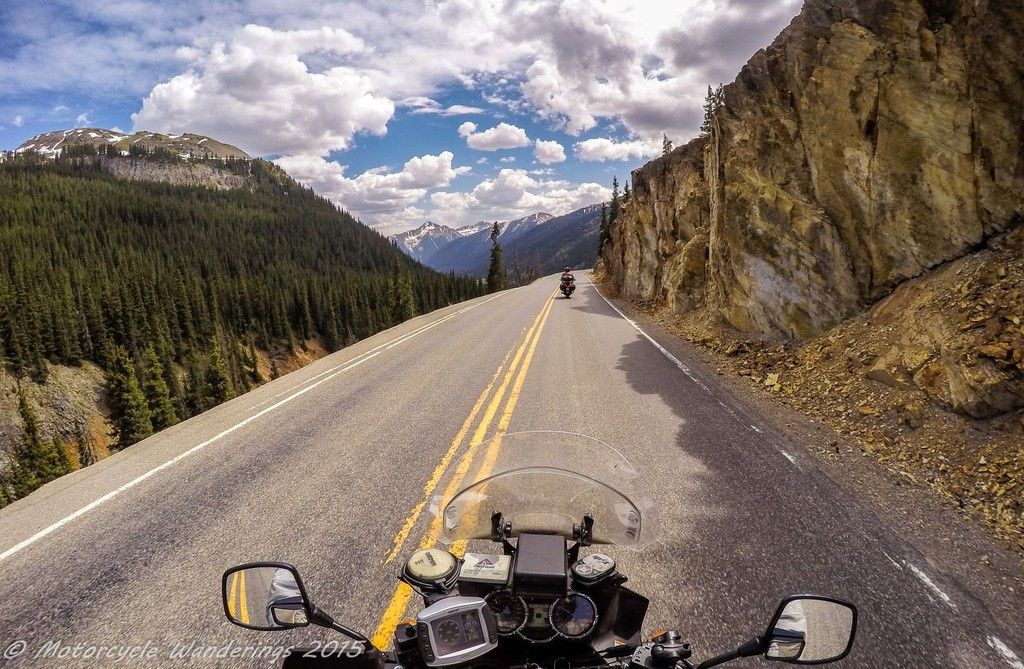 Summitting Red Mountain Pass.
We are still in the San Juan Mountains. Having crested Red Mountain Pass, we are heading towards Silverton and Molas Pass next.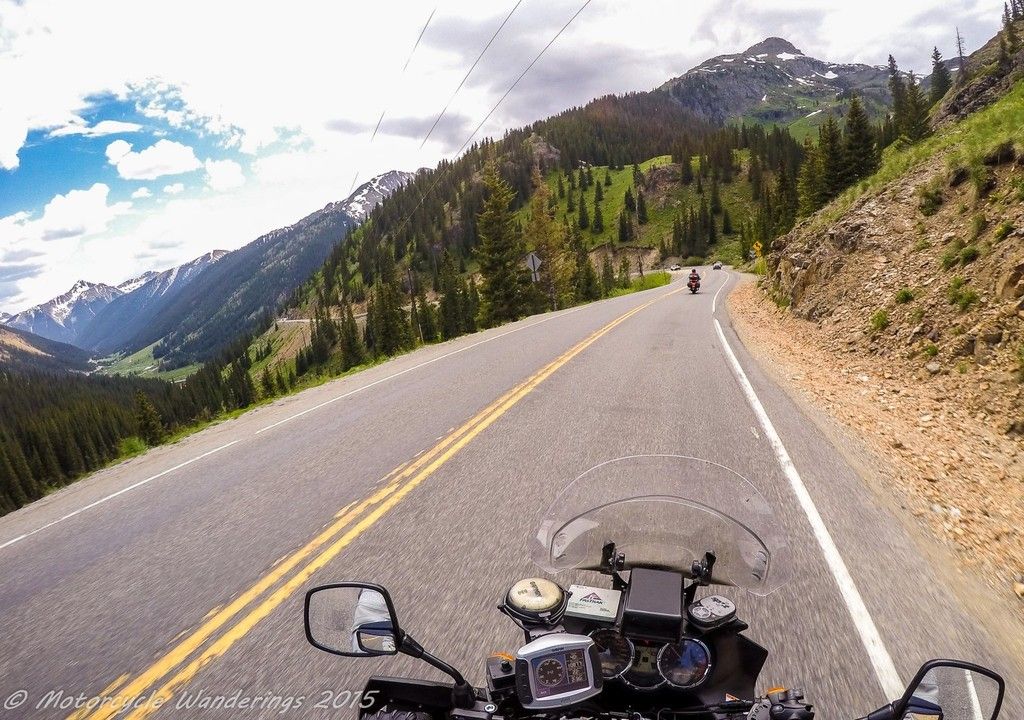 Glacier carved peaks and Silverton in the distance.
Glacier carved peaks emerge at every bend of the road. I haven't researched them, but some might still be glaciers, or may have been in the recent past? One of my favorite >14,000 feet peak - Mt. Shasta has glaciers, and they are still growing, how about the Rockies?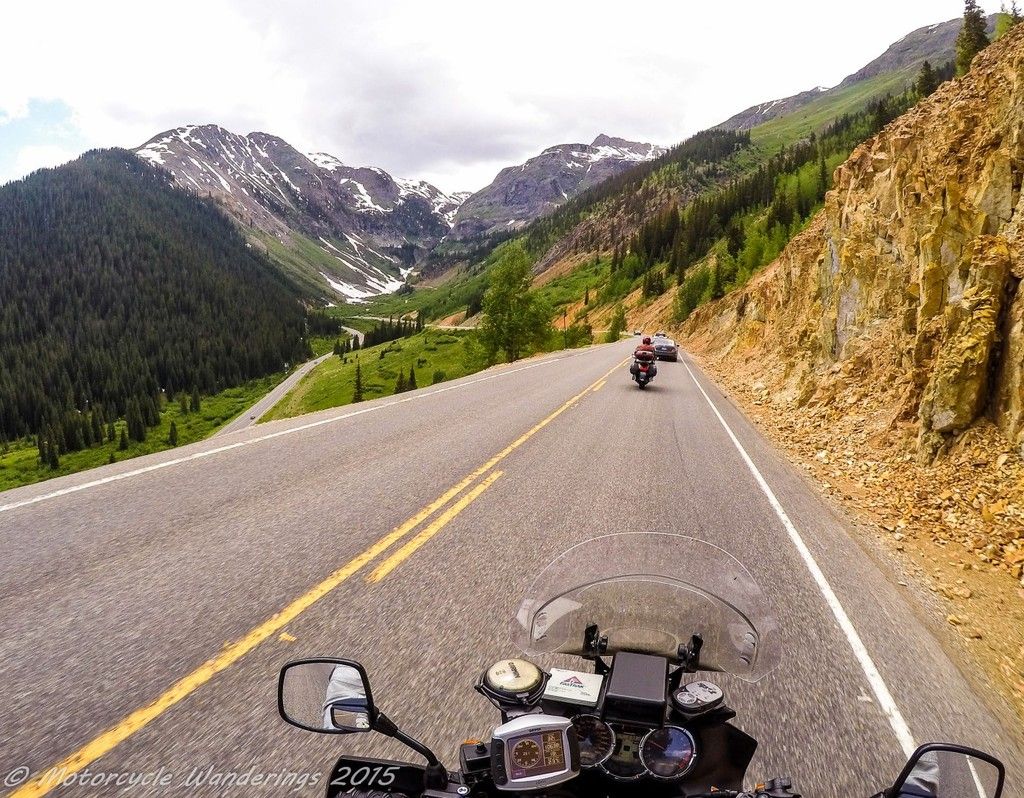 A ribbon of asphalt and a .. glacier? :)
That looks like it could be (or what remains of) a glacier. There is a pull out right in front of it, why aren't we stopping - Brian? :)
Looks like it could be a glacier .. it is whatever you imagine it to be!
Molas pass is south of Silverton, the ride up to this pass is nowhere near as challenging as Red Mountain Pass (which wasn't as bad as people make it out to be), it is a very easy climb on the highway. An interesting bit of trivia - this pass is the crowning point of the Iron Horse Bicycle Classic race between bicycle riders and the train which connects Durango to Silverton. Very intriguing indeed!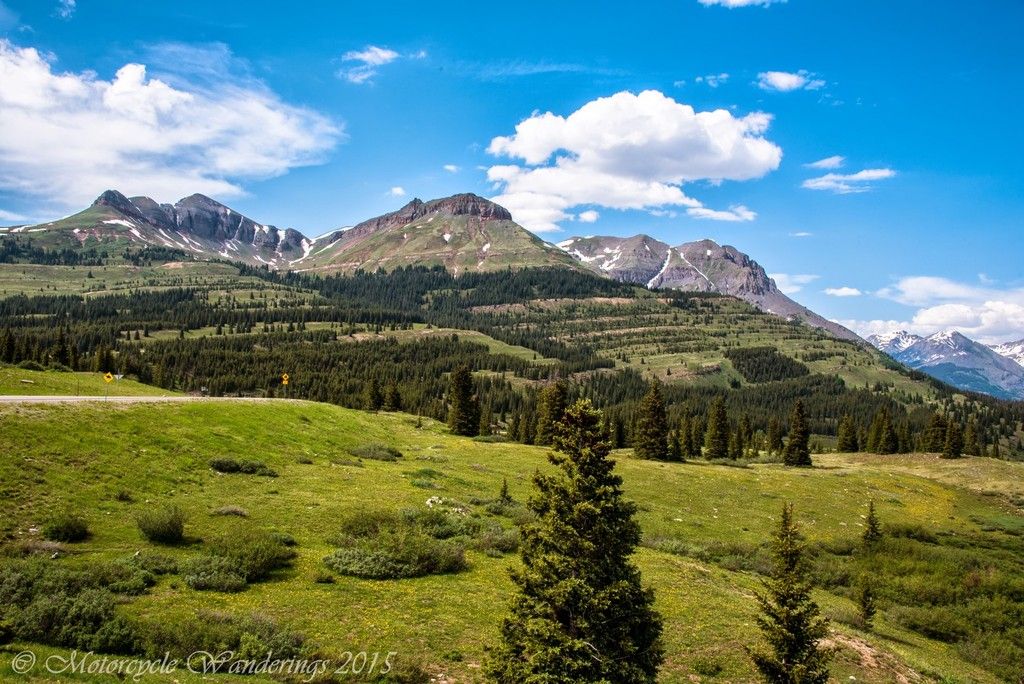 Molas pass, US Hwy 550.
At the top of Molas Pass there is an overlook and well appointed signs directing you to it's approach. I can see Brian looking at the signs, he even turns his head to take a peek as he passes the overlook but keeps going. Your loss Brian, I am pulling over.
Denuded, snow covered peaks and alpine lakes surround you, how can one just pass this by? Brian would later recount that this highway is nothing new to him, he rode it last time in the middle of the night, dodging deer. Uh huh, I reiterate, your loss Brian.. ;)
Molas Pass, US Hwy 550.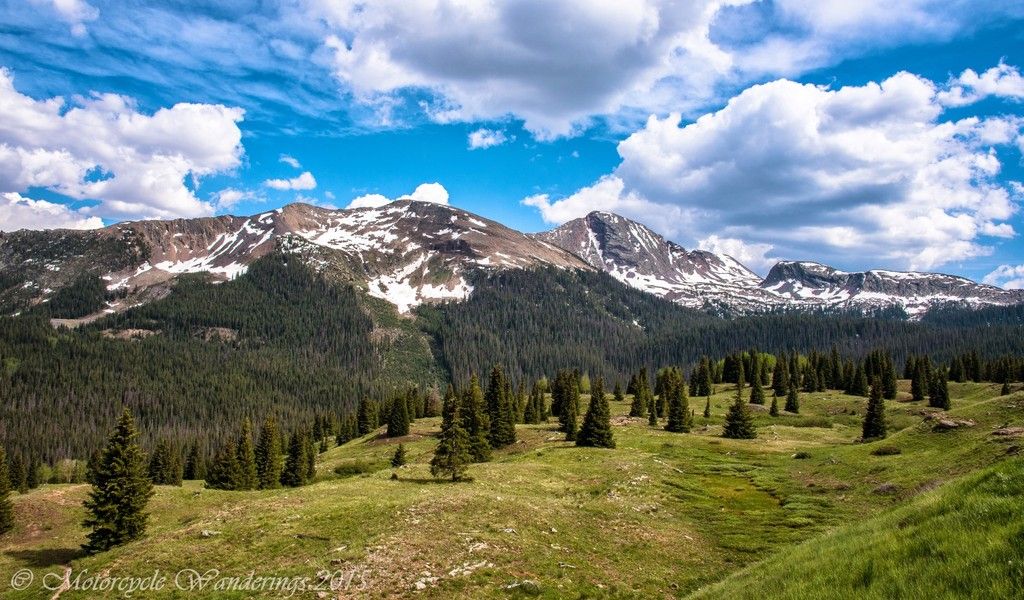 Molas Pass, US Hwy 550.
Soon after leaving Molas Pass, I link up with Brian again, he had found a large pull-out and was hanging out in the shade smoking a cigar. I hopped off the bike and we hung out for a bit - he recited how after I split, some cars in front of him spotted a herd of mountain goats, and how everyone slammed on their brakes to stop and take pictures of the goats. Sounds very much like what happens on the 'Going to the Sun Road' in Montana. He declares I should have been there, but maybe it's good that I wasn't. Sorry Barry, no goat pictures for you! :)
410 miles on the odometer for the day, our stop for the night is Durango. We find a hotel on the outskirts of town, so we can make a quick exit the next morning. It's a nice enough establishment, with split bedrooms so we can both enjoy some privacy and have ample room to stow our gear. Our bikes are parked right in front of the door, where we like them to be. We can hang out in the verandah and Brian can smoke his cigars, while we talk, snack and hydrate (non-alcoholic) before turning in. As much trouble as we have been having getting along on the bikes and on the road, it's a completely different story when off the bikes and just hanging out. Brian is a very good friend, and I really enjoy his company when regrouping after the day's ride. This really is the solution to our riding problems. We can start the day riding out together, knowing what our destination town is for the day. If we get split up along the way, and the other doesn't want to wait, we can always regroup at the end of the day. That would work perfectly.
We have only half a day's ride the next day, so we aren't too worried about getting a start before the sun rises. The most direct way is US Hwy 550 to Albuquerque, but we route east on US Hwy 160 first. Even stopping for breakfast in Bayfield, CO. Yup. We are in no hurry at all.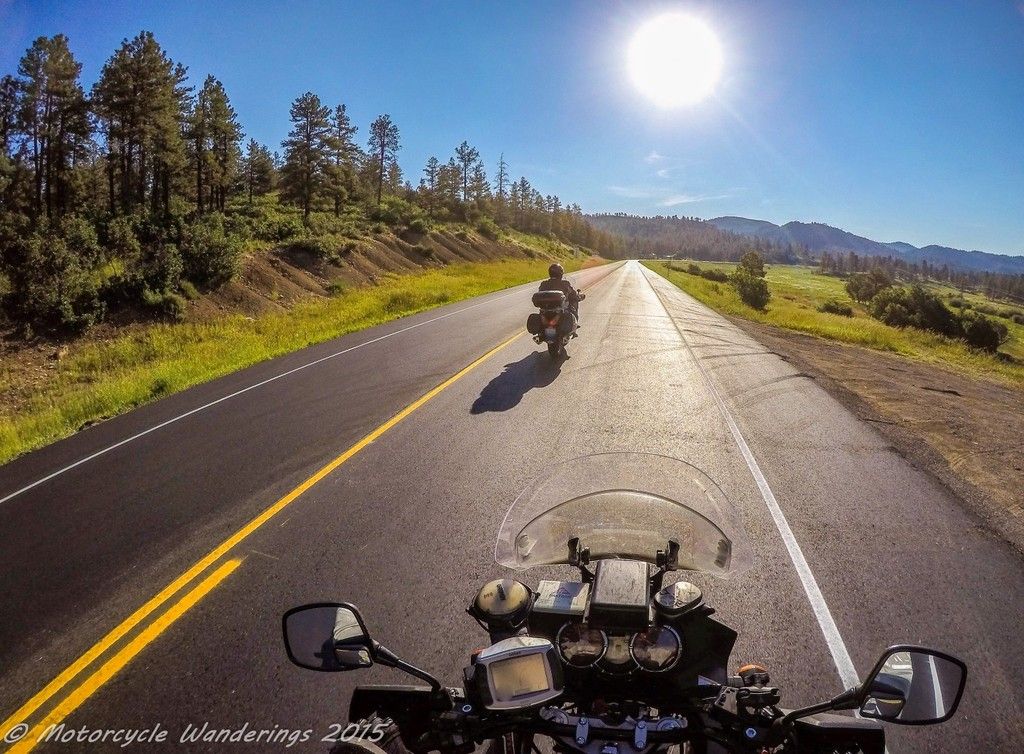 Off to find Breakfast, US Hwy 160.
Then routing south to New Mexico on US Hwy 84, it is a fun highway, way more fun than the 4 lane wide, almost inter-state freeway like feel of US Hwy 550 south from Durango.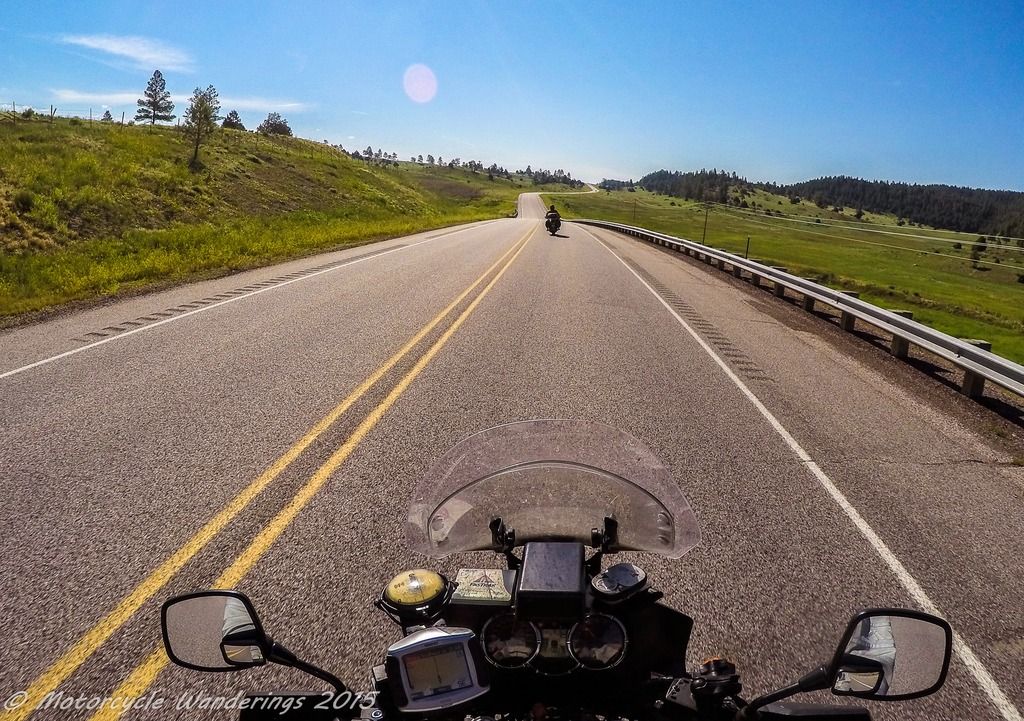 US Hwy 84.
It is in Tierra Amarillo that I spy what looks like a fantastic road heading further east (US Hwy 64). South is where we are supposed to be heading, not East, but that highway looks too good to pass up, it's not like I would be back here in New Mexico anytime soon. I want to go there, Brian wants to continue going South, and this is where we split up. Brian is not a happy camper at all, and for good reason. He came this way for me, instead of taking Hwy 550 directly into ABQ. I feel guilty, but I am still going to be heading East. Brian says that I have taught him a lesson about me, that I will do whatever it is that I want to do, and he maybe right. Brian continues South, I head East.
Riding the roller coaster of Hwy 64 in New Mexico.
Hwy 64 is a great ride, and has excellent sight lines to haul ass, but it is also an open range, so just be careful. I did spot a couple of cows grazing off the highway, but the long sight lines mean that I saw them well in advance.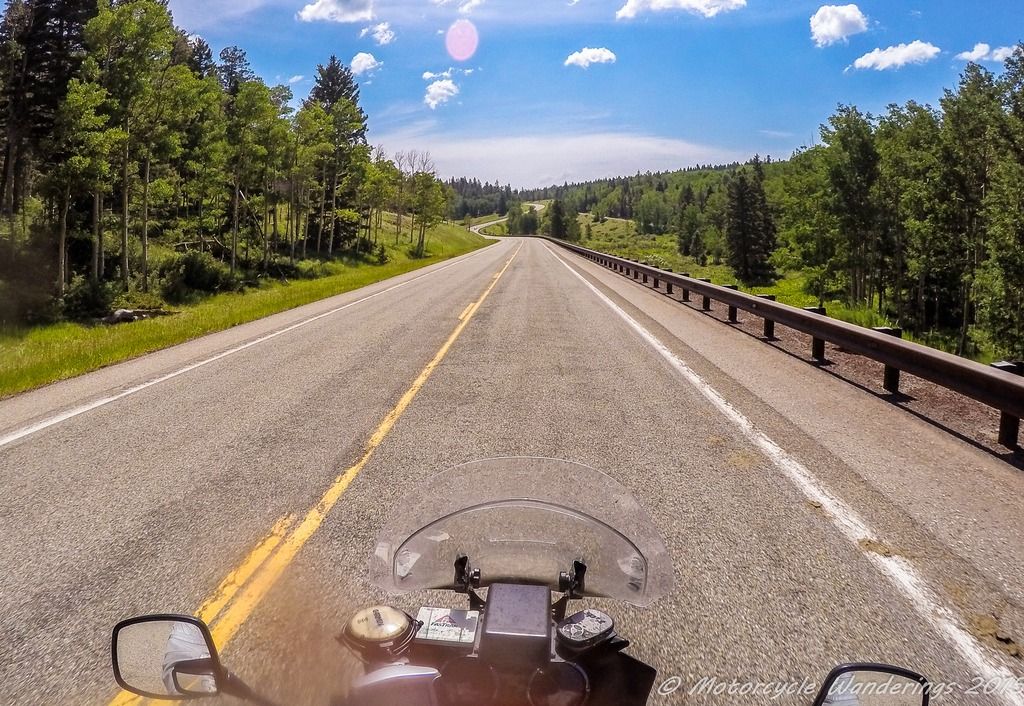 US Hwy 64, New Mexico
It was also much cooler up here, it would soon be time to drop back down to the heat, but for now I was enjoying the much cooler temperatures, whilst also enjoying a smoking ride on this highway.
A smoking ride, US Hwy 64, New Mexico.
One good thing about riding with Brian is that he does keep me out of trouble. In my attempts to find another fun New Mexico highway (Hwy 4), my GPS gets me lost and leads me right into the gates to Los Alamos National Laboratory, with a camera mounted on top of my helmet..Ack!!
You know of the laboratory I am talking about. Don't you? Heard of the Manhattan Project? The Trinity test? Yup. That Los Alamos National Laboratory..
Trinity Test, circa 1945.
There is no way to turn around once you are at the entrance to the laboratory, so I ride up to the security gates, show them my identification, and explain that my GPS has me lost and I am just trying to get to Hwy 4 (a popular highway among motorcyclists). I do believe that the public can tour the laboratory these days, but definitely not with a camera mounted on their helmet. I assure them that the camera is turned off, and if I can just turn around and go back, I will try to find my way without having to go through the Lab. The guards discuss this among themselves for a few minutes, before one of them comes out with directions on how I can get to Hwy 4, he tells me to just go on and ride through the laboratory. Hmm, I sure hope I didn't end up on any watch lists. I am a model citizen, I really am! :-/
340 miles in the day later, I eventually wander my way into Albuquerque. Brian is already in the parking lot hanging out and holding court in his LD comforts. We are both here to spectate and be volunteer staff for the start of the 2015 Iron Butt Rally.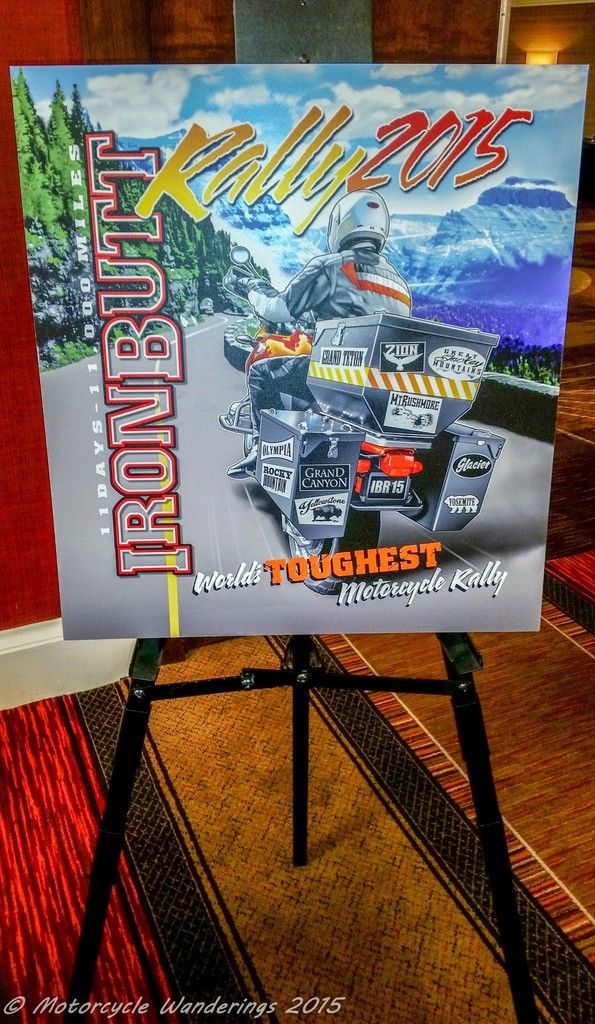 IBR 2015, National Park theme.
There won't be any riding on Saturday and Sunday, Brian and I are volunteered for technical inspection duty, inspecting the paperwork and bikes of IBR riders - to make sure that they conform to safety checks and IBR rules and regulations. The IBR/IBA is operated like a corporation, probably because it is a corporation, and just like any tech company protecting it's trade secrets, the running of the IBR is strictly need to know basis, for many reasons, which probably make sense, but I won't go into here, also because it doesn't really matter. There is the inner circle of IBR staff, and then there is the rest - basically the volunteer staff. We are the latter. Nonetheless, is good to be here and get to see some friends and volunteer to help others.
There is unpredictable weather in ABQ. It is well known that the IBR rally staff intentionally stages this competitive rally to coincide with some of the worst and unpredictable weather patterns in the country. One such storm cell hits us Sunday night, Brian and I are out to dinner at a nearby restaurant - Bonefish Grill (Great food, if you ever get the chance to try them out - you won't regret it! ), we step outside after dinner and the skies open up, the rain is so heavy that we run into the nearby mall. Even inside the mall, the rain is battering on the glass roof, loudly, making such a racket that it feels like it intends to break through the glass! Soon, the entrances to the mall are starting to flood, it seems like we will be here for a while, so we explore the mall till we find a massage place and book ourselves in for a nice 45 minute massage - enough time for the storm cell to pass. Mmm Heaven! :)
A nice soaker to set the trend for the rest of the rally. The IBR juju is in full effect. I am smiling now .. just wait .. :)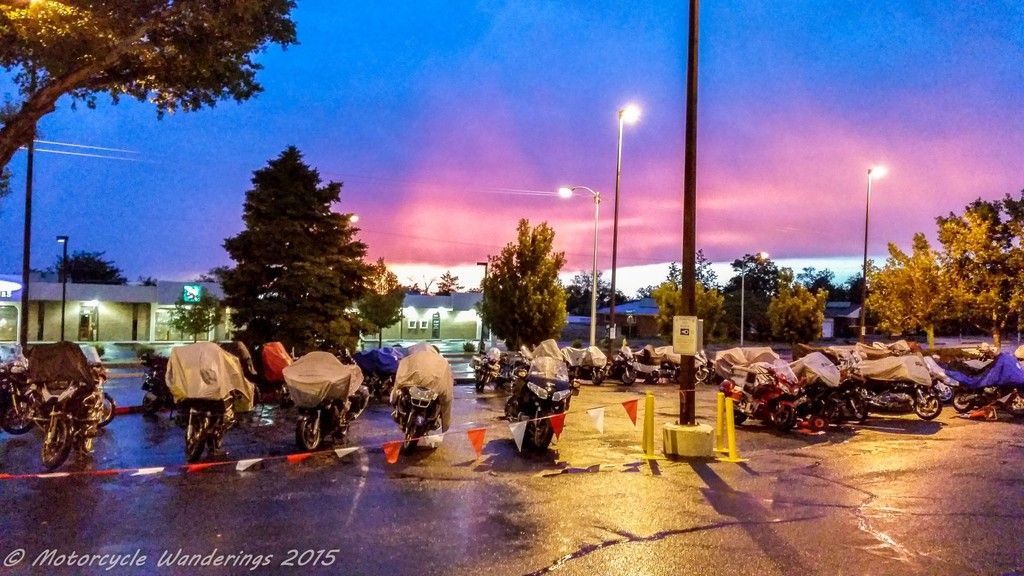 Anyone order a bike wash? With a side of electrical problems?
The 2015 IBR started bright and early at 10AM on Monday morning. This isn't a sprint, it isn't even a marathon, which is technically still a race. They are not racists, they are rallyists! Haha! This is a competitive rally, akin to an Easter egg hunt on steroids. Lots and lots of steroids. It will run for 11 contiguous, grueling days. If successful in the end, at the minimum, you get bragging rights and a 3 digit IBA number. Hmmm ... I have been asked, if I will ever do one of these things. No disrespect, on the contrary, I have a lot of respect for anyone willing and able to endure this, but no thank you. I do not find this fun, life is short enough, and I get my jollies off elsewhere. :)
Brian's blonde 'girlfriend'. I will let you figure out who it is.
There was even a local police escort to guide the riders out in one big procession at the start. They must have heard about, or had previous exposure to the World's toughest riders and their kind, as they came fully prepared and armed to the teeth.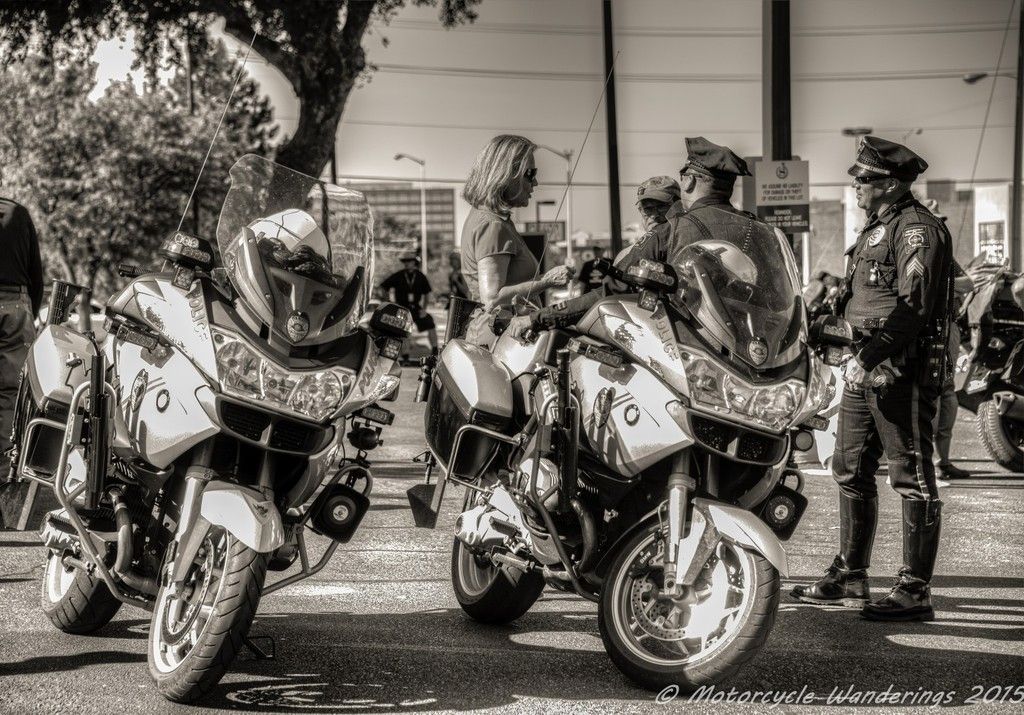 Local L.E. bringing out the big guns.
Soon, it's time, and the riders start streaming out the gate. The 2015 IBR has officially begun. A lot of riders on BMW motorcycles, followed closely in number by riders on Yamaha FJR1300s, and one who like me had chosen to park his FJR in the garage, and ride his 'other' bike instead.
Chris Purney on his 'other' bike.
Unlike some of the IBR volunteer staff, Brian and I were riding home, and were on the road not long after the IBR riders had left. We were riding separately. Brian had an issue with his dog sitter, and need to get back home the next day. This meant slabbing it across NM, AZ, and into NV. Not something I wanted to do. I was going to take the more leisurely route back into Colorado, before turning west. I was planning to arrive home a day after he did. It was noon, as we bid our adieus, and went our separate routes.
I had 300 miles to cover in a little over 5 hours of riding. Accounting for stops, there would be an extra hour on the road to tack on to that. These were going to be hard, twisty miles, not straight shots on the freeway, where you can just sit there and twist that. I wanted to be at my stopping point in the Colorado mountains well before dark. Although, it wouldn't really get dark till about 8:30PM, I am wary of the forest rodents (deer), and 6PM or thereabouts was my cut off time.
If there is one thing that competitive rallies teach you, it is time management, and knowing what to do to keep on schedule, and juggle and tweak what needs to be adjusted so you can continue being on schedule. Even though competitive rallies are not my 'bag', I have run them in the past and have had moderate success at podium finishes, coached by none other than Brian. He has taught me well, I know what to do, and when to do it, and do it more or less - safely.
This will set the trend for today and the next 2 days. A lot of hard riding in the back country, but not a lot of stopping. I was switching gears. If Brian wasn't running back to his dog, he might even have approved, or enjoyed the return trip.
I was routing back to Colorado, on NM Hwy 4, followed by NM Hwy 126, catching NM Hwy 112 back to US Hwy 84 into Pagosa Springs, and then head east on US Hwy 160 to South Fork. My stop for the night.
Little did I know, Hwy 126 was only partially paved. Oh the fun adventures of routing on the fly .. it wasn't as bad as I imagined it might be, besides I brought the right bike for the occasion. Nevertheless, this was going to ruin my batting average..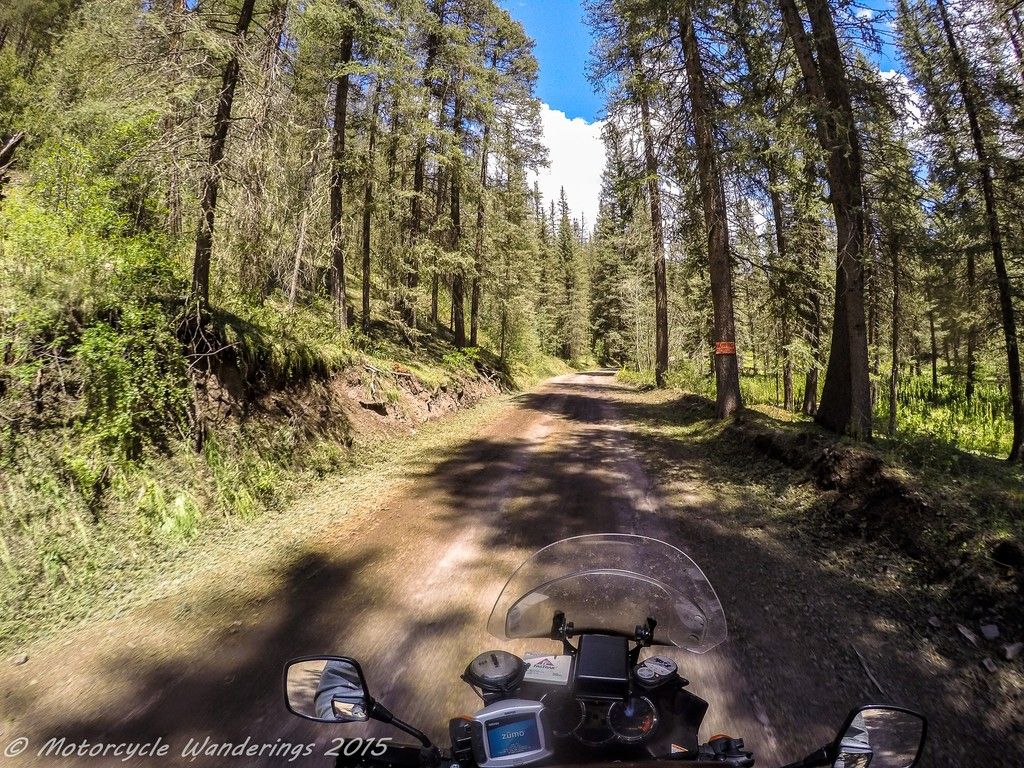 NM Hwy 126.
This is what counts as a highway in NM? :)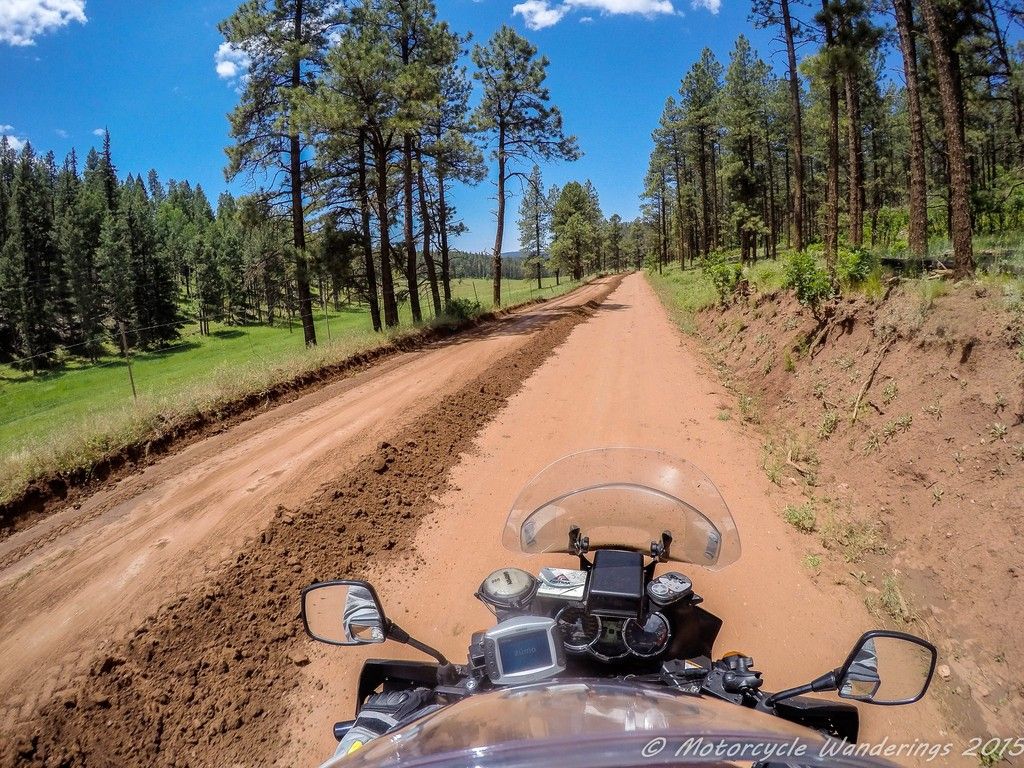 A little better. NM Hwy 126.
Hwy 126 did slow me down a little, but I still made it to South Fork almost in time. It is the tiniest of mountain towns, but I was able to find comfortable lodging. This place called itself a bed and breakfast, and it was a far cry from any B&B I have stayed in, yet given the town I was in, it was comfortable enough. There was a bar and restaurant within walking distance, in an old converted firehouse, and to my surprise there was even some pretty local scenery inside. Hmm, not bad, not bad at all.
A long day of high mountain riding was in store the next day. I got an early enough start, skipped the crappy breakfast and instead just grabbed some energy bars at the gas station on my way out of town. Hwy 149, and Spring Creek and Slumgullion Passes through the San Juan Mountains were first on the agenda.
Hwy 149 has some very enticing sweepers, and you can run very good speeds through them. Almost completely deserted, lots of fun can be had and some very good time can be made on this highway.
The Rio Grande runs alongside the highway for quite some ways, well past the town of Creede, before the river splits away westwards towards Shotgun Mountain.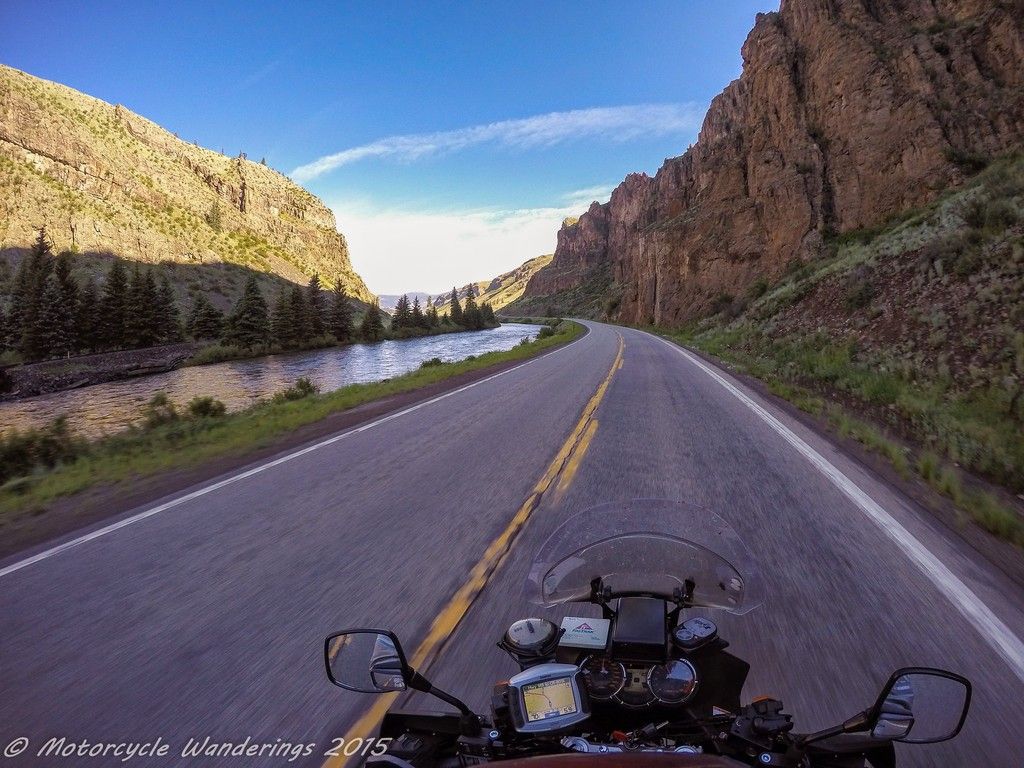 The Rio Grande, CO Hwy 149.
The highway in turn slinks away northward, as it starts to climb first to Spring Creek Pass and the Continental Divide at almost 10,900 feet. Affording you great views of the valley you just climbed out of.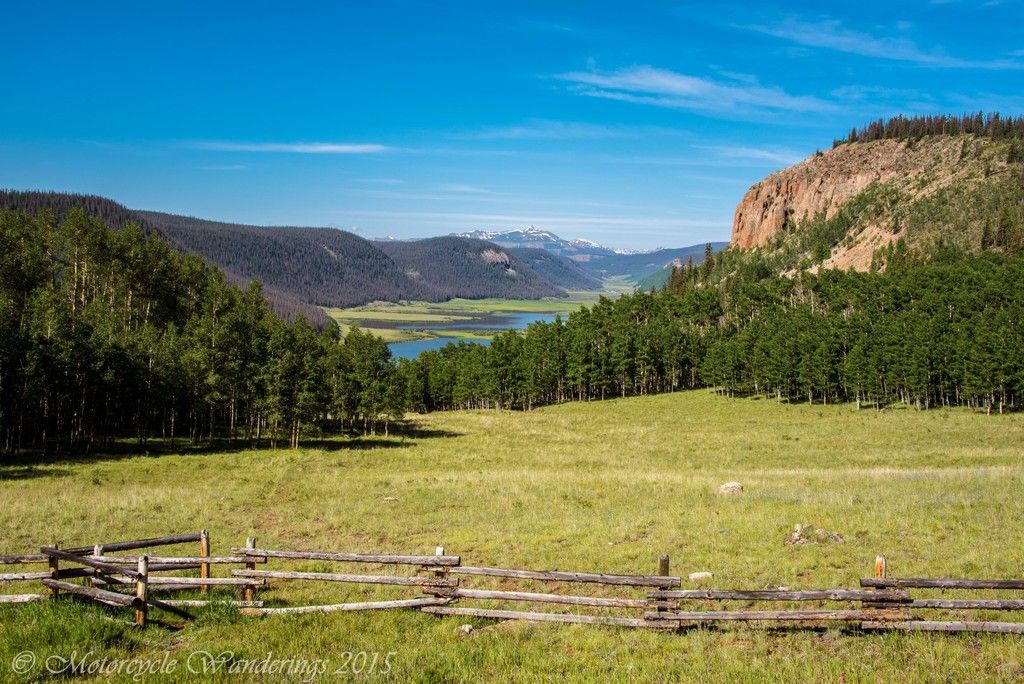 Not sure if that is Lake San Cristobal. I can't remember anymore.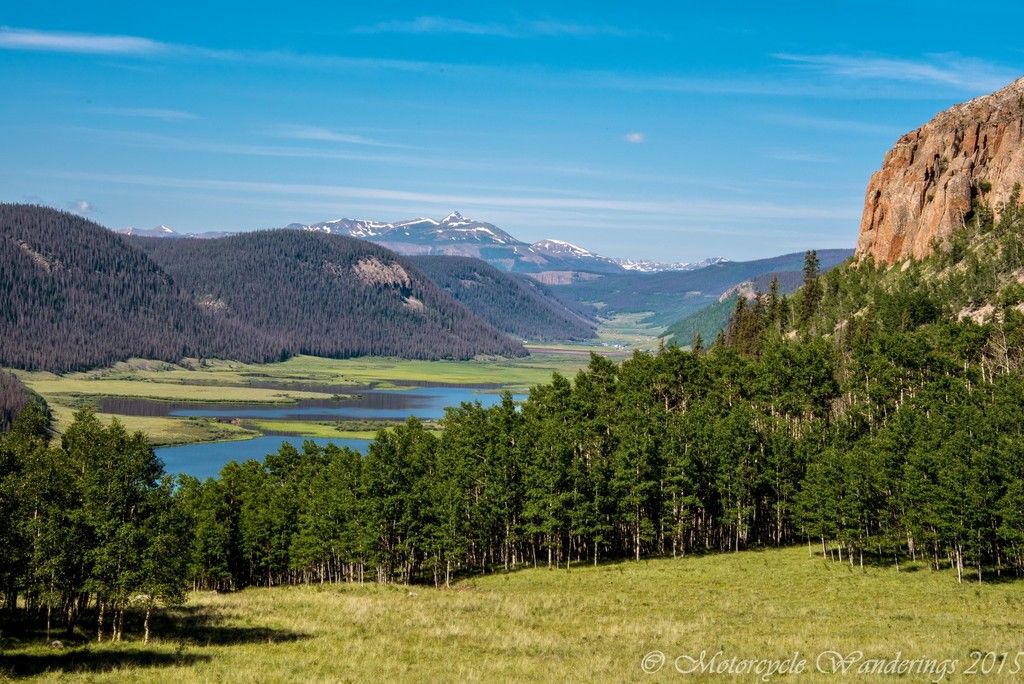 Probably not Lake San Cristobal
The road deteriorates almost immediately after Spring Creek Pass. It starts to climb even higher towards Slumgullion summit and pass.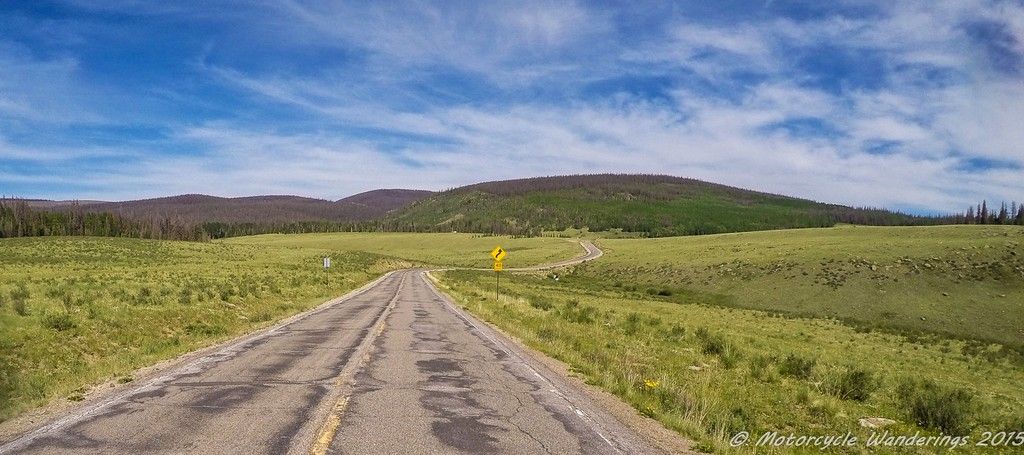 It's a different ecosystem at Slumgullion Summit. The pine trees give way to Aspens dancing in the wind. You are at over 11,500 feet at this point. Then you start descending on the other side, and your breath is knocked out of your lungs, as you encounter a behemoth standing in your way. Jutting out of it's surroundings, weathered and chiseled in the shape of a shark fin by wind and glaciers, standing before you is the highest peak in the San Juan Mountains - Uncompahgre peak at 14,308 feet. It's surrounded by other peaks, couple of which also break the 14,000 feet mark. Uncompahgre is the sixth highest peak in the Rocky mountains of Colorado, and the third highest peak I have seen with my own eyes, behind Mt. Whitney and Mt. Rainier. It is taller than my favorite mountain - Mt. Shasta.
Uncompahgre Peak and surrounding mountains from Slumgullion Pass.
There is a vista point, but it's hard to get a good picture from there, as it is now overgrown with Aspens which block your view.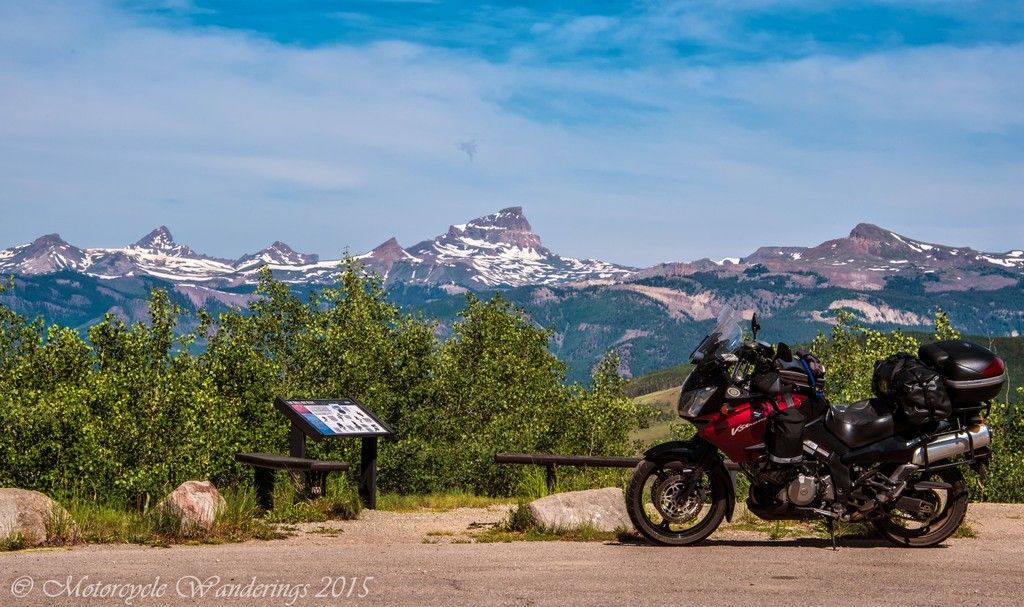 Uncompahgre peak vista point.
I make quick work of descending from Slumgullion Summit, and drop into Lake City, but I don't stop, I am still on a time table and I have yet miles to go ... what's happening to me?
Exiting from Hwy 149, I catch Hwy 50 to Gunnison and finally enjoy my first real meal of the day. Refreshed and recharged, I once again set out west, before almost immediately turning north on Hwy 92, fording the broad Gunnison river. You pass right over the Blue Mesa dam and powerhouse. It's worth the time to stop and take a look at the power house and the canyon.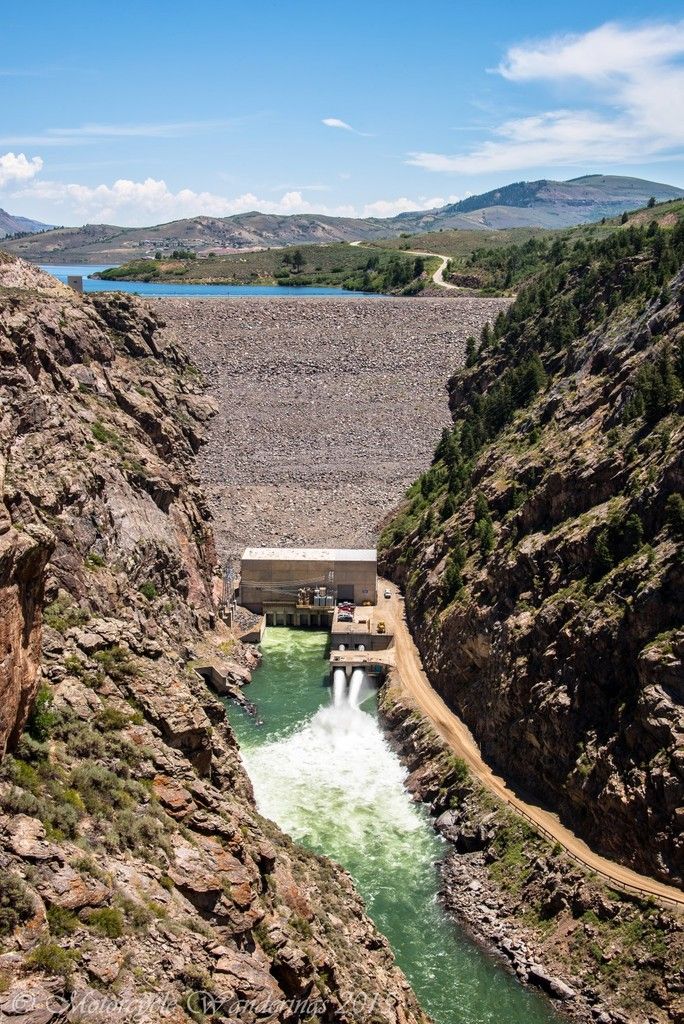 Blue Mesa Power House. Gunnison River.
What a wild ride Hwy 92 is - complete with sheer drops, breathtaking backdrops and those blind corners combined with sneaky decreasing radius turns. Fortunately I have been warned about those sneaky turns by my friend AJ, so when they do weasel up on me I am well prepared to handle them.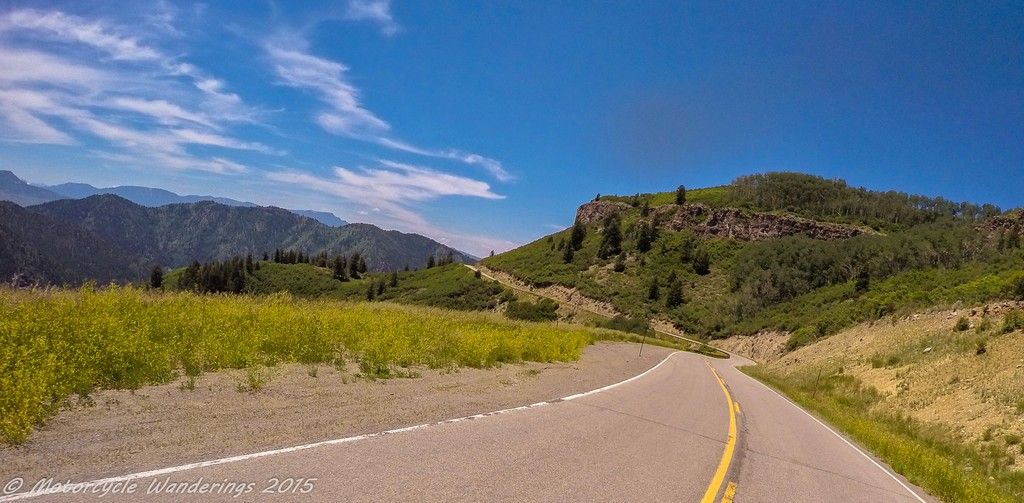 Hwy 92, Colorado.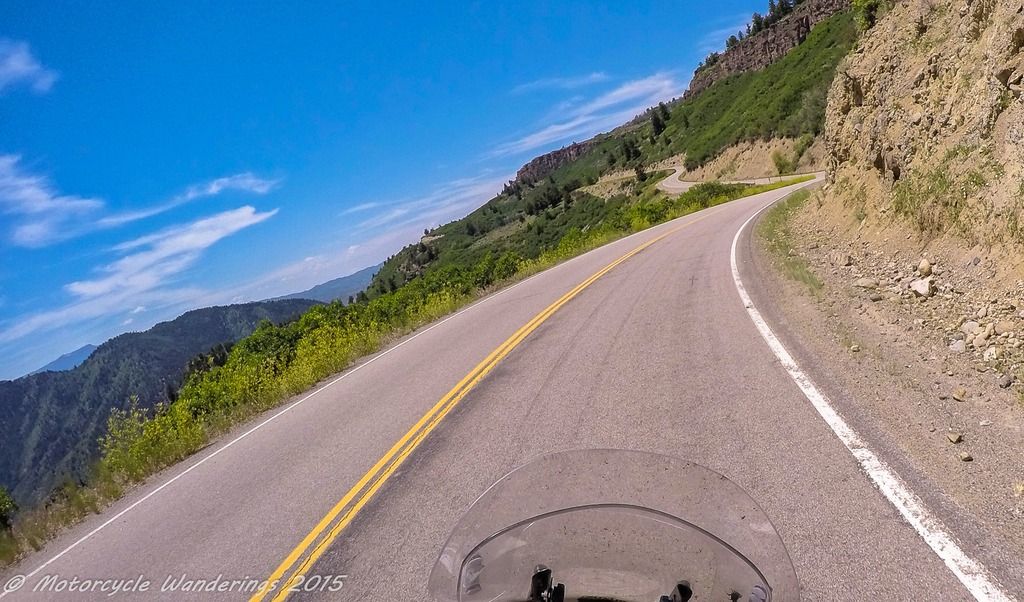 Wild ride, Hwy 92, Colorado.
There is another vista point worth stopping at here, which affords a great view of the Gunnison river and it's canyon. You can also see the San Juan Mountains a great distance to the south.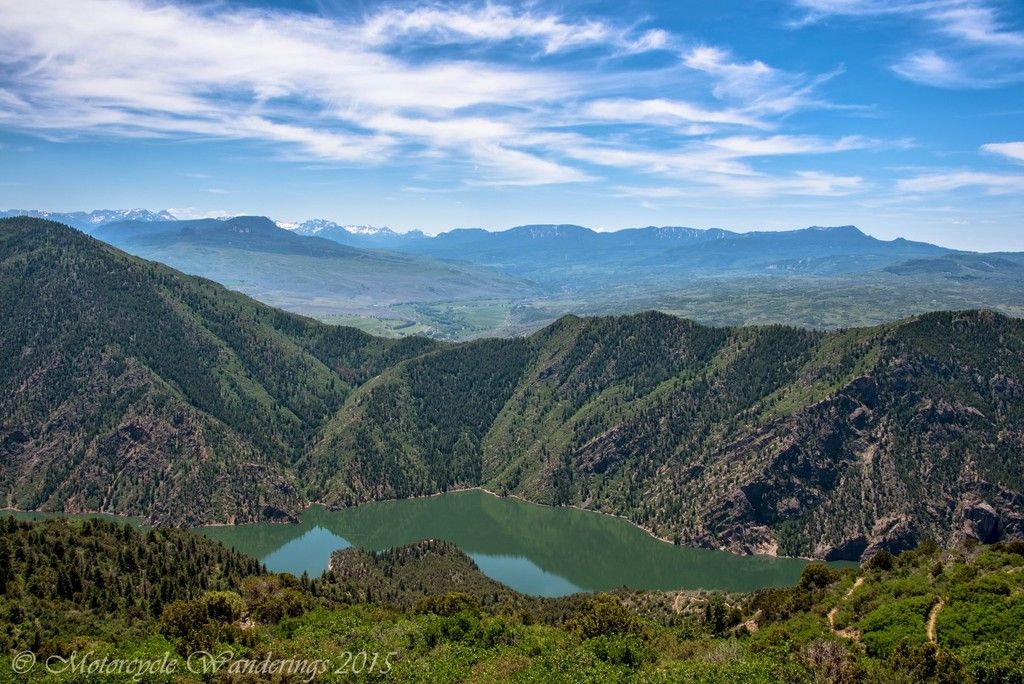 Gunnison river vista point. Hwy 92, Colorado.
Time is running short, I know I have to pick up the pace, and I do. I catch Hwy 133 out of Hotchkiss and head for Mcclure Pass. I am running hard now, and running fast. No time to stop for pictures, unless something REALLY catches my eye. Mcclure pass is a beautiful ride, but the vistas aren't pulling me like they have done on the other highways, so I keep on riding, passing all that block my path.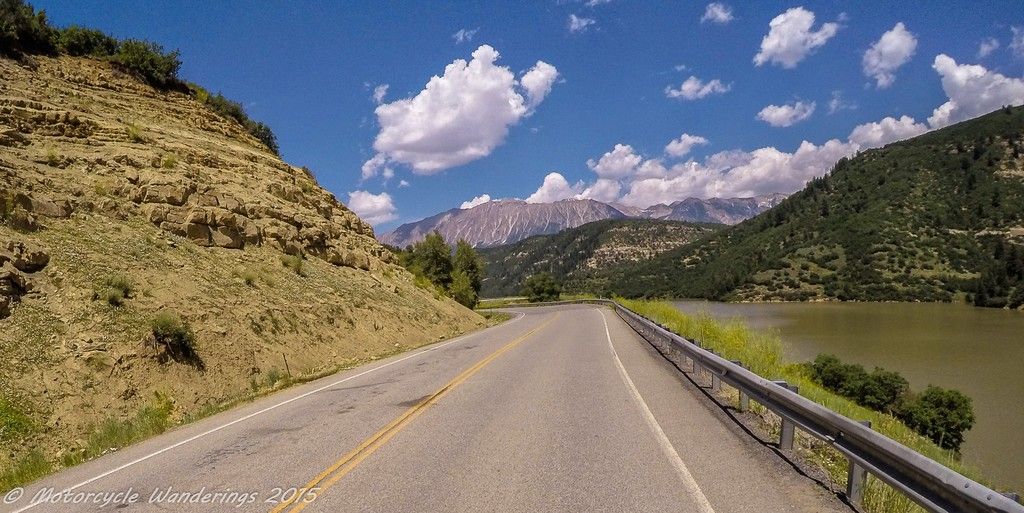 Heading towards McClure Pass. Hwy 133, Colorado.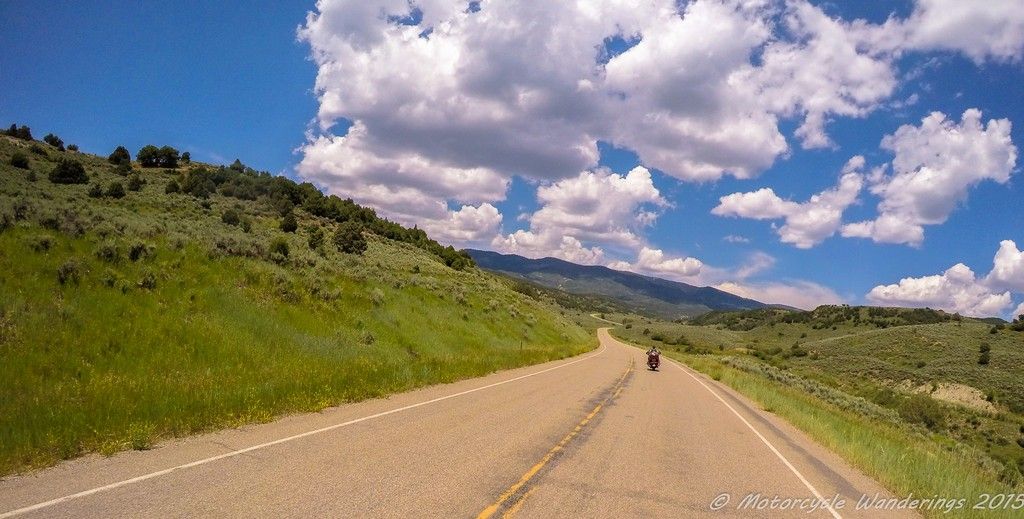 Had already passed him before the next time lapse (5 secs). Hwy 133, Colorado.
Alas, I hit major construction on Hwy 133 before Carbondale. The wait was what felt like an eternity, I had enjoyed very pleasant temperatures so far, but as I dropped down east off McClure pass, the mercury shot up. It was not even remotely as hot as the temperatures that Brian would encounter on his I-40 run through Arizona, Las Vegas and then near Death Valley, powering through temperatures in excess of 115 F. I on the other hand was spoiled, and having been spoiled by the weather gods for all this while - going from 70 F to 97 F, in such a short period of time, felt like being dropped into an oven. My luck with weather was running out.
Glenwood Springs on the I-70 corridor felt even hotter, although in reality it was only a couple degrees hotter at 99 F. I found a gas station and doused myself with ice cold water and surveyed the tourist and traffic madness all around me. I was coming in from the wild and human civilization and it's chaotic lunacy had zero appeal for me, all I wanted to do was escape back into the wild. I-70 was also a maniac's playground with some added psychotic drivers thrown in just for fun. I couldn't wait to get out of there. Rifle, CO and Hwy 13 to Meeker, CO couldn't have come any sooner. I was running back home at this point, but I was still being careful as I caught CO Hwy 64 from Meeker. This highway isn't quite as fun as it's namesake in New Mexico. This is also the highway where I found ALL the revenue generation LEOs, for the duration of this trip. I counted 2 Colorado State Patrol, and 4 Sheriffs. What the heck? What were they ALL doing here?
CO Hwy 64, without incident or 'close' encounters of the LEO kind, finally dropped me on to US 40, which would take me back into Utah for the night. 430 incredibly twisty and fun miles later, I find myself in Vernal, UT. A quick shower and an awesome Mexican dinner later, I am hopping into bed. Unbeknownst to me, later in the night, two riders from the IBR are checking into the hotel next to me to get some shut eye themselves. I see their SPOT track the next morning, but it's too late - they are already gone by the time I try to intercept them in their hotel parking lot.
This is the home stretch. I wouldn't have imagined that I would get homesick, but I am getting there. I have been sleeping horribly this entire trip. Perhaps suffering from allergy and sinus trouble induced sleep apnea. I have been waking up several times in the night with difficulty breathing, and then having difficulty falling back asleep. It has been a week since I have had any sleep totaling more than 4 hours a day. None of these problems existed at home, and I miss my bed, I want my bed. Even more than that - I want to get some much needed sleep. Yet there is 850 miles to go before I get home.
To make matters worse, I inspect my tires in Vernal, and find that my rear tire is going bald. Great - that's the last thing I need and I am still 850 miles away from home. I investigate the possibility of getting a new rear tire in Salt Lake City, then I re-examine my rear tire, it is just about flush with the wear bars. I am running high mileage Metzler Tourances, and I determine and hope that I am correct in my determination, that I will make it back home on this tire. I will just have to take it easy. No high speed runs across the desert!
I am now running half tank, if that, of my personal capacity, but my adventure isn't over yet. Everything goes smoothly until I am about 20 mile east of Austin, NV. Austin is right smack in the middle of Nevada, I have already ridden 520 miles or so from my start in Vernal, UT. I have 320 miles to go to get home, or now I am considering stopping at Brian's for the night, which is still 160 miles away.
There is one more curve ball this trip will throw at me, to deal with first. From miles and miles away, as I am nearing Austin, I can see the skies getting darker and darker, and notice the flashes of brilliance from distant lightning strikes. I am hoping and praying that by the time I get there, this storm cell would have passed and missed me. No such luck, I get side swiped by what seems like the worst of it, riding 30-35 mph on the 70mph US 50, on almost bald tires, praying that a moron in a car or truck racing at 70mph doesn't come plowing through me. There is no stopping on the side of the highway, which is equally dangerous, all I have to do, is to just ride it through.
Soon, I am in the mountains east of Austin and it is raining so hard that the entire road is a flowing river, and the rain is washing the hill sides on to the road.
Nevada is a desert they say..
It's an arid climate in Nevada they say..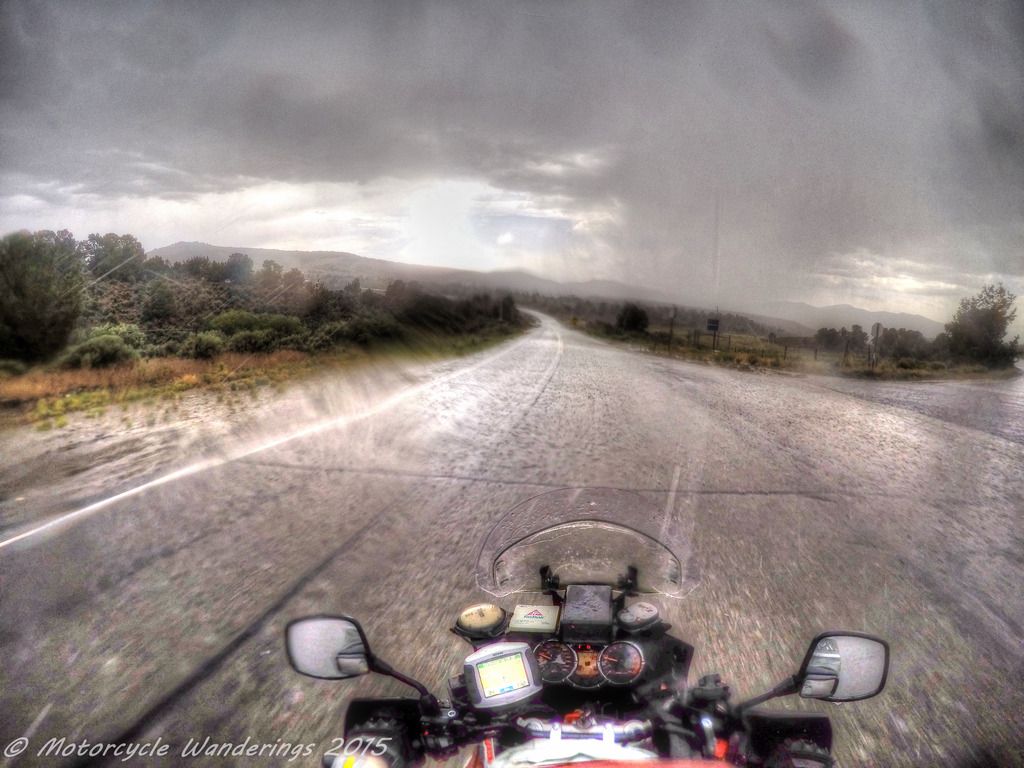 This is so f'in messed up I say!
Yes, I also need gas in Austin. I am not going to make the 140 miles to Fernley without filling up here first. As luck would have it, there is no covered gas station in Austin. None.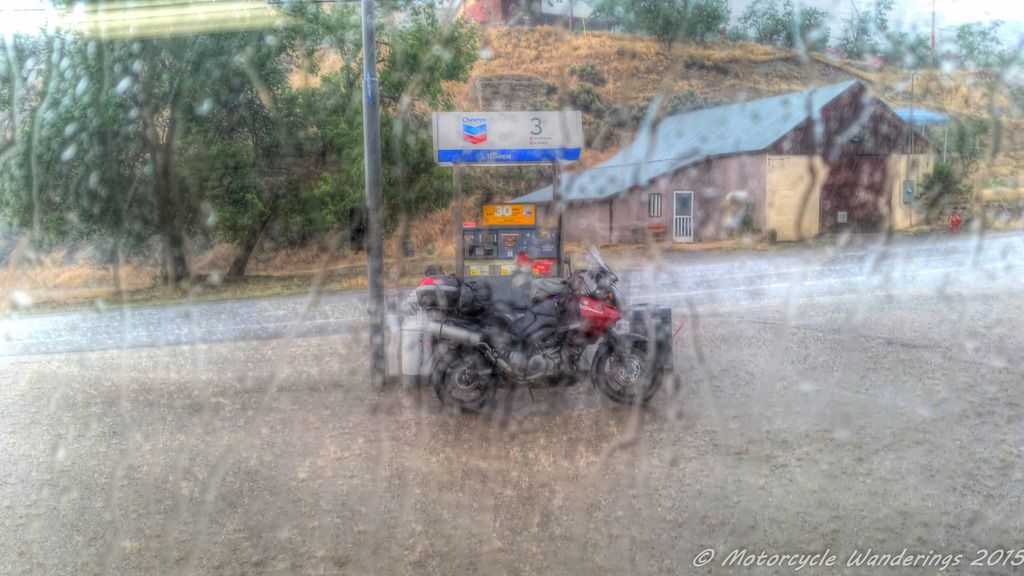 Who needs covered gas stations, right??
It is a deluge at this point, so much precipitation, that a puddle is forming on a slope! The water can't run off faster than it is coming down from the skies. I am fully expecting to see Noah in his ark around the corner! My riding pants are not water proof, but my jacket is. So, at this point I am soaked to the bone from the waist down, and my boots are filled with water. I take refuge in the gas station and take off my shoes and dump the water outside. Then I wait, and I wait, and I wait for the storm to pass, but it seems like the storm is waiting for me to come on back out, plus it is getting late, and I don't want to ride in the dark. In the end I beg the gas station attendant for a cardboard box so I can shelter the gas tank from the rain, and so I am able to fill up without getting any water in the tank. I gear back up and get back on the bike, and I notice that now one of my headlights is no longer working. Well, at least I still have one working headlight, there don't seem to be any other electrical problems, so I cross my fingers and ride out again. It seems like another eternity of riding in the rain, but I finally outrun the storm.
Fernley is not far now, that is where I am stopping for the night. It's going to be a beautiful evening and finally, a restful night..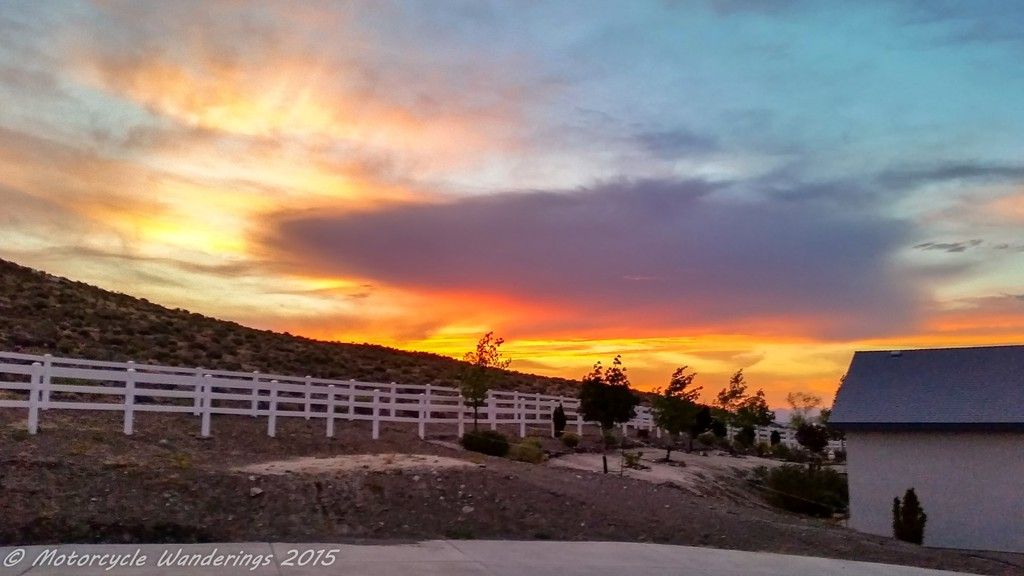 All is well that ends well. Beautiful Nevada sunsets. Fernley, Nevada.
Thank you for reading! :)