Things don't go as planned. How many times are we reminded of the idiom - "Best-laid plans of mice and men oft go astray"? Now this might sound like a pessimistic view to hold, but I disagree. Is it still a compelling story - if everything goes as planned? If everything is instrumented and executed smoothly and perfectly, like a machine? Although, aren't machines just as flawed? Conceivably inheriting the inherent flaws of their human creators?

I am reminded of a recent conversation I had with a new acquaintance over a campfire in Yosemite. This person had just hiked the Mt. Whitney trail, a 22 mile round trip, and a portion of the longer John Muir Trail (a 210 mile hike with a ~10,500 feet elevation gain), which he is planning to tackle next. An avid hiker, who takes great pride in his planning and execution as well as his physical abilities. During our conversation, we started to discuss the protagonist in the recent bestseller - Wild. I asked him if he had read the book, and he had, but didn't like it. When aksed why, he replied in a long-winded fashion, but which I distilled down to the woman having made every mistake in the book. I countered - that's what made her story a fascinating read. She was/is flawed, she made mistakes and lots of them, she encountered peril - even if sometimes it was of her own making, but there was also perseverance, learning, and growth from those hard knocks. I don't think I sold him on the concept. What do you think? If she had done everything by the book, how many would have bothered to read her story?

This story is not nearly as exciting, except things didn't go as planned. It isn't even by any means - concise, so go grab that coffee, tea, or maybe even a real drink. You might need it! : )

This jaunt through southern Utah had been planned several months ago, with Brian - my mentor and riding partner on some such touring excursions in the past. Despite our starkly different riding styles, we had on previous occasions managed to ride together with only a minimum of friction. That may have been because those outings were some years ago, and being new to longer distance touring at that time - I mainly just acquiesced to his plans, riding style and wisdom, the last of which he does have an over-abundance of. At this point you may be wondering, what is so inexorably different about our riding styles? It boils down to our personalities and motivations. Pitching the stop to smell the roses, and stop to take in the sights personality vs. the stop for nothing, just keep on riding, there is still miles to go before I stop/sleep type. The satisfaction we derive from the type of riding we prefer also resides in different hemispheres. I prefer the twisty and scenic byways and back roads, Brian prefers the freeways and the long, plumb highways through vast valleys and farm country. Something had to give for this dynamic to work. Would it work?
A brisk and for summer, a surprisingly balmy run across the high desert of Nevada was first on the agenda. Brian was on his Honda ST1300 a proven touring and rally bike with over 100,000 miles on it. I had left the veteran, just a bit shy of 80,000 miles Yamaha FJR1300 in the garage, instead deciding to stretch the legs of the rookie Suzuki DL1000, it only had about 12,000 miles at the beginning of this journey and hadn't before been ridden past a 500 mile radius from home. We weren't setting any speed records in the desert. We had chosen the northerly route on US Hwy 50, over the much faster and much hotter E.T. highway, running nominal speed out of towns. It was an uneventful journey across Nevada, we noted and commented on the desert being unusually green for this late in the season. Spring Valley pictured below in White Pine county, Nevada was still grassy and living up to it's name.
US Hwy 50, Spring Valley, Nevada.
Entering Utah I couldn't help but notice the preponderance of tar snakes. Utah DOT is obsessed with tar snakes, not just in the straights but also in the corners, the patchwork seems to follow no rules with respect to direction of travel, bearing a closer resemblance to a crazy road doodle than anywhere else in the West. Not much of an issue for cars and other three or four wheeled vehicles, but may prove catastrophic on two wheels, if not carefully navigated through.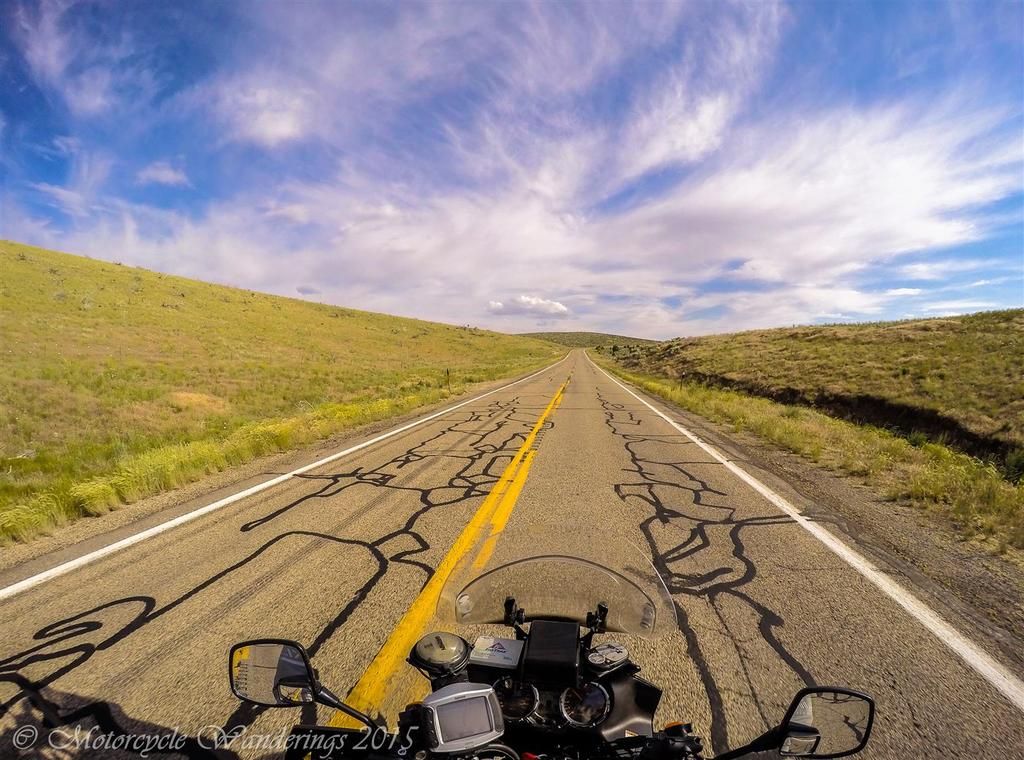 Utah Hwy 21.
Our destination for the night was Cedar City, UT. We were about 60 miles out when my left foot reached to downshift for the upcoming turn and hit nothing but air, causing me to search frantically with my foot as I coasted to a stop on the shoulder. I look down in panic, and in that tunnel vision - there is no shift lever to be seen! I dismount for a better look and it reappears, dangling by the shift linkages beneath the foot peg, the mounting bolt had worked itself out of the frame.

Before leaving home, I had inspected the bike thoroughly, or so I believed, making sure everything was working as it should be. Suzuki under-engineers the damnedest of things, and in this case it was the flimsy and soft mounting bolt for the shift lever. I break out the tool box and thread the bolt back into the frame, but the bolt is tacky and I can only tighten it so much, and I am wary of rounding it off - for then I am really screwed!

Yet, the threads on the bolt are long enough that I am confident it won't work itself out again anytime soon, and I could keep checking it at gas stops. Repairs complete, we ride the rest of the way to Cedar City with no issues. Approximately 500 miles on the clock for the day. This had been a Brian R. type of riding day - the only stops have been for restroom breaks, or for eating, for fueling, or to effect repairs.

This day following, would prove not to be Brian's day. In his own words - this would be the most miserable day of riding in his entire life. A lifetime of riding, which has included spending multiple days in a row in storm cells, till his boots were full of rain water - possibly setting in trench foot. Making him afraid of removing his shoes, lest he see he had grown webbed feet. For the rest of us, this was a typical riding to sight-see kind of day, something most of us lesser mortals enjoy - two national parks, one national monument, and riding out to the vista points to take in the view or take pictures.

We were on the road before the sun had a chance to rise above the mountains, it gets very hot in Zion National Park, and we wanted to be in and out of there before the mercury started rising. Our first stop was in the north western reaches of Zion, in the Kolob Canyon area. We were at the visitor center before 7am, and they hadn't even opened yet. A ranger did arrive shortly after us and informed us that this portion of the park wouldn't open for another hour, but we were welcome to ride into the canyon now, if we wanted to. His parting words "Have fun!" Excellent! We would have the canyon all to ourselves, free to carve up that canyon road!!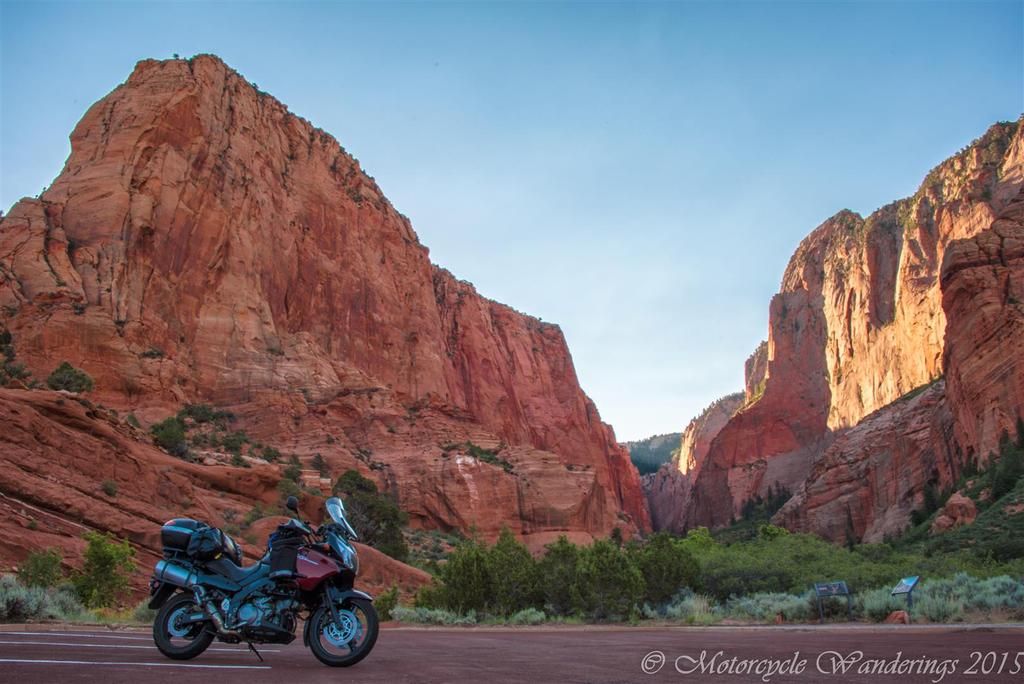 Kolob Canyon
From Kolob we headed towards the south entrance of Zion. The main attraction of the park is the Zion Canyon scenic drive, which isn't open to driving by the public. It is a minimum of an hour and half ride on the park shuttles, in the midst of sandstone cliffs of varying hues which tower 2000 feet above you and into the sky. Of course, I couldn't get Brian interested enough to partake.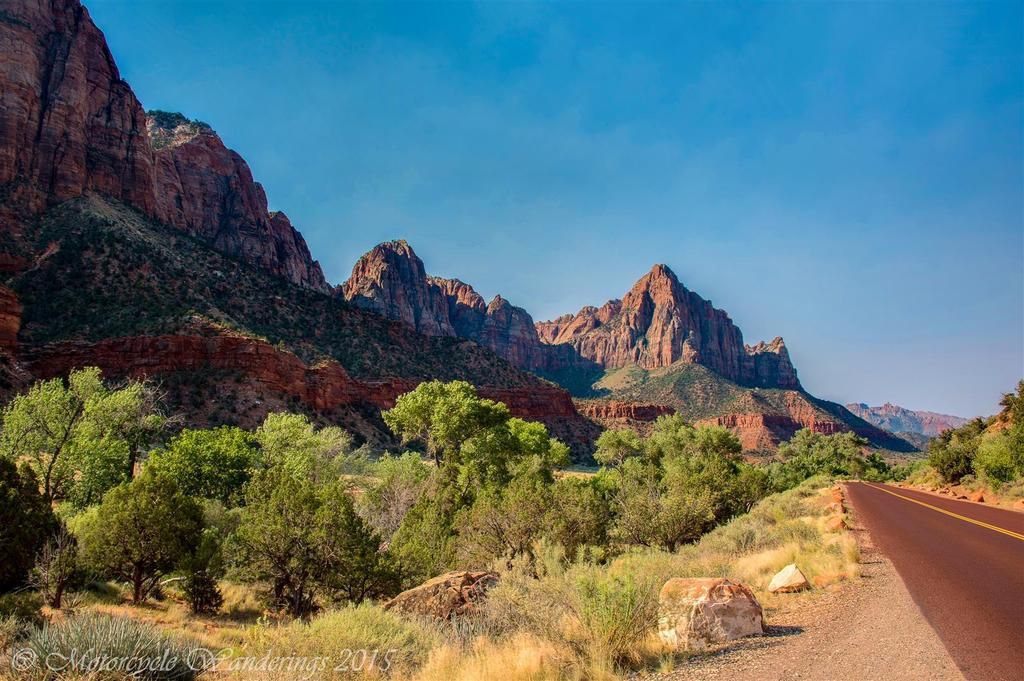 Zion National Park.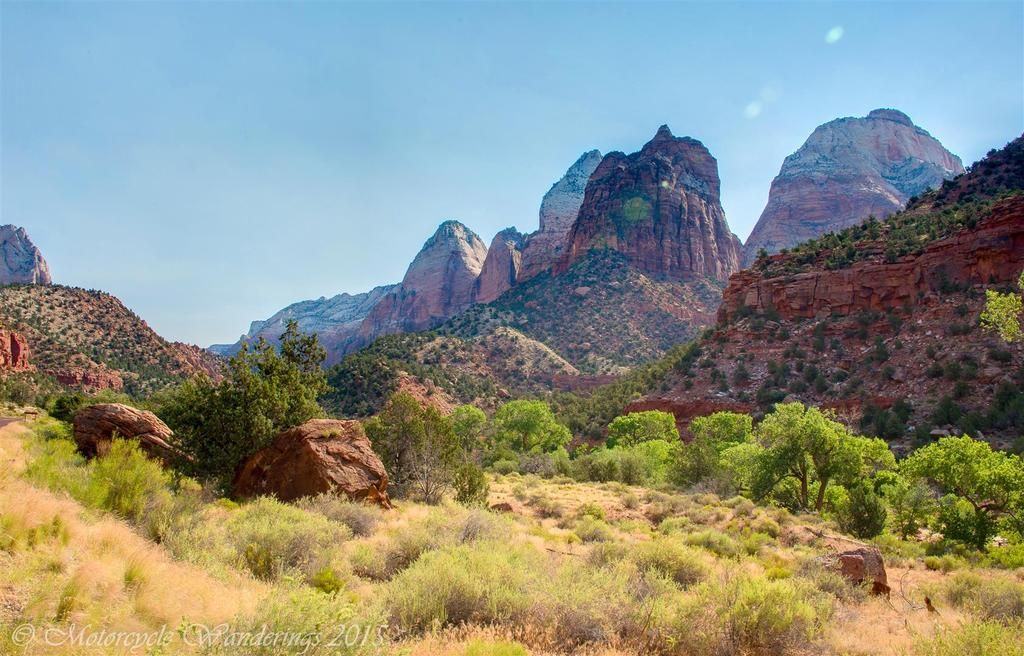 Zion National Park.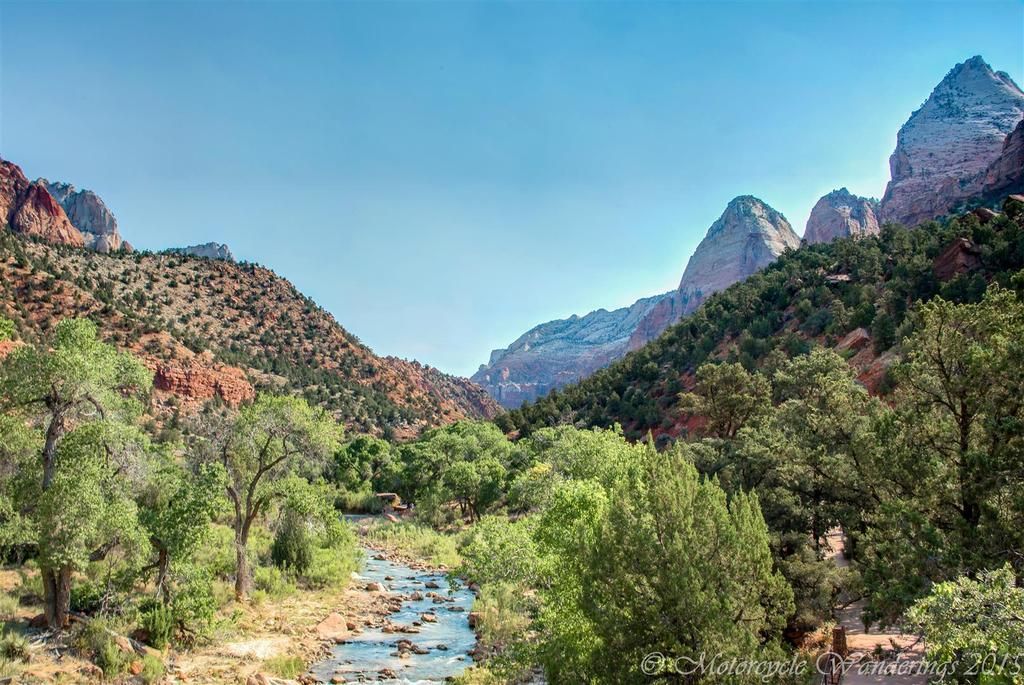 Virgin River at the entrance to Zion Canyon Scenic Drive.
Virgin River at the entrance of Zion Canyon Scenic Drive.
What was left to do, was ride through the southern reaches of the park on Hwy 9. This highway looks like a fun ride on the map, but in reality is socked full of slow cars and RVs, of course any highway through a national park has a ridiculously painful speed limit - but in addition this highway has a 1.1 mile tunnel bored through the mountains - requiring RV permits, if your RV is wider than 7'10". As luck would have it, one such exceptionally wide RV was coming through the tunnel in the opposite direction, and the park officials had to close the tunnel for our direction of travel, till that RV could get through. It was a painful 20 minutes in the rising temperatures, waiting for the RV to crawl through at 5 miles per hour. :(
Utah Hwy 9, Zion - Mt. Carmel Highway.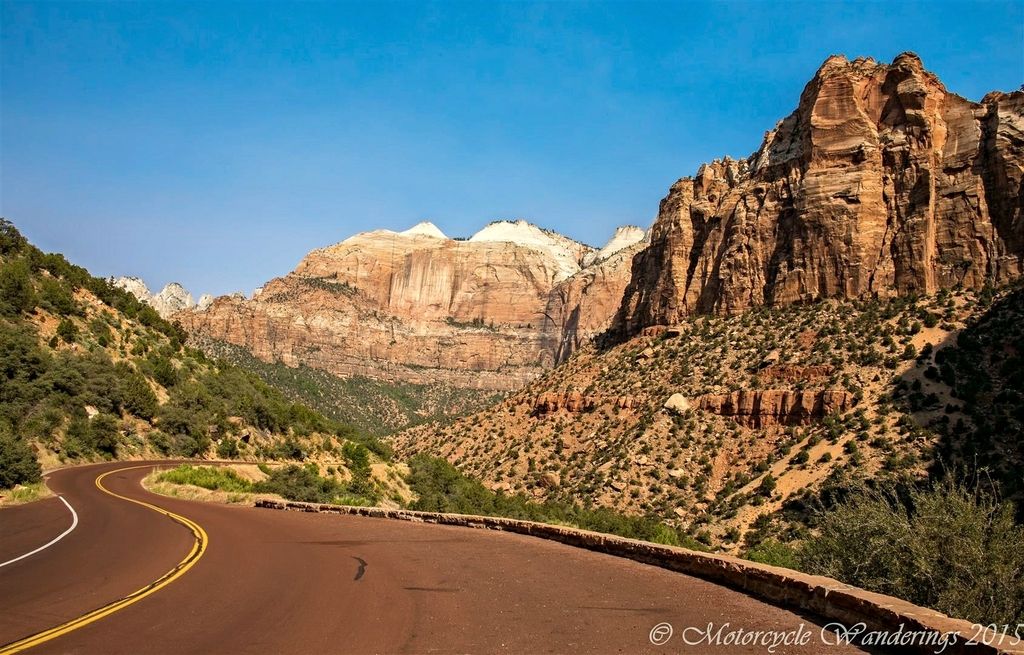 Utah Hwy 9, Zion - Mt. Carmel Highway.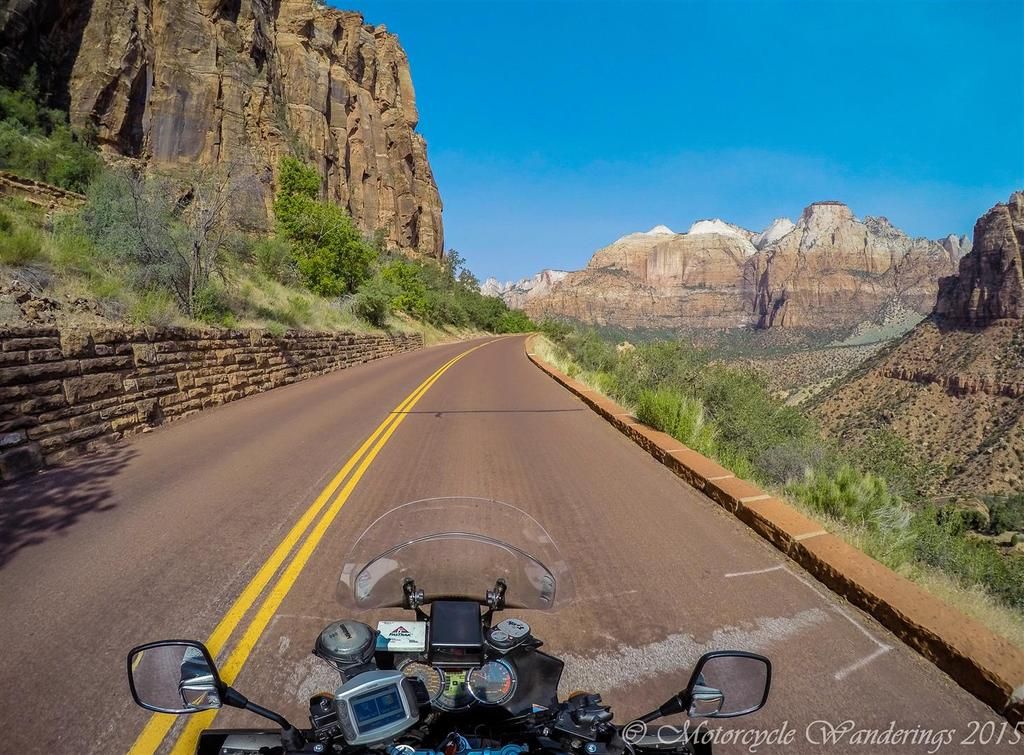 Utah Hwy 9, Zion - Mt. Carmel Highway.
Utah Hwy 9 spilled us out onto US Hwy 89, where we promptly encountered a neanderthal on a Harley and his much more civilized riding partner, who decided he wanted nothing to do with the antics of his friend with the dimensionally challenged appendage. This dingbat intentionally merged in front of us, while we had the right of the way, but we safely got around him. Prompting him to race to pass us, and then slow down. We passed him again and kept going, until we spotted him making a run on us. Brian was now fed up, he picks up the pace and I follow. Mr. Harley did all he could to try to catch up, not realizing that he would have to max out his throttle twice over, to catch up to the power of the machinery we were riding. Good riddance!
Brian and I would talk about this later, and he opines that when you encounter these passive-aggressive little pecks - the only way to deal with them is to put them in their place, where they belong - watching your tail lights disappear into the horizon. I agree.
Bryce Canyon National Park on Utah Hwy 12 was looming next.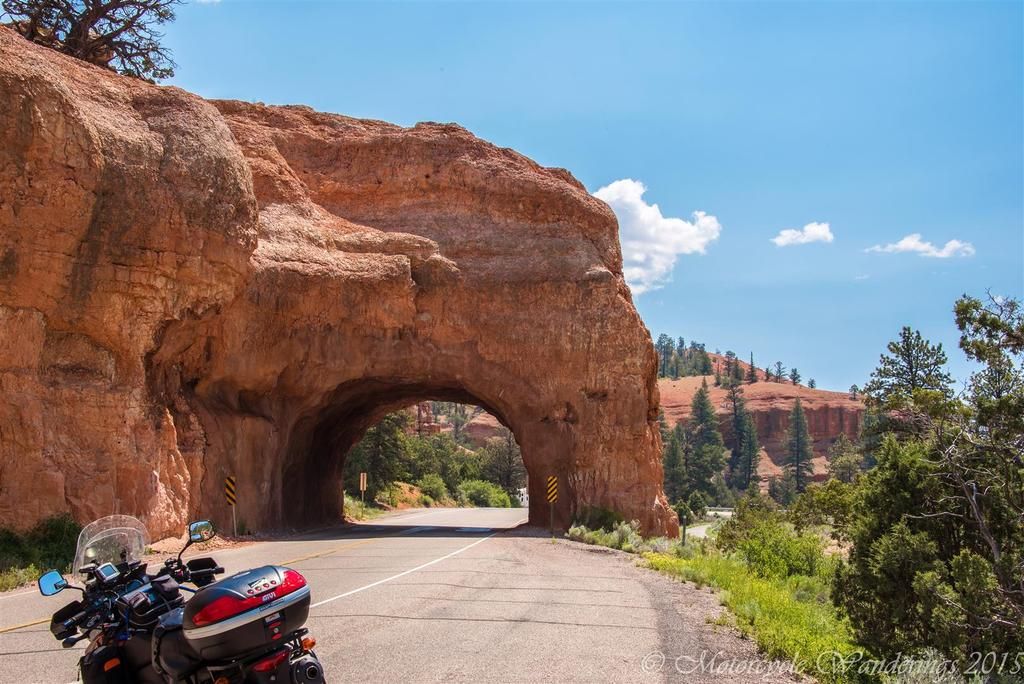 Utah Hwy 12.
We get to Bryce Canyon National park and Brian's patience is wearing thin, worn down also by the batches of throngs we were encountering in the national parks. Mobs we had to get around or get away from. Near the park visitor center we find some shade and convene for an action plan. Looking at the park map we strike a compromise on two vista locations - Bryce point and Inspiration point. Riding over to the furthest one first - Bryce point, with an aim to visiting Inspiration point on our return. We get to Bryce point and realize that the best vistas are not from the parking lot, but a few paces up the hill. Brian refuses to leave the parking lot - saying he didn't realize there was going to be hiking involved, and besides 'Rocks' from here would look the same as from over there! I walk up alone, and take some hurried shots, but there is a wildfire raging in the distance and the view is smoky at best.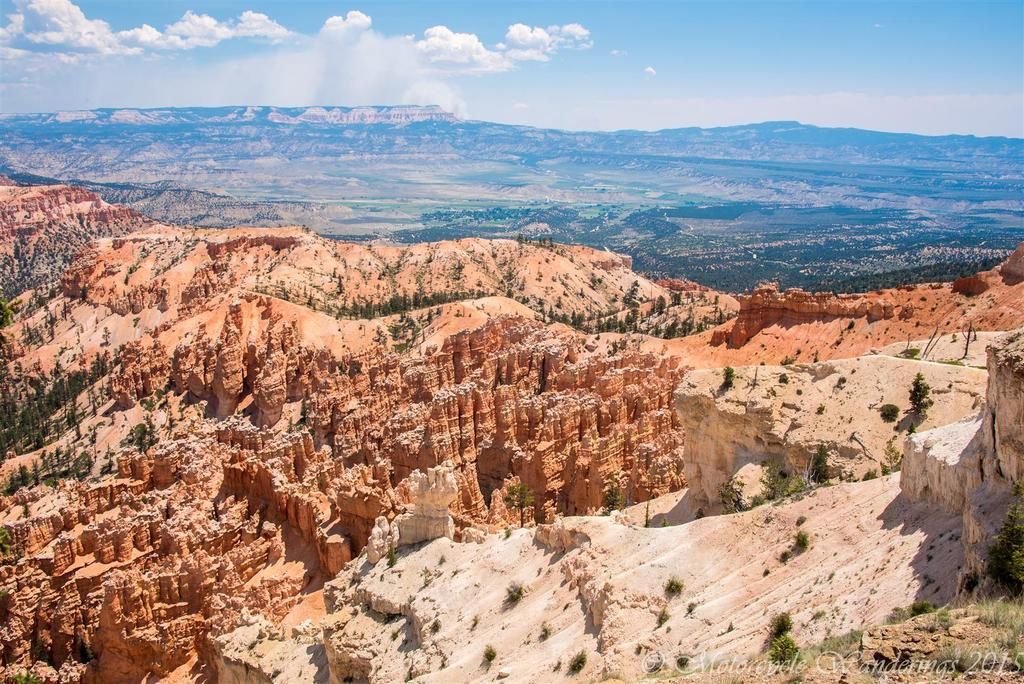 Bryce Canyon from Bryce point.
I am nevertheless impressed by the bizarre and colorful limestone rock formations, they remind me of ancient ruins, of battered columns, and weakened arches, I imagine them to be the eroded remnants of the glory of an ancient civilization, lost and slowly being erased from the face of the earth.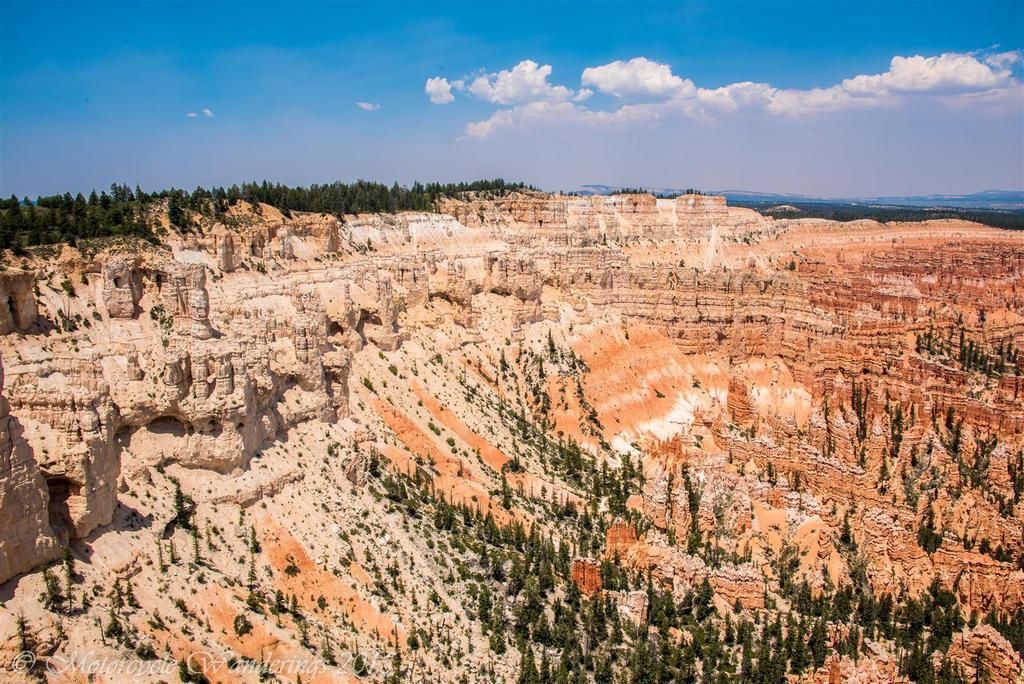 'Ruins' of Bryce Canyon.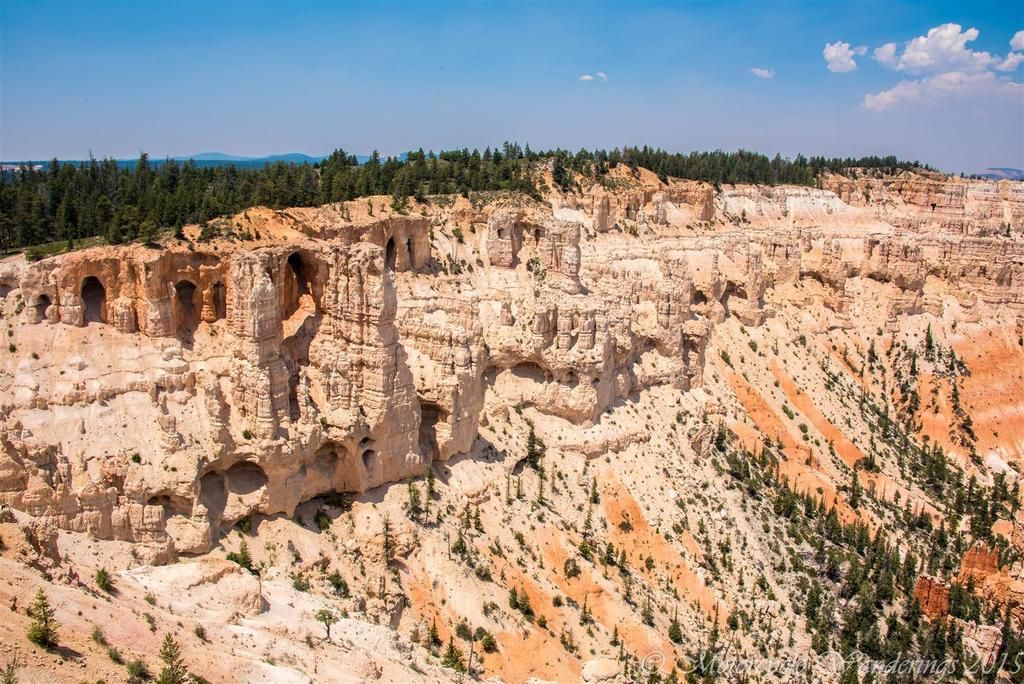 'Ruins' of Bryce Canyon.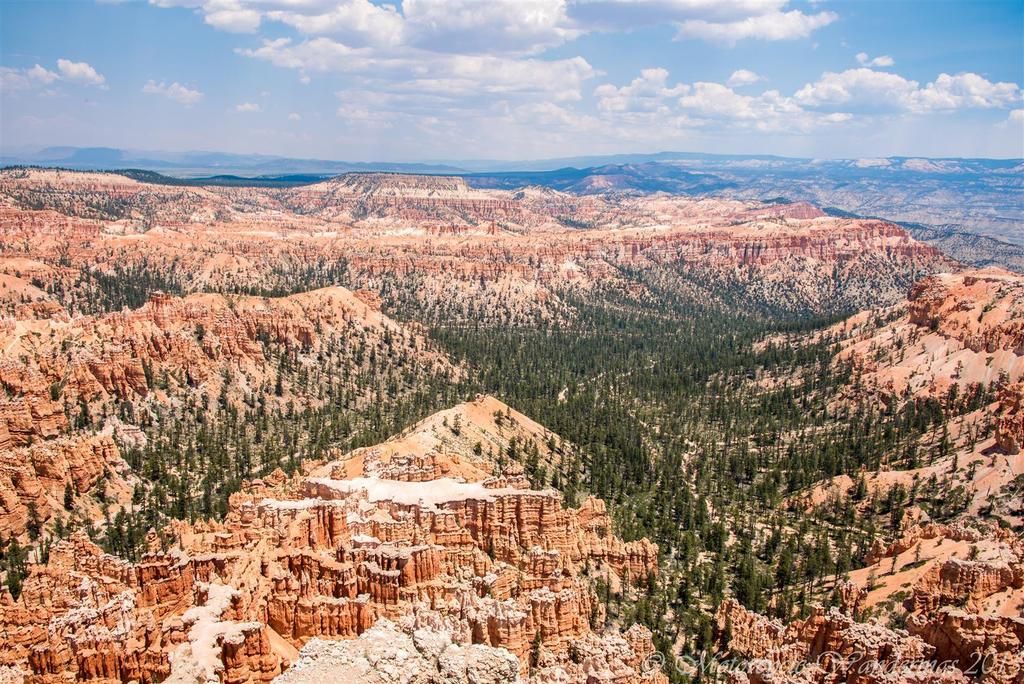 'Carved pillars without a roof', Bryce Point, Bryce Canyon.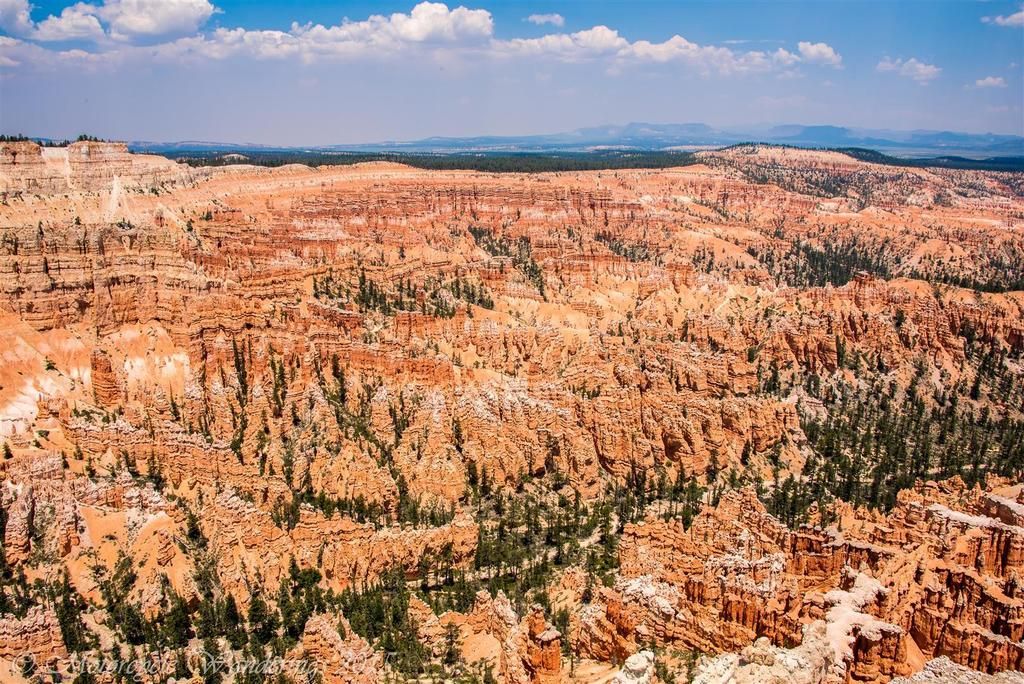 Bryce Point, Bryce Canyon.
When I return to the parking lot. The deal had changed. Inspiration point was out of the compromise, it was just another vista point to look at the same old rocks, and it was going to look just the same as these rocks, and all Utah was, is full of rocks - of all shapes and sizes and colors. Things were starting to come to a head between us..

..but the day wasn't done yet, it was wearing long when we started climbing the Escalante Grand Staircase. Owing it's name to the grand geological steps and terraces, that step down from just under 10,000 feet, till they descend eventually to the Grand Canyon in Arizona.

Undoubtedly, some of the best riding in Utah, and this afternoon we find only a handful of cars blocking our path or slowing us down.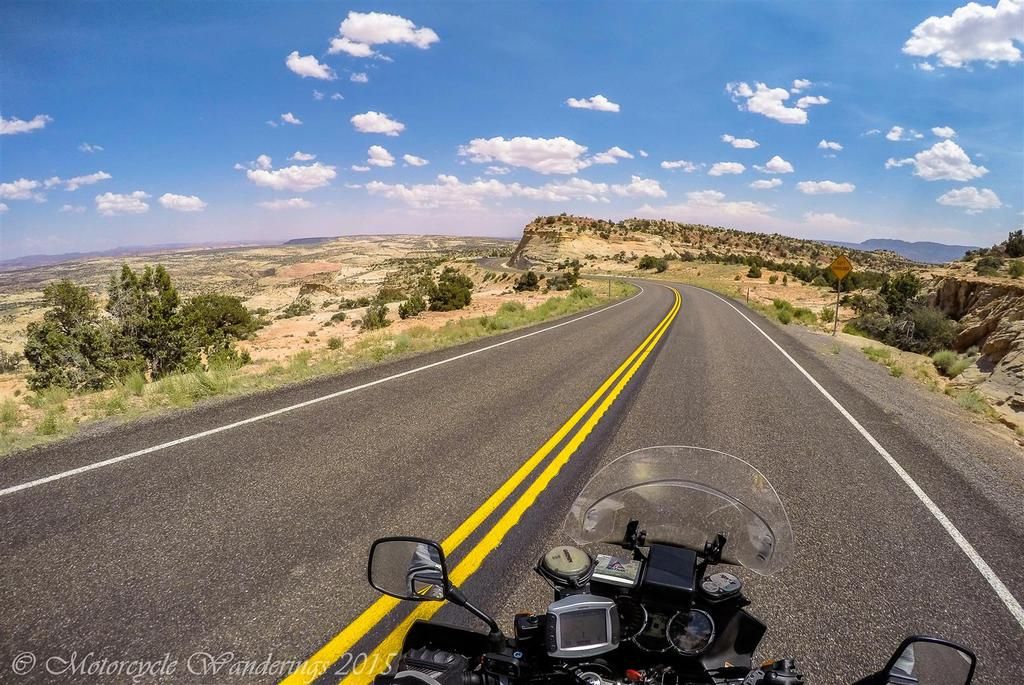 Million Dollar Road, Utah Hwy 12.
Although, I couldn't help but stop to marvel at, and take a picture of more rocks and the 'Million Dollar Road' which cuts through them between Escalante and Boulder. Between 1935 to 1940 it took a million dollars to build this road. Construction crews lacked heavy machinery, relying instead on dynamite, picks and shovels, and horse drawn carriages to complete the work.

A million dollar view as well, if you ask me.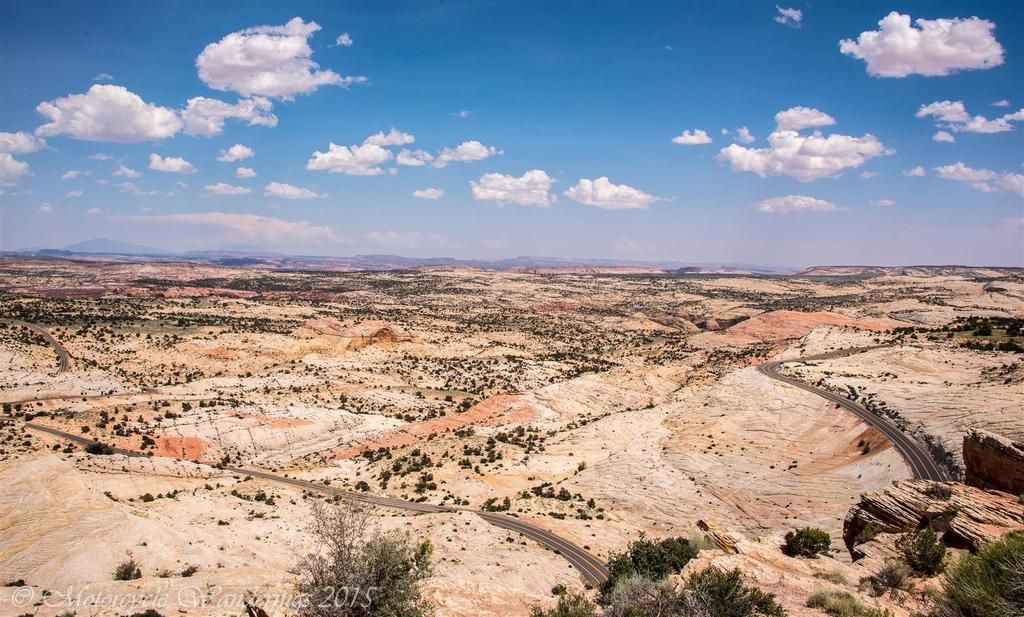 Million Dollar Road vista point. Utah Hwy 12.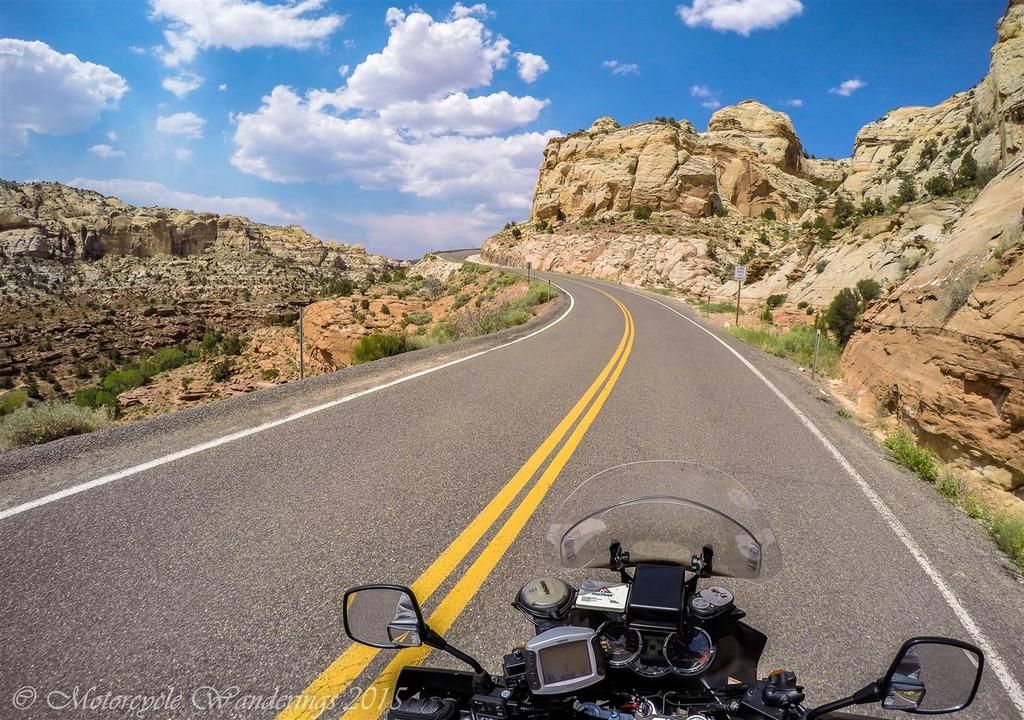 Climbing the Grand Staircase, Utah Hwy 12.
The staircase is a wild ride, at one point it has you riding on top of the ridge, and sheer drops and canyons surround you. It is an experience thrust upon you unadulterated by safety nets and guardrails, it elevates you, thrills you, terrifies you, and leaves you gasping for more..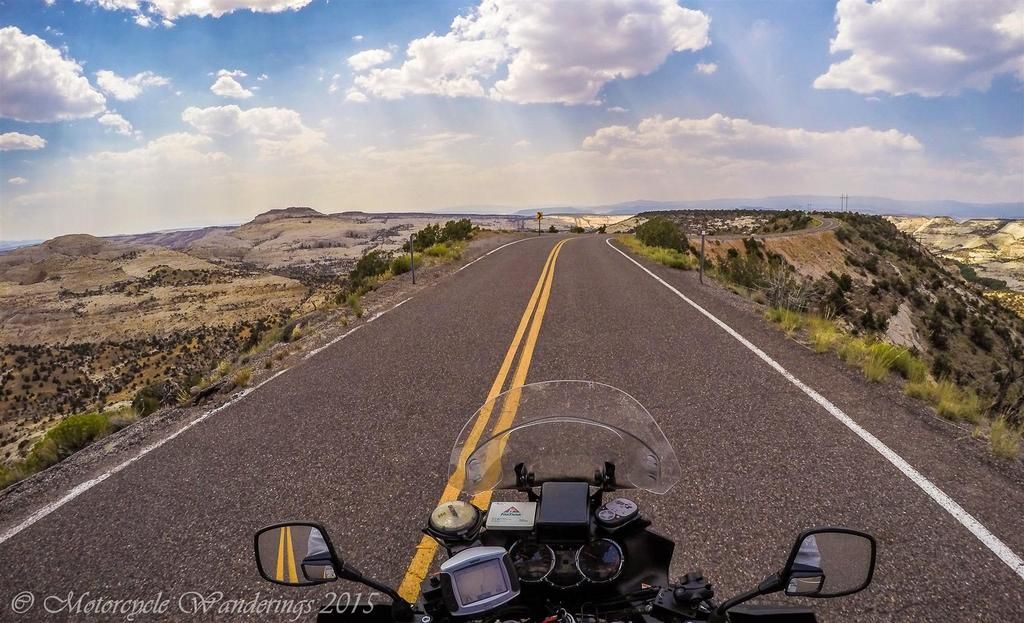 Running the Ridge, Grand Escalante Staircase, Utah Hwy 12.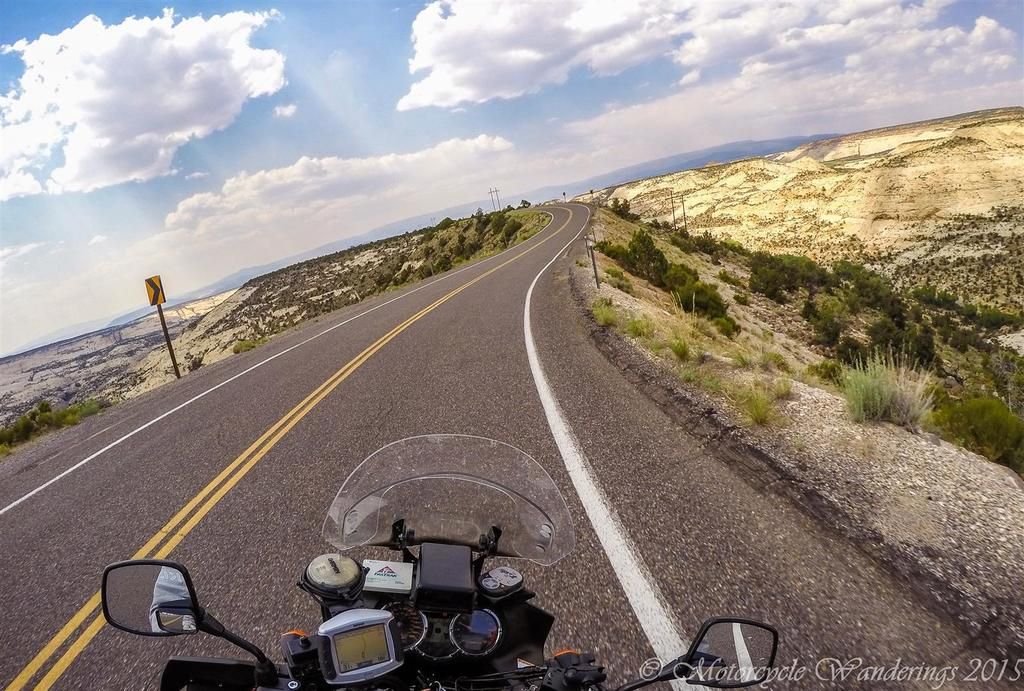 Top of the Ridge, Grand Escalante Staircase, Utah Hwy 12.
The highway climbs the stairs as far up as 9,500 feet, before spilling you over the other side.
The Canyons of the Escalante Grand Staircase. Utah Hwy 12.
The day ends in Torrey, Utah. Two
national parks and one national monument later, and a
mere 290 miles from our start. Thus ends the most miserable day of riding in the life of Brian R.

Brian is foaming at the mouth at this point. "You are just wasting our time taking pictures of rocks. Pictures, that you won't even remember taking when you get home. A better option would be to just buy postcards - they would be and order of magnitude better than any pictures you would take."

Brian vows to lead the following day, and that there would be changes. The fact that this might be my last adventure for what might turn out to be quite a while, or until I find a new source of income to finance such adventures, isn't even considered. I love the man, he has been a mentor to me, and continues to be a father figure. I refer to him as my American Dad, and I feel guilty for having subjected him to the day that we had today, so I retreat for the time being, but it is glaringly apparent, this ride partnership isn't working out for either of us.

On the other side of the staircase is the Capitol Reef. During the great American migration to the West, the Capitol Reef proved to be a major obstacle to Mormon pioneers. Earning it's name as a reef which for a while shipwrecked all attempts at movement west. Rising up out of the earth like an impenetrable fortress, it's rugged walls dashed the hopes of many a pioneer.
It wasn't yet daybreak when we started to navigate the reef. Soon the dawn is breaking over the ramparts and we enjoy a beautiful sunrise which lights the path for us in between the fortifications.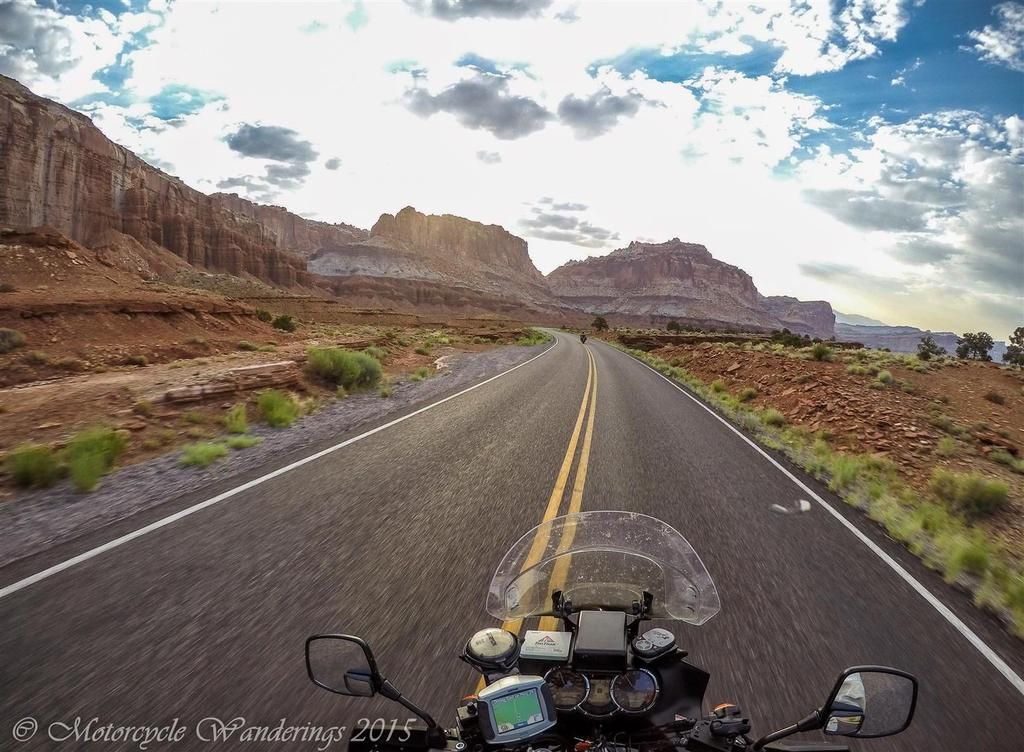 Capitol Reef National Monument, Utah Hwy 24.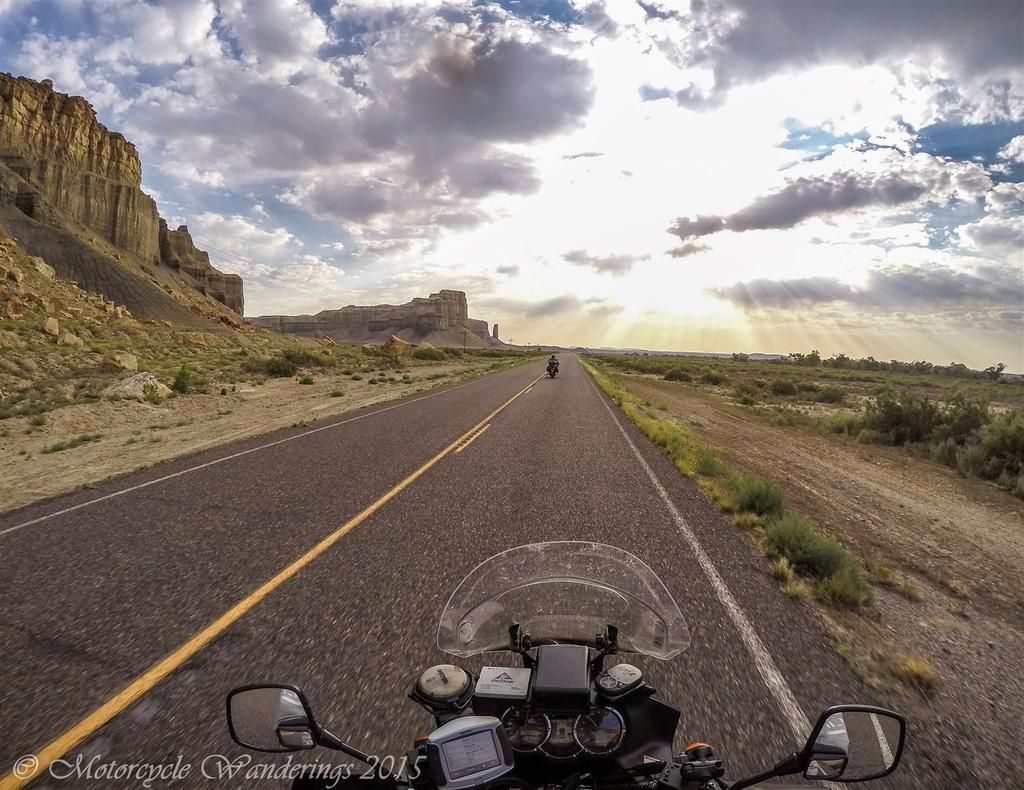 Capitol Reef National Monument, Utah Hwy 24.
Castles reaching into the clouds, is how my imagination registered what my eyes perceived.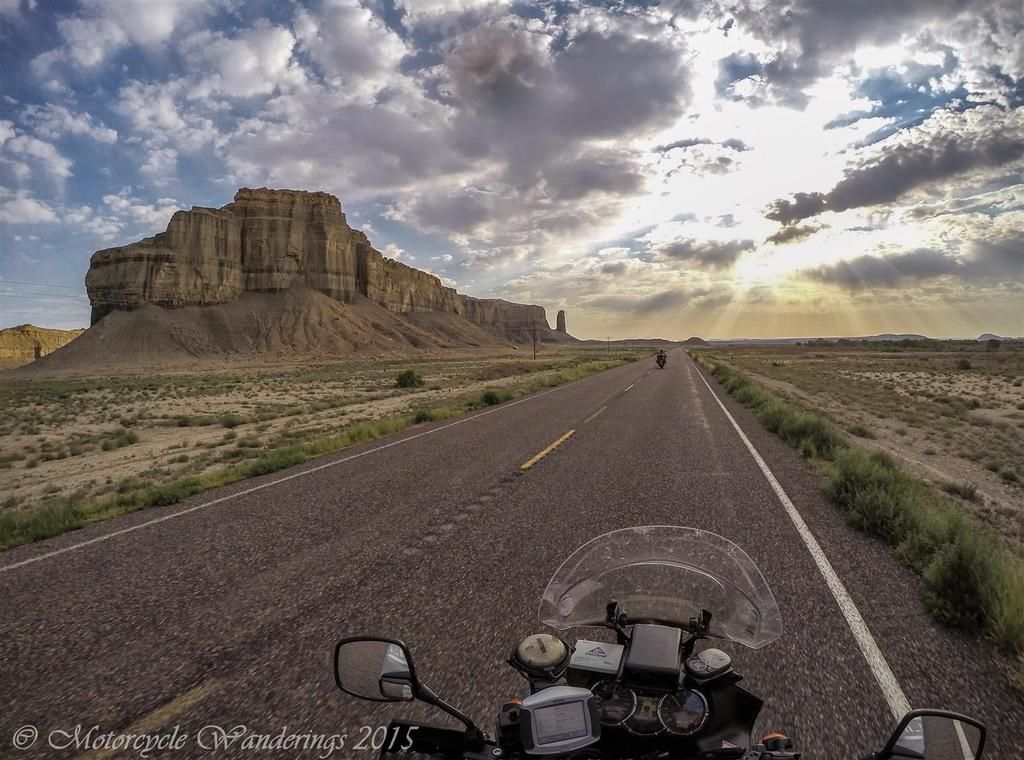 A 'Castle'. Capitol Reef National Monument, Utah Hwy 24.
The jewel of these citadels is the Chimney Rock formation. On this lovely morning the rising sun had set the parapets ablaze!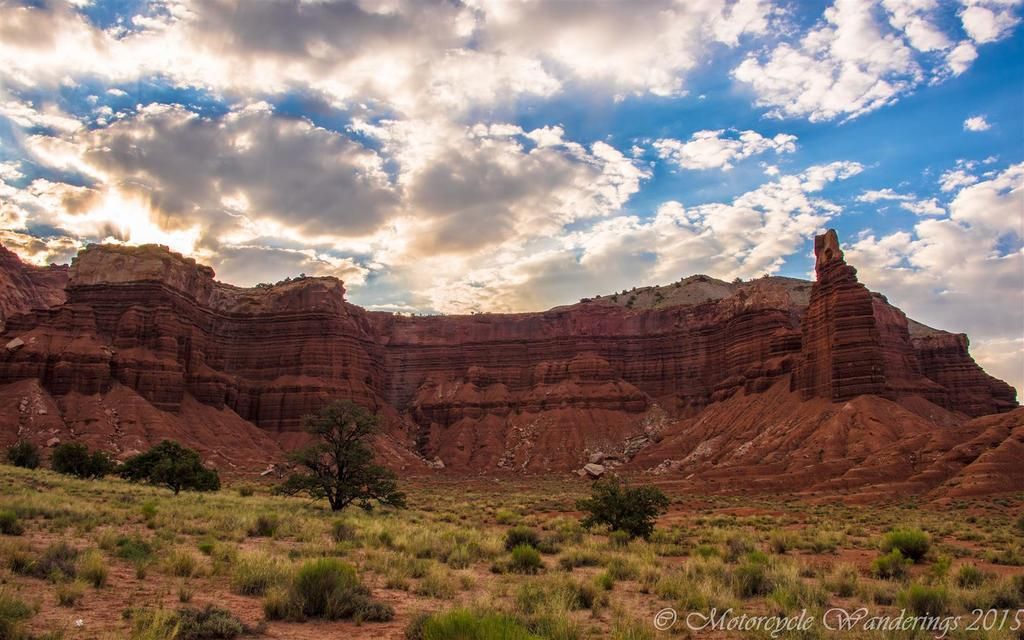 Chimney Rock, Capitol Reef, Utah.
It was full daybreak when we reached the shores of the Colorado river. The yet green desert we had encountered so far had left us ill equipped to handle the shock of seeing the Colorado so reduced. Where is Los Angeles going to supplement their water supply from next? I would find the answer later, at a rest break in Ouray, Colorado, and I would laugh till I finished relieving myself and then do my part to help Los Angeles with it's water problem. "Please flush, Los Angeles needs the water".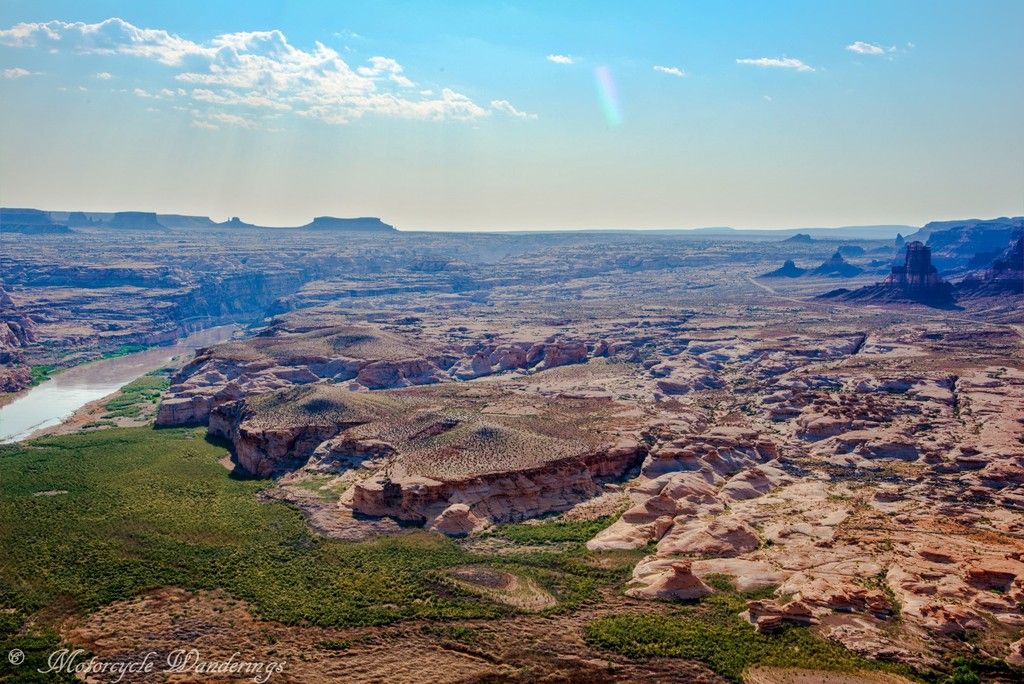 A much reduced Colorado feeding Lake powell.
Even the GPS was expecting the Colorado to be wider than it was now..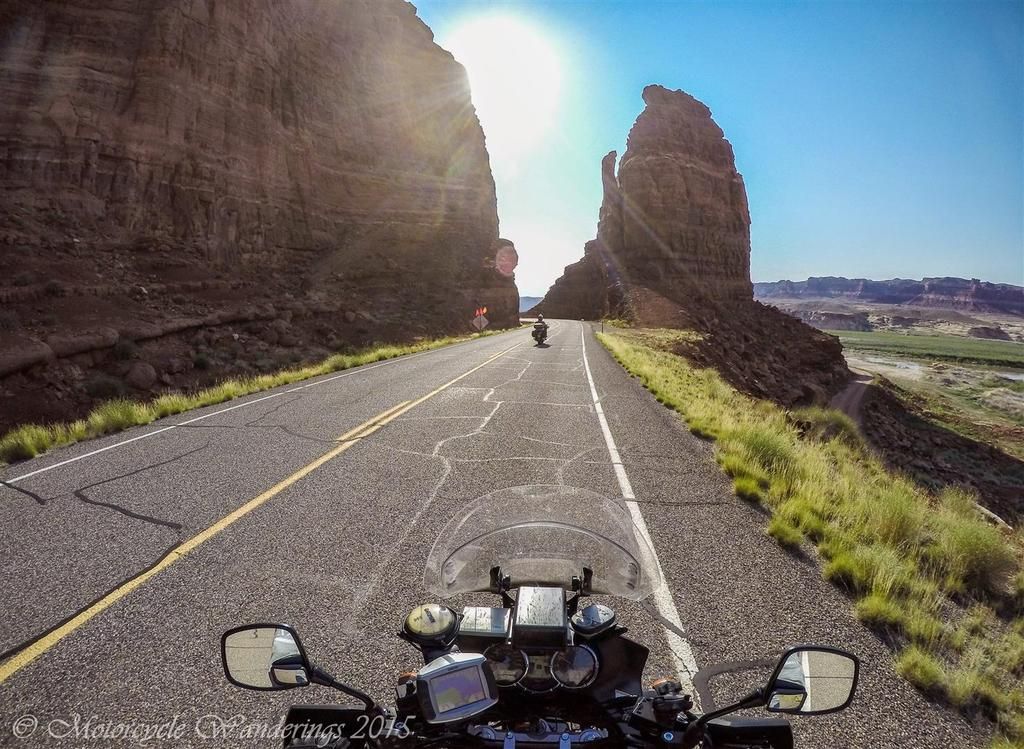 Heading towards the Colorado.
A peculiar find here is an airstrip hugging the canyon, you could pass by it without ever noticing it is there, unless you know exactly where it is. :)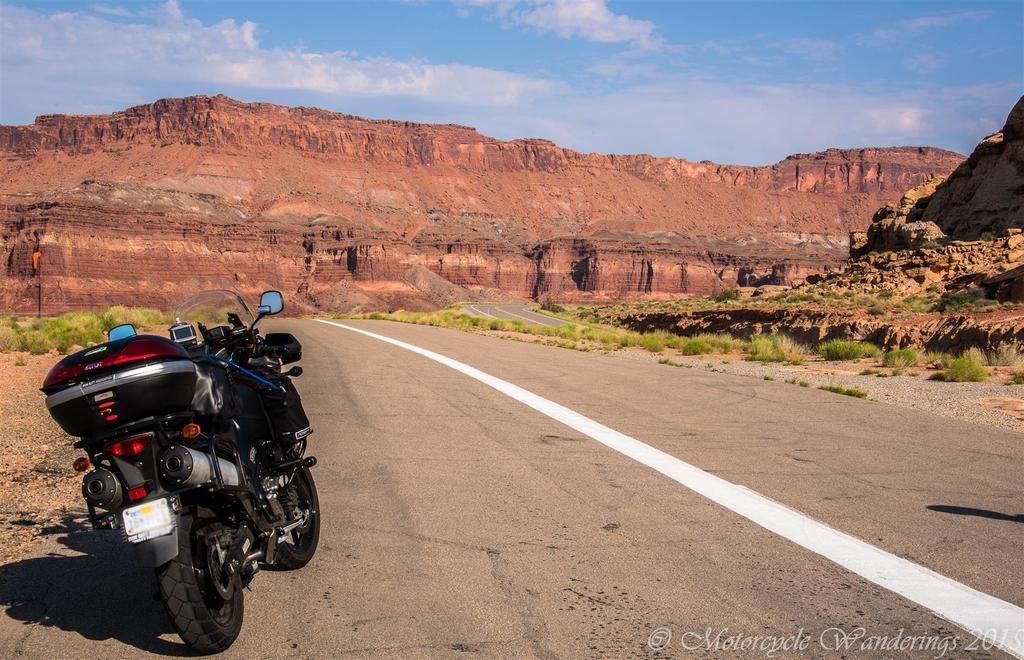 Ready to fly, but not ready to leave the ground ..
This place also hides a great view of the bridge over the river Colorado.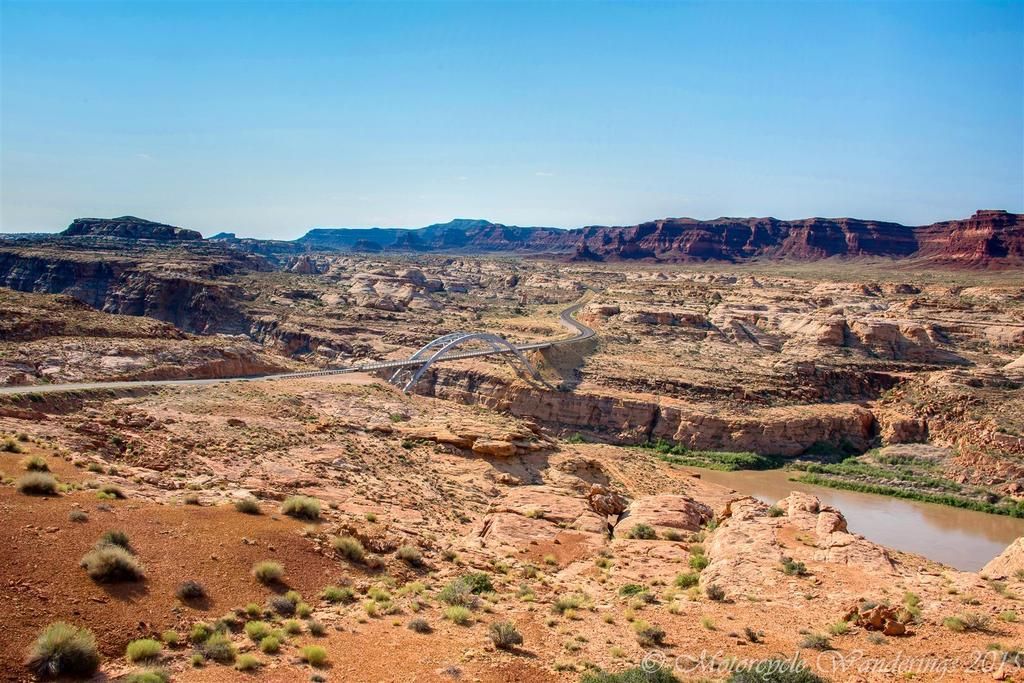 Bridge over the river Colorado.
We were far from our destination for the night, somewhere in the mountains of Colorado, but first things first - which is crossing the river Colorado.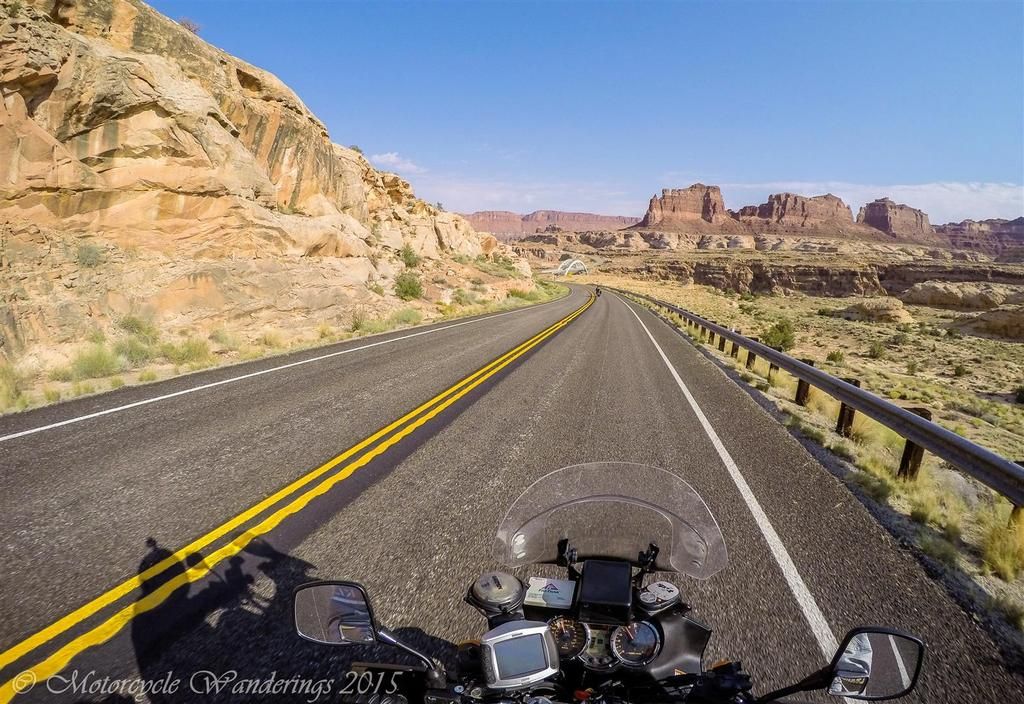 Approaching the bridge over river Colorado.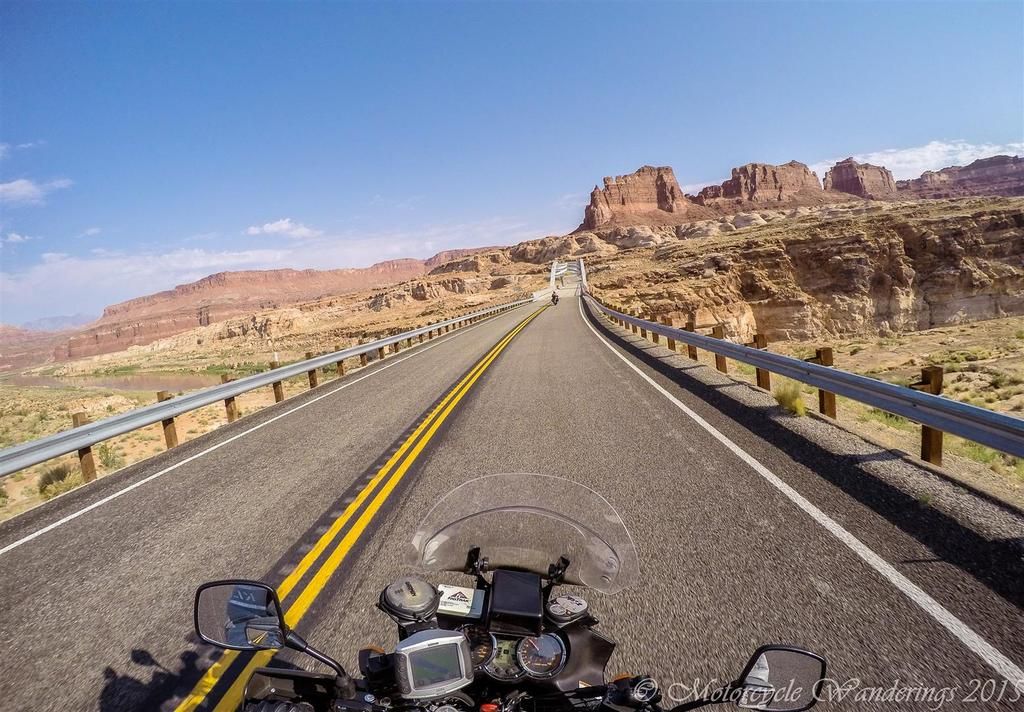 Crossing the bridge over the river Colorado.
No sooner had we crossed the river that trouble found me again. We leave the canyon and enter some long straights, great for cruising in top gear. Then, towards the end of one such long straight, my foot reaches to downshift .. you can guess the rest - missing shift lever again, and there isn't a shoulder to pull over to. The bike wants to stall if I slow down too much, so I try to keep it in the zone and cruise along till I can find a pull out. This will happen twice more, almost becoming a routine - break out the tools, tighten the shift lever bolt, keep riding. Until we find a town large enough to have a hardware store. Here we buy some split ring pliers - so we can separate the shift lever from the bolt, for better access to the bolt, and some blue loctite - so when we tighten that @#$%&!~ bolt, it stays put!
In the interest of a semblance of conciseness, and if they haven't already, perhaps to keep the reader's eyes from glazing over, I am going to stop this blog post here and call it Part 1, concluding the journey in the subsequent blog post.
Thank you for reading! :)
Next blog post: Colorado here we come! :)