Picking up from where I had left off in Part 1 (clickable link). 
If you haven't read part 1 yet, please click on the link and read that first. :) 
Also, fair warning. Part 2 is even longer than Part 1. I had a request from a reader, asking me to make Part 2 as long as I wanted to. Request granted. :D
As voiced in Part 1 - Brian and I were having a disagreement with our riding styles. The ride plan now in effect was that Brian leads and we curtail our picture stops. I still have route suggestions and we attempt to strike compromises on the routes. Brian just wants to get to Albuquerque, he has his tall blonde 'girlfriend' to look forward to there, and to lighting up cigars and telling tall tales in the IBR parking lot with all his IBA buddies. He lives for moments like these, and I don't blame him. They are all very lovely people, some of the best that I have come to know, but we will be there all weekend long, and I am in no hurry to get there right away.  
Brian wants to take the most direct and efficient route there. As you would, perhaps, if you were in a competitive rally. Why dilly-dally, when there are points to be accumulated, and points per mile statistics to stack in your favor.
I am on the other side of the spectrum, for me the journey is the destination. I want to enjoy the journey, and linger, and soak up as much as I can. The destination is secondary and it can wait. 
I also wonder if "Been there, done that, got the T-shirt" has a role to play here. In his 57+ years on this earth, Brian has criss-crossed the country many times over. I on the other hand, have not enjoyed these vistas as often as I would like to, I still marvel at the sights, they still take my breath away, I still want to sit and stare at them. Will I still do that 20 years from now? Oh God - I sure hope so!  
To his credit, Brian is taking what scenic route we are taking, and the resultant torture - for me. If it weren't for me, he would have run across I-40 to Albuquerque, interstate freeway riding is his thing anyway. For all intents and purposes, for him, he is dragging an anchor, and I am holding him back.
Crossing into Colorado from Utah, we route on CO Hwy 141 to Hwy 62. Hwy 141 is in the rain shadow and a high desert at the start, a fun twisty ride in the beginning, eventually giving way to valleys and high farm country. Not quite as scenic as Hwy 145 through the San Juan Mountains and Telluride, but then again, not as busy either, and Hwy 141 is the most direct route to Ouray. It's obvious I am not the one routing today, if I was riding by myself, I would have taken the longer but more scenic route. Riding separately is unmistakably the solution, but it isn't happening just yet. 
My first view in almost 5 years, of the rugged and jagged peaks of the San Juan Mountains looms ahead. Brian is in no mood to stop, but I am, and I am not letting it pass by. I wouldn't do this on a remote back road, but we are on thoroughfare highways, if we get separated, we can pull over and wait for the other, or just link up with each other along the way. We both have SPOT and GPS devices and we know exactly where we are going.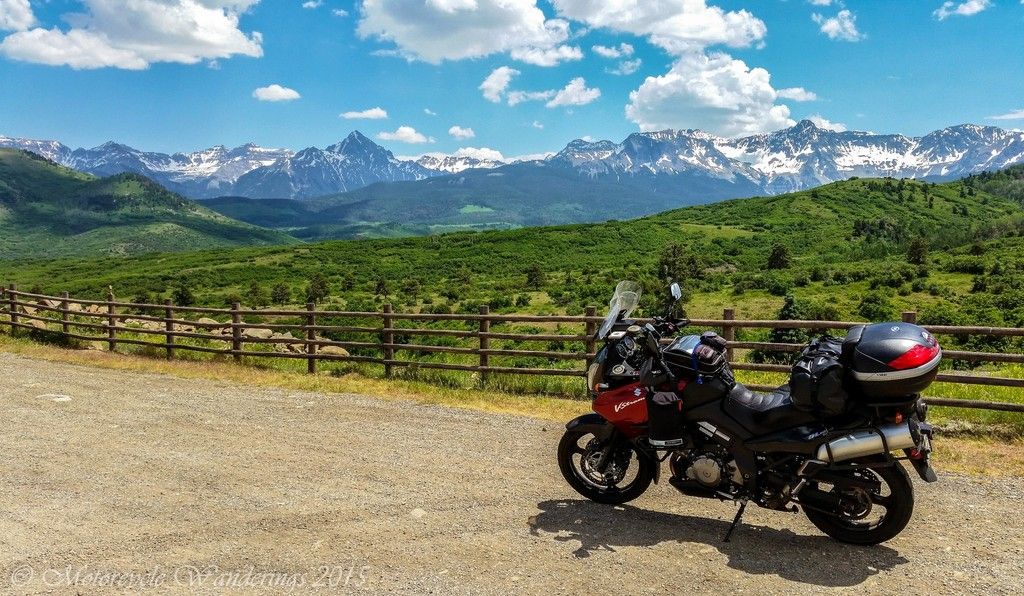 San Juan Mountains from CO Hwy62.