"What have you learned this year?" My sister asks me at a happy hour meet turned surprise birthday celebration with some friends. I was reluctant to get into a philosophical discussion about life's lessons, while the drinks were flowing so freely, besides I have always been a much better writer, than I have been a speaker. I tried to deflect her query, but she persisted.
"Perhaps, you have learned there is no such thing as making a lifetime career at one company.", she offered. I agreed.
"Perhaps, you have also learned that you can always have family." I couldn't have agreed more, she is not my sister by birth, but she is my sister by heart! In a land I have made my home over the past 18 years, with my family of birth half the world away, I have been blessed with some very close friends, who have become my family. I have my "aunt" and my adopted family up by Mt. Shasta, I have my American "dad" near Reno, and my wise sister dear here in Sacramento!
What else have I learned? Perhaps that I have to keep enjoying and living my life, while I explore my options and opportunities, in this niche technical field where I have found employment for the past 16 years.
Funds have been tight, as I navigate a period of transition, and as a result, the wanderings on a motorcycle have cooled down considerably, except for the occasions where the kindness of friends and family have provided me a roof over my head during my wanderings, knocking off the ledger, one of the biggest expenses while traveling!
On this occasion it was a trip to San Diego, and I was fortunate enough to spend several days in the area. I have been to San Diego multiple times in the past few years, my modus operandi here hasn't varied much - enjoy the relaxed beach towns of north county, photograph the sunsets by the ocean, and ride some magnificent roads east of San Diego.
This time around I didn't chase after the sunsets as much as I usually do, trying my hand a little bit at street photography for a change. Although, the locales I was spending my time in were mostly gentrified, and not too adventurous of places for street photography, it was nevertheless a target rich environment.
For instance this puppy mill (and not the kinds which are frowned upon for good reason), caught my eye. Perhaps I even found myself relating to it in some regard - caught in the wind, as I am at the moment. The wind churning my legs, but trying to keep my head up high and a smile on my face. :)
I was in Pacific Beach. The town is essentially divided into two districts - party central in the south next to the beach boardwalk, and the more upscale/residential sector with some mature and refined restaurants in the north. Two of my favorite restaurants in Pacific Beach are in northern sector. The first being Costa Brava Spanish cuisine, they have a tremendous happy hour menu, and the second is The Fishery for dinner. If you are ever in Pacific Beach you can't go wrong with either place.
My companion for the afternoon was leery of the madness of the Pacific Beach boardwalk, but relented to making a short excursion into that territory. I knew the best wildlife was to be spotted here, but being able to convince my friend to venture here was definitely a feather in my cap. :)
Pacific Beach is a no country for 'old' men. There is a bar on the boardwalk every block, sometimes even two or three on a block. Billions of brain cells are being killed at any instant, as the booze flows in copious amounts, there are washed-out surfers holding "Will work for weed" signs, and then milling amongst the local wildlife are tourists like me pointing big lenses at everything and anything.
All the glitter and flash, the hustling, and the random absurdity was overloading the sensitive senses of my companion, throwing them into a loop!
Cutting inland from the boardwalk, we started to make our way to an early dinner reservation at The Fishery. Just a block or two and the landscape changes in Pacific Beach, it's not a town as pretty as La Jolla or Del Mar is for instance. A couple blocks in from the ocean and you might as well be in Sacramento.
Away from the boardwalk, the people watching shifts from what they are wearing, to what they are driving.
My first time spotting this little birdie in the wild - A Reliant Robin!
I am not sure if it would get you anywhere close to a good roll in the hay around these parts, but you could always rely on it for a good roll in the ... street!
Of course, if you require some help with the roll in the hay department, that is also readily available around here. There are creepy vans, and then there are Creepy Vans, this is the latter!
The Fishery remains my favorite seafood restaurant in San Diego, to date. It was an early dinner because I wanted to catch the sunset by the ocean, unfortunately there was a wall of pall hanging out on the horizon which completely swallowed the setting sun. I would have to make do with a couple of photographs at twilight.
Even at dusk, we were staying away from the boardwalk, besides in my opinion the sunset is much more scenic from this spot than from the boardwalk south of the Pacific Beach pier.
Rain had enveloped us the next morning, but I had plans to ride with my friend in Del Mar, who had just acquired a brand spanking new red FJ-09. We decided we were going to ride rain or shine, a little bit of rain is no bother, so we rode out to Julian in the mountains east of San Diego. En route, we encountered more rain than we were bargaining for as we continued to ride in and out medium sized storm cells. I enjoyed the ride nevertheless, albeit we did cut it shorter than originally planned, and I was back in the coastal north county for a late lunch.
Encinitas was my lunch stop, but first I stopped at one of Encinitas' landmarks - The Boathouses, built in the 1920s. Ironically, these 'boats' have been nothing but home to landlubbers and have never been out to sea.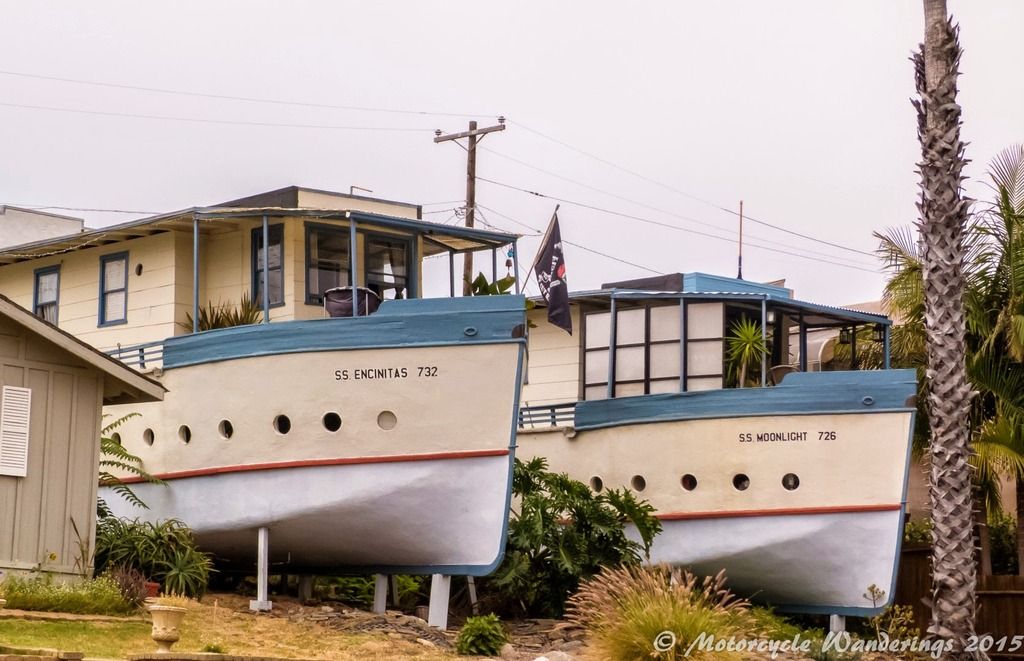 Lunch was at Ki's, a restaurant of the organic/health food genre, where food used to be much better than what it tasted this day. Sometimes, this whole organic and whole foods concept results in you chewing on what tastes like cardboard.
The saving grace which remains of Ki's, is that it sits across from one of my favorite beaches in the area - the San Elijo state beach.
Only very slightly, as I hung ten in my moto boots!
... but not enough. I love the foamy surf that often scrubs this beach. It was here that some friends also visiting the area, and who had been following my Facebook feed intercepted me. They were staying till sunset, but I had dinner plans, so I left. Good seeing you Doug! :)
It was an early morning the next day, a hike to stretch my legs was in order. I found myself in Rancho Penasquitos canyon preserve. An easy 6 mile hike to a waterfall was in order, it was an easy hike but I still wanted to get it over with before it started to get hotter.
It had been much colder the night before, and even the local cold bloods were looking forward to warming up by soaking up the sunshine.
An uneventful hike, other than the Rattlesnake sighting. It didn't make a sound as I took a wide detour behind it. All along the hike, I was hearing that there might actually be some water at the waterfall this day, because of all the rain we got the day before, and then I come to find out that this is that famous 'waterfall'. Gee, you guys need to get out more, at least to Northern California, it's close by!
It was turning out to be a beautiful day in San Diego, and I decided to spend it in La Jolla. First on the agenda was the Birch Aquarium at Scripps. It's open 9-5 every day and worth taking a look at.
It is a well stocked aquarium with many exhibits including the hall of fishes, seahorses, a 70,000 gallon kelp tank with a myriad of marine life, and tide pool feedings, definitely something kids would enjoy and learn from.
In addition, they also have scary looking Eels!
And the Nemo reef. Where is Nemo by the way? Can you find him? That clown has gone missing again!
It was too pleasant a day to be spent indoors, so I didn't blow too much time at the aquarium. It was lovely outside with pretty blue skies and I decided to spend the rest of my afternoon at Scripps park.
It was an ideal day for people watching. There were many a wedding parties in and around Scripps park. This bride below with her scarlet bridesmaids caught my eye first. The chumps behind her I didn't care for so much.
Especially this bunch. Look at these fools. Such alluring maidens in their vicinity and they would rather be paying attention to their dull 'smartphones'.
One wouldn't blame the bride for running away!
That's all folks, thank you for reading! :)