I haven't been writing many (or any) ride reports lately, with so many other things to do, the motivation has been lacking. Somehow, after a couple of drinks to unwind this Friday night, I seem have found my second wind, in the writing department. Funny, and not sure why that is, but here I am typing away.
This was a short ride through Big Sur, a couple days before New Year's eve. I hadn't rode that stretch of Hwy 1 all year long. I have made that pilgrimage, at least once a year for several years now - Big Sur being one of my few favorite places in California. Not wanting the streak to end, I decided to mark my attendance before the year was over, a quick run south from Napa to Pismo Beach, where I would meet up with my good buddy Treedoc from the FJR forum, whom I hadn't seen in at least a couple years.
It being the holidays, I expected traffic snarls, and dimwits aplenty from all over the country, and perhaps over the world, but then there was something I didn't expect...
Old man winter was in California early this December. Planning for an early departure from my parent's villa in Napa, I opened the garage door to find the driveway completely iced over. I stepped out and I could feel my moto boots slipping on it. I was going to have to wait it out till it thawed. More coffee then? Yeah sounds like a very good idea.
Traffic wasn't terrible cutting through the Bay area towards the Big Sur coastline. Typical holiday traffic heading in on a week day, but nothing like the carmageddon it normally is. With some effort I was able to get around clumps of slow moving vehicles, the sun was shining on my visor, and I could feel it's warmth, it was a good day.
As I am writing this report today, the Big Sur highway has been closed due to a rain damaged, and now demolished bridge. It wouldn't be possible to ride this stretch again, not like this, for at least a year, if not longer. It could be a blessing in disguise, if you are in the know of other inlets onto portions of this iconic highway, but it certainly isn't a blessing for the businesses in Big Sur. This place for example, where I took my first break for the day, a mainstay in the area - Nepenthe.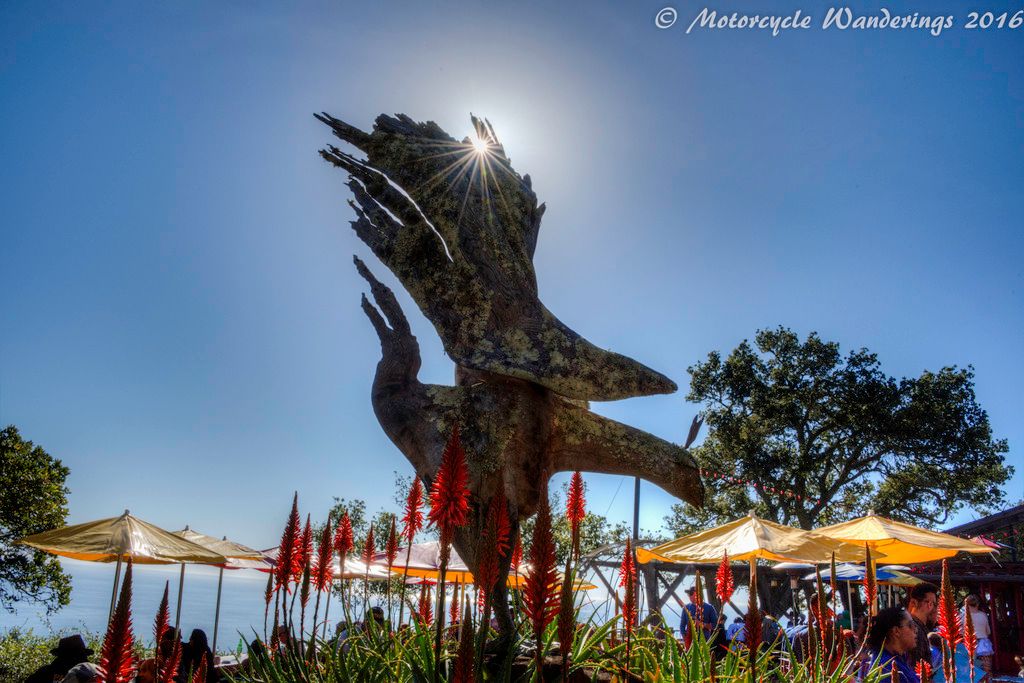 It was hopping, it was teeming, but service seemed efficient. Although, it does take a while longer if you arrive by your lonesome. Easier if in groups of 2 or 4. I had to wait till another single traveler arrived, so they could seat us together at an opening for two. A single-serving friend to talk to as we enjoyed the view. It was a beautiful day, a very pleasant day in December, there was a calming breeze, and there was a sea of green meeting the sky and ocean blue.
... and if you looked closer, a lot closer, you could see the world's luckiest horses frolicking in the cliff-side pastures. I am not sure who owns them and for what purpose, are those rescues, or just a wealthy horse lover and their prized steeds? They have always been here for as long as I have been visiting Nepenthe, and I always enjoy spying on them for a while, when I am here.
What I didn't expect and what would become one of the highlights of the day, was when I returned to the parking lot to find a gentleman waiting beside my motorcycle. He introduced himself and asked me if I was an IBA guy. I thought he must have spotted the license plate cover, but no, he said, he recognized the type of bike I was riding. Now I was curious, and he explained - "A friend of mine was in the IBA, and he used to ride an FJR". Who is your friend? I asked. "John Ryan, he was a good friend of mine". I shook his hand. Yes, I knew John, as well. Probably not as well as he did, but he was one of the few IBA riders that I admired, and admire a lot. Perhaps it maybe, but I don't think it is mere happenstance, or serendipity, but I was in Big Sur, and at Nepenthe, in the October of 2013, on a coast ride, after having resurrected my FJR, that I learnt of John Ryan passing away, going perhaps the only way one could imagine, doing what he loved the most - riding his motorcycle. If a part of your spirit is here John, enjoying Big Sur, then you are in a beautiful place, as we knew you would be. The community misses you!
There wasn't much stopping for the rest of the ride, it was a bit of work as I settled into a pattern of trail and pass clusters of slow vehicles and enjoy an open stretch of the highway, and then rinse, repeat, but it was worth it. I stopped briefly at McWay Falls, but they were still in shadow, so I didn't linger and pushed on.
I reached Morro Bay well before sunset, and enjoyed sitting by the park benches overlooking Morro Rock, sometimes lost, sometimes found in my thoughts. Recollecting, reminscing, day dreaming. Much to love about the fresh ocean air. Sunsets by the ocean are the best!
Pismo Beach awaited and a long night catching up with Tim and Mary. I met them on the FJRForum, and Tim has become one of my best buddies. I don't get to see them as often, but I think about them often. I have met some of the best people that I know, riding motorcycles.
Life is good. Life on two wheels is even better!
Thank you for reading! :)