Chapter 1: Winter Wonderland.

I had been looking forward to the little get-away to

Death

Valley

in March. Enjoy the early/intermittent Spring we had been enjoying till now, and what better way to live it to the max than getting on your trusted steed and heading out for the open road!

I caught a little break in the weather across the Sierra's and embarked on the journey Wednesday, a day earlier than my other FJR brethren who were riding on Thursday, but were planning on overnighting in Lone Pine. I was going to ride all the way to

Death

Valley

and then a little further this day.

No early morning starts this time, didn't leave till about 9:30AM to give the sun a chance to start shining on the mountain passes. The roads were in surprisingly good shape, considering that a storm had just rolled through on Monday night, say what you may about them but CalTrans did a very good job.

I wasn't however taking any chances, kept the pace slow and steady even though there were only a handful of shoddy spots past Twin Bridges: sand on the road, melt from the stacks of snow piled high along the roadsides - the usual winter road hazards facing two wheelers across the mountain highways.

No pictures till I got to the Hwy 89 and Hwy 88 junction, then pulled over for a few shots. Hard to find good angles to shoot with the glare from the snow trying to white out any detail, I much prefer the colors of Spring, to the paleness of Winter.


Found this peaceful creek flowing by the roadside with a thin sheet of ice and a sprinkling of fresh snow on top.





Back on the road again after a quick stretch and then ride across into Nevada, the point and shoot I keep on the tank bag comes out of hiding and it takes a look back, as the Pines of the Sierra Nevada ranges give way to the Nevada desert sage brushes.





There are some nice ranches on these eastern footings of the Sierra's.
Close to, yet far enough away from the hub-bub of the little city called Reno and maybe more so from the resident forum law breaker and bench warrant evader called RenoJohn, but that story has been told elsewhere.


Filtered through Gardnerville to find Hwy 395 South and rode back into California skirting Topaz Lake.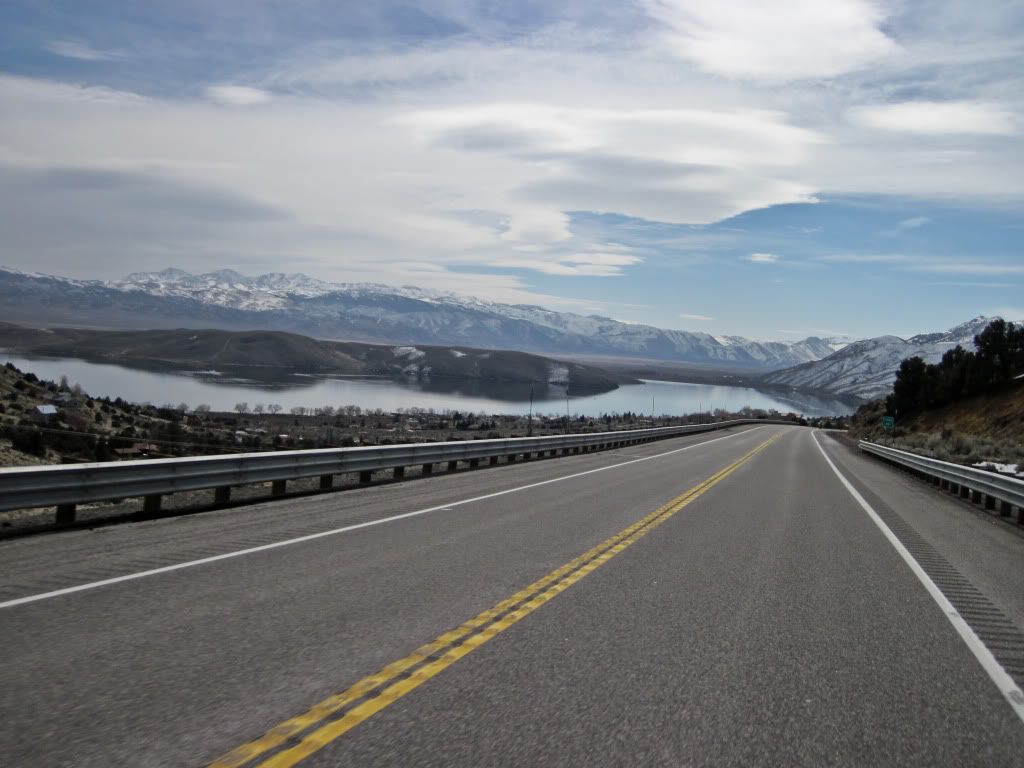 and dived right back into Winter Wonderland along the eastern sides of the Sierra Nevada range on Hwy 395.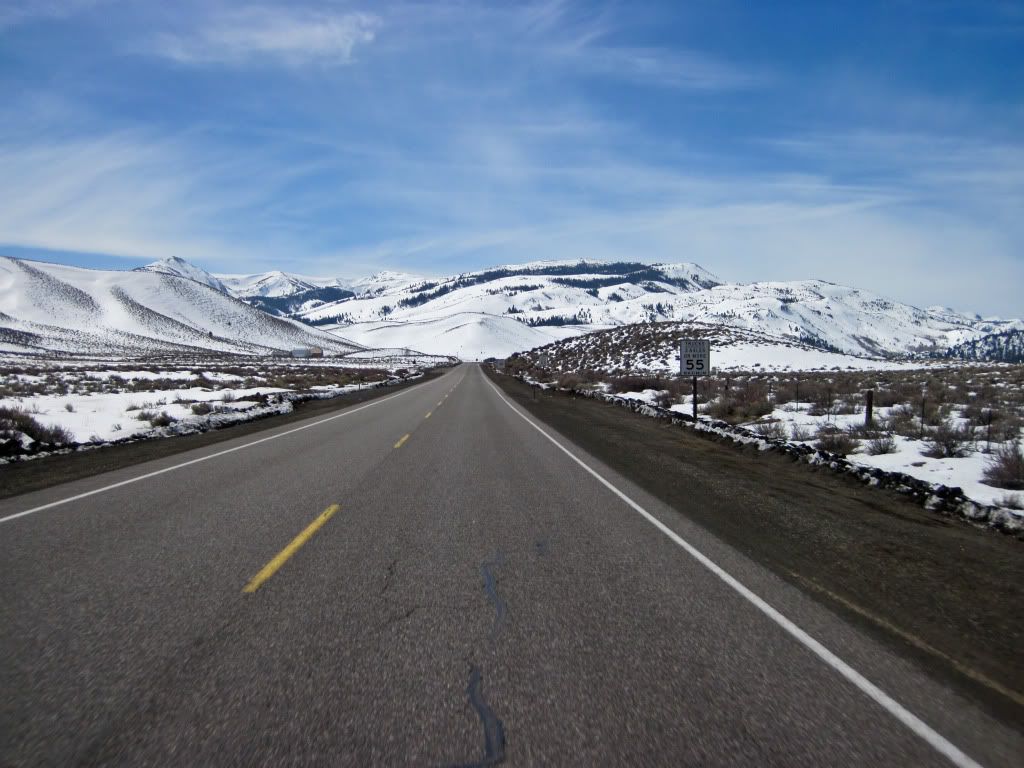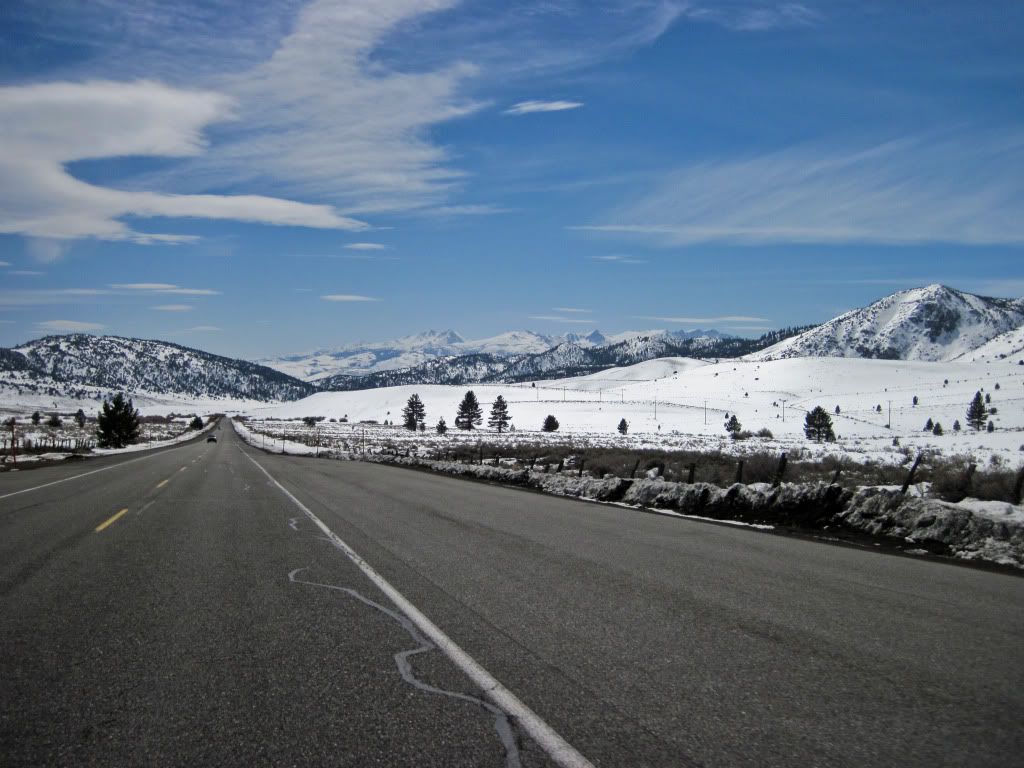 The snow covered Sierra's look so majestic from this side, rising quickly and high off the plains.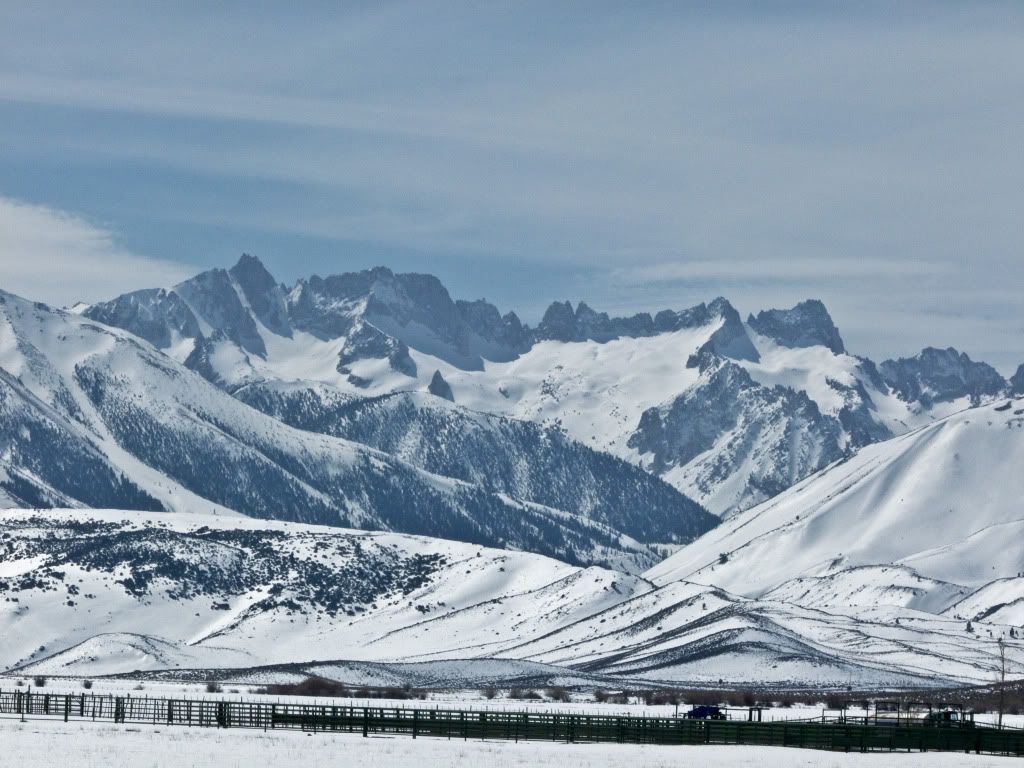 As I approached Mono Lake, the road winds left revealing panoramic views of the lake and the mountains around it.




A couple of closer looks..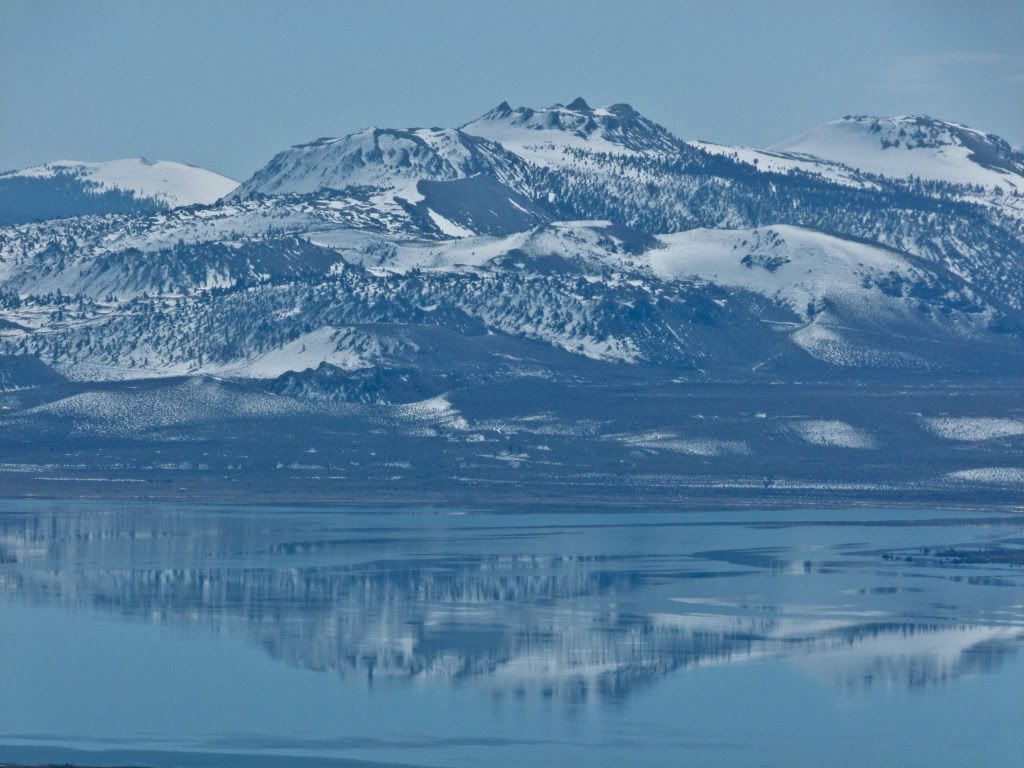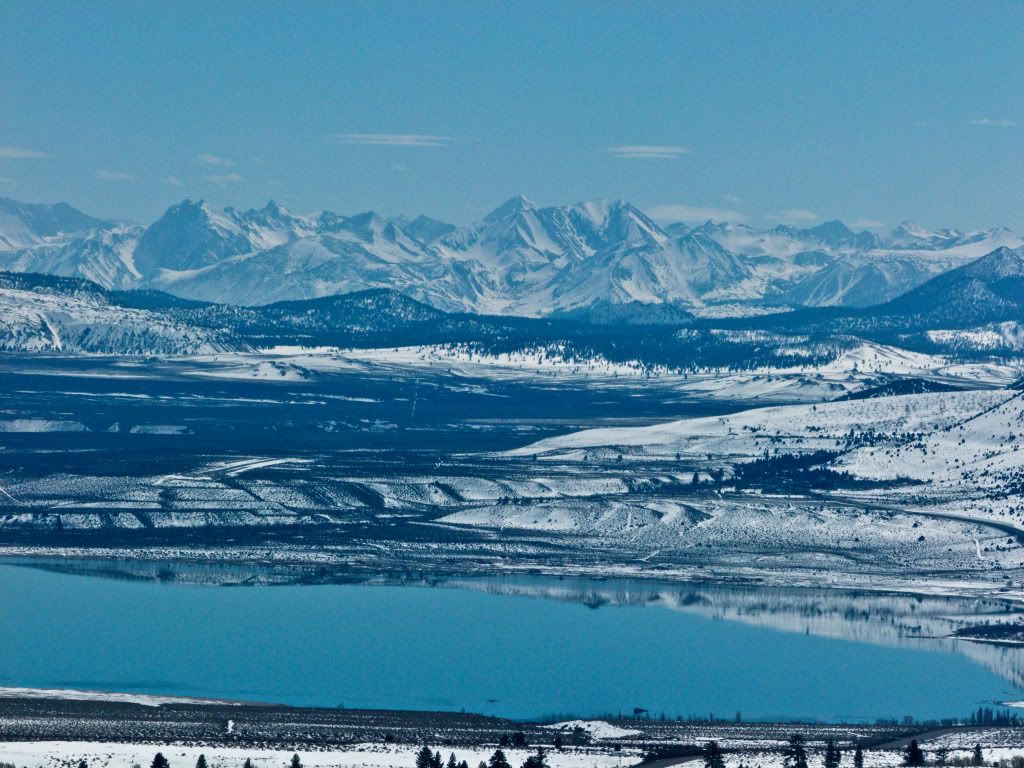 I intended to find lunch in Lee Vining, although the town is still sleepy in the off season and none of the eateries were open, so I headed towards the Mobil Station near Lee Vining, but alas they were closed as well. Lunch will have to wait till Bishop.

Since, I was already on Hwy 120 (which is closed for Winter) - I rode a little further to find this sign. Next time baby!




Back on the road again, racing towards Bishop and a bite to eat, the sunshine abundant. However, there was some sporadic snow melt on the road..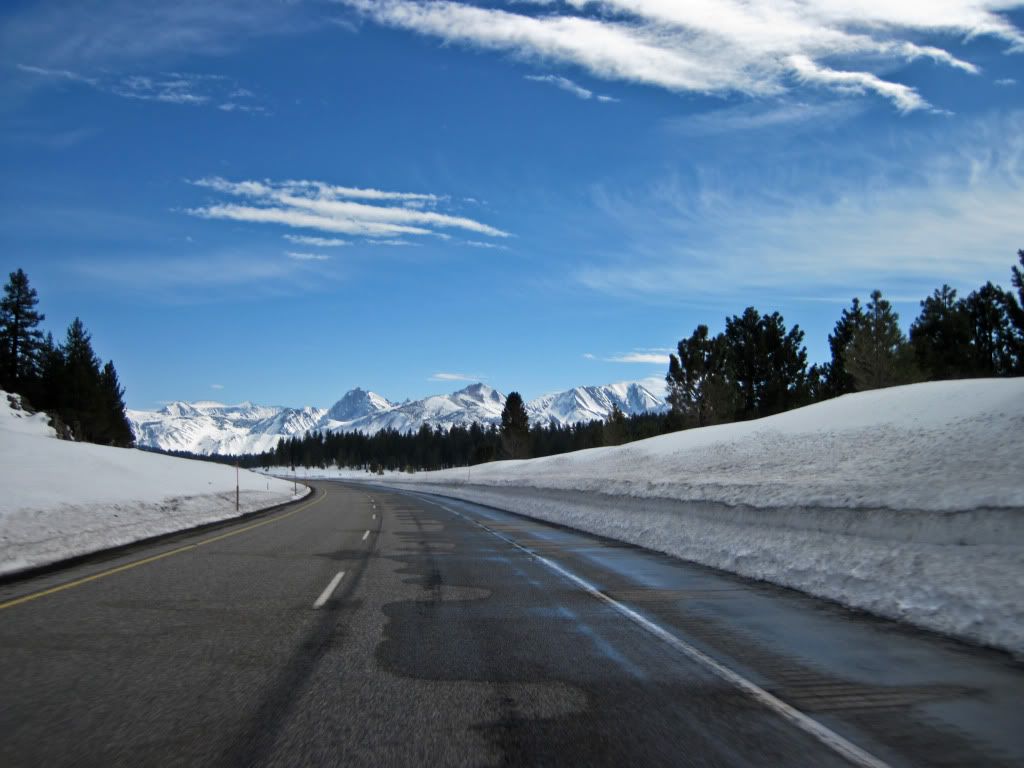 Although for the most part it was pretty dry.




Riding past the Mammoth Lakes area, you are greeted by more scenic mountain peaks and big fast sweeping turns.




Then I remember a place I had visited very early last Summer, and wanting to see it in Winter time, made a little detour from my route.




Who needs the Alps when such stunning scenery can be found right here in the Sierra's..

Convict Lake.




A couple other shots..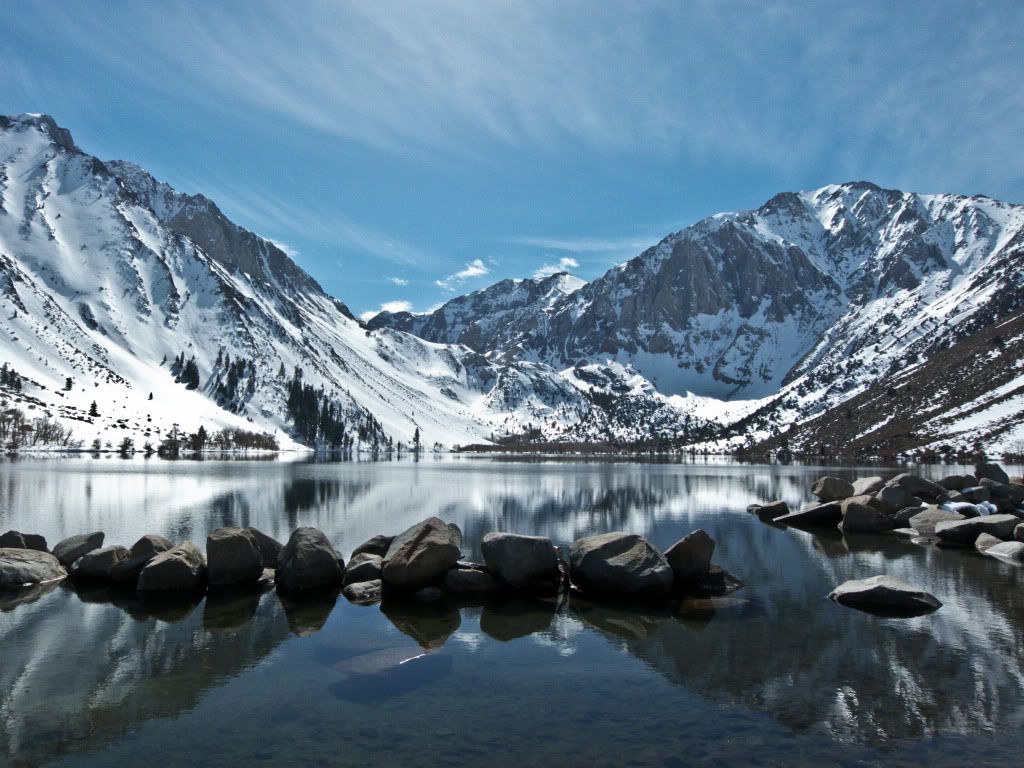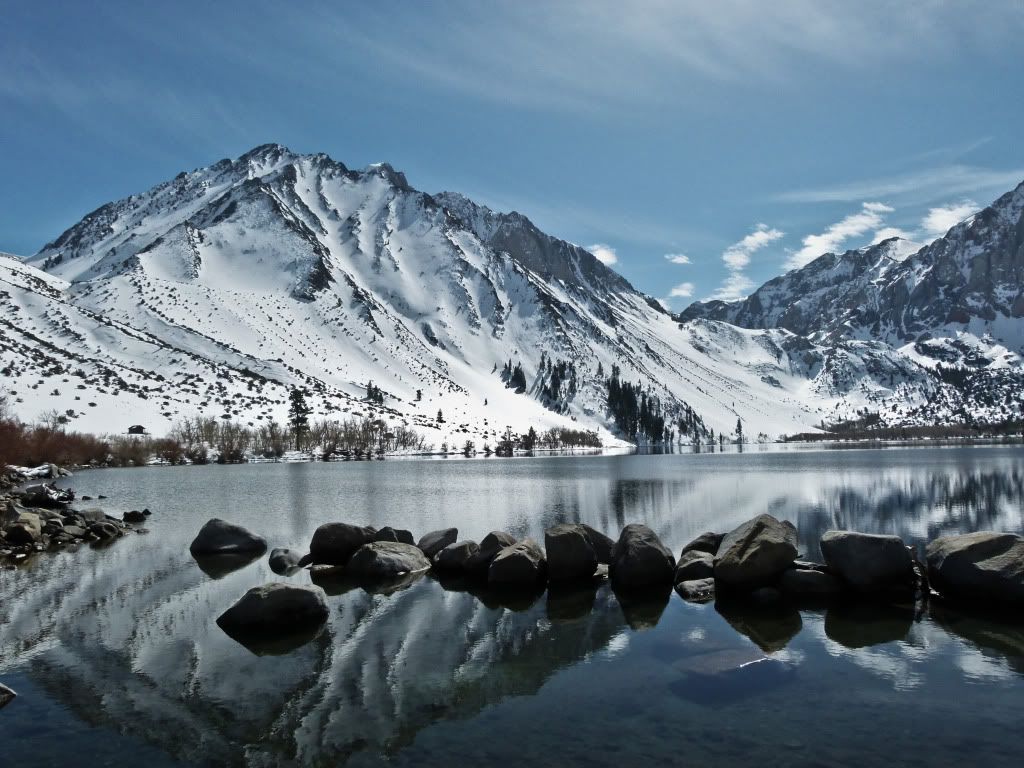 Then I spotted something else - a forgotten or abandoned canoe in this little channel beside the lake, it seemed quite out of place - bright red in a cocoon of glaring white.




Of course I took a closer look...




I spent a little time at Convict Lake just soaking in the scenery, but the hunger pangs reminded me that it was time to go find lunch, so I continued towards Bishop, snapping more pictures of mountain peaks along the way.

Both while stopped..




and moving shots..




Lunch was Subway in Bishop, so it didn't warrant any pictures of food. Refreshed from some sustenance - I went looking for more snow covered mountains. This next shot taken a little outside of Big Pine, notice the disparity in size between the industrial fluid tanks (which were much closer to me) and the steep precipices of the mountain domineering over the scene..




Light was fading fast in the shadow of the Sierra's - sunset comes early to Lone Pine and Mt. Whitney - the highest peak in the contiguous U.S. casts a very long shadow, I stuck around in Lone Pine for a bit trying to find an access road which would lead me closer to the mountain for some sunset shots - unfortunately as the sun dropped quickly the only place I could find in a hurry was this location..not ideal, but it would have to do..




Riding away east from Lone Pine towards

Death

Valley

, I tried to outrun the shadows cast by the mountains..and as my camera looked back, it witnessed more of the sun playing hide and seek between the mountains and the clouds..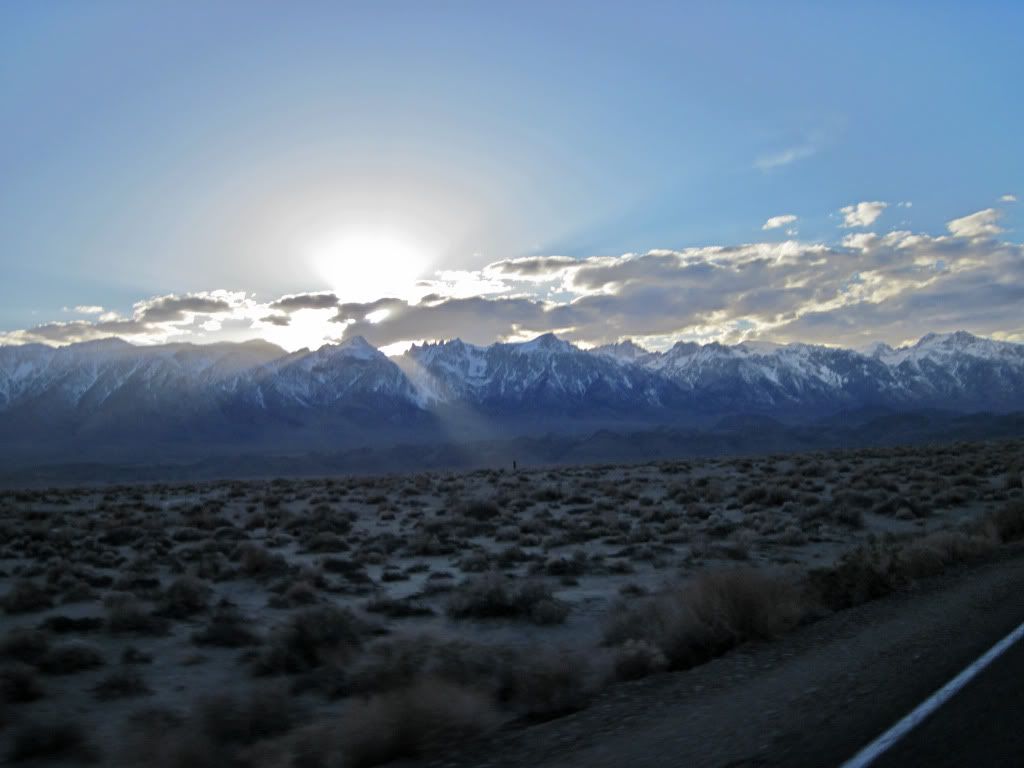 The shadows I was casting myself were getting pretty long as I raced towards

Death

Valley

, light fading fast.




Found myself at Father Crowley's Vista, but the

Valley

was already cloaking itself in darkness...




... as I raced through it towards lodging at the Longstreet Casino in Amaragosa

Valley

on the other side of

Death

Valley

.




My hopes of making it to the Casino before darkness falls were in vain....can you see anything? The camera seems to have exaggerated, I could - although not very far.
Chapter 2. Exploring Death Valley - Act 1.
I got up well before sunrise, to well.. capture the sunrise in Death Valley, but had a major setback - in the process of transporting my gear to the bike at O'dark thirty, I misplaced the room keys and locked myself out of my room with my helmet still in there, I couldn't go anywhere till the front office opened and let me back into my room.

So, I stuck around at the hotel but still took advantage of the glorious sunrise from outside of Death Valley instead.

Wings of an Angel.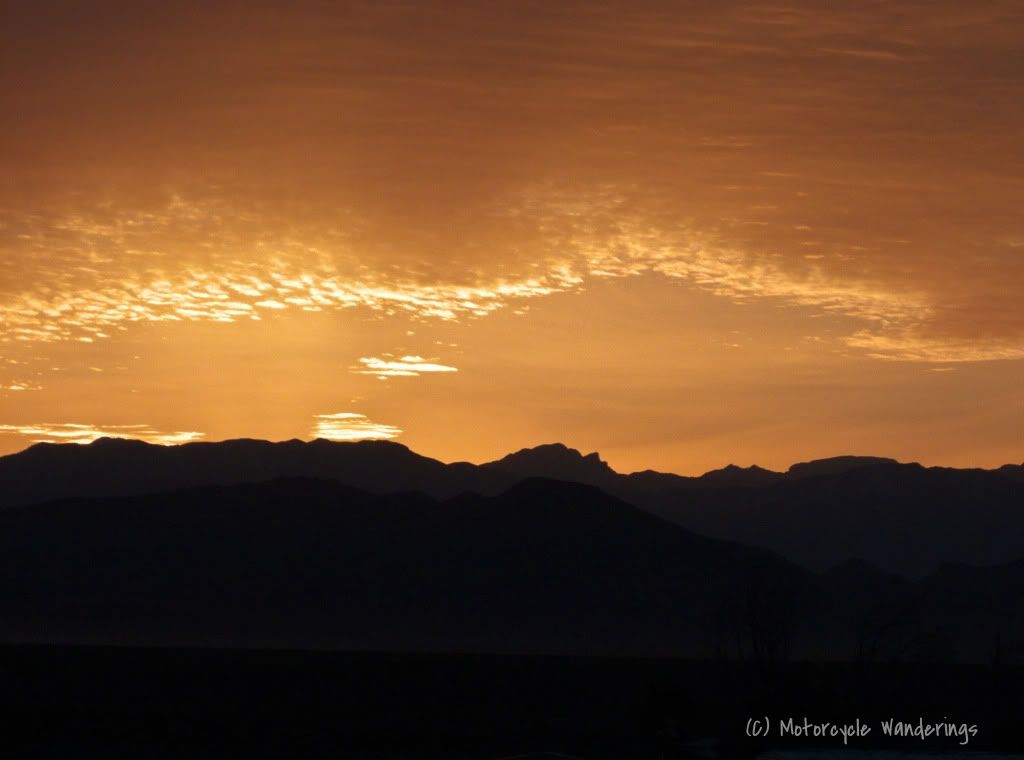 The sun peeps out and tries to wash out every detail in it's path..




Walked around the grounds of the Casino because the front office was still closed..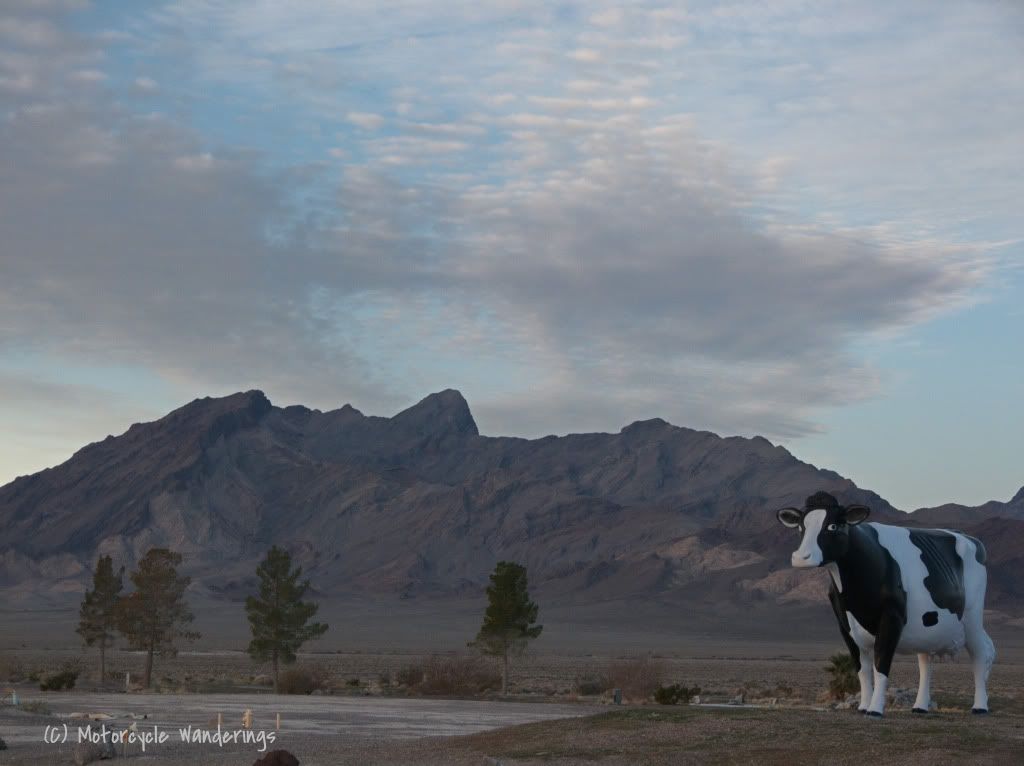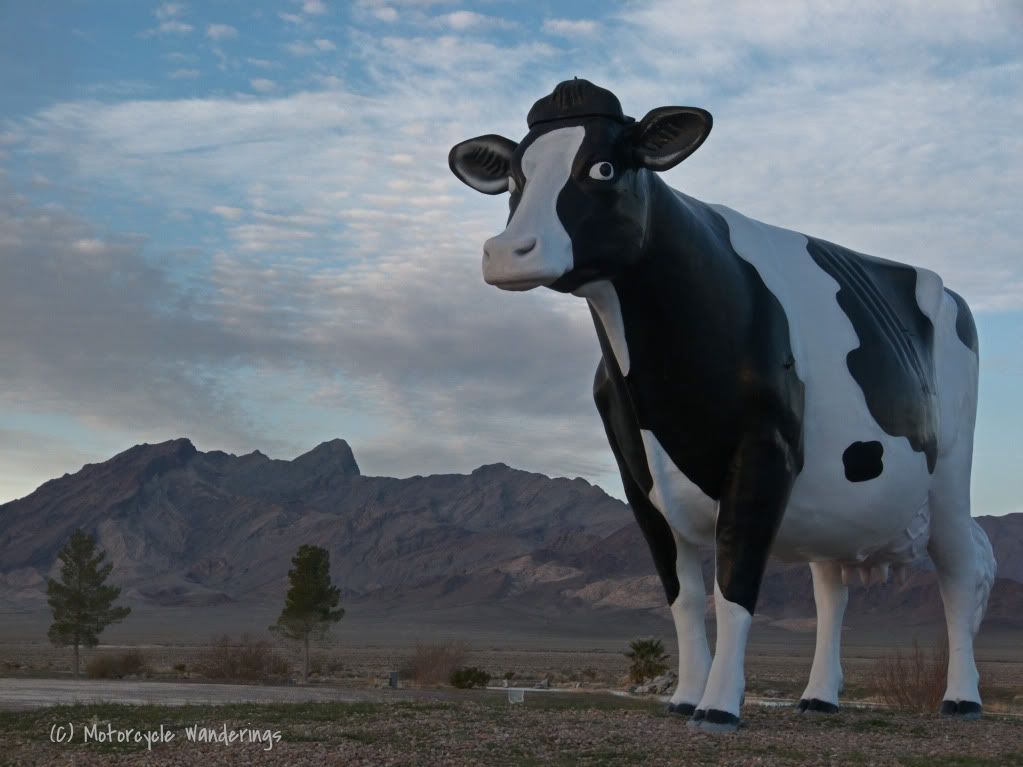 The lake on the premises..




and the pond right outside my room..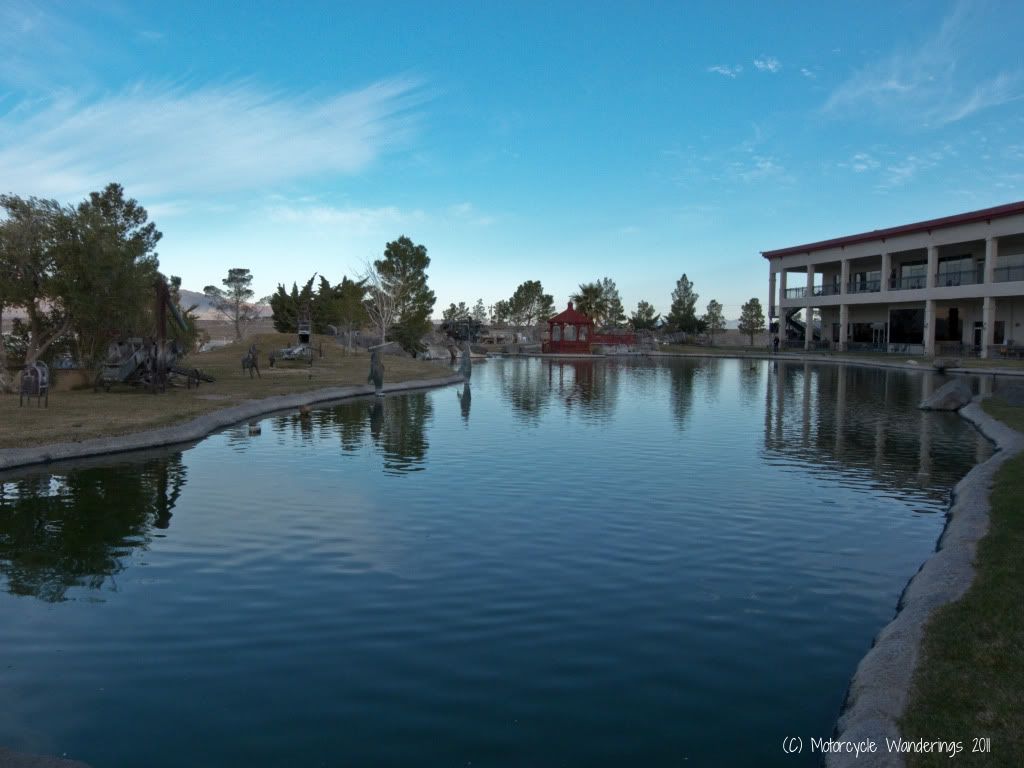 The front office opened early at 6:30AM so I could grab a spare key and then I was on my way. Since I had lost close to an hour and a half - there would be no stops for Breakfast this day


Rode back to Death Valley.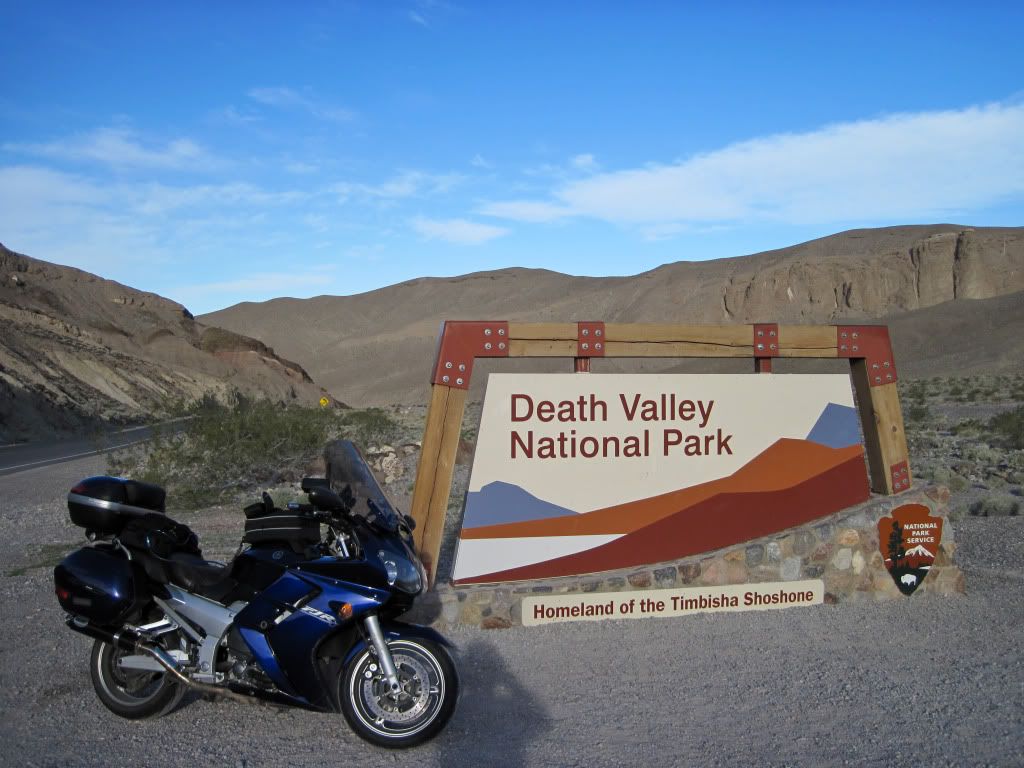 It was a nice cool morning with some light cloud cover.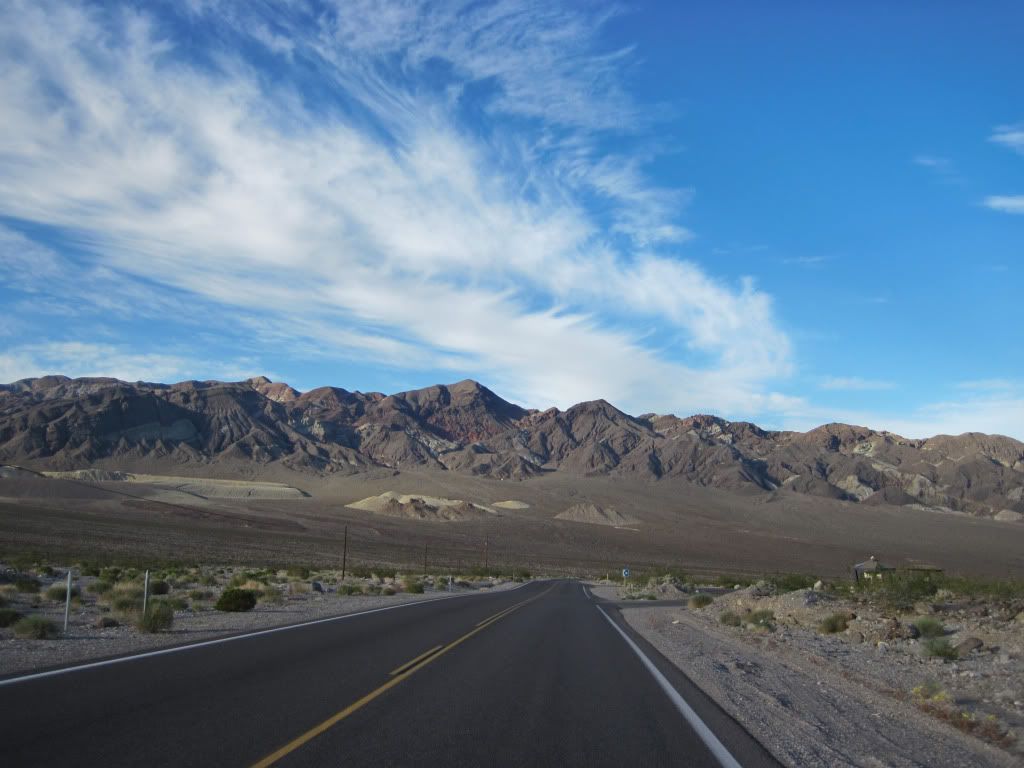 First stop was the Furnace Creek Ranger Station to pick up a map/pay fees, inquire about the conditions of some of the dirt roads I would be riding this day and the next..
Here you can see the monument of the steam tractor which replaced the mule teams which hauled Borax out of Death Valley.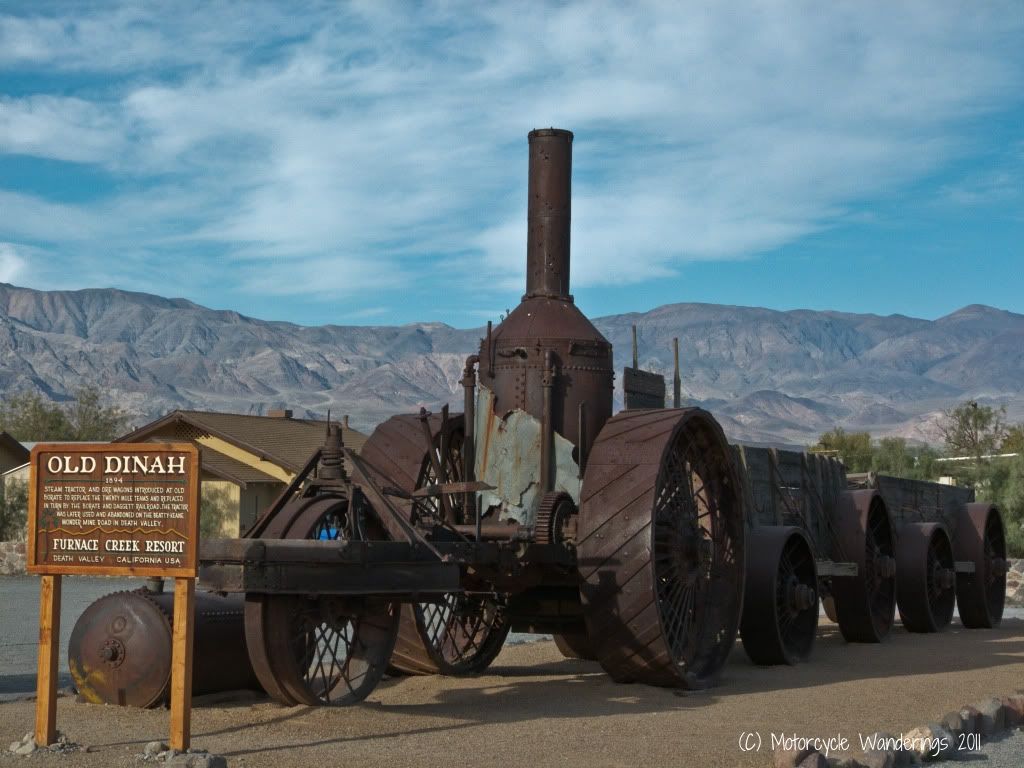 Then off I went to my first touring stop - Harmony Borax works.




The mine employed about 40 men who would produce upto three tons of Borax per day.
The mine became famous for the use of 20 mule teams which would haul Borax in double wagons such as the one below from Death Valley to Mojave.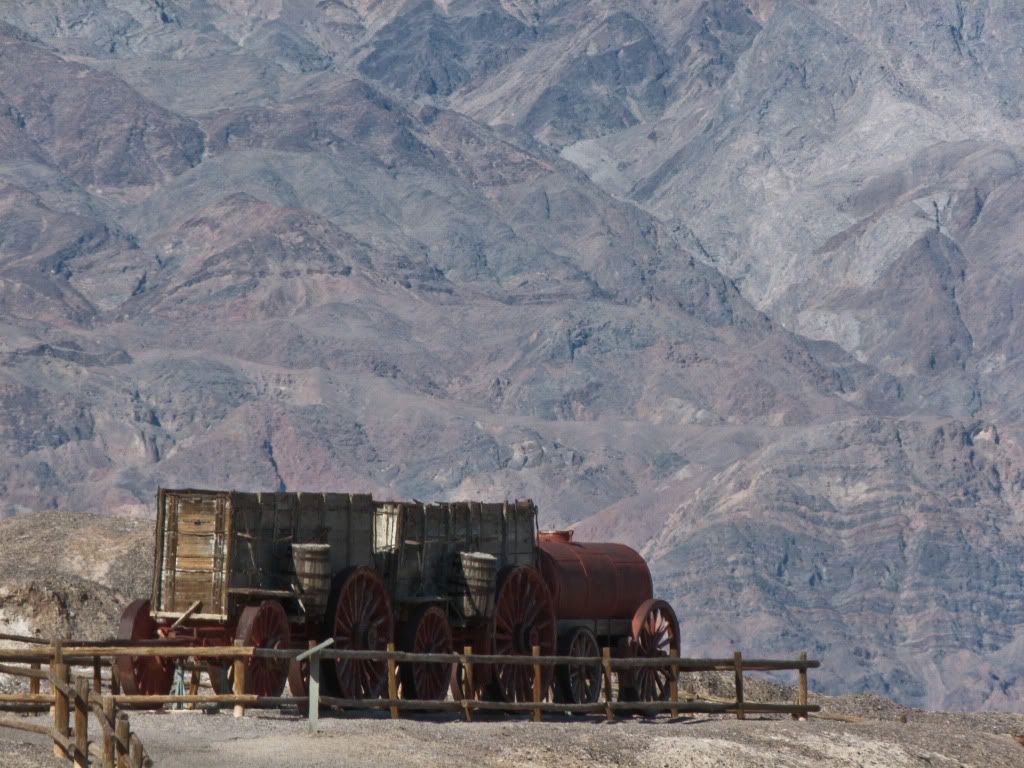 Next stop was a short ride on a well maintained dirt road to Salt Creek to see the last survivors of the erstwhile Lake Manly, which dried up at the end of the last ice age, leaving the current Death Valley in its place.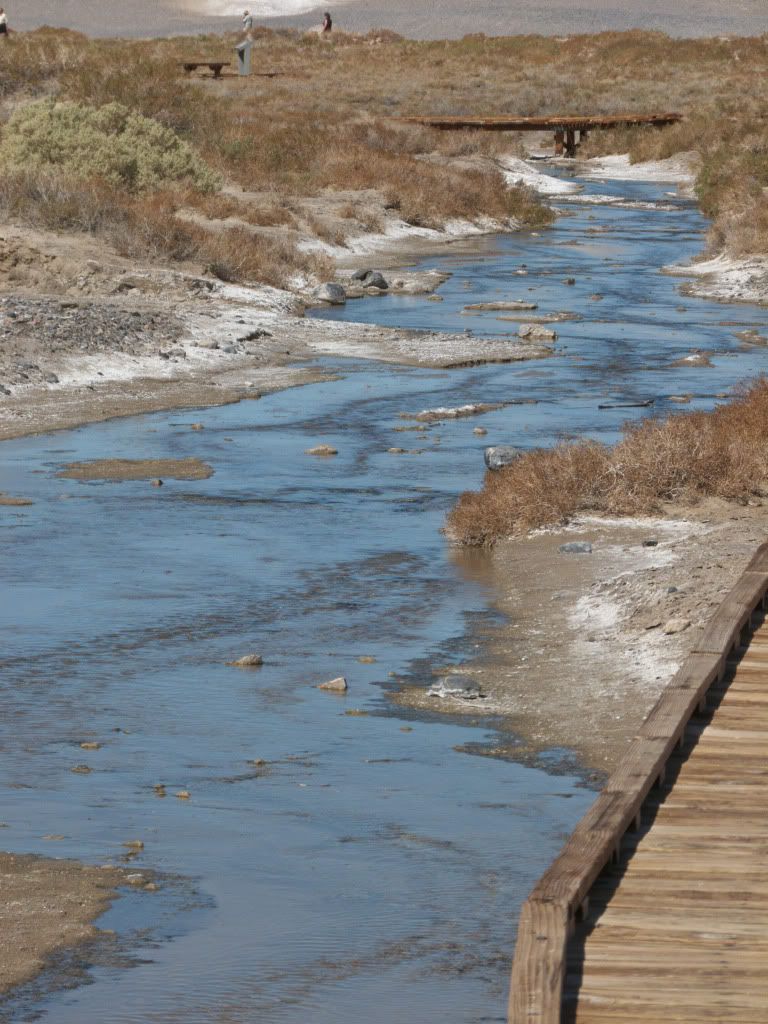 Death Valley pupfish in Salt Creek. These very tiny fish get their name because they seem to be playing like puppies.




Click here for Death Valley Pupfish Video

From here it was a fun ride to Ubehebe Crater. This is the largest crater which was formed due to volcanic eruptions in this area.

It is good to be touring Death Valley on a weekday when the weekend tourists haven't showed yet.




The Little Hebe Crater is the other famous crater formed in the area due to volcanic activity. To get to this you got to hike up a bit...




... and then some more to get a good view of the little crater.




Rode to Scotty's Castle from here. I regret not getting there till later in the afternoon and not having the time to do a tour of the grounds and of the underground areas of the castle. Would love to do this some other time when I return to Death Valley - I hear it is very well worth it!

Death Valley Scotty was a con-man/crook who convinced Chicago millionaire Johnson to invest in Scotty's fake gold mine in the Death Valley area. Johnson and his wife built this as their winter home in the area and Scotty conveniently claimed it as his own to back up his false claims of having a gold mine.




Hiked up to Scotty's grave - he is buried on the hill overlooking the Castle.




Nice views of the property from up here.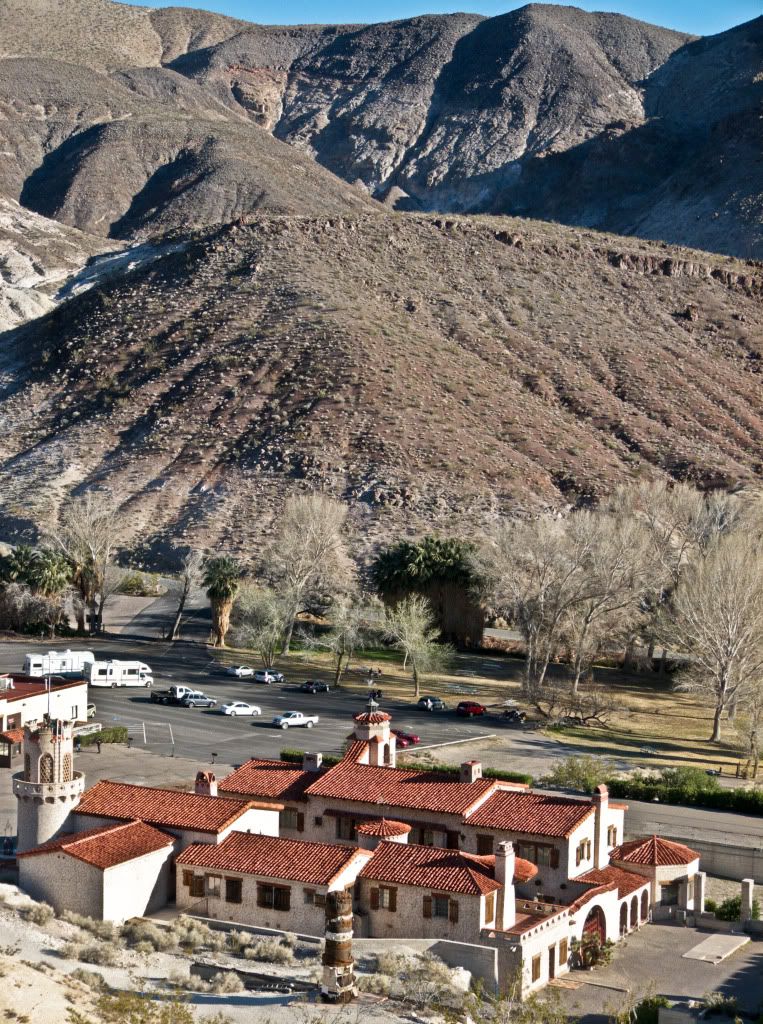 Hiked back down and took a couple shots before leaving for Beatty, NV.


The road from Scotty's Castle to Hwy 267 is great fun, and then Hwy 267 opens up into long straights - great for some for moto fun!

Once past Beatty I went looking for the Ghost town of Rhyolite. There were some sculptures here (part of the Goldwell open air museum) that I wanted to photograph in failing light.

Tribute to miner Shorty Harris, by Belgian artist Bervoets. The penguin in the sculpture is supposed to signify how out of place the artist felt in Nevada.




Icarus as a female, by artist Peeters.




Posterior view of the Lady of the Desert - The Venus of Nevada by artist Heyrman.




The most distinctive art exhibit here is a recreation of "The Last Supper" - created by artist Albert Szukalski and based on Da Vinci's masterpiece.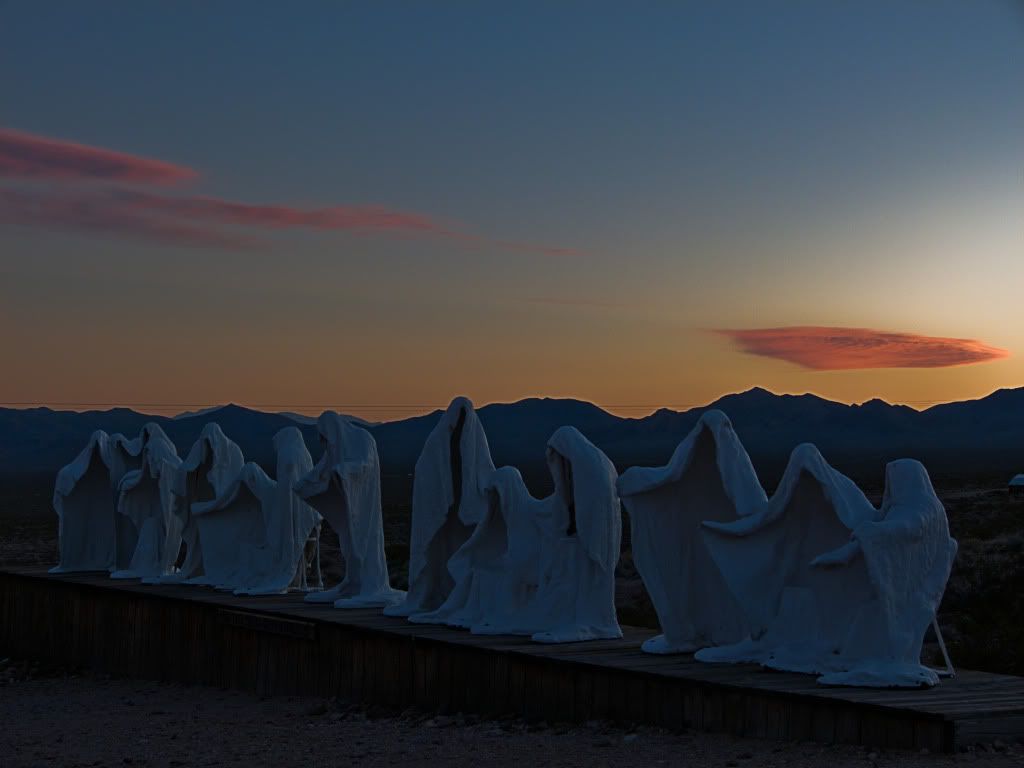 Jesus!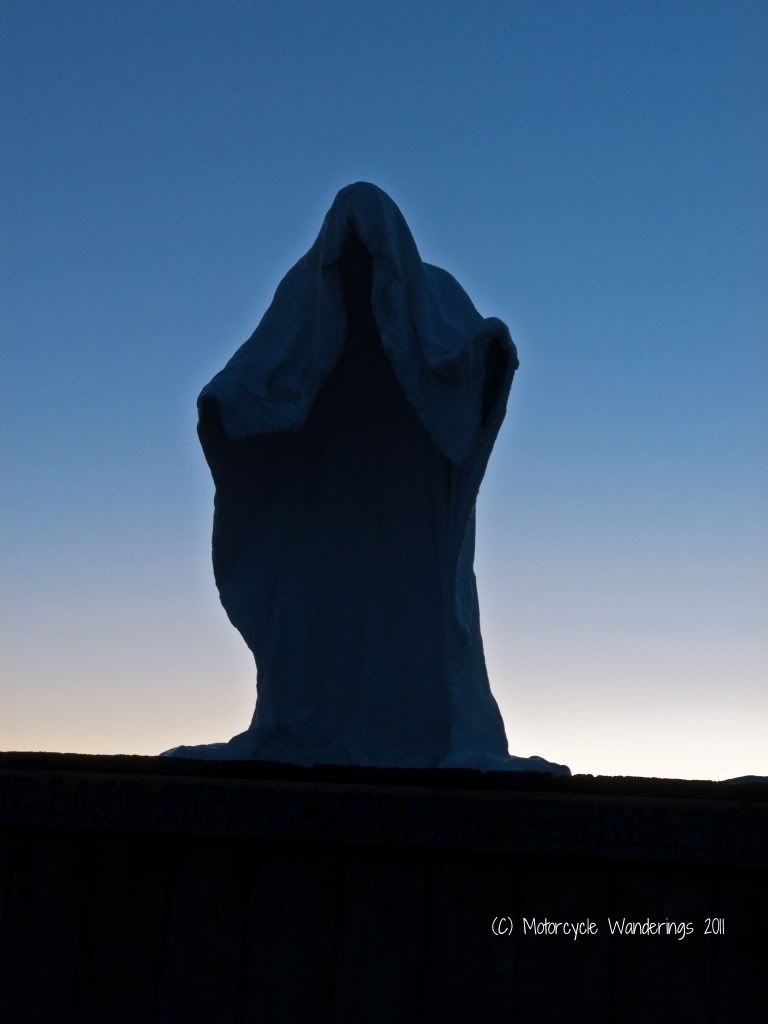 What better way to finish Chapter 2 Act 1 of the ride report, but by publishing the image of the Ghost Rider!


Chapter 2: Exploring Death Valley - Act 2.
A mixed (some good some not so good moments) day of photography, but it was all good riding!



When I returned from my DV outing Thursday night, I noticed two FJR's parked outside Longstreet Casino. It was dark so I couldn't identify if these were familiar bikes, there wasn't anyone at the bar either that I could recognize.

The next morning at O'dark Thirty I was hauling my gear to the parking lot when I noticed two FJR riders on their motorcycles ready to scoot. It was still too dark and partially befuddled by their headlights I still couldn't tell that it were my friends Old Michael and Mark. They were heading to Dante's View for the sunrise.

I had different plans, I was heading to Badwater for some geeky photography experiments. Although, in retrospect Old Mikey had the better vantage point to observe Telescope Peak bathed in early morning light. In my case, the early morning haze/mist? from the Valley made my attempts to shoot Telescope peak in early light turn out very noisy images. Chalked it up to a learning experience..


I walked out far far into the salt beds till I could no longer see any footprints. When I had first arrived before sunrise I was the only person at Badwater, while I was there a few more people arrived. When the sun hit the mountain things got better for me ...it was great to be here with very few others and no random tourists to interfere with framing shots.




Sunlight was beginning to fill up the valley. I was at Badwater 285 feet below other parts of the valley, which had already started to get direct sunshine, it was still indirect light over here.




I walked out all the way out here to take pictures of the salt basin in indirect morning light..




Macro shot. You can see the delicate strands of salt in the salt basin - you don't see them very well when the direct sun rays create a brutal glare on the white salt..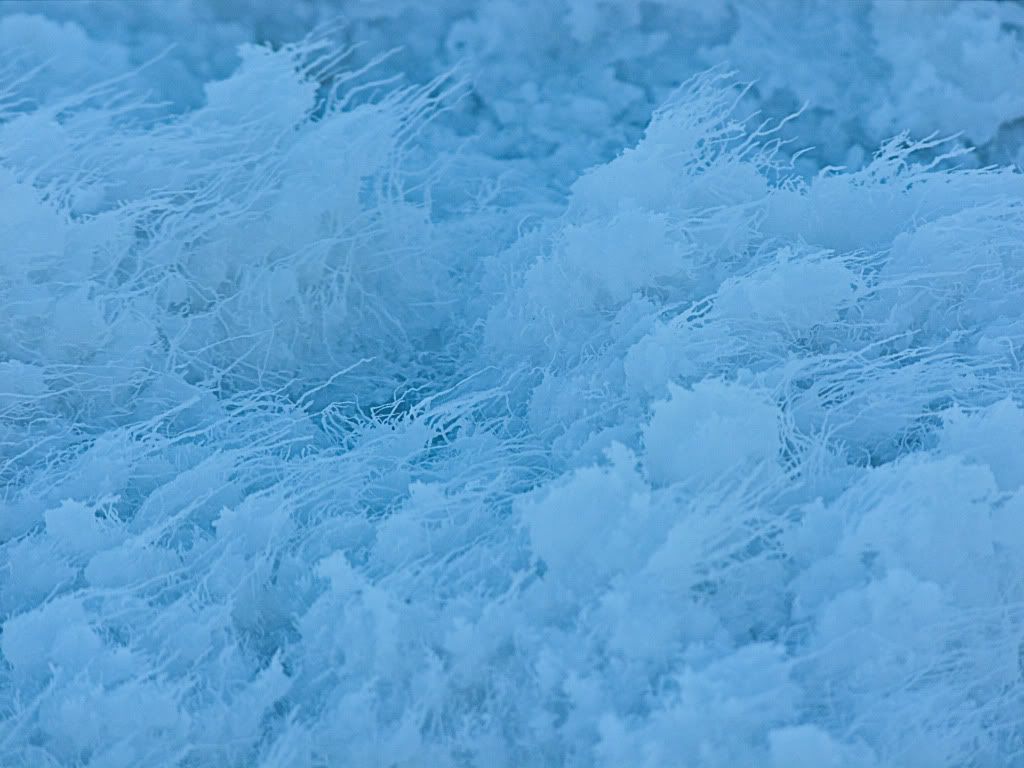 ...and then the sun hits directly and the contrasts change, the sun is still low enough to create clear shadows...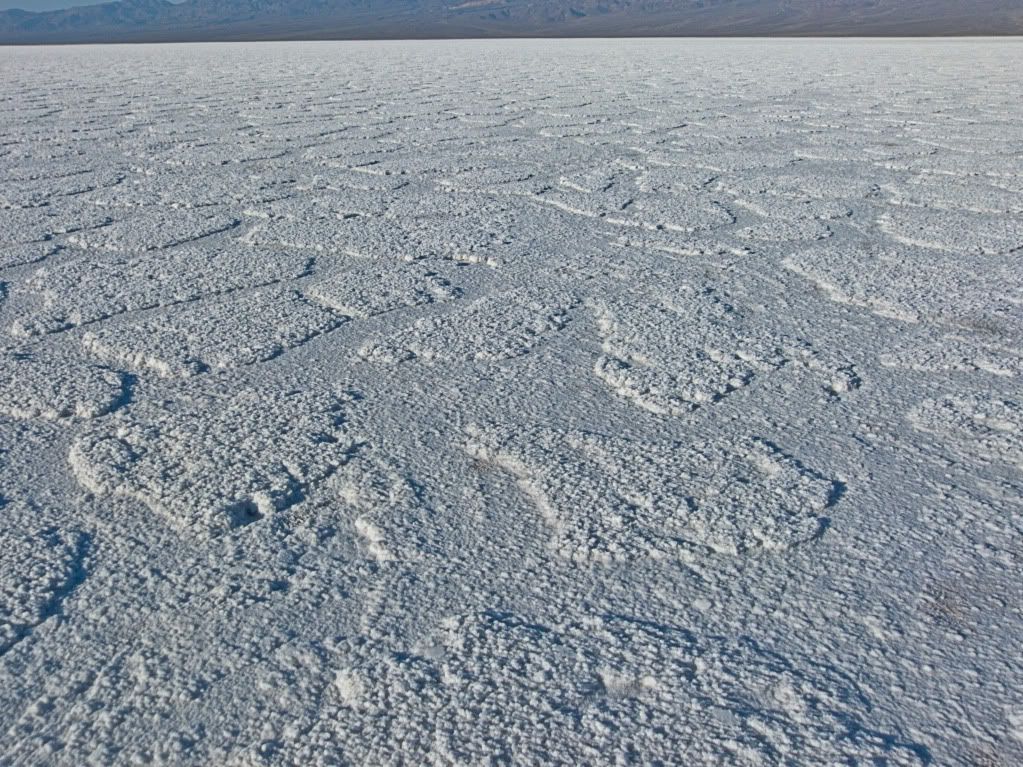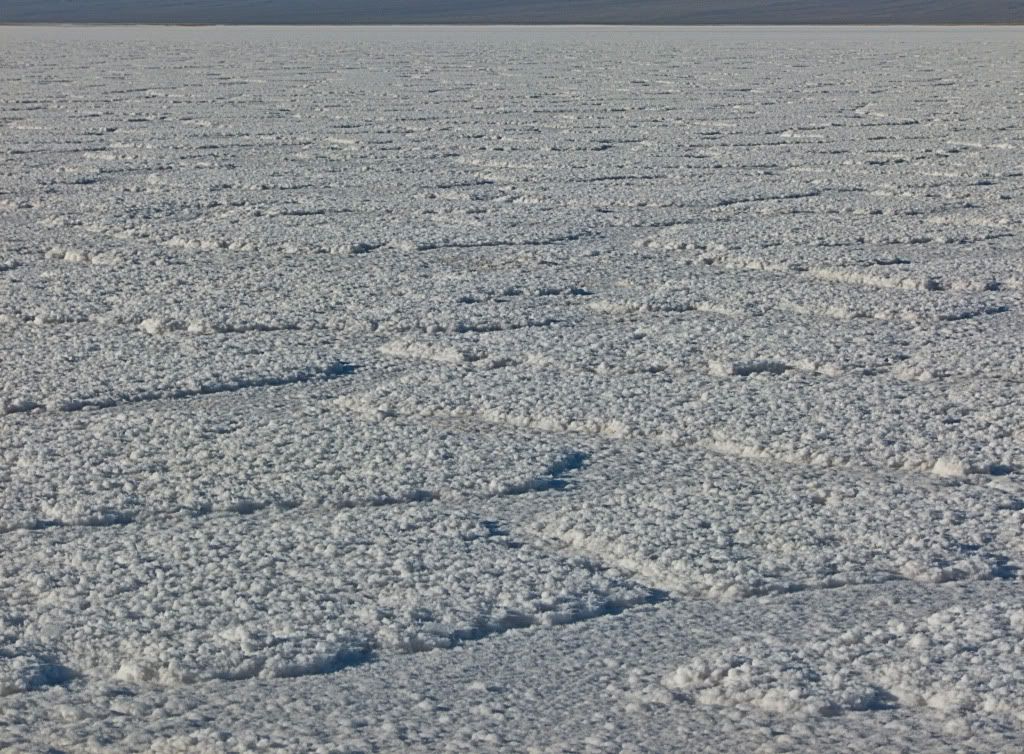 Walked back soon after sunlight had hit the basin of salt. Back near the parking lot at Badwater, this was pretty much all the water which remained of Lake Manly this time of year.




Gratuitous shot of the bike parked under sea level .That white sign you see on the mountain side is where sea level is. The Badwater Basin is the lowest point in North America.


From here I took another dirt road to the Devil's Golf Course. Why the Devil's Golf Course you say? Because only the Devil would be crazy enough to play Golf here!




More experiments with shadows and light..




On my way out of Devil's Golf Course - I see Old Mikey and Mark again, racing towards Badwater. This time I recognize them of course - I fall in behind them for a short while before turning off on the dirt road which leads to the Natural Bridge. This dirt road was starts off good and then gets much rougher than the one which leads to Salt Creek or Devil's Golf Course, but smooths out again at the top..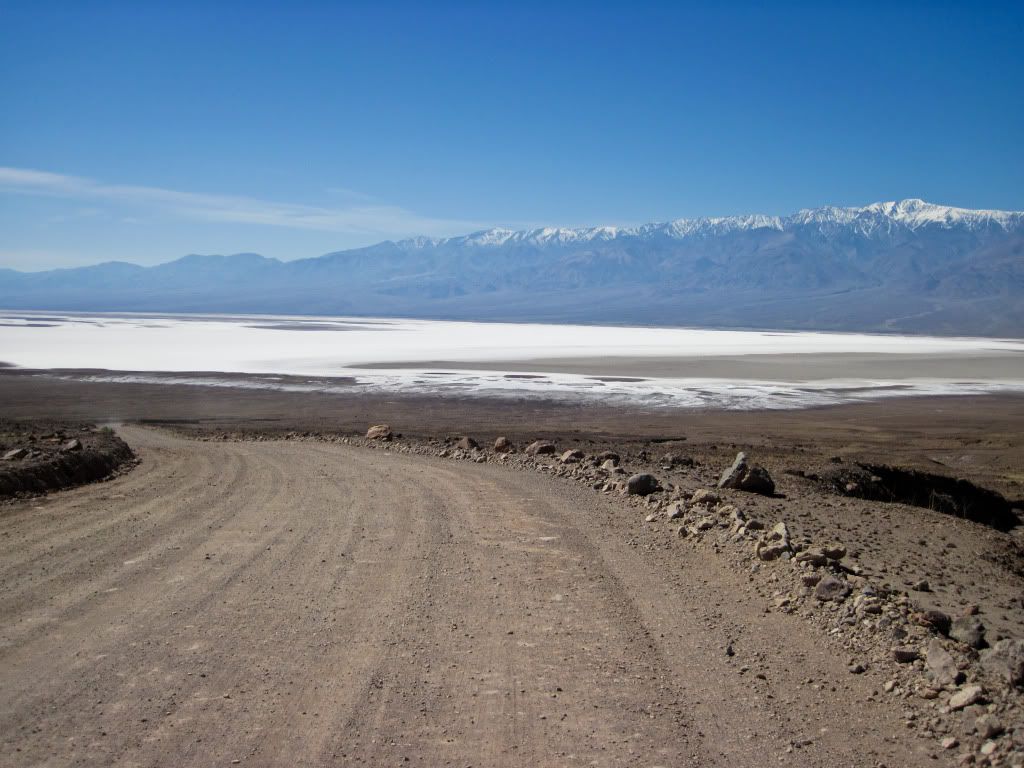 After an easy hike - I am at Natural Bridge.

An oft photographed angle.




This one not so much, or so I think anyway


The Bridge isn't the only thing to see here. If you hike just a few more steps further, you reach a dried up waterfall. I can only imagine what Death Valley would have looked like eons ago when water was plentiful here.

Notice how the water has carved a vertical half-pipe into the rock.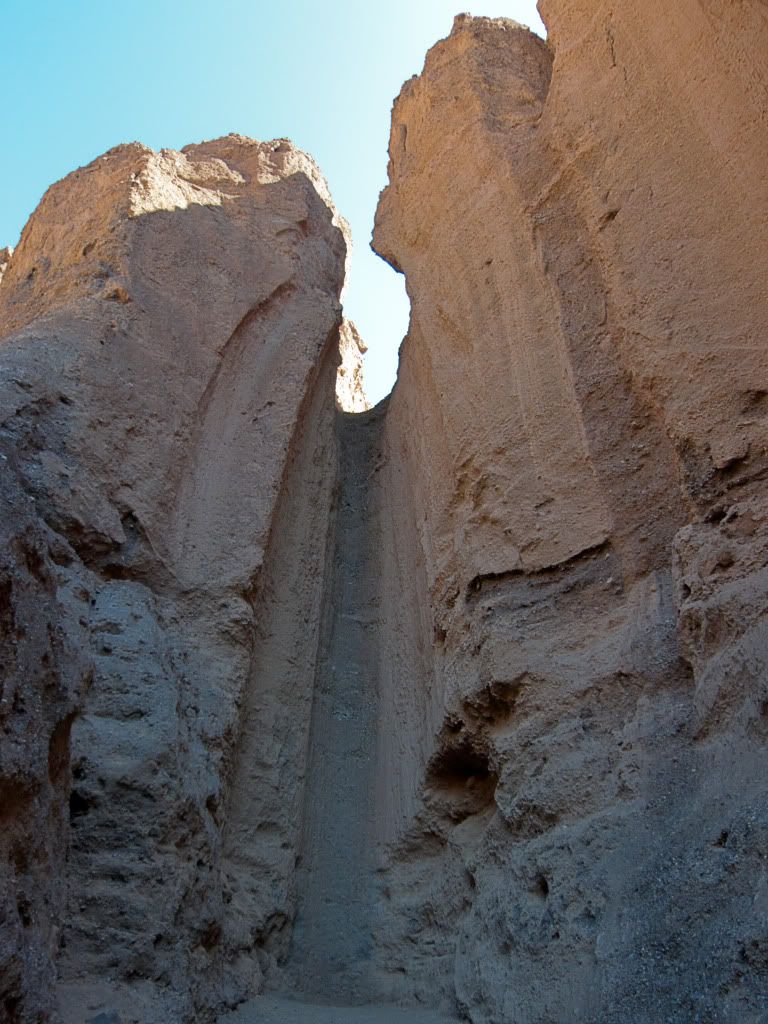 From here I headed towards Stovepipe Wells and Mosaic Canyon, but stopped at the sand dunes for a bit more experimenting with shadows and light, I didn't walk out very far this time, I was planning to come back at twilight for the sunset, but in case you are expecting some cool shots of sunset on the dunes - long story short I screwed the pooch on that one, chalk another one up to a learning experience. I was having a not so good day..


I thought you would get a kick out of this one. Macro shot of some kind of desert bug carrying another smaller bug on it's back... or something like that...

I liked how it was creating tiny footprints in the sand..


Then it was another dirt road to Mosaic Canyon - this one well maintained..




Love the smooth ripples/grooves on the canyon walls.




As you hike further up Mosaic Canyon, it is no longer quite as narrow. Someone had been having fun stacking a totem pole of rocks of different sizes..




I could have hiked further to another dry waterfall - however I was getting pretty pooped at this time and decided to head back towards Artist's Drive..

Stopped along several spots to take pictures of the oxidized metals on the mountain faces. Red, Pink and Yellow is supposed to be from Iron salts. Green from decomposing Mica and Purple from Manganese. Although, I am not sure I can spot all the colors..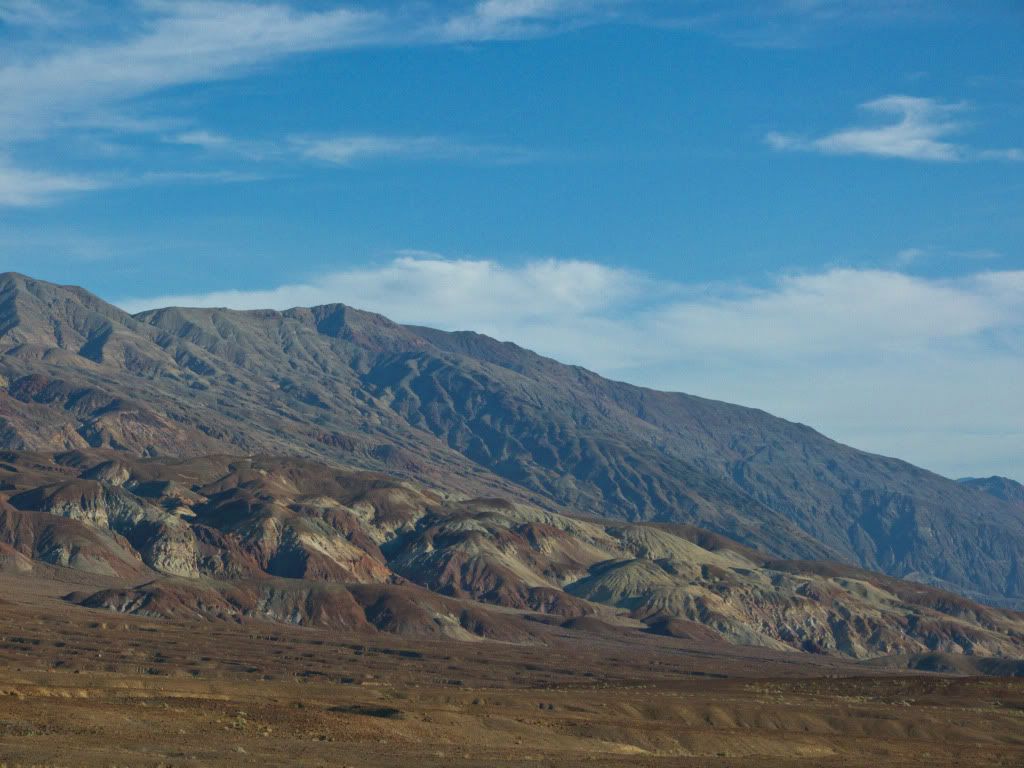 Artist's Palette...




This was also when I first started taking some shots of the Wildflowers on Badwater Road - this was a Wildflower's ride after all, wasn't it?


After my sunset on the dunes fiasco, I headed back to Longstreet's where the FJR party had already started. It was good seeing old and new faces, spending time chatting with old friends and making new ones. Regrettably I didn't get to meet everyone, I was tired this night and retired to bed earlier than most.
Chapter 3: Death Valley with Friends.
The next morning we all gathered for Breakfast. We all sat down to enjoy a meal together in the morning.

Seems like some of us were still "sketchy" from last night's festivities..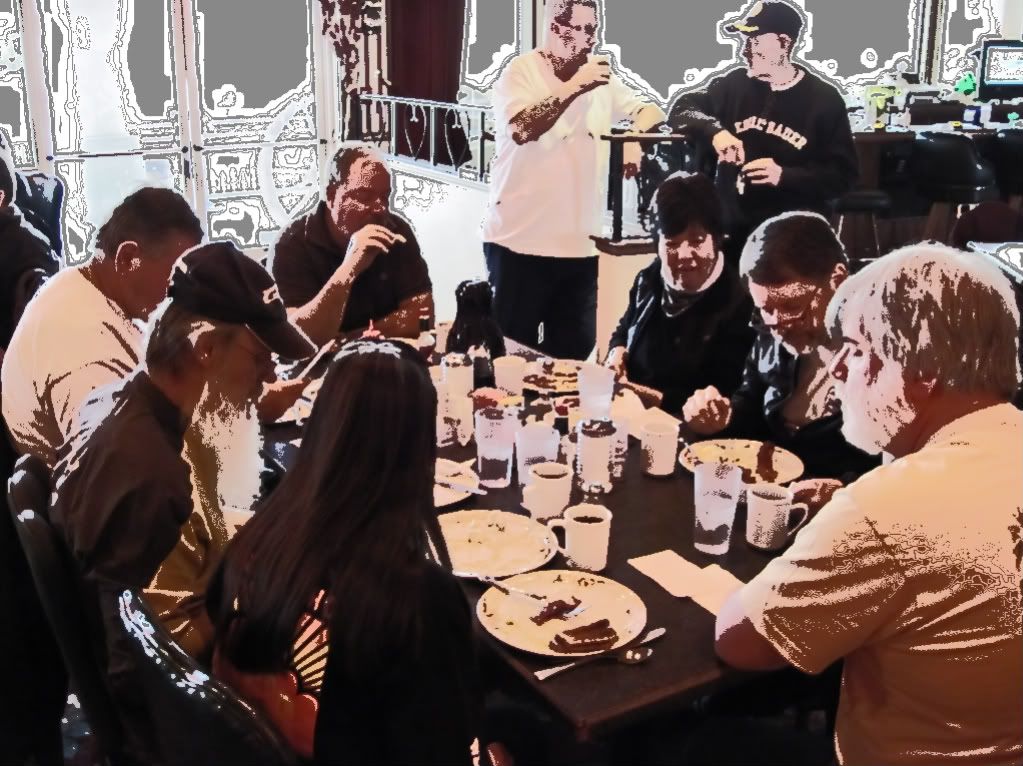 Soon it was time to prep for our group run into Death Valley. The parking lot was hectic with activity as people started gearing up and checking their bikes...

An "old" picture of Old Michael. The man is a magician with a camera....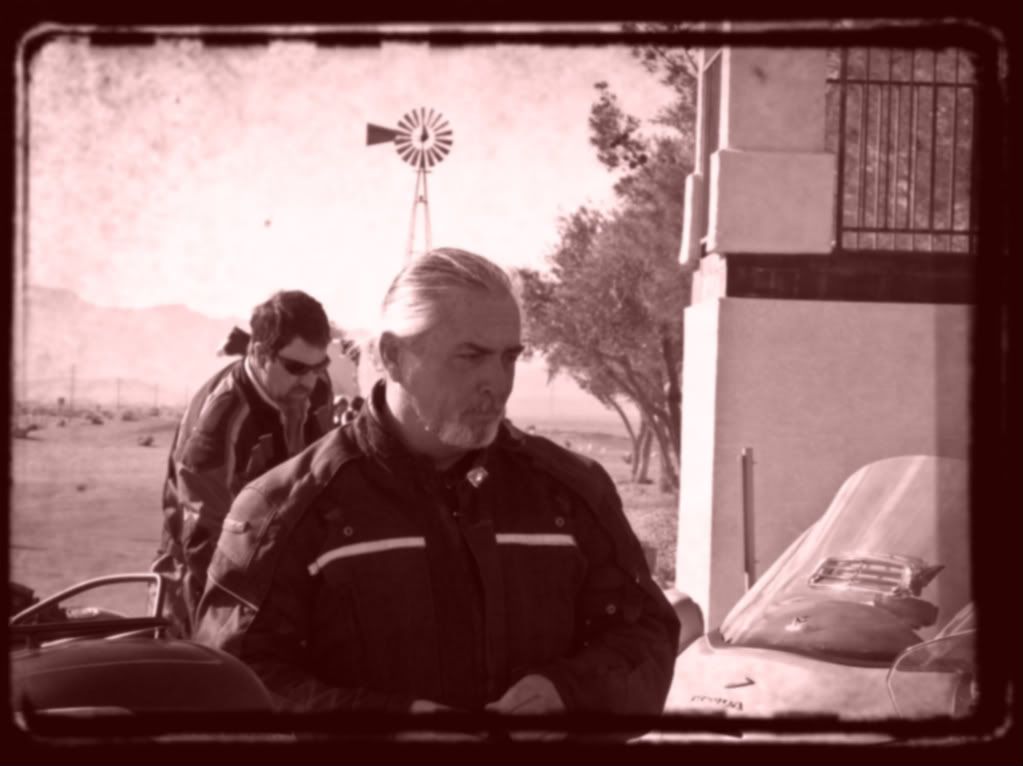 The rest of the crew - gearing up. I am not very good at photographing people. I shoot in manual mode and I am too slow...and we all know forum folks aren't posers...




Richard leading the charge.




We kicked around at Dante's View for a while...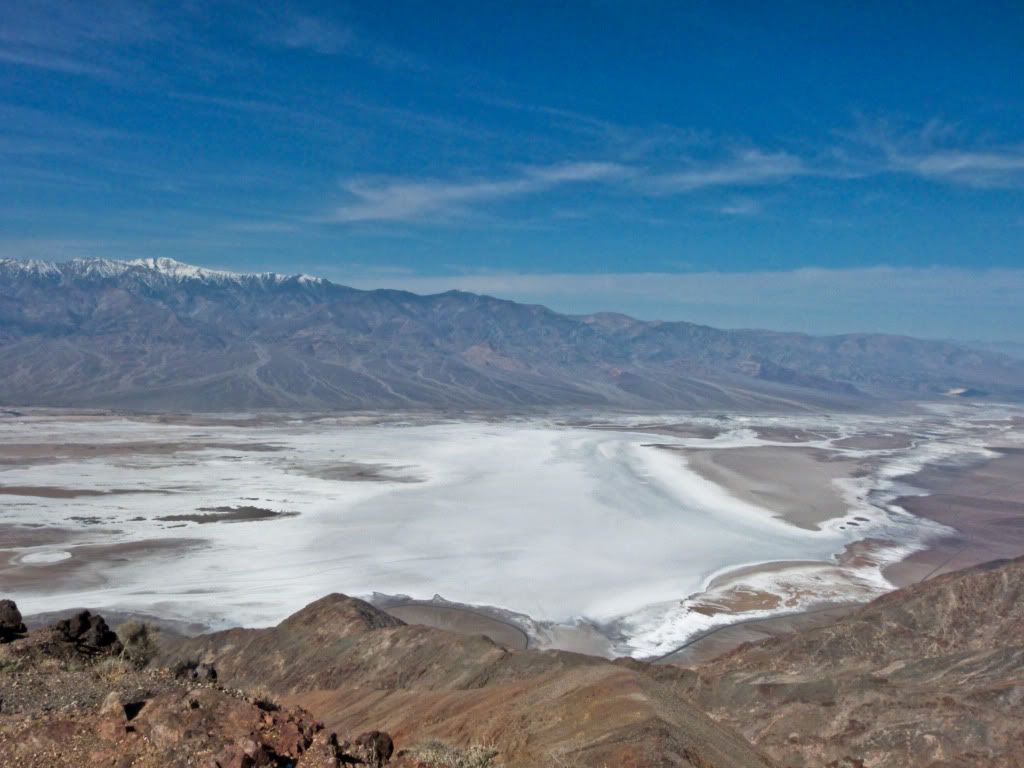 Before supposedly heading out towards Badwater. I separated from the group at Zabriskie Point to take a few pictures, intending to re-connect with them back at Badwater.

The folds of the badlands at Zabriskie Point are impressive indeed...


Then I headed towards Badwater, but alas the group wasn't there, so I backtracked thinking they must have headed towards Artist's Drive and I will wait for them and catch them as they exit from Artist's Drive.

Meanwhile I looked around for and found some wildflowers to photograph...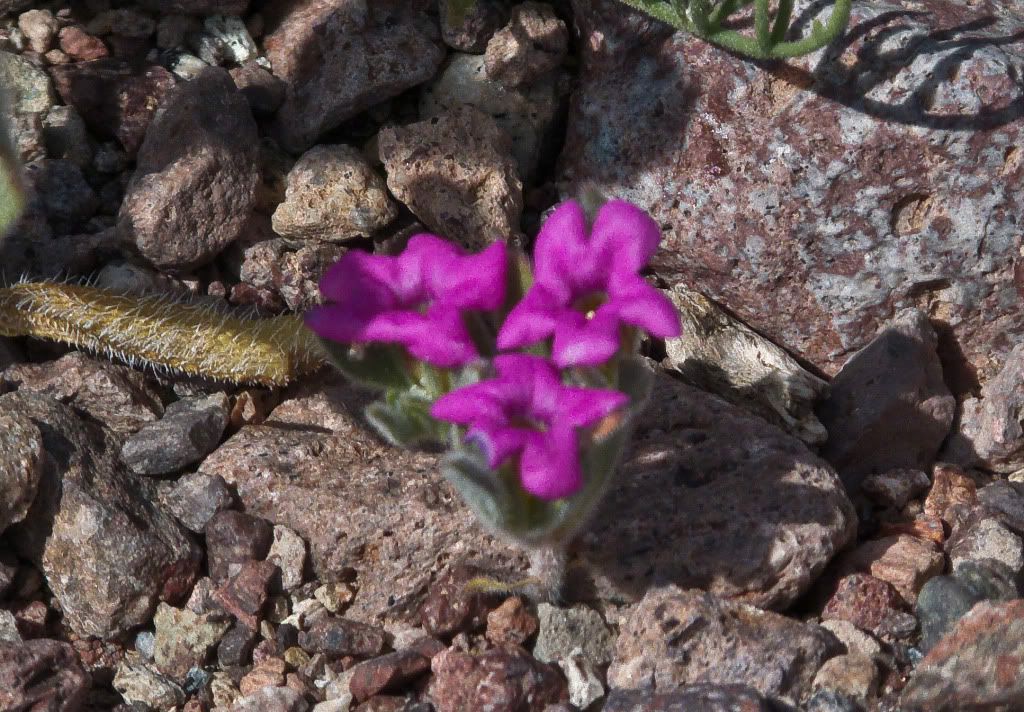 Adding late, a couple of wildflower pictures, that I had missed last night...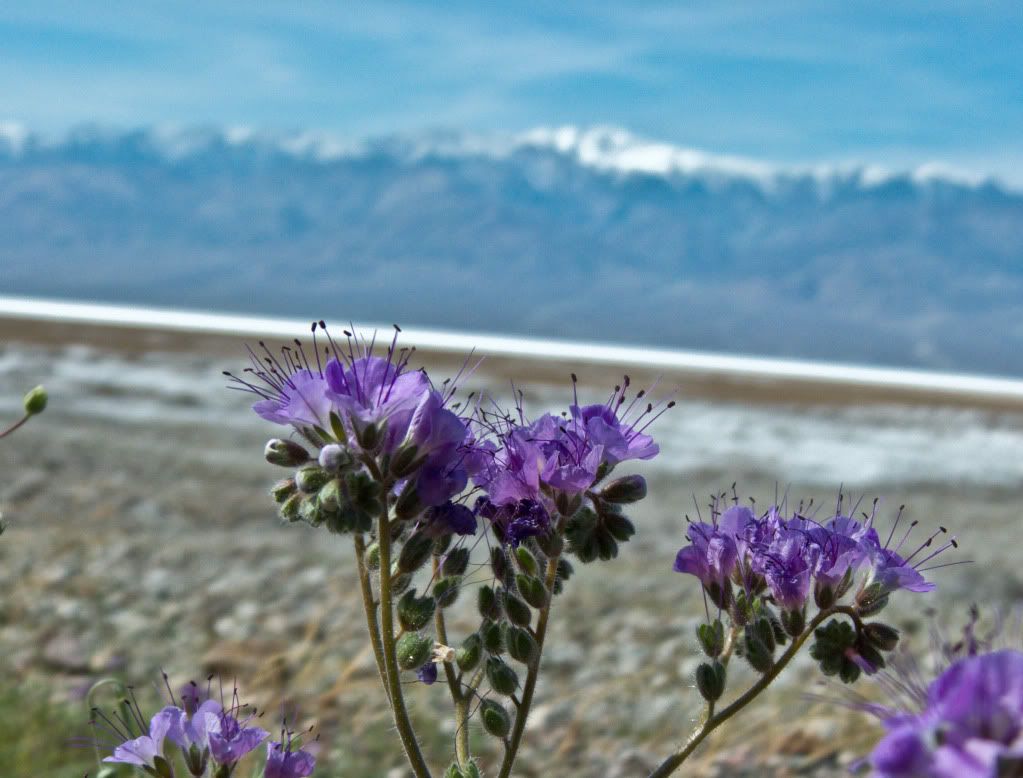 Still no sight of the group so I headed north towards Furnace Creek and found Old Michael talking to a strange looking rock...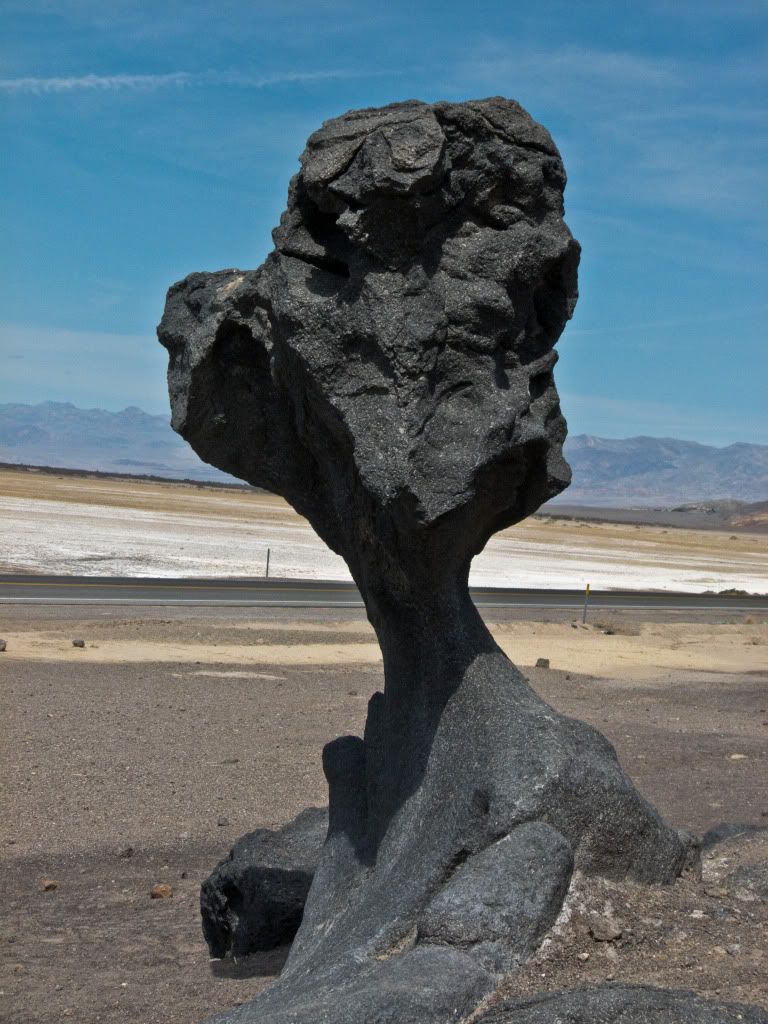 He had lost track of the group as well. I told him I was heading to Furnace Creek Ranch and will look for them there, and might stop there for lunch to see if they show.
Unfortunately, I didn't find the group at Furnace Creek either, unbeknown to me they had encountered issues and had diverted from the ride plan I was privy to.

After lunch it was time for me to head towards So Cal, so I took Badwater Road south and that is when I passed several FJR's going the other way as I was on my way to leaving the Park. I waved past all of them - will see them again sooner or later, some sooner than others..

Then I came to a screeching halt - how about his for a road hazard!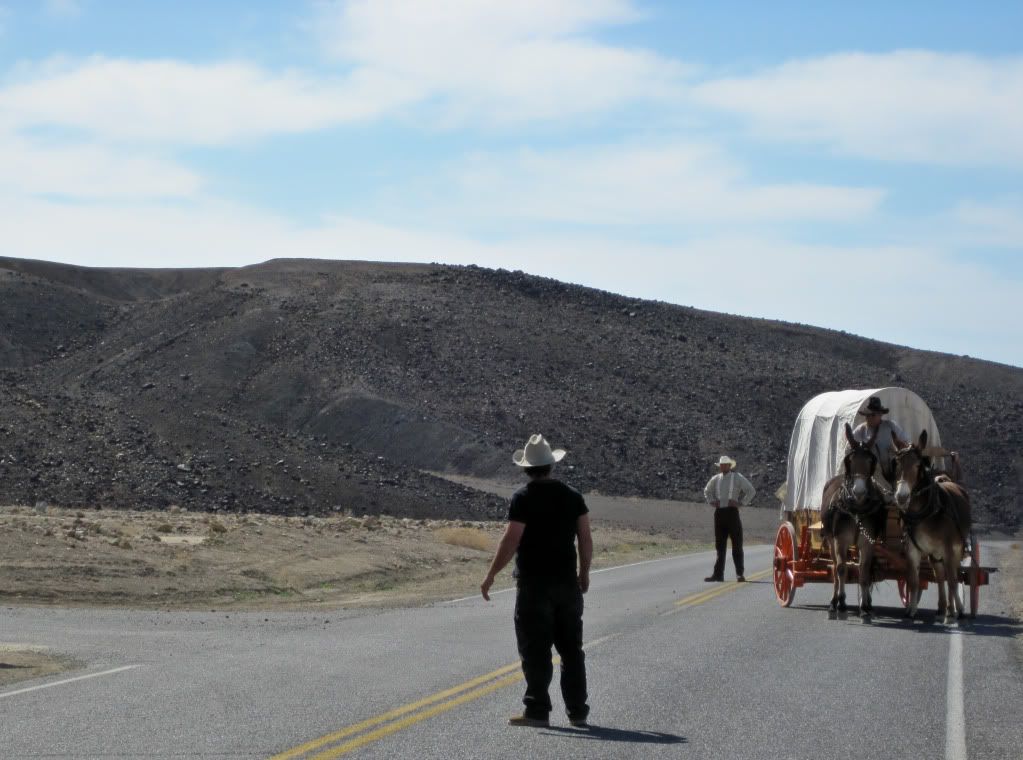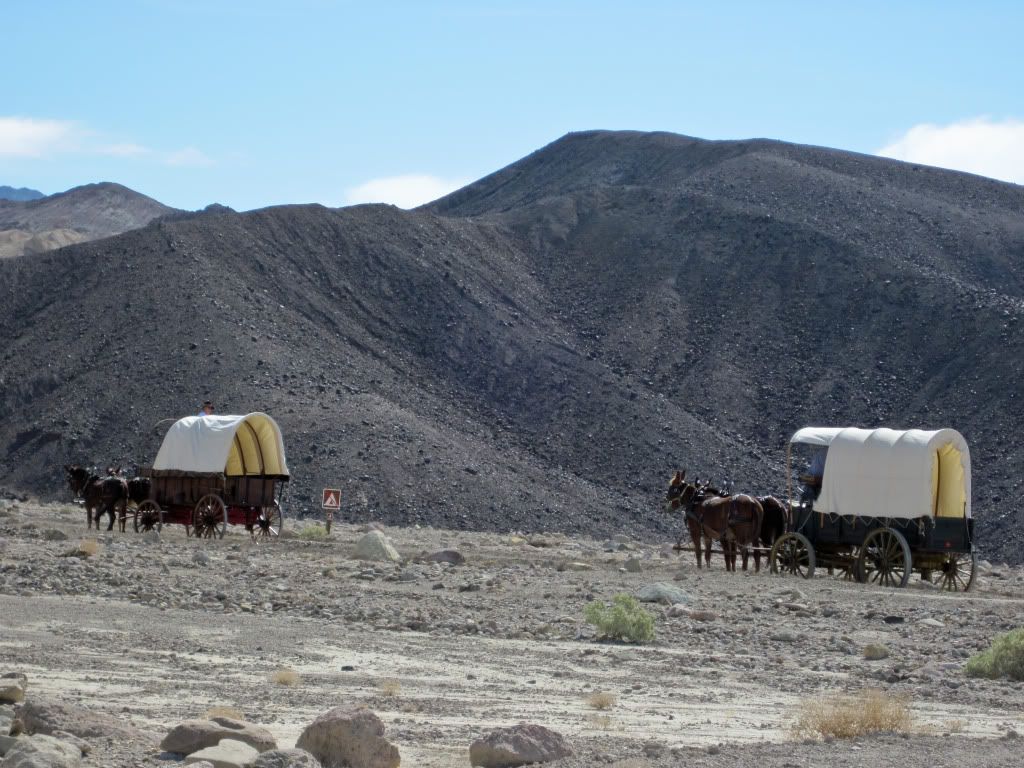 Heading towards the South Entrance of Death Valley - there were a lot of wildflowers in bloom.




I stopped a couple of times to take pictures before finally saying goodbye to Death Valley at least for this time around. It had been a very enjoyable excursion, but it was now time to move beyond...
Chapter 4: Beyond Death Valley
It was a fun ride out of Death Valley via Hwy 178 and Hwy 127. Some good scenery but didn't take many pictures, riding through here...




Slabbing it in So Cal, I spotted this FJR and riders in the far lane of the freeway. Seems like they spotted me too and came up beside me and then fell in behind me for a little bit. I had to take their picture. I hope you two had a fun ride!




Caught Hwy 33 from here, have I mentioned before that I love t.... never mind....




Love Hwy 33! I have been through here a few times now, but never seem to get enough of the road twisting, turning and snaking its way around the mountains.




Then Hwy 166 towards Maricopa, it is a straight road for a while and then turns into nice sweepers as it descends into the valley - this sweeper was a hoot!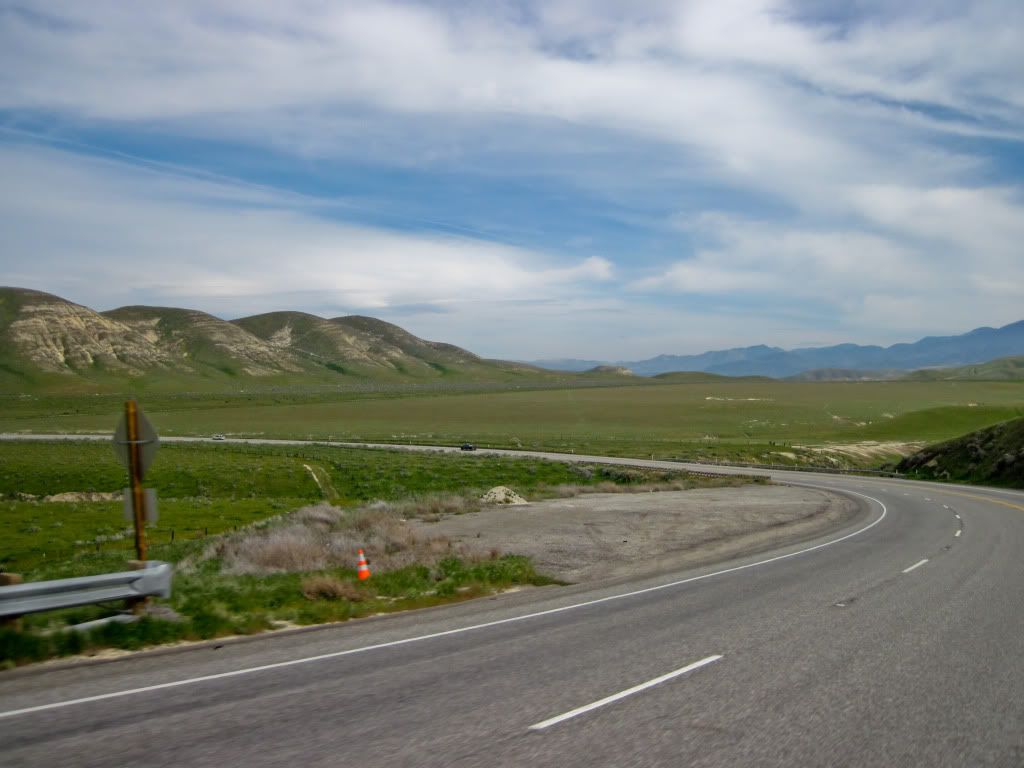 From near Taft I catch the impeccable Hwy 58! This road was so much fun! I only stopped once to take a picture and a couple of fly-by's, didn't want to lose my groove! I can hardly wait to come back here again!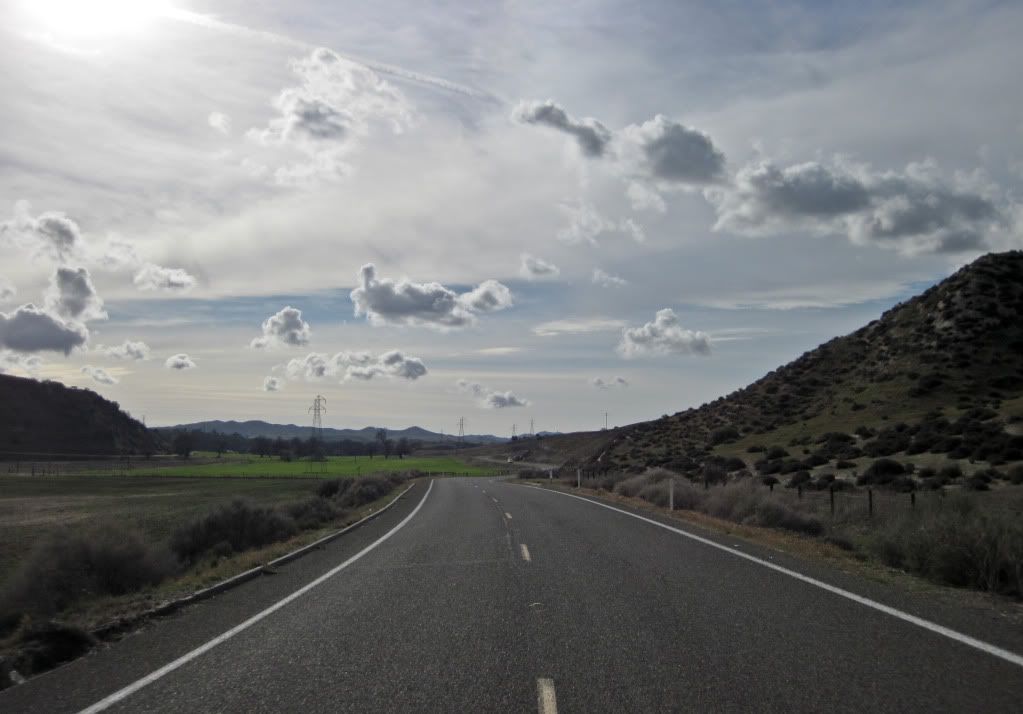 Then Hwy 229, short on length but very high on twisty fun!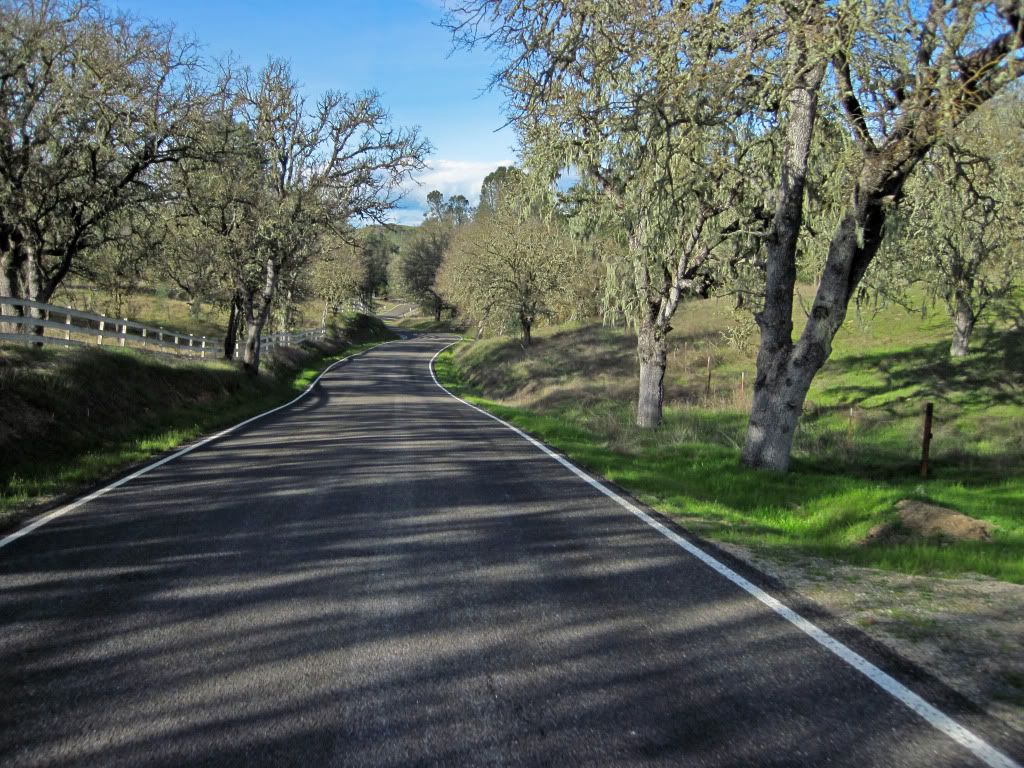 ...and catching Hwy 41 through Atascadero to Morro Bay for the night.


Morro Bay power station.




I was going to meet friends for dinner later that night, so after checking in at the hotel, I walked to an overlook a block away to take a few sunset shots, as the fog had started to move in...


HDR was the only way to go..




Good people and great company! Thank you for riding out to see me Tim! I had a great time seeing you both again!


Picked Hofbrau as our dinner destination..




Mmmm Roast Beef!




The next morning was persistent fog, so we delayed the start of our ride to give the sun some time to burn off the haze..

I did another walk around Morro Bay while waiting for Tree Doc, but didn't wander far..

The haze had started to lift, this was a very good sign! Tried to frame the same shots as last night, but lighting makes all the difference...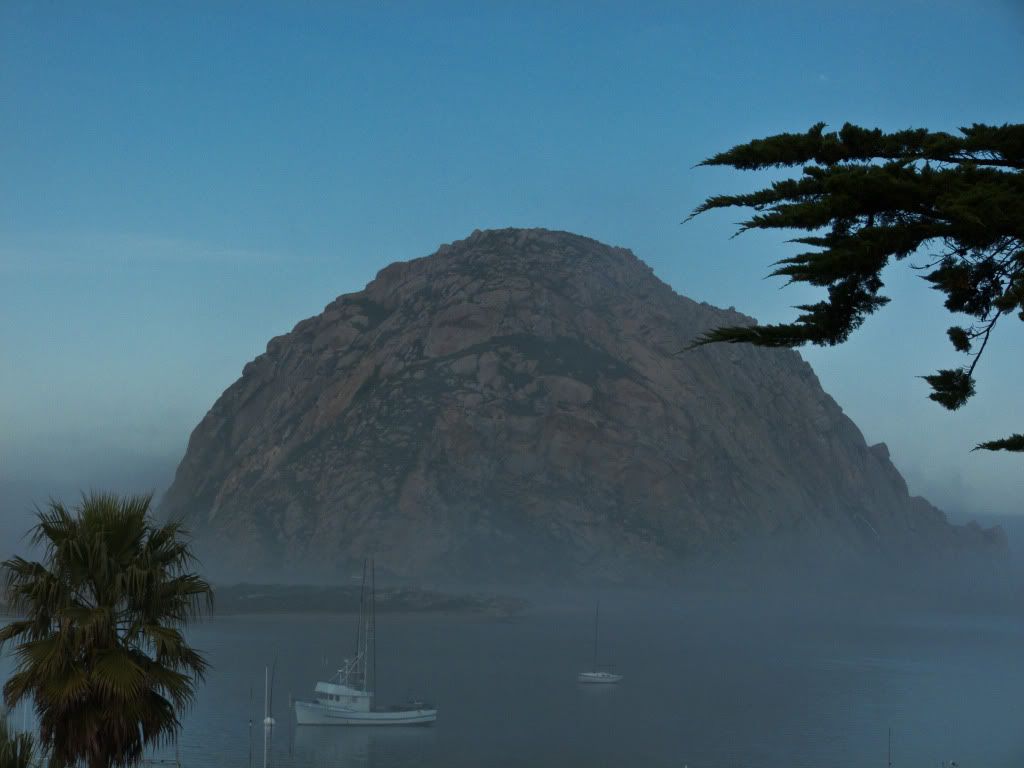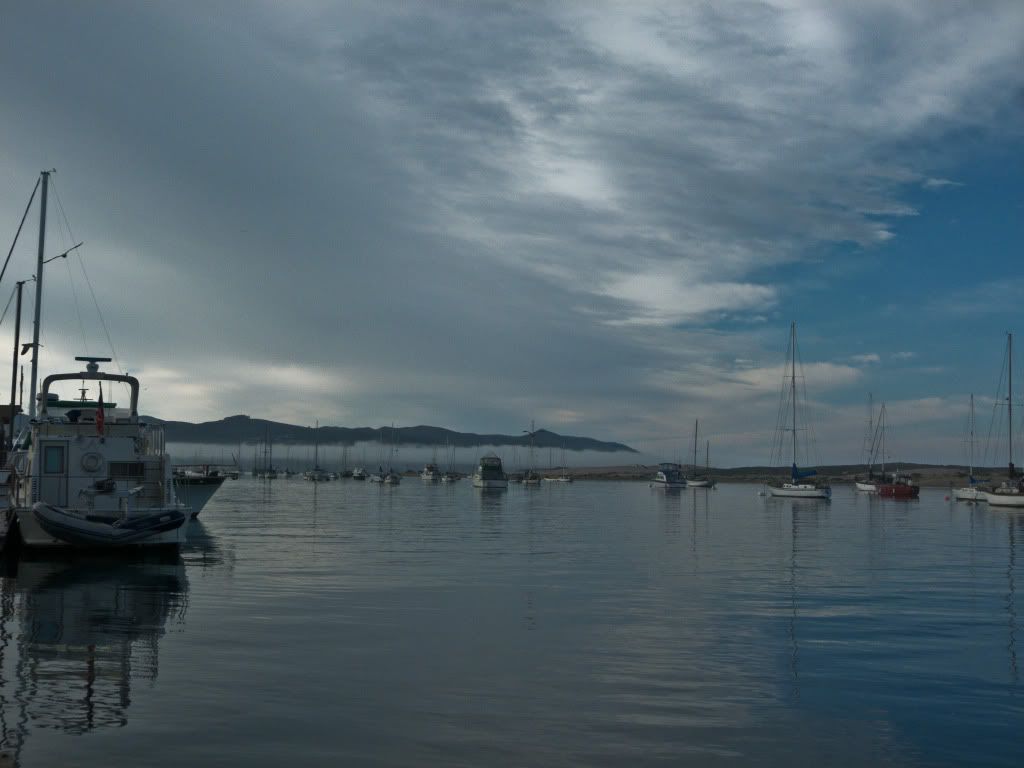 Memorial to Fisherman lost at sea!


Tim rides up...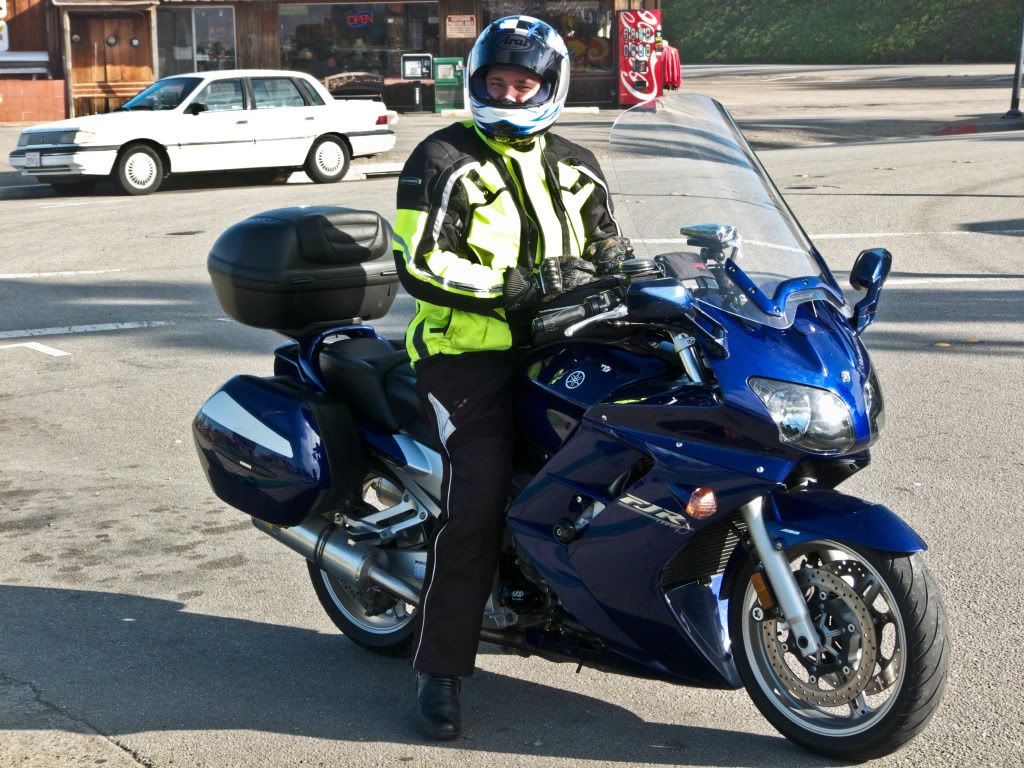 ...and off we go!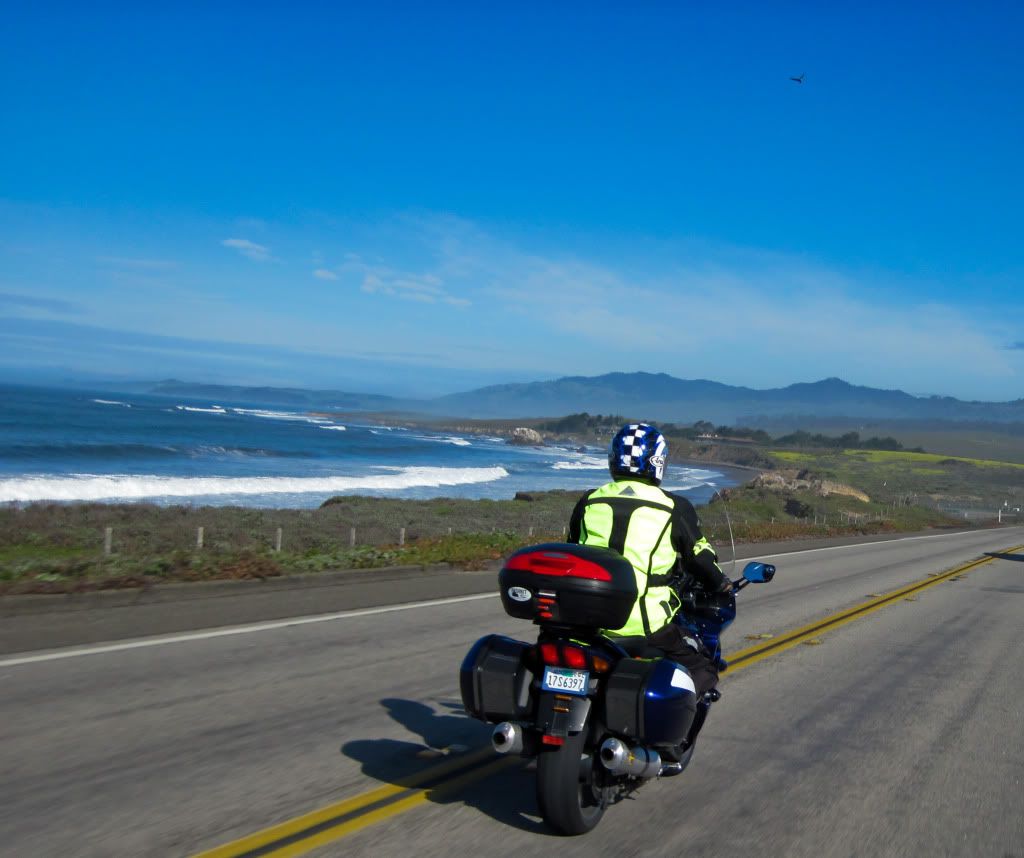 Rocky California coastline..




More wildflowers..




Posing...




The super fun part of Hwy 1!

Lean right...




Lean left..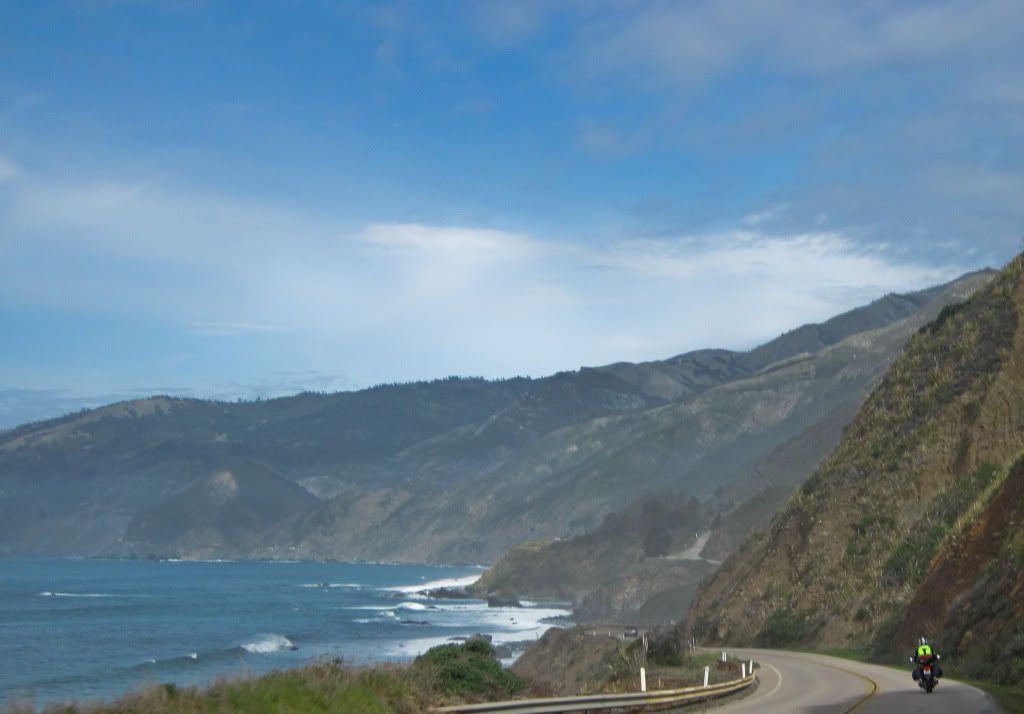 Lean right again..


Turned inland on Nacimiento-Fergusson Road, it was a steep climb off of Hwy 1, with great views..




We just rode up that narrow road..




I told you! Great scenery!




Tim on Nacimiento-Fergusson Road.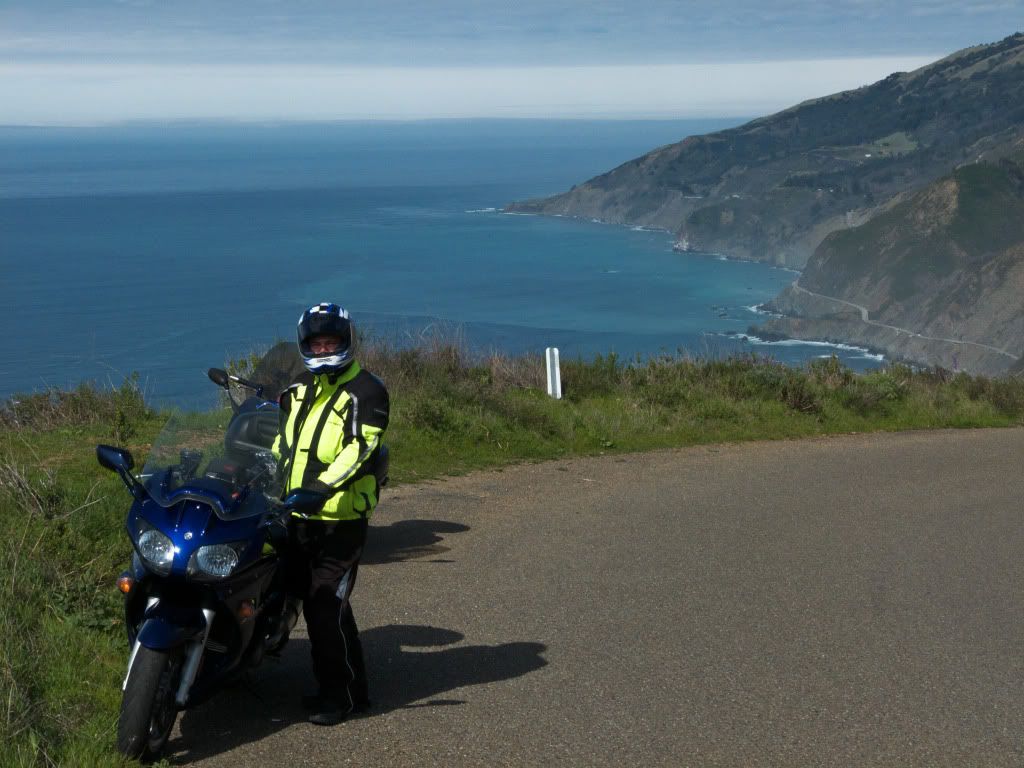 Riding through Fort Hunter Leggett...the twisties are very tempting but can't rail through here...(military land)


Impressive machinery - both!




Got buzzed several times on our ride through the base by these!




Lunch in King City and then Bitterwater road to Hwy 25. Here we are approaching the junction of Bitterwater road and Hwy 25.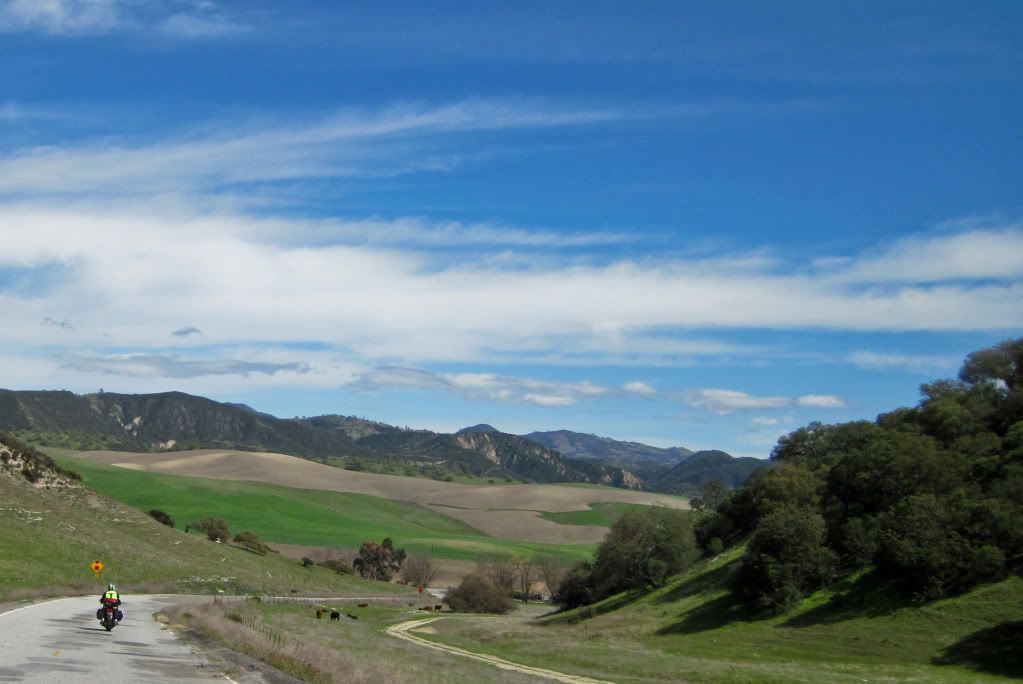 We split off from here, Tim headed south back home and I headed north. Good riding with you again Tim - see you again soon!

It had been great weather so far, but I was going to be riding into a storm!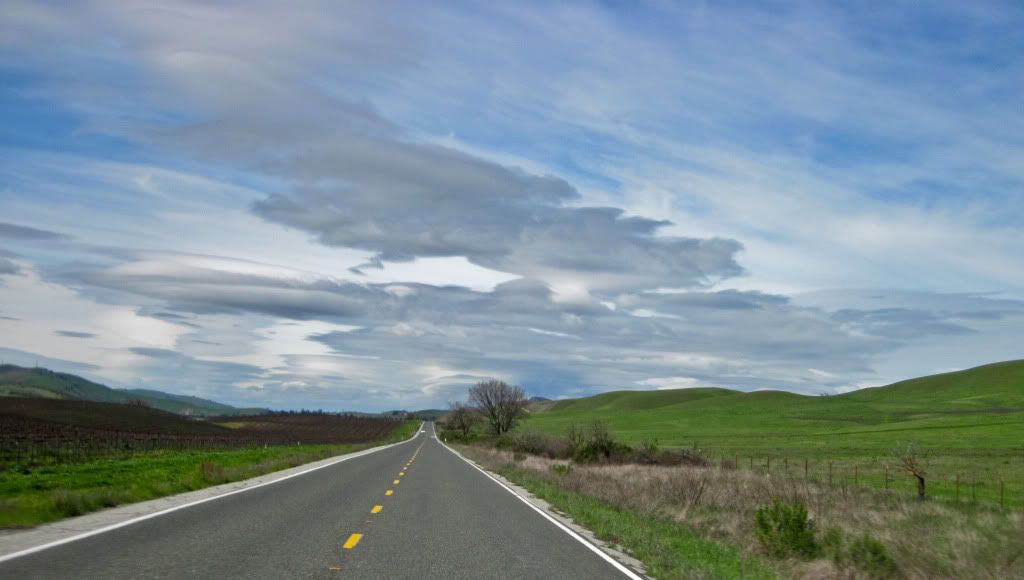 Got buzzed again - this time by this guy!




Rode through cold, soaking, pouring rain, but reached safely back home, but first a detour to Old Sacramento to grab a photo tag picture, for this photo tag game I am playing on Facebook.

This is the Pony Express monument in Old Sacramento.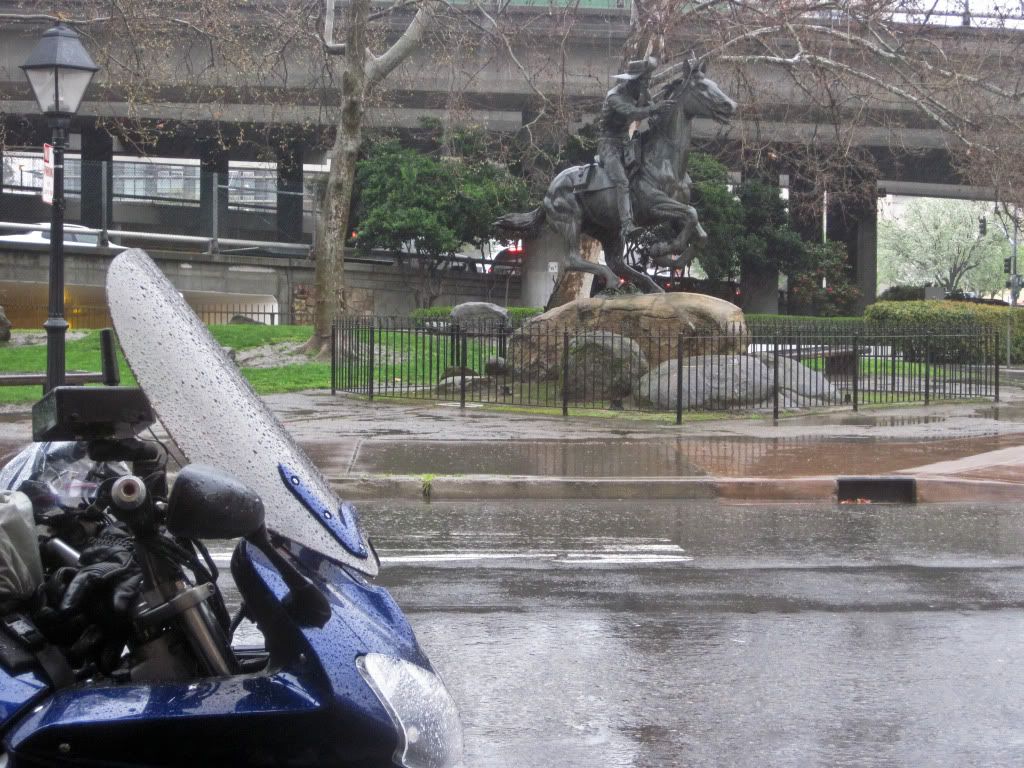 Thank you for reading! Finally over and out....till the next one!