Several quotes come to my mind when I think of bridges.
Some which make me ponder and smile..
"We build too many walls, but not enough bridges." - Isaac Newton
"Fear builds walls instead of bridges. I want a life of bridges, not walls!" - Lisa Wingate
I love both of these quotes, it is so much easier to build walls, than bridges, but walls take you nowhere, and neither do they show you what's on the other side. :-)
.. and others which leave me conflicted..
"A bridge has no allegiance to either side." - Les Coleman.
"The wisdom of bridges comes from the fact that they know the both sides, they know the both shores!" - Mehmet Murat Ildan.
"The fate of bridges is to be lonely; because bridges are to cross not to stay." - Mehmet Murat Ildan.
It leaves me conflicted because here we have philosophers opining that one's fate is to be lonely, unless one picks a side. Knowing both sides is not enough, is this akin to sitting on a fence (wall)? Are bridges then in some sense also like a wall?
.. and yet others which make me scratch my head and go - What the heck! ;-)
"I can almost understand why people leap from bridges." - Charles Bukowski.
I will cross that bridge, when I come to it, I suppose, which I hope is never! :-D
I did, however, cross many other bridges in March, another fun theme in the scavenger hunt called the Big Money Rally. I am as competitive a person as any other, and this rally demands a lot of one's time and attention to stay competitive, especially if you are handicapped by the demands and responsibilities of work, which limits your riding to the weekends only. The landscape of the rally leader's
board changes constantly, and a couple missed riding weekends will sink you into oblivion. I haven't been carrying my Panasonic bridge camera with me while I have been rallying, barring a few exceptions. This rally relies mainly and solely on cell phones to take and submit pictures, so most of the images have been cell phone pictures, save a few. I doubt these images will stand up to scrutiny on a larger canvas, but they do muster acceptability (barely), for mere blogging purposes.
Pedestrian bridge over the Yuba River.
The rally wasn't the driving force behind crossing bridges in March, albeit it did act as an accelerant. I have done a "crossing bridges" theme on the blog a few years ago. On that New Year's Eve, I attempted to cross as many bridges on the Delta as I could before heading towards a lunch date with a new friend.
Like the bridge above for instance, which is not featured in the rally, the bridge is no longer in service to automobiles, re-purposed now as a pedestrian bridge.
I had rode out to the area and made a new friend here, who showed me a great hiking and scampering across and down boulders trail that we used to hike down to the Yuba River (in my riding gear no less). It was great to sit on the rocks and soak in the warm sun for a little while - a perfect day to do so. It being one of the dryer seasons in recent years, the water level was pretty low, even though it was flowing pretty well. I am told that in the years past with lots of rainfall in the Sierra mountains, the water level approaches the top of that bridge.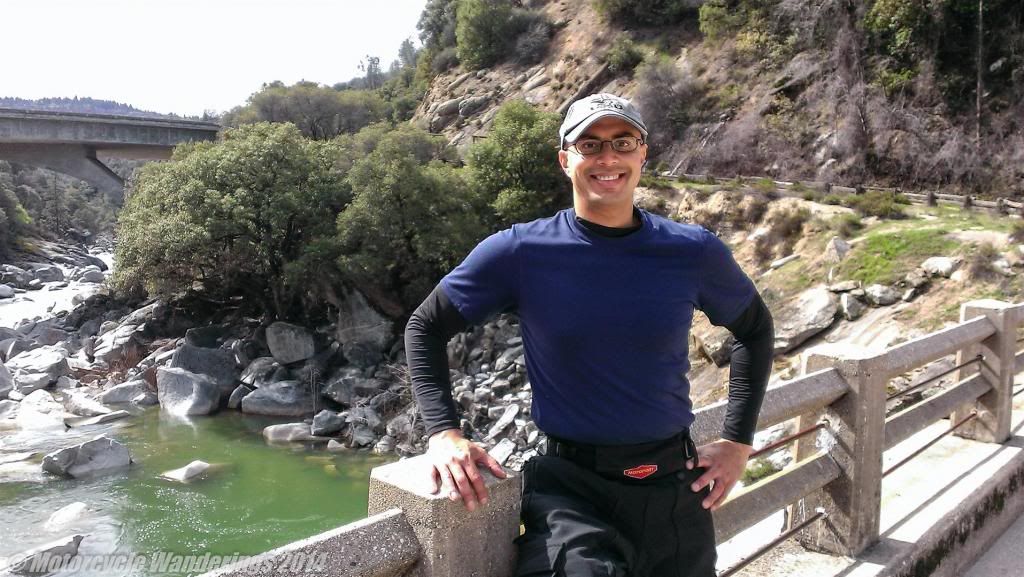 Standing on the pedestrian bridge over the Yuba River. Picture courtesy of a cute cowgirl I met. :)
The area also seems popular with people panning for gold, yes even in this day and age, not sure if there is much if any gold left in the hills, but one never knows..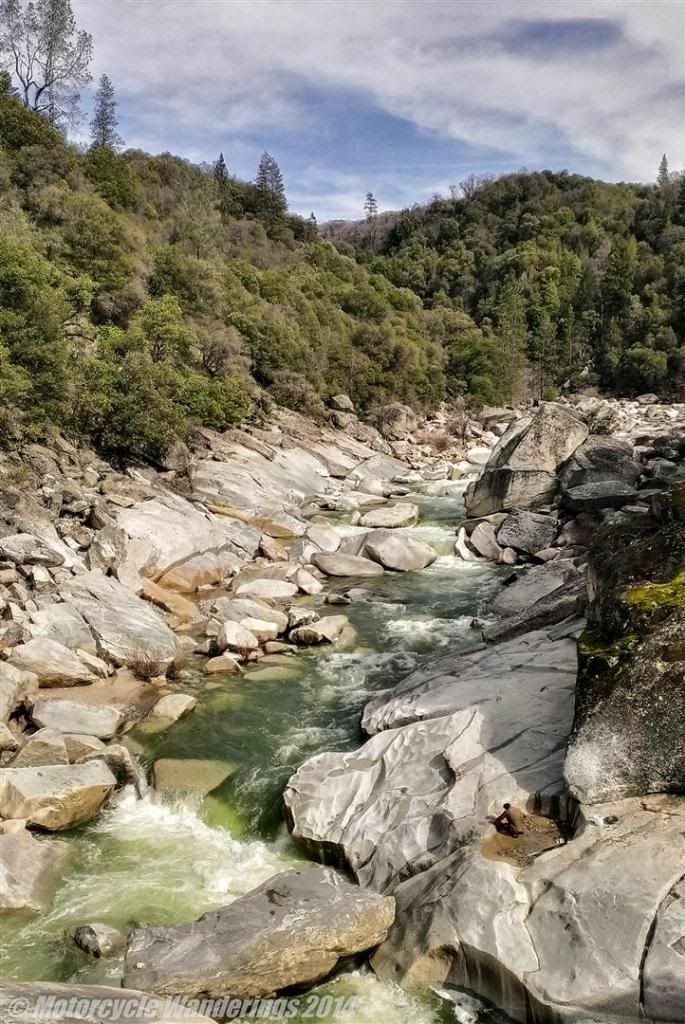 Panning for gold on the Yuba River.
My friend also led me to the Oregon Creek Covered bridge, this one is not as obvious as the other covered bridge in the area, I was here before I realized that this bridge will also be featured in the rally, so unknowingly, I was scouting this for later use in the rally. :)
Oregon Creek area also has some good picnic grounds and facilities, I wonder how crowded it becomes in the Summer, but today there was not another soul to be seen than the two of us. It was a good time! :)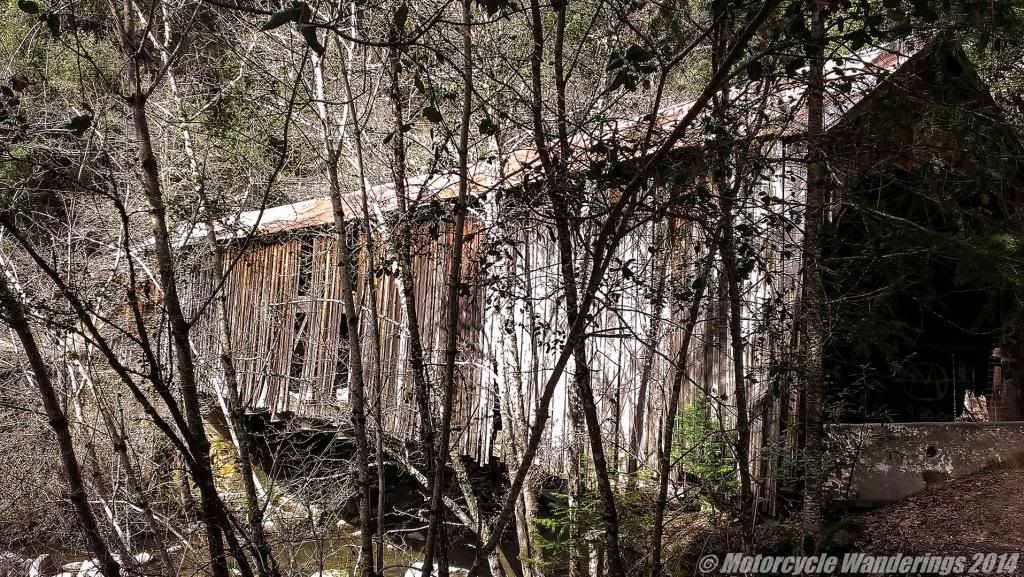 Oregon Creek Covered Bridge.
The other covered bridge in the area is the Bridgeport Covered Bridge. I rode to this one for the rally. Wasn't allowed to get near it, but for the rally picture I sneaked out there anyway. God save the bridge, from people like me. :(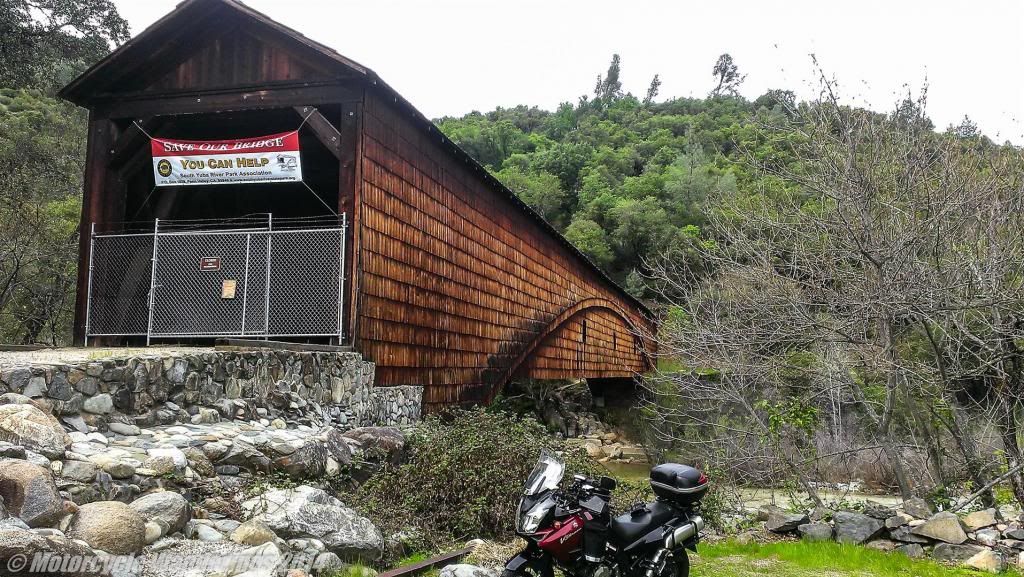 Posing the Strom with the Bridgeport Covered Bridge for the Rally picture.
I then proceeded to the river bank to get a better panoramic view and shot of the bridge spanning the river. It is a long and beautiful bridge!
Bridgeport Covered Bridge.

Bridgeport Covered Bridge.
The rally lead me once more to the town of Feather Falls, in the hunt for bonus points. I had been near here some time earlier, but for a different reason, namely to hike to the actual Feather Falls and hoping for some Spring wildflower blooms along the way.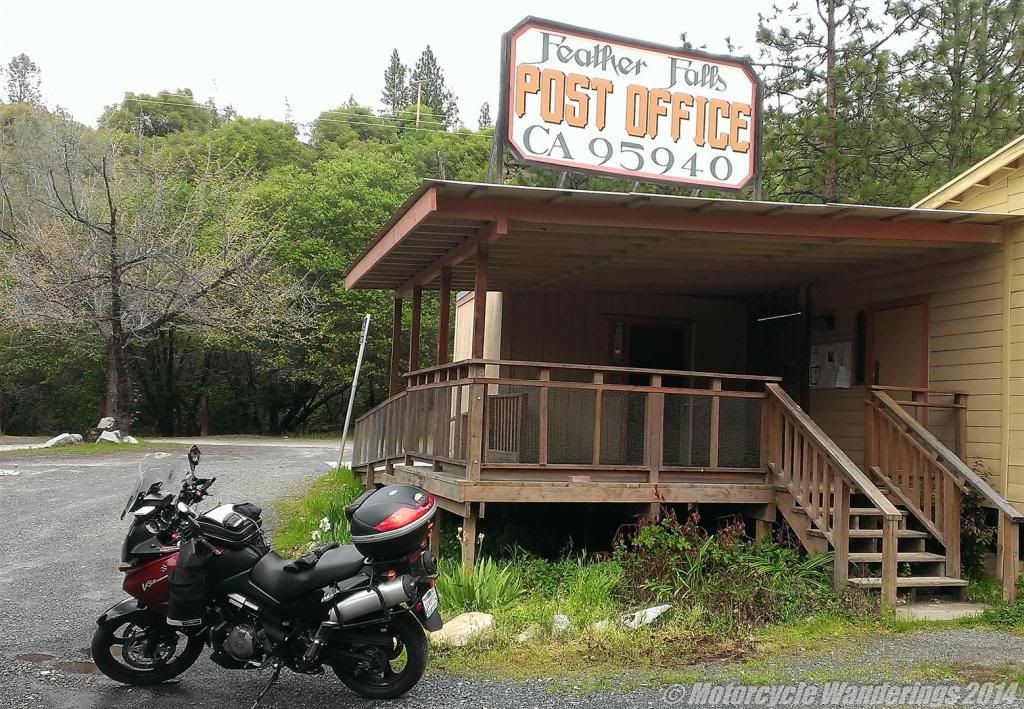 Rally bonus at Feather Falls, CA.
It is a great hike hike to Feather Falls. There are two ways to get there, most choose the easy mostly flat (but longer) trail in and out, I chose the easy trail on the way in and encountered many a hiker, but chose the path less traveled to climb out of there. It is less traveled for good reason, it is much more strenuous and steep (but shorter) and a great workout! :)
Hiking Feather Falls, not a cell phone picture.
Not many wildflowers in bloom, but managed to find a couple of pretty blooms to photograph. Quite a few bees were buzzing around as well. Always a good sign, and they mostly leave you alone, if you leave them alone, a good zoom comes in handy in these cases, so you don't bother them as they go about being busy bees.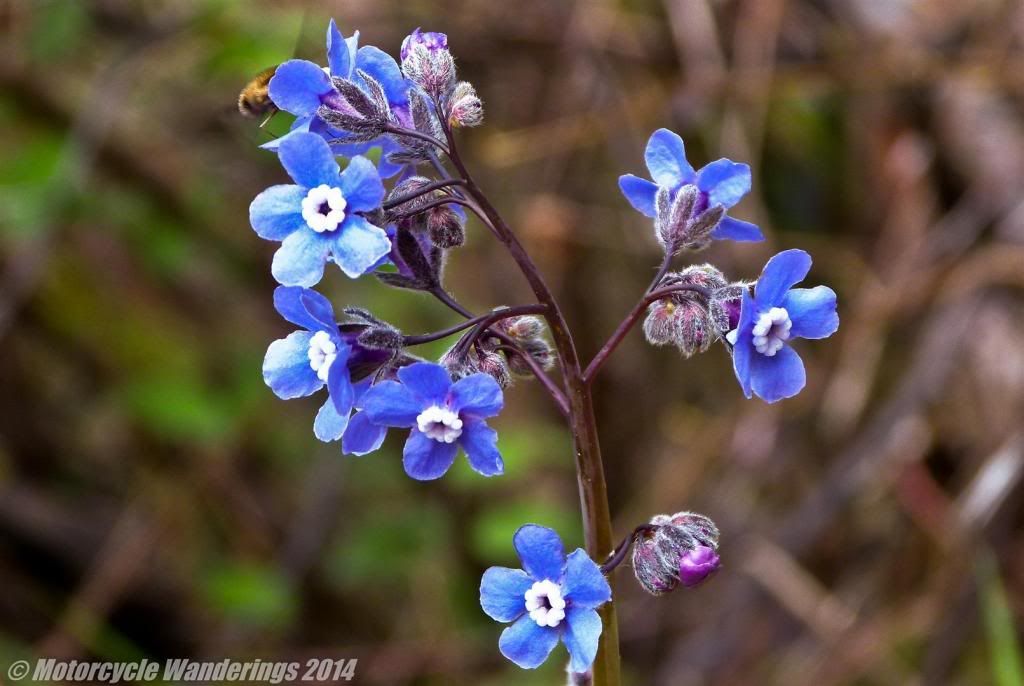 Busy Bee and Wildflowers. Not a cell phone picture.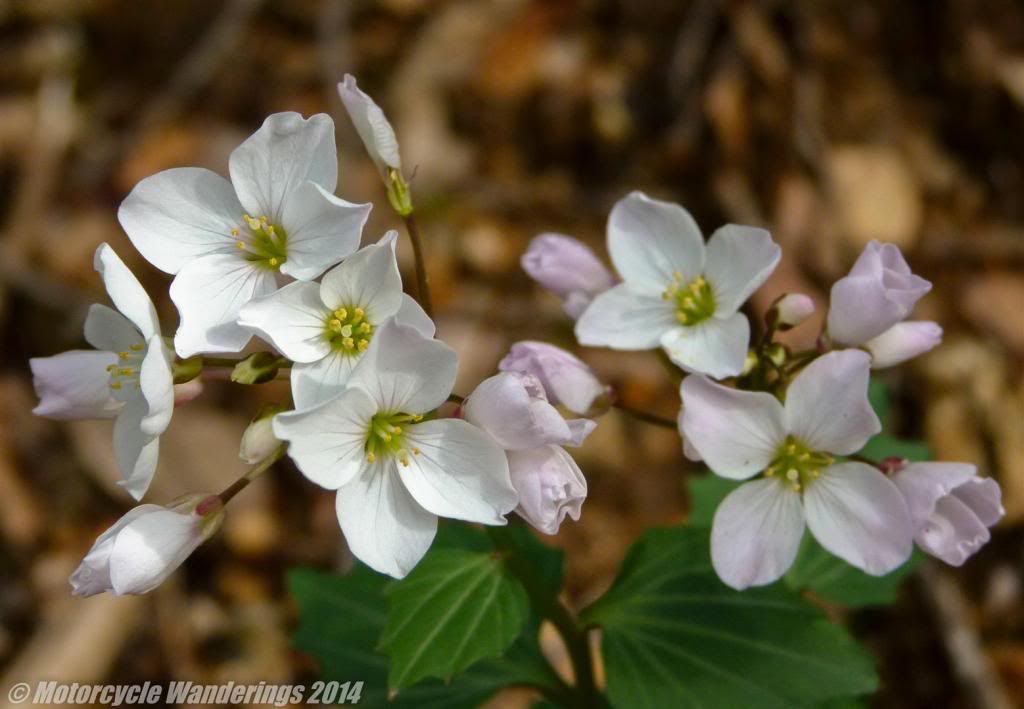 More wildflowers in Feather Falls. Not a cell phone picture.
The tall (410 feet) and beautiful Feather Falls. I am not aware of a hiking trail which leads to the head or the foot of the falls, but the hiking trail I was on leads to a great viewing platform from which you can see and hear the falls thundering down. It is also a great place to take a seat and enjoy the view for a while, which I did, before hiking back out.
Feather Falls, 410 feet tall.
The foot of Feather Falls.
Most in the area will recognize the bridge below. It leads to one of my most beloved highways in Northern California. The Oroville-Quincy Highway, or Hwy 162 as it is designated. I have been here many a times over, but since this bridge was a rally bonus, it was as good an excuse as any to re-visit. No pictures of the highway itself to post, I have done that in prior blog posts and was having too much fun to stop for pictures. :)
Bidwell Bar Bridge and the impeccable Hwy 162.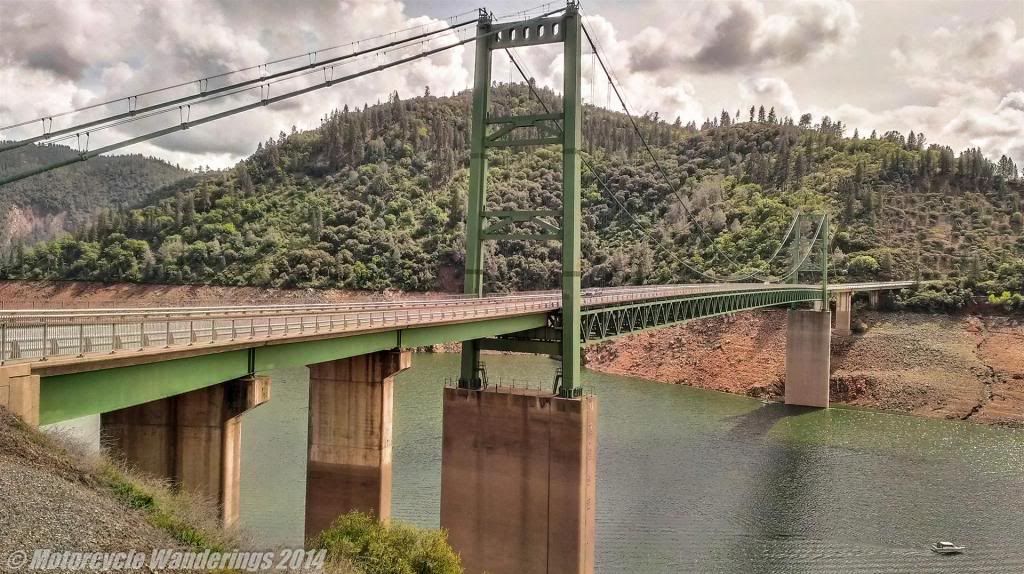 Bidwell Bar Bridge.
There is another covered bridge not too far away from here. The Honey Run Covered Bridge sits in the midst of two fantastic highways, Hwy 32 and Hwy 70, neither of which I have rode this season (yet), but look forward to riding again very soon, and yes there are more rally bonii on one of these highways. Looking like it will be in May. Can't wait! :D
Honey Run Covered Bridge.
There were also some bridge bonii closer to home, like this one for instance - the Jibboom Street Bridge in Sacramento. This is actually inside a State Park and the State of Kalifornia loves to suck one dry with park entrance fees. I was however able to sweet talk the Park Ranger to let me in the park without charging me, with the promise that I will be out in less than 5 minutes, once I had taken the picture that I needed to take. It is not uncommon for rallies to send you to fee areas for all of a couple minutes, whether knowingly, or unknowingly - but mostly knowingly. It's just part of rallying.
Jibboom Street Bridge in Sacramento, CA.
Another bridge that I never knew existed. Way way off the beaten track off of Hwy 49 south of Jackson, CA. There is a goaty trail (actually calling it a goat trail gives goat trails a bad name), that leads to this bridge. Thankfully I was on my V-Strom again, the FJR will ride this road, but I was happy I wasn't subjecting it to the torture of it. It was actually quite fun on the V-Strom, it loves adventure roads!
Middle Bar Bridge near Jackson, CA.
Another reason California has some of the best riding in the country, and year around, is because you don't have to head towards the mountains roads in higher elevations to find great curvy roads to enjoy. Case in point being the Sacramento River Delta. Lots of roads here which skirt and follow the bends in the river and the creeks criss-crossing all over the Delta and of course there are also a lot of bridges which connect all the Delta islands. The rally took me once again to the Delta region and it's fun (albeit sometimes a bit goaty) roads.
Rio Vista Bridge. Near Rio Vista, CA
Steamboat Slough Bridge, Sacramento River Delta. Look at that massive counter-weight!
I headed towards Nevada on the last leg of riding that I am including in this post. I hadn't seen my very good friend Brian R. for some time now and headed to Nevada to do so, picking up several rally bonii along the way. There were more bridges to visit between here and Brian's.
The first being the Donner Summit Bridge.
Donner Summit.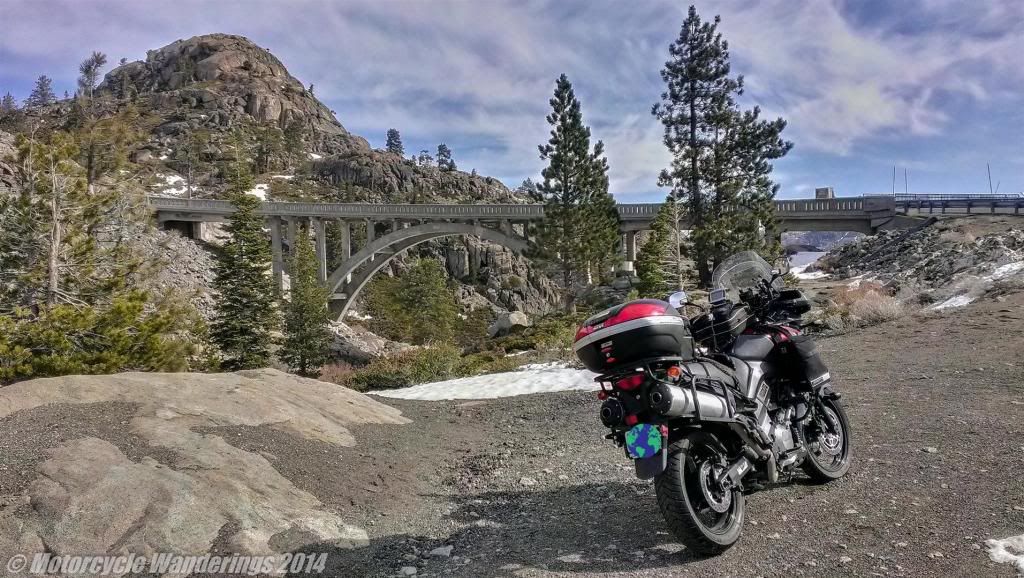 Donner Summit Bridge.
Followed by the Fanny Bridge in Tahoe City. This is a covered bridge over the Tahoe City Dam. I believe this feeds the Truckee River, which I think is the only outlet from Lake Tahoe. The local legend has an amusing account of how it got it's name. It is said that it is called Fanny Bridge because of all the fannies that one can see as gawkers peer over the edge to look at the cool waters. Haha! I think it is a very good reason! Unfortunately, or fortunately depending on the fanny, I didn't get to see any. Maybe because mine was the only fanny peering over the edge today. :-)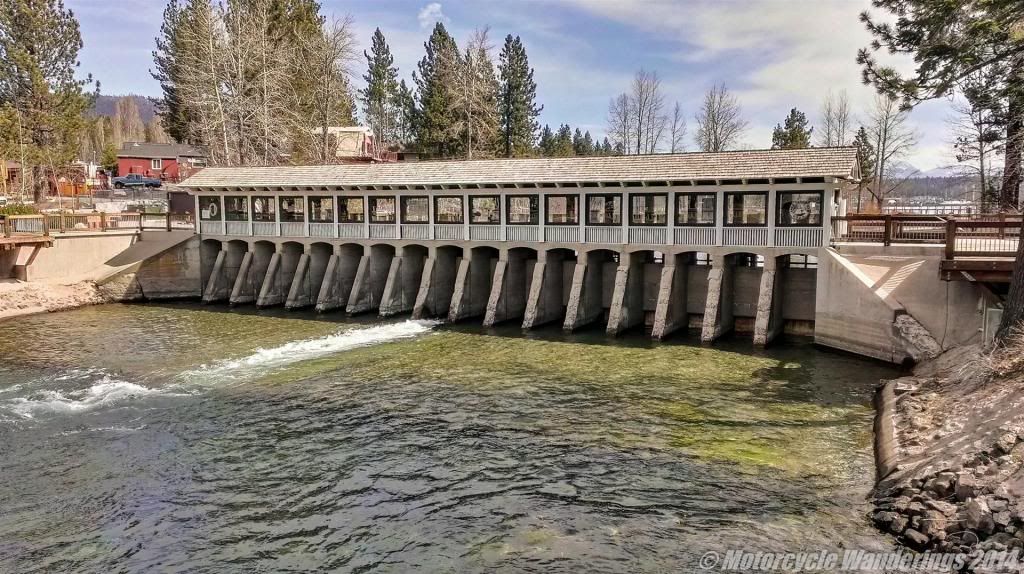 Fanny Bridge over Tahoe City Dam, Tahoe City, CA.
The last bridge stop before Brian's was at Hirschdale Bridge. There is a short but very steep dirt track which leads to this bridge and it is in awful condition, I was brave enough to venture out there on my V-Strom, or should I say once I was staring nose down at that dirt track, I was committed, not a chance to push the bike out in reverse, only way to go is down, hopefully without actually going down. I made it down to the bridge without incident, but got stuck in the mud and gravel for a little while, as the rear wheel spun and kicked out several times, gingerly and slowly but surely, I dug my way out of there. If I was on the FJR, there was no way in hell, I was going down there, or if I did, I don't think I was getting out without someone pulling me out. Oh the joys of rallying! :-)
I stopped at Brian's to see if he would join me for a run to Gerlach. Warchild was also in attendance and they were working on the Poison Rally in July and weren't feeling like riding out to Gerlach, so I went by myself. This was the first black rock desert speed test for the V-Strom, and it passed almost with flying colors, no wobble, no turbulence, just some vibration from the V-twin, that I felt on the footpegs, but none that I felt in the handlebars. Although, when I got back to Brian's I noticed that the chain guard had almost rattled itself off! Glad I caught it before it did! Phew!!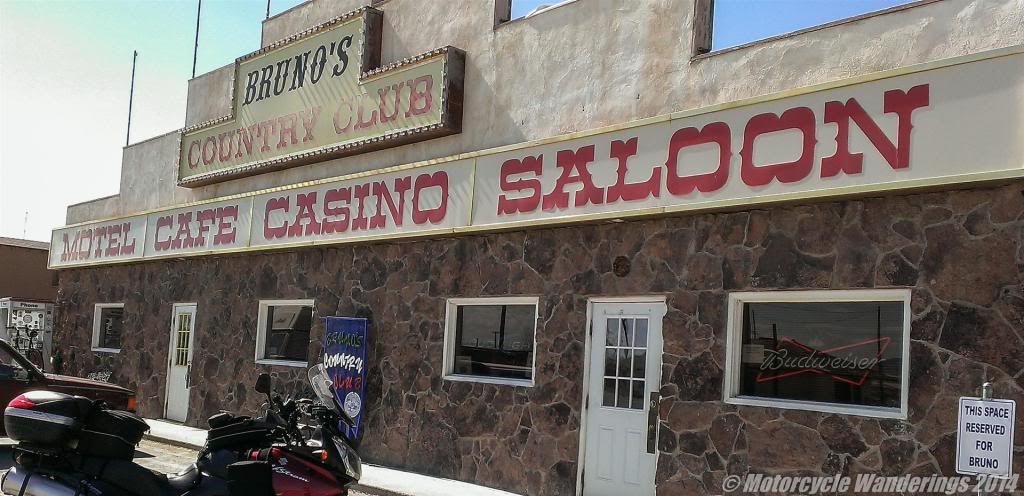 Bruno's at Gerlach - the center of the known universe, and a very special place!
It was a beautiful sunset to end the day back at Brian's, as we bench raced in the garage and told tall stories while barbecuing some tasty chicken on the grill. What Nevada lacks in the abundance of natural beauty in it's barren terrain, it makes up for in it's sunset skies!
Thank you for reading! :-)