A sprinkling of April showers have so far kept us cooler here in the Northern California valleys, while the showers haven't alleviated the drought situation that we face now and which will only worsen in the Summer, they have so far managed to bless us with mild temperatures in what soon promises to be one hell fire of a late Spring and Summer. Those of my friends who live closer to the coast may not appreciate how nice this time of year feels for us in the valleys inland. Dry heat it maybe when it finally rolls in, but it is an oven nonetheless.
For now, however, it is as pleasant as it can be. So far, I hadn't taken the time or the opportunities to explore the soon to turn golden hills of the Sierras for some Spring color and some Spring blooms. The last couple of weekends, I decided to just that. Take a short break from the preponderance of BMR bonus hunting for a weekend, and get back to a more relaxed state of riding and exploring and take my time whilst taking a lot of pictures, instead of shooting and scooting to the next one, as I have been doing most of this year. I also had a very dear friend visiting from out of town for a long weekend, so that was another excuse to get out and enjoy Spring, whether on the motorcycle or on 4 wheels.
There are some great wineries in Amador county, I very much enjoy coming here for good wine and great scenery, it is much less crowded, and much more laid back and relaxing here, not to mention unpretentious and not stuck up like Napa valley. Very welcoming and inviting too, like how I felt about the walkway in the picture below, that drew me in.
Young's Vineyards. Amador County.
Young's Vineyard, where I was at has some beautifully maintained grounds. I have been here several times and their grounds are impeccably maintained. I liked these Roses, there are more than a dozen here (but you might have to share) for my lady rider friends - Lisa and Lisa, Mary Ellen, Tyler, Pyxie, and Donna (I hope to add to this list as I meet more of you).
For my lady rider friends.
They have repainted their Adinrock chairs in time for Spring. Perfect for lounging on and sipping some good wine!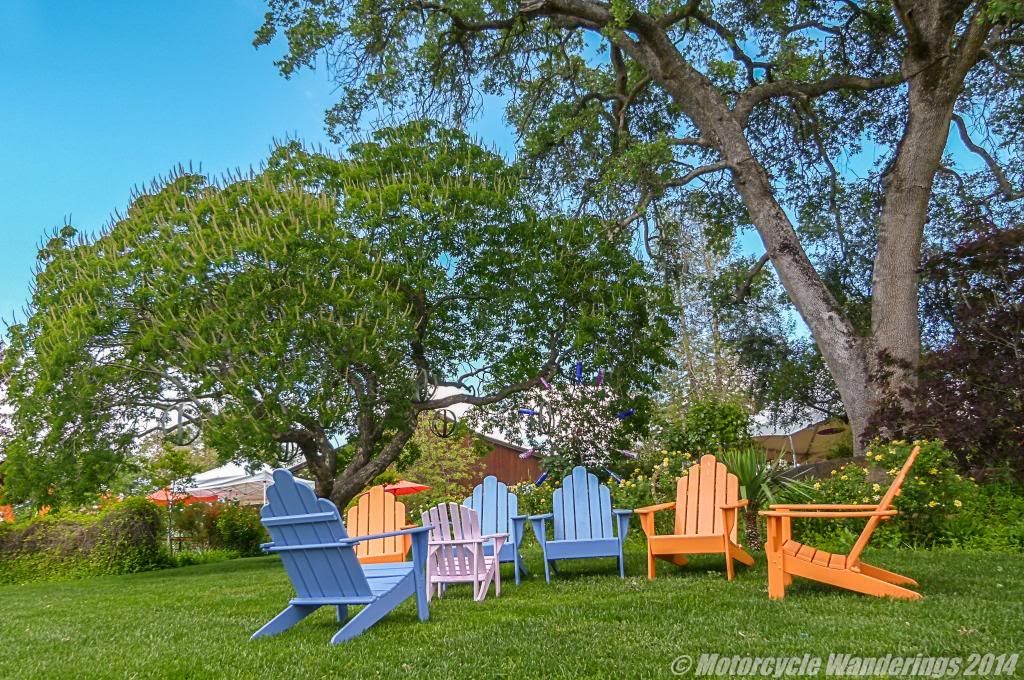 Adinrock Chairs at Young's Vineyards.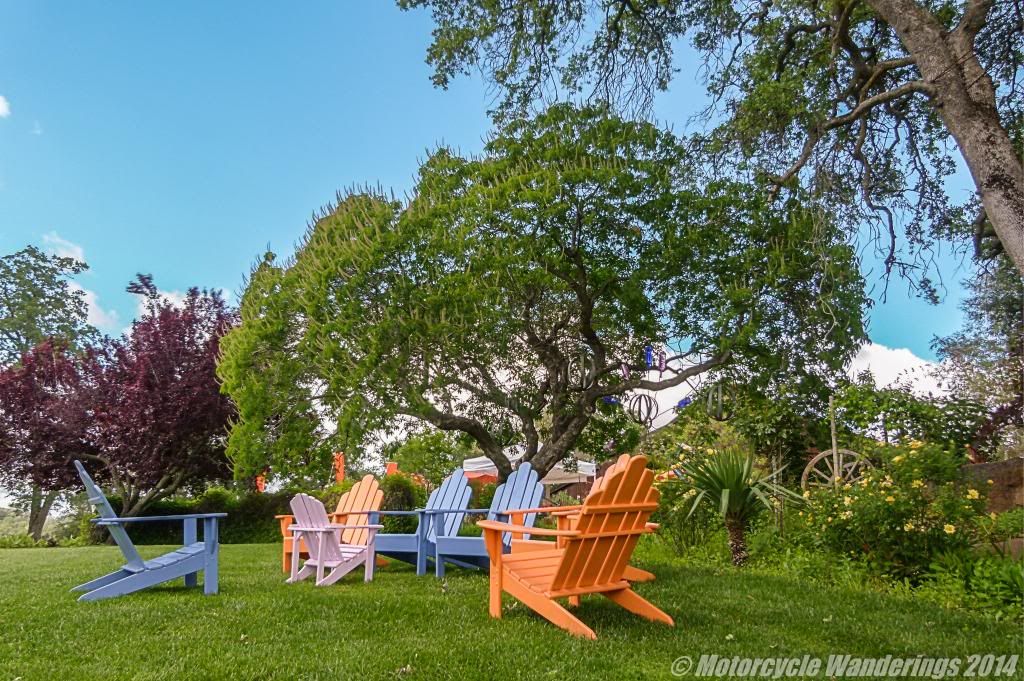 Adinrock Chairs. Young's Vineyard.
They have a pond on their property with a beautiful weeping willow. I think this has been the backdrop for quite a few wedding ceremonies.
Weeping willow, Young's Vineyard.
Villa Toscano was next. It is my least favorite winery. Very faux Italian, with a lot of foot traffic. Their wines are average according to my palette, but I am far from an expert on the matter.
The saving grace here were the rows of California Poppies growing alongside the grape vines.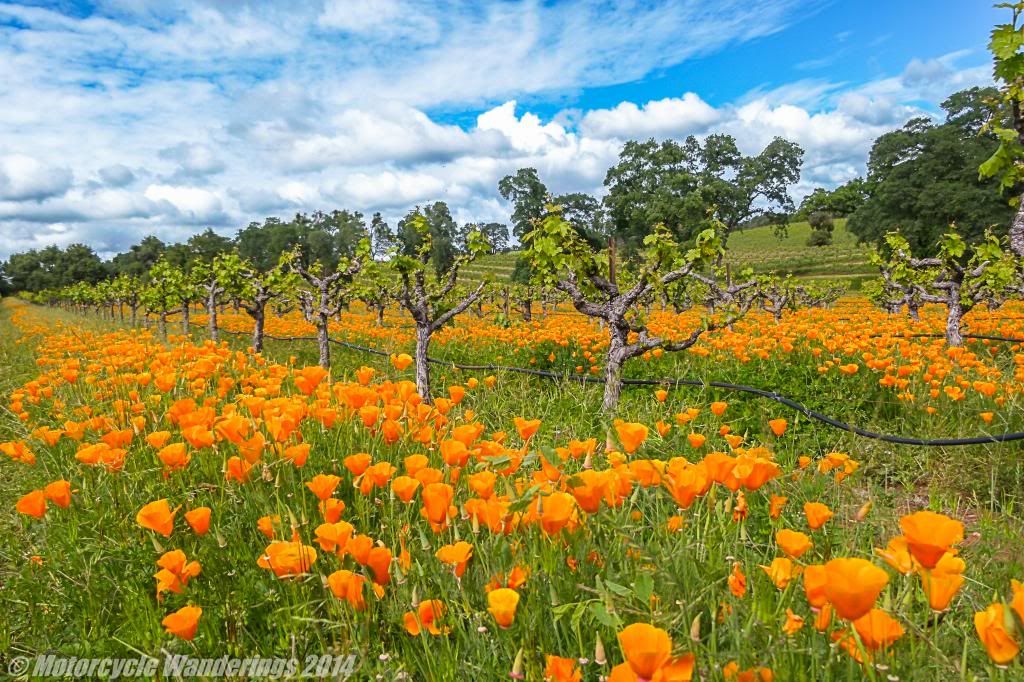 Villa Toscano, Amador.
No comments on this one below please. Needless to say this is not my ATGATT look. We were wine tasting, so I felt it more prudent to be driving rather than riding.
Yours truly at Villa Toscano.
This would have been a nice place to rest and relax for the night after a day of exploring the Amador County vineyards.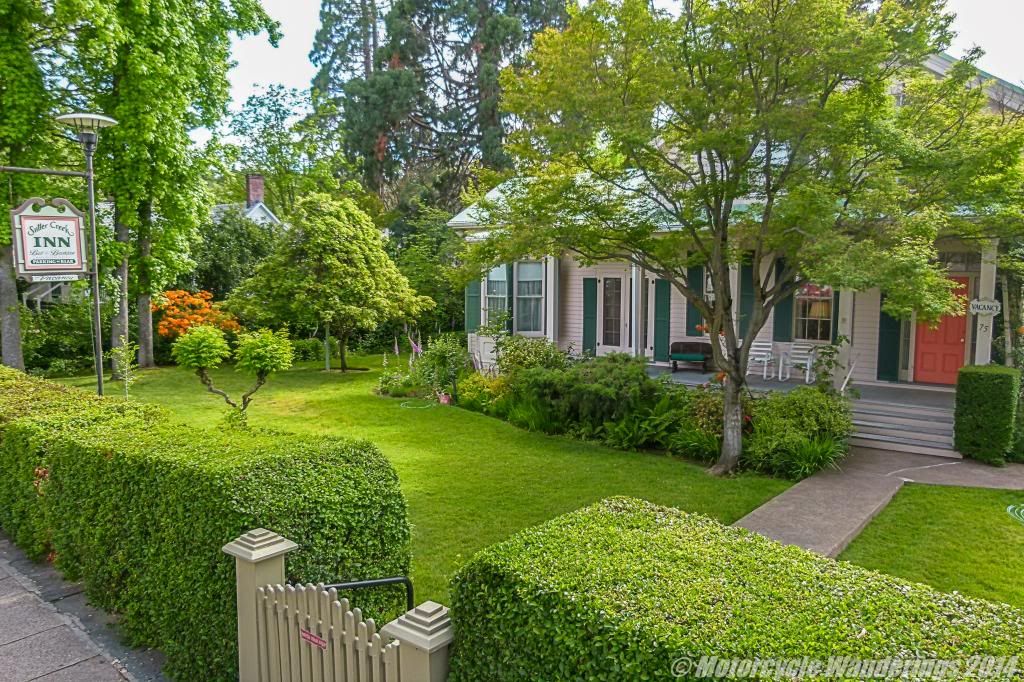 Sutter Creek Inn, Bed and Breakfast.
If you were wondering, if there was going to be any motorcycle content at all to this blog post. Rest assured, I was saving it for last. :)
This was the second weekend of riding around the Sierras with only minor BMR (Big Money Rally) content. I met my good friend Doug in Grass Valley and we had lots of fun riding back roads to the Feather River Highway, Doug is a fantastic rider and he was on his 115 hp KTM 990 and I was on my 98 hp Suzuki DL1000. The earlier part of Hwy 70 as you first get into the twisty stuff is the best portion of the highway and we were ripping pretty good, but honestly I couldn't keep up with Doug, I think it had a lot to do with the rider and not the bike! No pictures unfortunately, although we did stop at two bridges along the way for the BMR. Doug and I rode out separate ways after lunch in Quincy. Doug headed back home to Grass Valley and I headed towards Reno to hang out with "Mayor of Fernley" on Saturday night.
The 10-20% of normal snow pack in the mountains has resulted in most of the mountain passes already being open. On the way back from Fernley on Sunday, I rode Monitor pass and then headed into Lake Tahoe, before back tracking my way out to Hwy 88. Lake Tahoe was a lot busier this weekend than it was the week before when I was here 2-up on the FJR. We had stopped in Lake Tahoe for lunch at Gar Woods in Carnelian Bay and the lake was pretty much empty. If you ever find yourself in Carnelian Bay on the north side of Lake Tahoe, check out Gar woods restaurant, their Fish Tacos are amazing!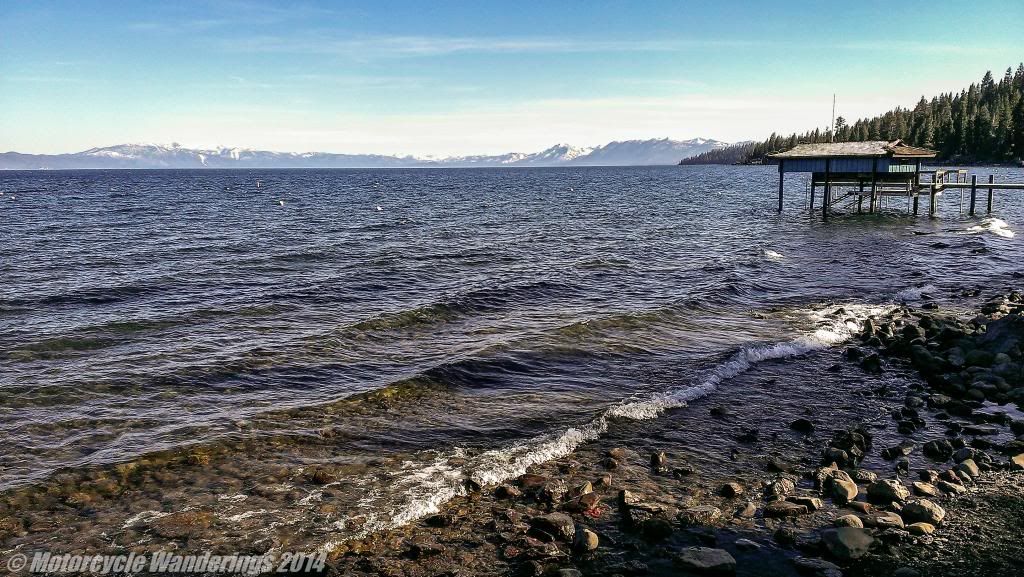 View from Gar Woods restaurant. Carnelian Bay, Lake Tahoe.
I had never stopped at Silver Lake before, even though I had passed by on Hwy 88 countless times. This weekend I stopped for a couple of pictures. I also wanted to check out the Kit Carson lodge, but the goaty trail leading up to it was still barricaded and hadn't opened for the season. So, as a consolation I posed the Strom at a couple of easily accessible spots along the lake side.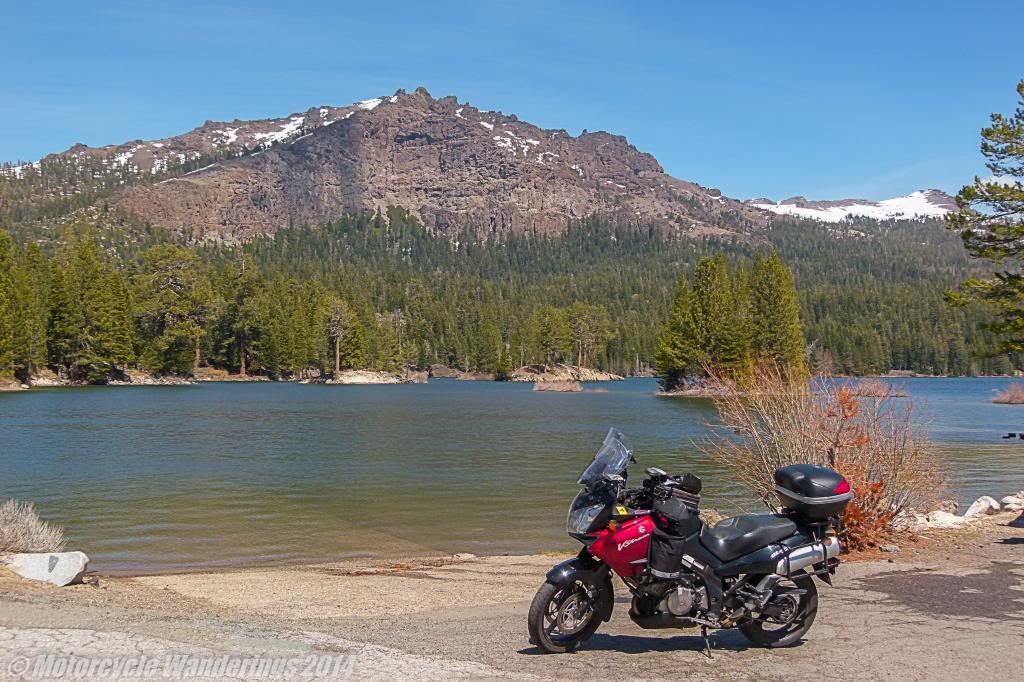 Silver Lake near Kit Carson, CA.
Silver Lake near Kit Carson, CA.
I had some hopes that Mormon Emigrant Trail would be open, which would have led me from Hwy 88 into Pollock Pines. This road is not sanded or plowed unlike other highways and some roadways in the Sierras, so although I was disappointed to find that the way was shut, I wasn't too surprised.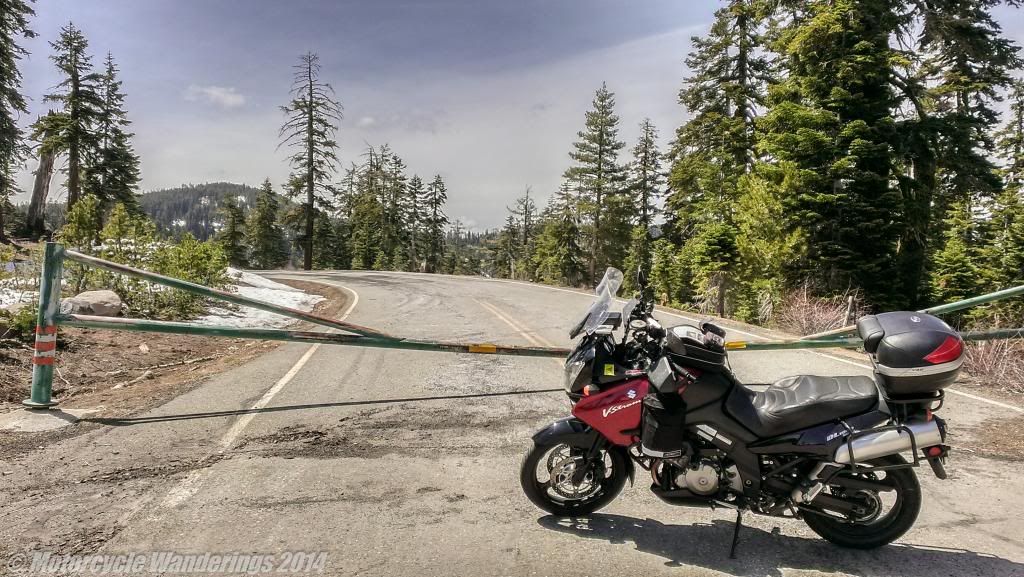 The way is shut. Mormon Emigrant Trail near Iron Mountain.
With Mormon Emigrant Trail shut, I backtracked to Hwy 88 and rode home via Fiddletown and Plymouth on Shake Ridge and Fiddletown roads. A couple of other fun back roads in the Sierra Foothills.
Thank you for reading! :)